Today we are welcoming Samanta from Five Heart Home.  Be sure to visit her blog to enter the Blendetec Giveaway and then check out what Mique and Cindy are sharing as part of the Craft and Sew!
Hi there, fabulous Your Homebased Mom readers! It's Samantha from Five Heart Home, and I'm thrilled to be here! Before I share the yummy treat that I brought over, I wanted to take just a moment to introduce myself…
I live with my amazing hubby, two energetic boys, and sweet baby girl in the heart of Texas. The days are crazy but the love is plenty between the five hearts that make up our home! Like many of you, the recipes I cook need to be quick, easy, and kid-approved, so that's what I blog about at Five Heart Home…family-friendly recipes using fresh, (mostly) real food ingredients. In my abundant spare time (ha), I also enjoy creating free seasonal printables to share with my readers.
I'm so excited to be visiting Leigh Anne today as part of her Bake Craft Sew series, and I can't wait to share my idea for a fun holiday food gift!

My family loves homemade granola, and I typically keep a big tub of our favorite Nut & Honey Granola in the pantry in order to have a quick, wholesome breakfast on hand for busy mornings. Over the years, I've had fun playing with this recipe to create seasonal variations, like the Maple Cinnamon Pecan Granola we've been munching on all fall.
Somewhere along the way, I discovered that granola also makes a great gift! I've been known to package up generous bags or jars of granola around the holidays for teachers, neighbors, family members, and friends. I must say that such gifts are always well received and, more often than not, result in at least a few recipe requests!
The holidays will be here before we know it, and I decided that this year, it would be fun to put a Christmas-y spin on my tried-and-true granola recipe. So how does Gingerbread Granola sound, drizzled with maple syrup and molasses and spiced with ginger, cinnamon, nutmeg, and cloves? I adore gingerbread flavored recipes because they tend to transport me straight to a holiday frame of mind. And not only does this granola taste amazing, but it makes your whole house smell heavenly as it bakes!
While Gingerbread Granola is perfectly delicious plain, I thought it would be fun to jazz it up with a bit of Christmas color! Sweet, red, dried cranberries, salty green pistachios, and creamy white chocolate chips give this treat an extra-festive look while adding contrasting flavors and textures to make it even more special.
It's easy to make a big batch of this granola, which can be divided up between several gifts. I typically package it in clear cellophane bags or glass jars. Quart-sized Mason jars work perfectly and are economical, to boot. Then simply fancy up your gift with some ribbon or colored twine, and don't forget to add a cute gift tag! I made these "Have Yourself a Merry Little Christmas" printable gift tags last year, so feel free to hop over and download them for your Gingerbread Granola gifts…or for any of your other gift-giving needs this December. 😉
I hope y'all have a chance to try this recipe sometime soon, whether you bake it for your family, add it to a brunch spread while hosting guests, or whip it up as a thoughtful, much-appreciated, homemade food gift this holiday season. Enjoy, friends, and may your holidays be merry and bright!
Thanks so much for having me today, Leigh Anne and Your Homebased Mom readers! I'd be delighted to have you stop by Five Heart Home or connect with me sometime via social media, using the links below. 🙂
FACEBOOK | GOOGLE+ | PINTEREST | TWITTER | INSTAGRAM | BLOGLOVIN'
Be sure to head over to Five Heart Home to enter the giveaway for new Blendtec!
Gingerbread Granola
Ingredients
4 cups old-fashioned oats
2 cups shredded coconut
1 cup raw slivered almonds
2 teaspoons ground ginger
1½ teaspoons cinnamon
1 teaspoon ground nutmeg
½ teaspoon salt
⅛ teaspoon ground cloves
⅔ cup coconut oil, melted and cooled
6 tablespoons pure maple syrup
3 tablespoons molasses
1 teaspoon pure vanilla extract
1 cup lightly salted roasted pistachios
1 cup sweetened dried cranberries
1 cup white chocolate chips
Instructions
Position rack in center of oven and preheat to 350°F.
In a large bowl, mix together oats, coconut, almonds, ginger, cinnamon, nutmeg, salt, and cloves. Pour coconut oil over mixture and stir. Combine maple syrup, molasses, and vanilla, pour over oat mixture, and stir all ingredients until evenly coated.
Transfer granola onto a 13"x18"x1" rimmed sheet pan and spread into an even layer. Bake, stirring and flipping with a wooden spoon every 10 minutes, until the mixture turns a nice, even, golden brown, about 30 minutes total. Watch carefully for the last 10 minutes of baking time, checking every few minutes and stirring as necessary to prevent over-browning.
Remove granola from the oven and stir frequently as it cools, scraping the bottom of the pan to prevent sticking. Once completely cool, mix in pistachios, dried cranberries, and white chocolate chips. Store in an airtight container.
TIPS & TRICKS:
Measure the maple syrup/molasses into the same measuring cup you used for the coconut oil. The residue of the oil helps the syrup slide out of the cup without sticking.
If you prefer, melted butter may be substituted for the coconut oil.
The granola will probably need to bake for a total of about 30 minutes, but ovens vary so watch the granola carefully, particularly the first time you make it and particularly for the last 10 minutes of baking time. If you cut the recipe in half, it will require less time, and if you double it and cook two sheet pans at once (switching racks and rotating pans each time you stir), it will take longer.
Since this granola tends to stick to the pan if not stirred very frequently during the cooling process, I've found that using a Silpat or some parchment paper on the bottom of your sheet pan alleviates this problem (you just have to stir carefully to make sure the granola doesn't wind up stuck under the parchment paper).
 * * * * * * * * *
Until then, here are a couple of my most popular recent recipes…
S'mores Dip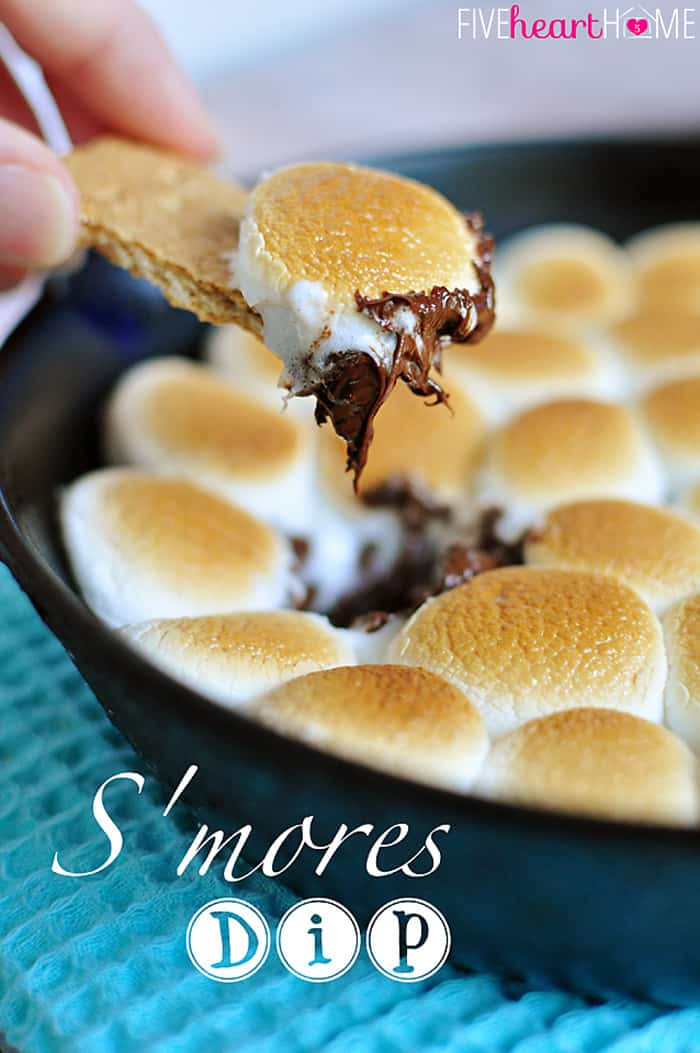 King Ranch Chicken Casserole {with no 'Cream of X' Soup}