Pineapple Upside Down Cake is a classic cake with a caramelized brown sugar and pineapple topping! The cake is served upside down!
Some of our other favorite cakes are this Blueberry Dump Cake,
Brown Butter Cake and Buttermilk Cake.
Pineapple Upside Down Cake is the very first recipe I made in my first home ec class. I was in 7th grade and I remember that day pretty well. Not because of the delicious pineapple upside down cake, which it was, but because I ended up in the emergency room.
So I was pretty much a novice in the kitchen, not having spent much time in the kitchen before home ec class.  We had made our pineapple upside down cake and I was given the assignment to open the new box of plastic wrap.  Who knew this could be so dangerous and I am sure the teacher is sorry she asked me.  But I struggled to push down on the little tab that opens the box and I pushed a little too hard, the tab gave way and the base of my thumb went down onto the serrated edge of the box.   And there was blood.  The cut was deep enough to send me to the ER.
Who would have known that many years later that inexperienced cook would be a food blogger! I now know how to open a box of plastic wrap correctly too!!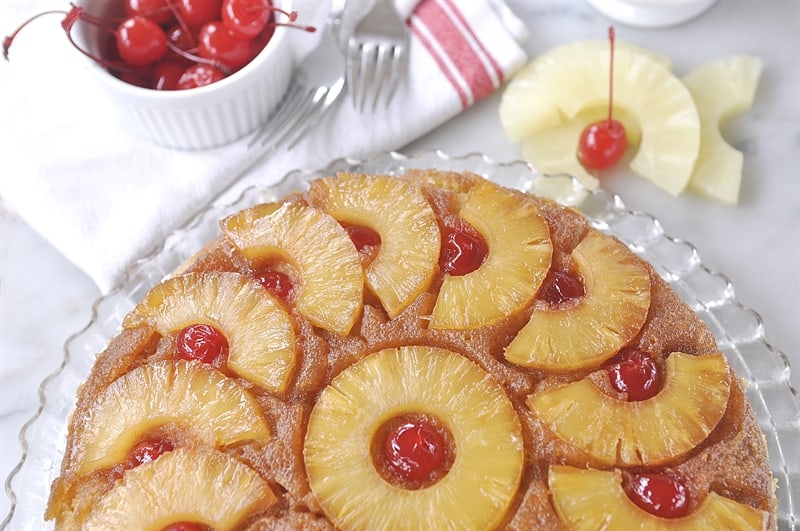 Fortunately I haven't had too many cooking accidents since that once, except for the bagel incident but that story is for another day……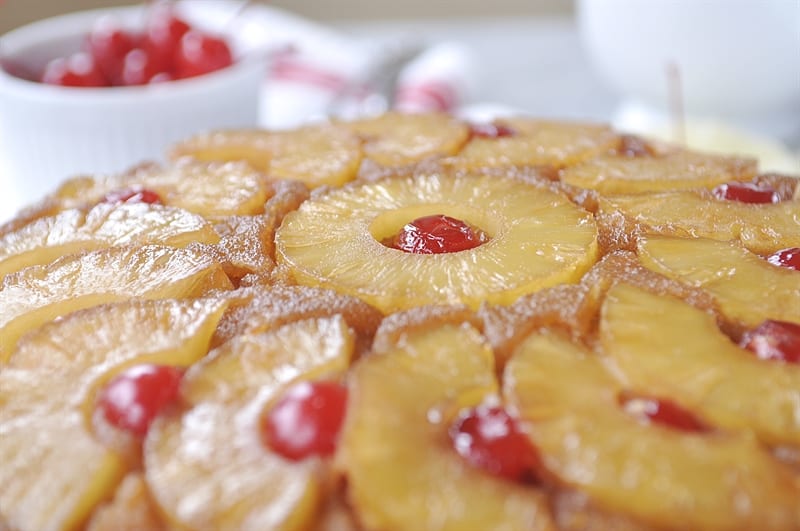 How to Make Pineapple Upside Down Cake
I love to make my pineapple upside down cake in my 9″ cast iron frying pan. 
Place 4 Tbsp of butter in 9 inch cast iron pan or cake pan
Place in oven and allow butter to melt then remove from oven.
Stir brown sugar into butter and pat into an even layer.
Place whole ring in middle of pan and layer half slices around middle slice.
What Kind of Pineapple Do i Use?
I love using sliced pineapple right of the can.  It is so easy and tastes so fresh and is so much easier then peeling, coring and slicing a fresh pineapple. But if you feel so inclined, slices of fresh pineapple.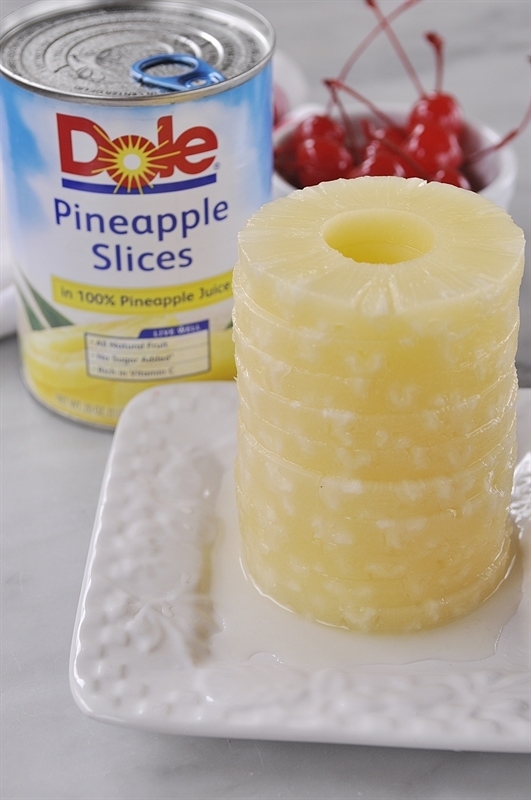 Cut the pineapple rings in half so you can get more pineapple in the pan.  The more pineapple the better as far as I'm concerned.  The red cherries look so pretty!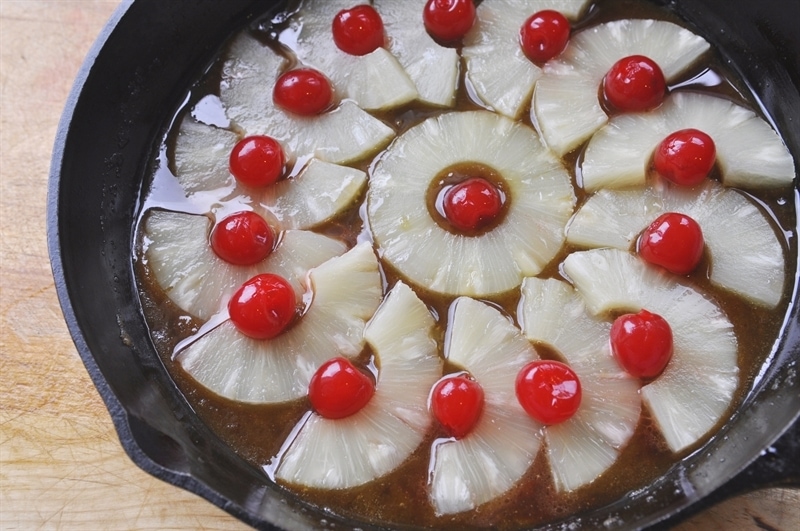 Gently cover the pineapple with the cake batter. Be careful as you spread the cake batter so that you don't dislodge the cherries. You want it to look pretty when you take it out of the pan too.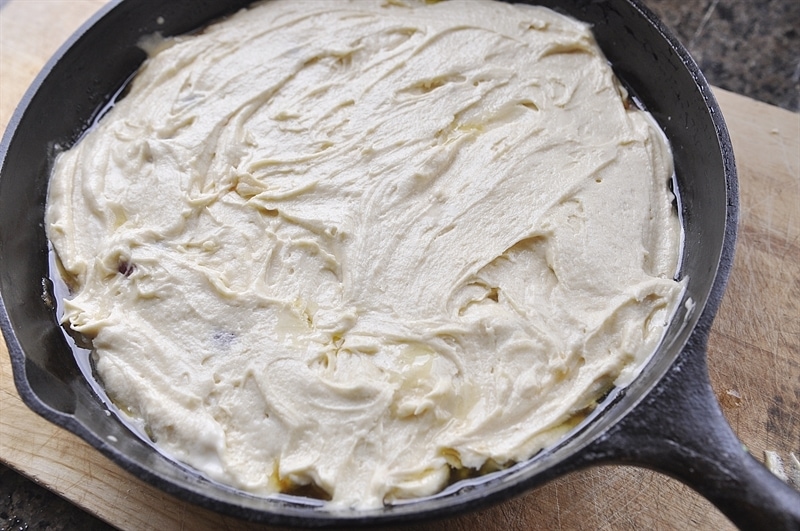 Bake at 350 degrees F for about 35 – 40 minutes or until cake is cooked through.  Test with a toothpick.  
Allow the cake to sit in the pan for 10 minutes and then turn it upside and let the cake fall out of the pan onto a plate on it's on.  I like to run a knife around the edge of the pan before flipping it upside down.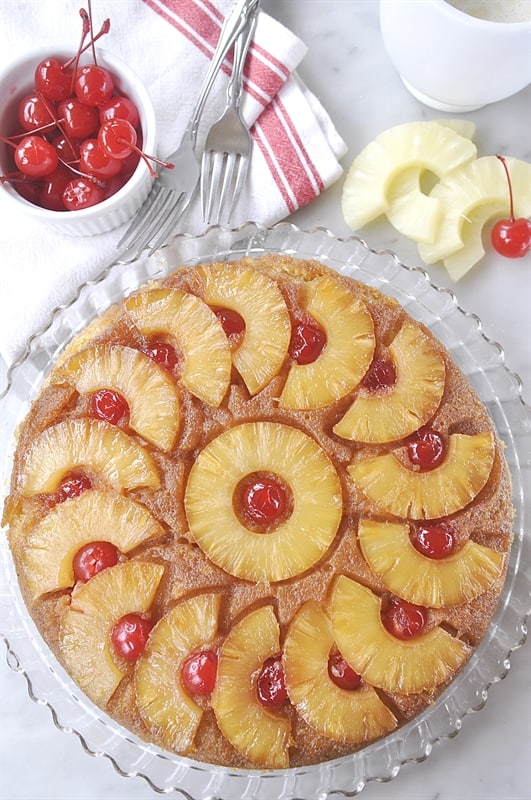 There it is in all it's loveliness! I love the gooey and crunch edge that forms from the brown sugar and butter. I used buttermilk in the cake batter and it makes for a nice moist cake.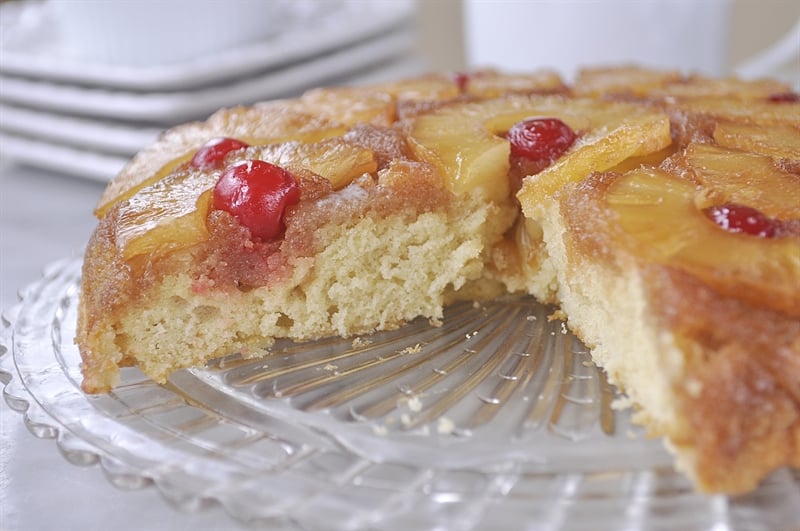 Due to the nature of the cake, Pineapple upside down cake is a more dense cake. The weight of the toppings on the cake weighs down the crumb forming a denser cake.
We love serving the cake with a delicious vanilla sauce.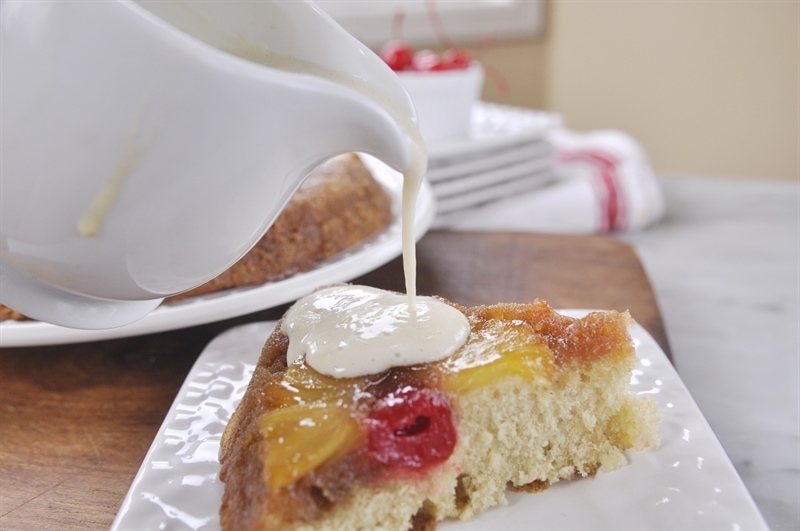 Vanilla Sauce for Pineapple Upside Down Cake
Vanilla sauce is easy to make and you will find all kinds of uses for it. It is also delicious with this Lemon Snow Pudding Dessert.
Keep the sauce refrigerated when not using. Place a piece of plastic wrap over the surface of the sauce to prevent a skin from forming. Sere the sauce room temperature or chilled.
It makes the cake even more delicious with the sauce poured over it!!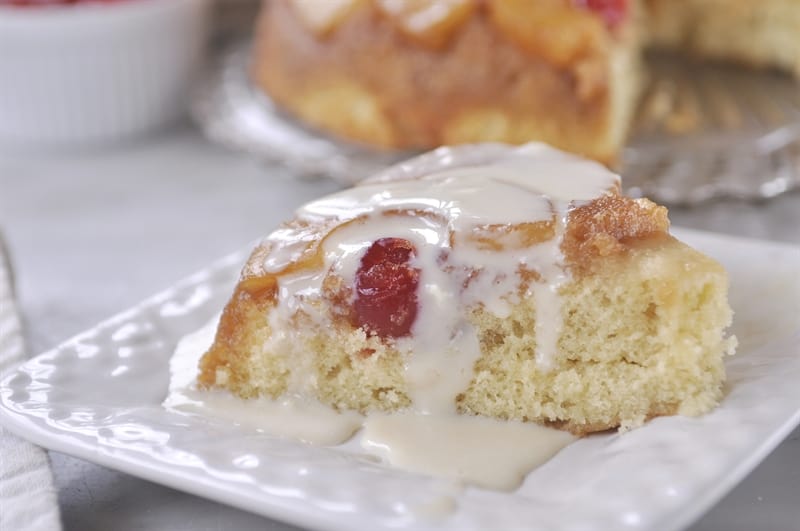 For all of my other favorite kitchen products and tools visit my Amazon Store. 
Did you know I wrote a cookbook?  Check out the Holiday Slow Cooker Cookbook for 100 delicious recipes.
Upside Down Pineapple Cake Recipe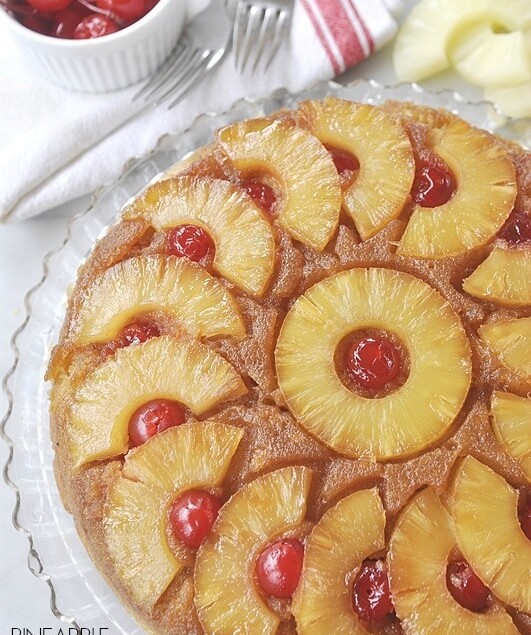 Upside Down Pineapple Cake
Pineapple Upside Down Cake is a classic and one of the first things I ever baked!
Ingredients
3/4 cup butter softened
3/4 cup packed brown sugar
1 can pineapple rings drained, slices cut in half except for one ring
1 jar maraschino cherries
1 1/2 cups all purpose flour
1 1/2 tsp baking powder
1/2 tsp salt
3/4 cups sugar
2 eggs room temperature
1 egg white room temperature
1 1/2 tsp vanilla
1/3 cups buttermilk room temperature
Vanilla Sauce
2 1/2 cups whole milk divided
1 Tbsp cornstarch
1/3 cup sugar
2 egg yolks
1 1/2 tsp vanilla
Instructions
Preheat oven to 350 degrees F.

Place 4 Tbsp of butter in 9 inch cast iron pan or cake pan

Place in oven and allow butter to melt then remove from oven.

Stir brown sugar into butter and pat into an even layer.

Place whole ring in middle of pan and layer half slices around middle slice.

Mix together the flour, baking powder and salt in a bow.

In your mixer beat remaining butter and granulated sugar until light and fluffy, about 5 minutes.

Beat the eggs and egg white into batter. Add vanilla

Add in flour mixture and milk. Alternate. Mix until incorporated. Batter will be thick

Gently spread batter over the top of pineapple slices.

Bake cake for 35-45 minutes or until toothpick comes out clean.

Let cake cool for 10 minutes.

Place a serving plate over the top of the pan and then flip the cake over. Allow the cake to release onto the plate. Remove cake and pan allow cake to cool.
Vanilla Sauce
Heat milk in a pan until just simmering.

Mix cornstarch into remaining 1/2 C milk and whisk until dissolved.

Add in sugar and egg yolks to cornstarch mixture and beat until smooth.

Slowly pour into simmering milk and whisk together.

Stir frequently until thickened, about 3-4 minutes

Remove pan from heat and stir in vanilla.

If you have lumps of cornstarch pour sauce through a sieve to remove them.

Cover top of sauce with plastic wrap to prevent a skin from forming.

Cool to room temperature. Refrigerate and chill completely.
Nutrition Facts:
Calories: 393kcal (20%) Carbohydrates: 60g (20%) Protein: 6g (12%) Fat: 15g (23%) Saturated Fat: 9g (56%) Cholesterol: 96mg (32%) Sodium: 249mg (11%) Potassium: 254mg (7%) Fiber: 1g (4%) Sugar: 46g (51%) Vitamin A: 560IU (11%) Vitamin C: 4mg (5%) Calcium: 132mg (13%) Iron: 1mg (6%)
* Disclaimer: All nutrition information are estimates only. Read full disclosure here.