In my ongoing efforts to please, today's recipe is per your requests for quick and easy dinner ideas.  Especially ones that are easy to pull together after a long day of running kids to ball games, practices etc.
Here in the NW, those ball games and practices are pretty cold and wet this time of year.  For me, on days like that, nothing tastes better for dinner than a warm bowl of soup.
The best part about soup is that it can be made ahead of time and then just quickly reheated when you walk into the house although that does take a little planning.
I've got lots of wonderful soup recipes here on the blog (just check out the recipe index up above)
Today's soup recipe is so easy it can be put together in a matter of minutes.
To make it quicker and easier I purchased one of those yummy rotisserie chickens from Costco a few days before and just removed all the meat from the bones.  A few cups of leftover chicken can be used too or just cook up a couple of chicken breasts and shred them.
This recipe also calls for rice.  I never seem to be able to cook just the right amount of rice so I usually have leftover rice from a meal.  If you don't have leftover rice you can throw in a cup of minute rice and in five minutes you have rice!
The only other things you need are some chicken broth, carrots, celery, chives and half a lemon!
This week I made it for Sunday dinner and since it was so quick and easy I had time to try out a new recipe for a batch of homemade rolls.  The rolls were amazing and I'll share that recipe this week too.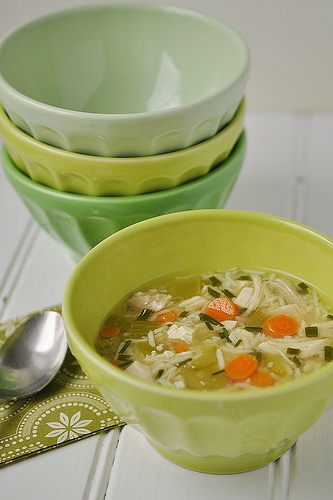 Quick Chicken and Rice Soup
Ingredients
8 C chicken broth
2 C chicken shredded
2-3 stalks of celery sliced
2-3 carrots sliced
1 C instant rice or 1 - 2 C cooked rice
1/2 C chives chopped
Juice of 1/2 lemon
salt and pepper to taste
Instructions
Add together broth, celery and carrots

Bring to boil and simmer for about 5 minutes or until vegetables are tender

If using minute rice, add in rice and simmer for 5 minutes

If using cooked rice just add along with chives and lemon juice