This is the only cheese ball recipe you will ever need.  The BEST Cheese ball recipe ever.
We love to serve a cheeseball on a Relish Tray or part of a Cheese Board. If you want a dessert cheeseball try this Orange Cranberry Cheese ball.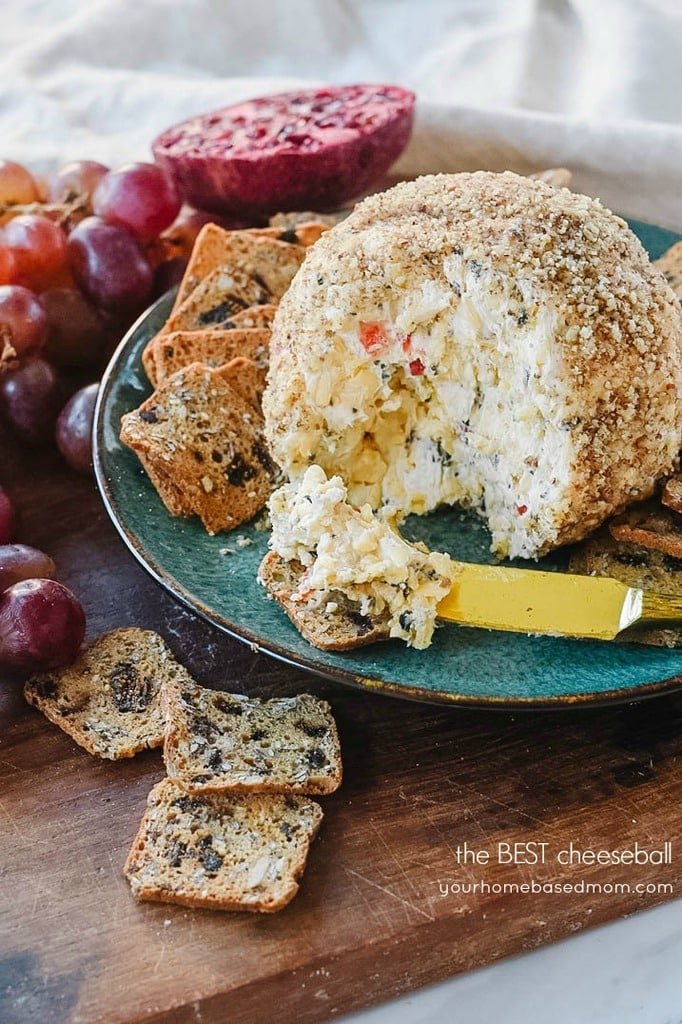 I grew up in the era of cheese balls.  Every dinner party and holiday party had a cheese ball in the 60's and 70's.  Now the charcuterie board is the new cheese ball.  To be perfectly honest, I usually stir clear of a cheese ball if I see one at a party.  Well, that was until now!   This summer I attended a party where several people were gathered around the cheese ball.  So I decided I'd give it a try. I pretty much didn't leave that table for the rest of the party!!  The flavor and the texture were perfect.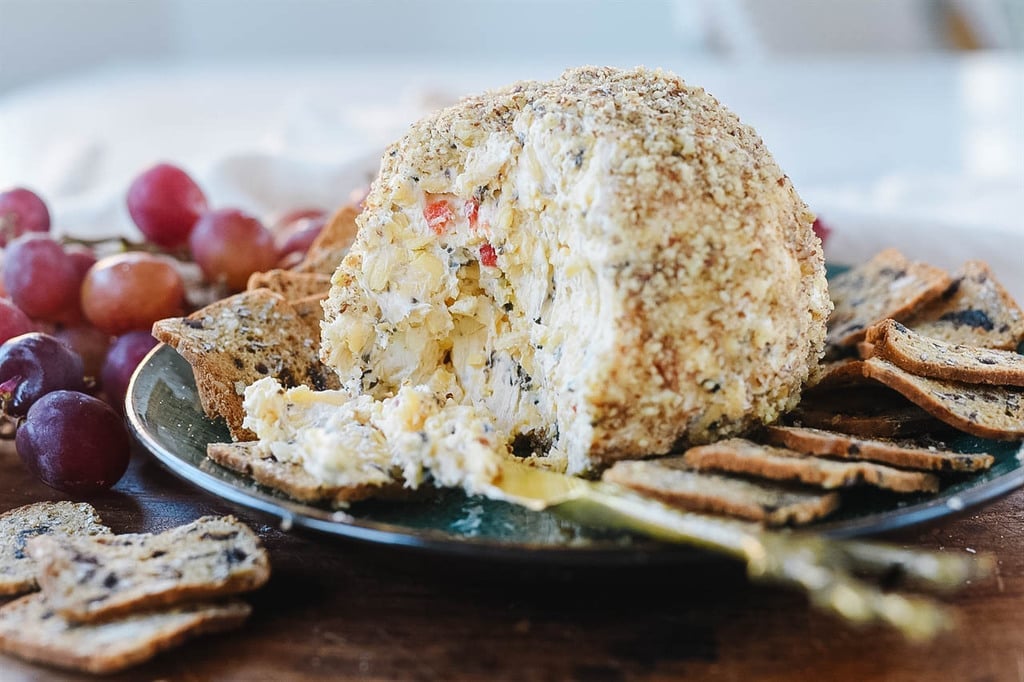 The Perfect Cheeseball
After not being able to forget about the cheese ball after a few months, I decided I needed the recipe.  But I couldn't remember where I had eaten it. We attended a lot of parties during the summer for graduations and weddings and I couldn't remember whose party had this unforgettable appetizer.  So I started emailing and texting the hosts of every party I had attended asking if they had served a cheese ball at their party.  They probably thought I was crazy!
After about a month of texting, the mystery was solved and I got the recipe. And you are going to be so glad that I did! This cheese ball recipe is perfect for all your holiday parties. This recipe makes two balls, so you can serve one and wrap one up to share with a neighbor.
Tips for making a cheese ball Recipe
The right combination of cheeses is what makes a cheese ball great. This recipe has a unique and magical combination of flavors and cheeses.
A cheese ball should be made a head of time. It needs time to set up and chill and the flavors will improve as it sits in the fridge.
Be sure to wrap the cheese ball up tightly in plastic wrap while storing in the fridge. I often wrap it in aluminum foil too to make sure it is air tight. Air will dry out the cheese ball.
Add your outer coating right before serving. I like to use crushed almonds.
Allow the cheese ball to sit at room temperature for a bit before serving. It will make it easier to spread on your crackers.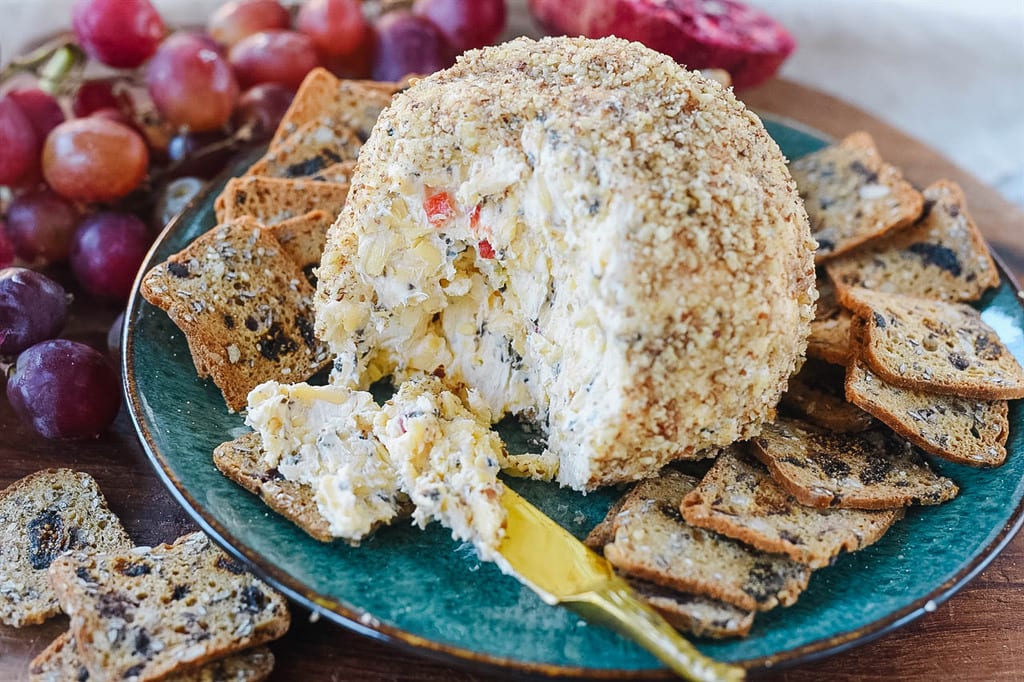 What cheese do I use for a cheese ball?
Cream Cheese is the base for most cheese balls. This recipe calls for regular cream cheese as well as a flavored cream cheese, onion and chive.
Cheddar cheese is commonly used in most cheese balls. This is the cheese that gives the cheese ball flavor so I have found that sharp works best.
How long does It last?
Because it uses cream cheese, it needs to be stored in the refrigerator. If wrapped air tight, it will last up to two weeks, especially if you haven't added the outside nut topping until before serving.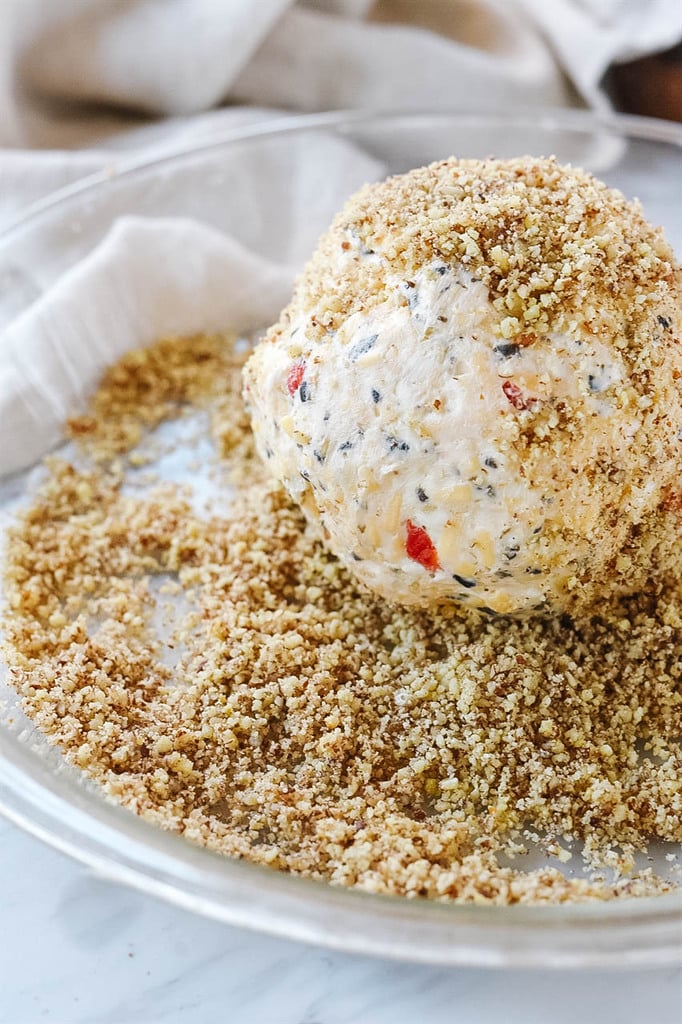 How to Make a Cheeseball
This particular cheese ball has a lot of flavor going on.  I highly recommend using all the flavors, even if you think you don't like one of them. This recipe uses a blue cheese dressing, I don't like blue cheese at all but the combination of it with all the other flavors makes this cheese ball the BEST so I didn't skip it.  You might not like pimento or black olive but they help make this cheese ball work.
Combine all your ingredients together except the almonds and form into two balls.
Wrap in plastic and refrigerate to chill.
Before serving, roll in ground almonds.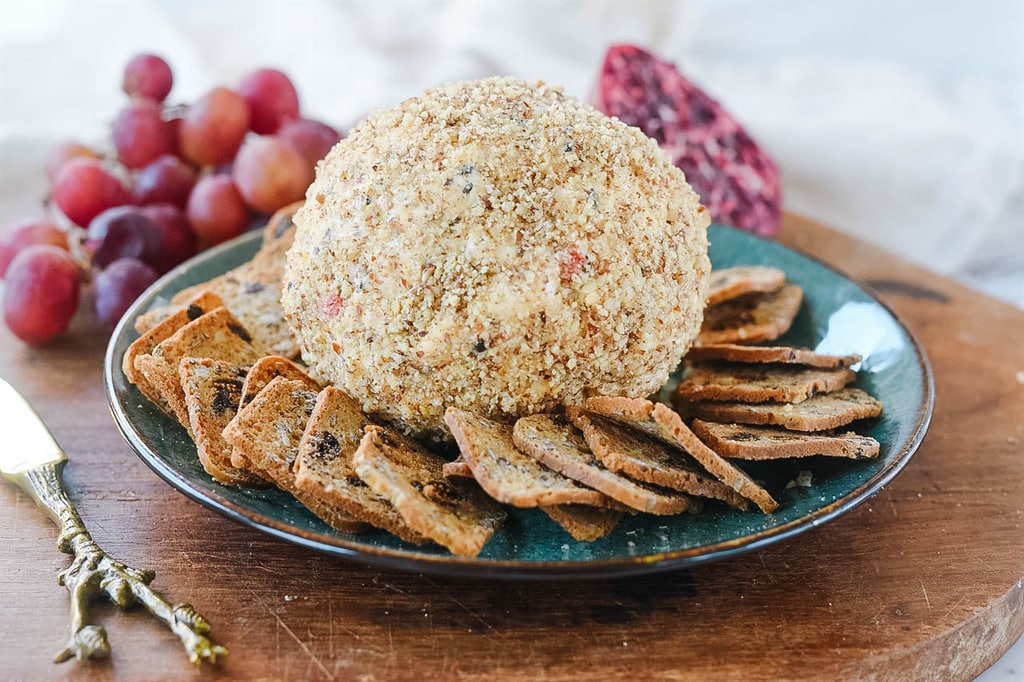 Make sure to check out more of my favorite appetizers:
For all of my other favorite kitchen products and tools visit my Amazon Store.
Did you know I wrote a cookbook? Check out the Holiday Slow Cooker Cookbook for 100 delicious recipes
Cheese Ball Recipe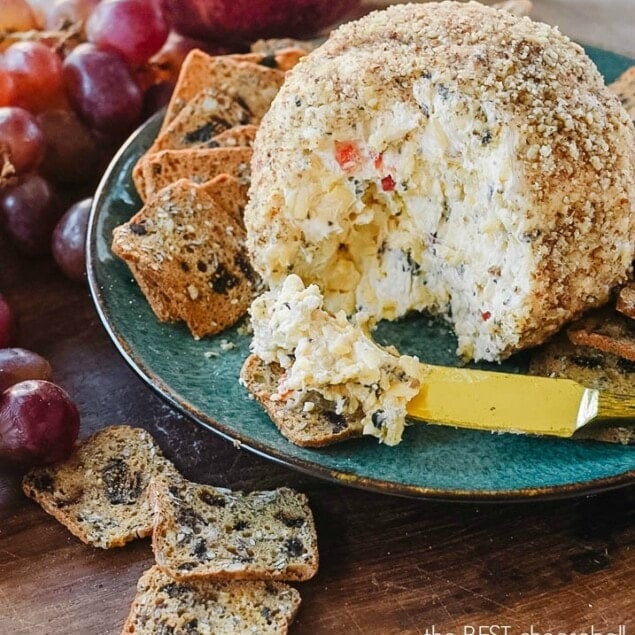 The BEST Cheese Ball
This is the only cheese ball recipe you will ever need. I can honestly say it's the BEST cheese ball I have ever had!
Ingredients
1 lb. sharp cheddar cheese shredded
6 oz. onion and chive cream cheese softened
8 oz. cream cheese softened
6 oz. Lighthouse Chunky Blue Cheese dressing
2.1 oz. black olives chopped
4 oz. pimento diced
1/2 Tbsp granulated garlic
1/2 tsp Accent seasoning
1 cup almonds finely chopped
Instructions
Combine all ingredients except for almonds and mix well. You may need to use your hands to do this! You want to make sure all the flavors are well mixed.

Cover with plastic wrap and store in refrigerator over night.

After chilling, divide mixture into two cheese balls. At this point you can roll in chopped almonds and serve or wrap up again and keep in the refrigerator until ready to serve. Be sure it is airtight. Cover with almonds right before serving.
Nutrition Facts:
Calories: 2030kcal (102%) Carbohydrates: 35g (12%) Protein: 89g (178%) Fat: 174g (268%) Saturated Fat: 86g (538%) Cholesterol: 416mg (139%) Sodium: 2975mg (129%) Potassium: 996mg (28%) Fiber: 10g (42%) Sugar: 14g (16%) Vitamin A: 6110IU (122%) Vitamin C: 48.2mg (58%) Calcium: 2133mg (213%) Iron: 6.6mg (37%)
* Disclaimer: All nutrition information are estimates only. Read full disclosure here.
Need some help figuring out what's for dinner tonight?
Come join our Facebook Group! Join hundreds of others who love sharing dinner time ideas. You don't want to miss out on the fun!

You'll find lots of ideas for dinner from all our awesome members and you can share your ideas too! Join the Family Dinner Table today.