This Sweet & Sour Salad has the perfect amount of tang and the perfect amount of sweet!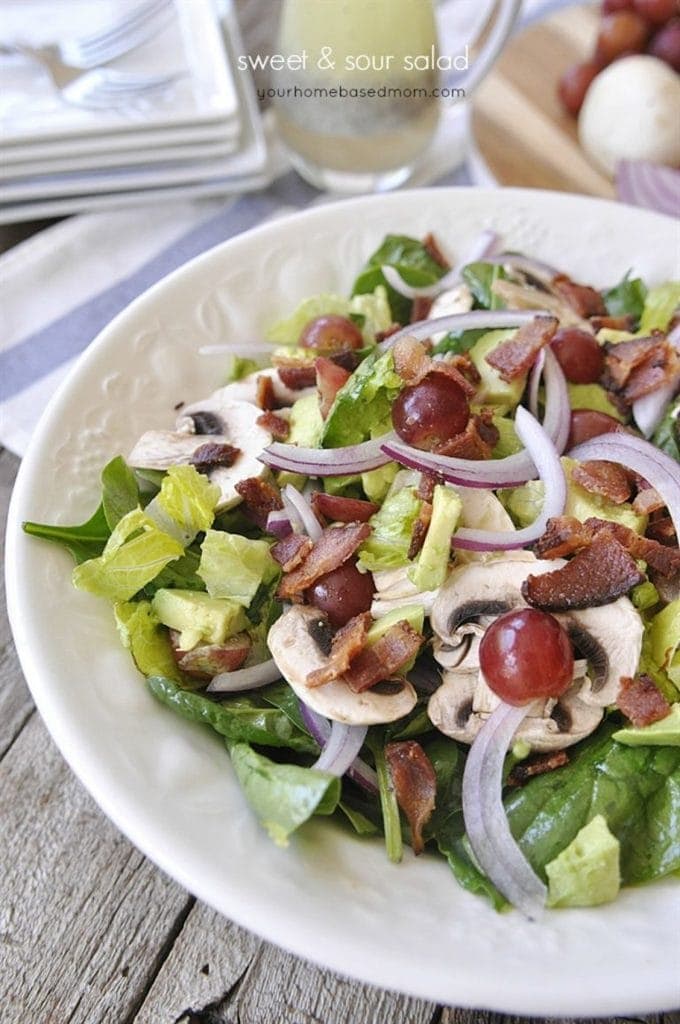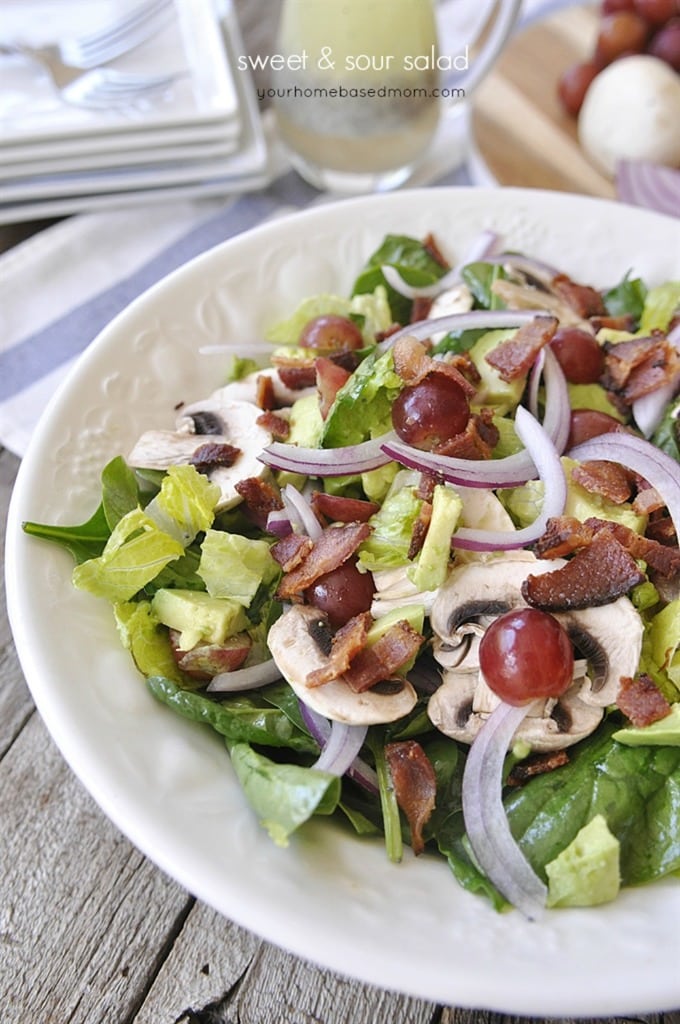 I originally shared this recipe in July of 2010.  It was one of the dishes I had served at my mom's 80th birthday party.  
Today's salad recipe was a nice addition to the salad buffet at the party.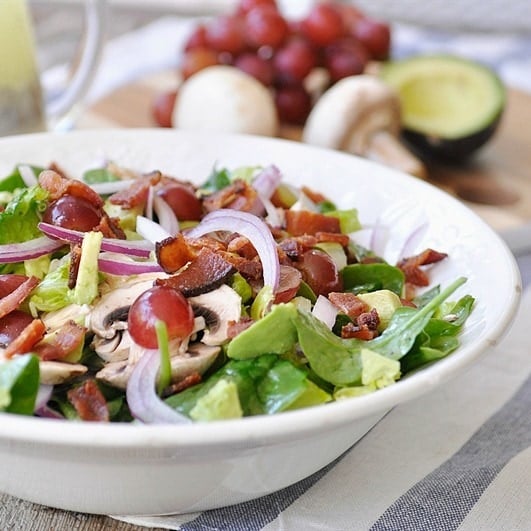 It is also an easy one to add chicken to and make into a main dish. I did not use chicken in it for the luncheon. The recipe also calls for cheese but I forgot to add it for these photos! But you should add it.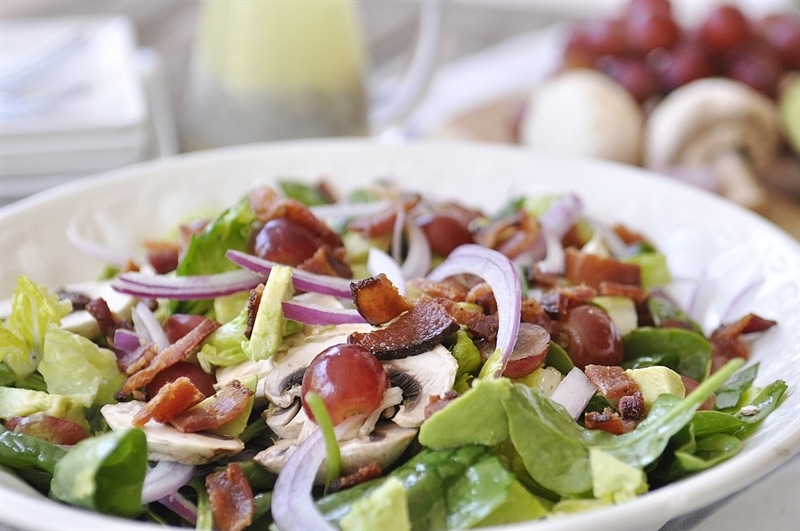 The dressing has a nice sweet and tangy flavor to it.
For the party I used grapes but it also works well with mandarin oranges and pineapple or you could use all three.
The recipe also calls for bacon or ham. I used bacon.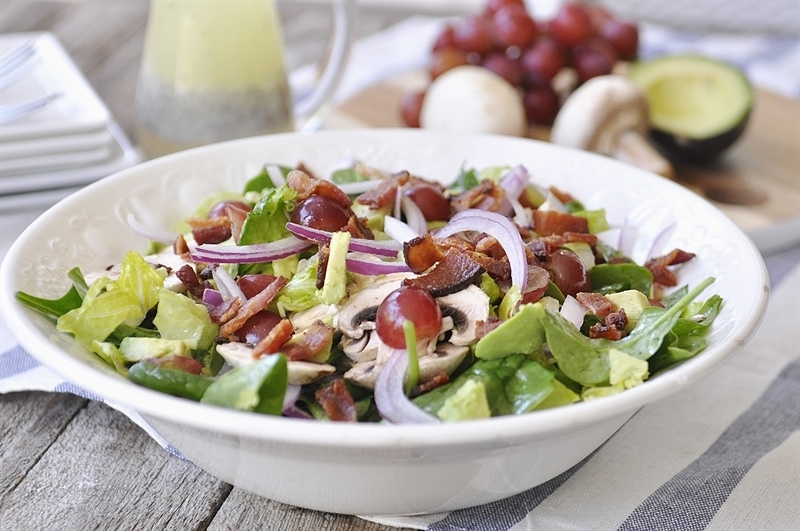 I prepped as much as I could the day before. Cut up the onions, the fruit, cooked the bacon, sliced the mushrooms,grated the cheese and made the dressing. It only took a few minutes before the party to throw it all together. The only thing I cut up at the last minute was the avocado which I didn't want to turn brown. The recipe calls for a combination of lettuce and spinach.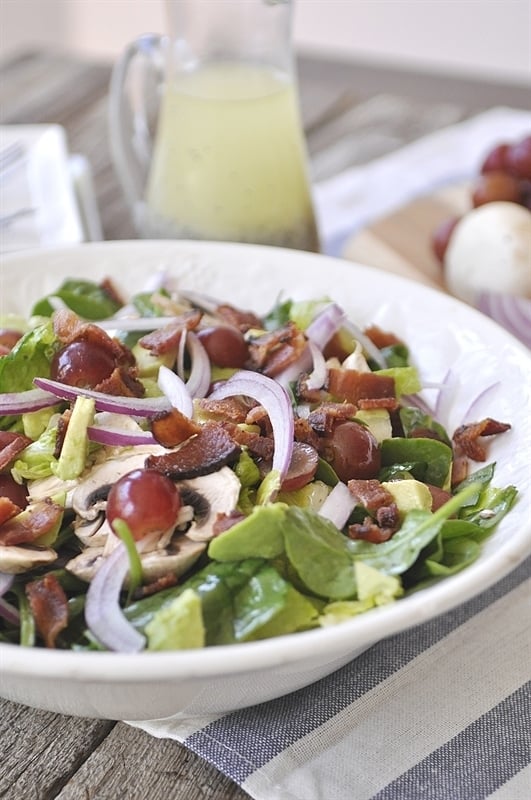 Since I was doing all the food for the party myself I needed to have as little last minute prep as possible. I made all 3 quiches the day before and just kept them refrigerated and made as much of the salads as I could the day before.
The cake was made the week before and frozen. I got up early the morning of the party and frosted it. The cupcakes were made the day before and I just frosted them the morning of. All the advance work really helped me avoid that last minute chaos and panic that can happen before an event. I also had my kitchen helper, my daughter Tessa, who was a huge help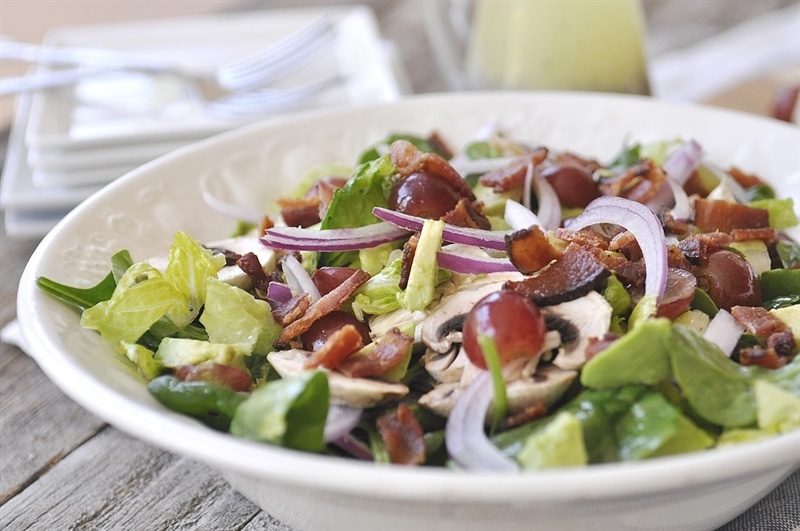 Do you have a favorite salad you enjoy in the summer time? Please share the recipe or leave a link to a post with the recipe in the comments! I need a few new summer salad ideas. Be sure and check out all the fun details from the party.
This recipe has no exact amounts. Just use as much as you like – it's the combination of all the yummy ingredients that make it so good. If there is something you don't like – leave it out. If there is something you really like – use more of it! Make it your own and enjoy!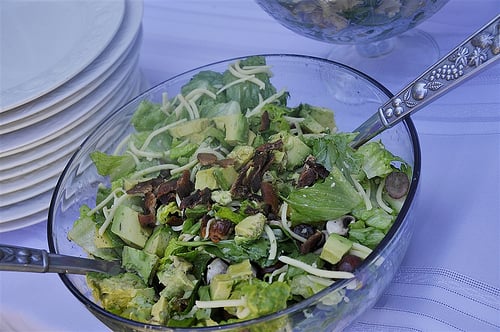 Sweet and Sour Salad
All of the flavors in this salad create a nice balance of sweet and sour.
Ingredients
12 oz Lettuce and spinach washed and torn into pieces
1/2 c Mushrooms fresh and thinly sliced
1/4 Sweet Onions purple, thinly sliced
1 Avocado sliced in small pieces
4 slices bacon or ham cooked and cut into small pieces
1/2 c Swiss cheese grated
1/2 grapes you can substitute mandarin oranges or pineapple
Sweet and Sour Dressing
5/8 c sugar one heaping 1/2 cup/
1 tsp dry mustard
1 tsp salt
1/3 C white vinegar
1 C canola oil
1 1/2 tsp poppy seeds
Instructions
Blend all ingredients except poppy seeds together

Then add poppy seeds

Add dressing to lettuce/spinach at the last minute and toss gently
Nutrition Facts:
Calories: 582kcal (29%) Carbohydrates: 28g (9%) Protein: 6g (12%) Fat: 51g (78%) Saturated Fat: 7g (44%) Polyunsaturated Fat: 12g Monounsaturated Fat: 30g Trans Fat: 1g Cholesterol: 18mg (6%) Sodium: 512mg (22%) Potassium: 330mg (9%) Fiber: 3g (13%) Sugar: 23g (26%) Vitamin A: 414IU (8%) Vitamin C: 6mg (7%) Calcium: 102mg (10%) Iron: 1mg (6%)
* Disclaimer: All nutrition information are estimates only. Read full disclosure here.