This tender and juicy salsa verde pork is definitely a family favorite.  And like all of my crock pot meals, they salsa verde pork tacos are quick and easy to put together for the perfect weeknight meal.
I think today's recipe gets the award for the most cooked recipe by my college kids.   I've had college kids since 2002 and my four kids have probably made this recipe more than any other one while they've been away at college.  There are a couple of reasons for this.  It's easy and it's delicious! It is made in a slow cooker and it also makes a nice big batch and they can eat all week long.  And it is also very versatile.  You can serve it as a taco, a burrito, on nachos, in a taquito, as enchiladas, etc.  The meat is also great served over rice or with some potatoes.  I guess that is more than just a couple of reasons.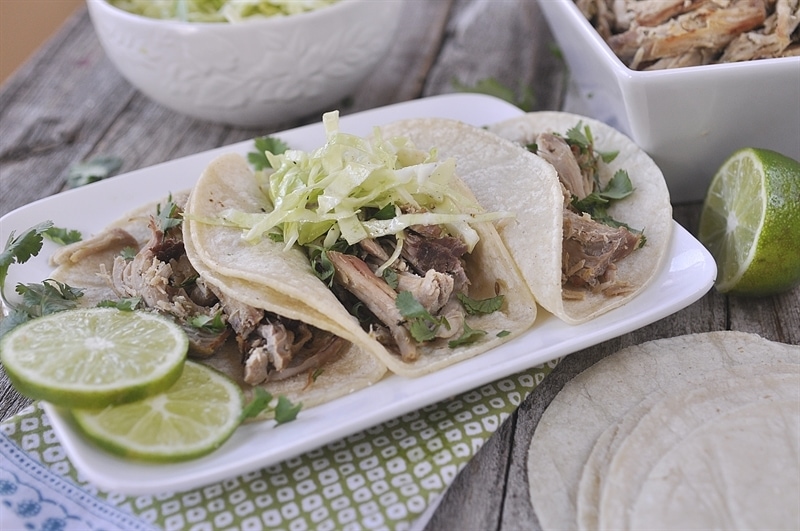 Remember I said it is easy?  Just add your pork along with a jar of salsa verde, some onion, chicken broth and seasonings into the slow cooker.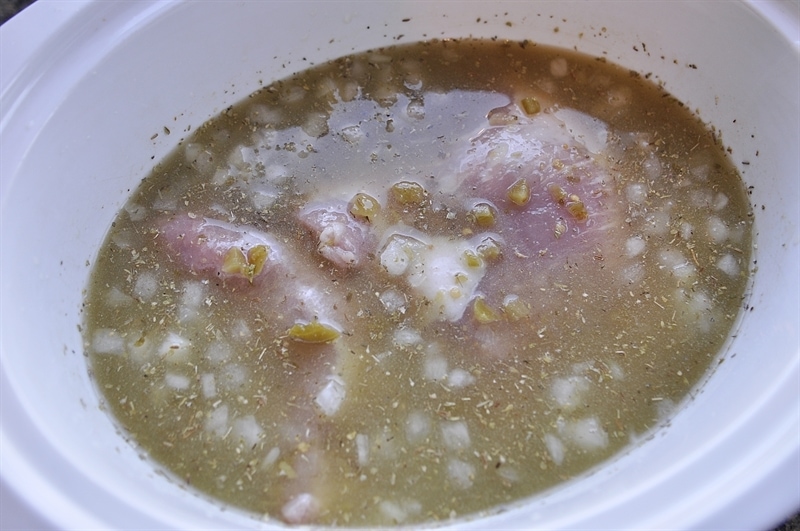 Salsa Verde Pork
It cooks on low for 6-8 hours. Remove the meat from the pan and use two forks to shred into pieces.  Place the shredded meat on a cookie sheet and pop it into the oven at 400 degrees to  roast the meat and get the edges nice and brown and crispy.  Put the leftover sauce into a pan and bring to a boil.  Let it boil and reduce for about 10 minutes.  After the meat is roasted put it in a bowl and add some of the reduced sauce back into the meat.  This helps keep the meat moist and delicious!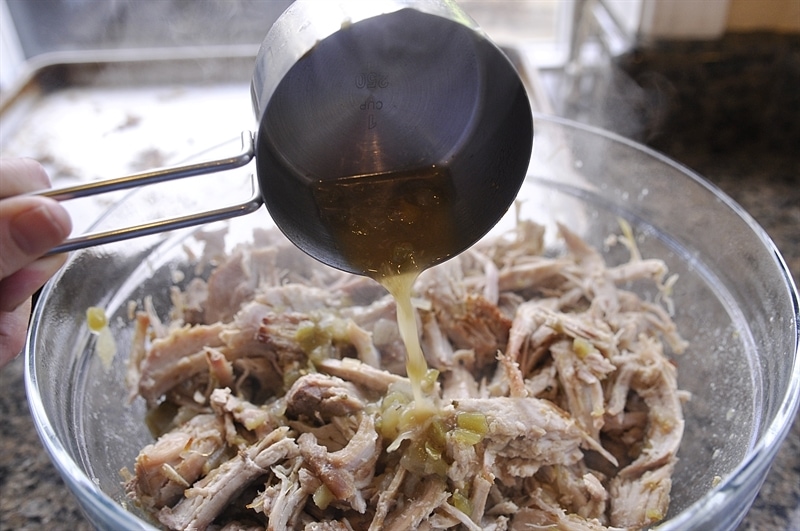 All that is left is to decide how to serve your salsa verde pork.  Us it to make tacos, burritos, or baked taquitos.
We like to add a little cabbage salad on top 0f our carnitas tacos.  It gives some nice crisp crunch to the tacos.  I just toss the cabbage with some olive oil, red wine vinegar, sugar and salt and pepper.  I hope this will become a regular staple in your meal rotation and that you love it as much as we do.
And make sure to check out more of my favorite pork recipes:
Slow Cooker Smothered Pork Chops
Pork Salsa Verde Slow Cooker Recipe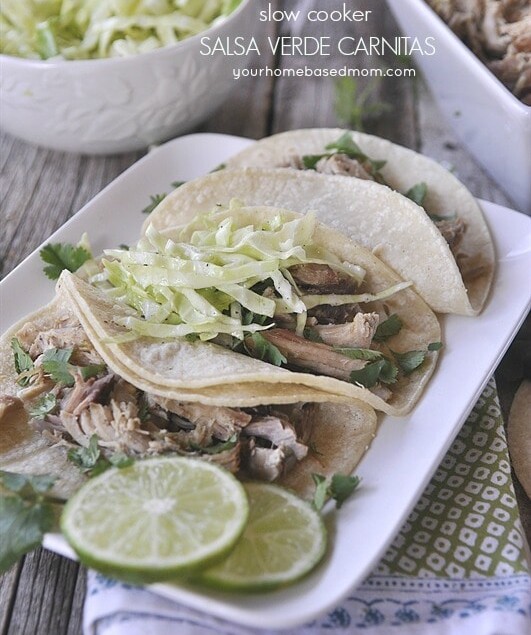 Salsa Verde Carnitas
Total :
7
hours
10
minutes
Ingredients
3½ pounds pork butt pork shoulder or pork carnitas
2 cups salsa verde bottled or canned
1 onion finely chopped
3 cups chicken stock
2 teaspoons cumin seeds
2 teaspoons coriander seeds
1 Tbsp fresh chopped oregano or 1 teas dried
½ C chopped fresh cilantro
Salt
12 to 16 corn tortillas heated and softened
¼ head of cabbage very thinly sliced
1 tsp olive oil
1 tsp seasoned rice vinegar if you only have unseasoned, add ¼ teaspoon of sugar to it
Salt and pepper
½ C crumbled Cotija Mexican farmer's cheese or some grated Monterey Jack cheese
Sour cream
Chopped cilantro for garnish
Instructions
Trim off the excess fat from the roast.

Place the meat in a heavy pan or Dutch oven.

Add the salsa verde, onion, stock, cumin seeds, coriander seeds, and oregano. Bring to a boil over high heat; reduce heat, cover, and simmer.

When the meat is very tender when pierced, about 3 hours it is done.

Can also be cooked in oven at 300 for about 3 hours or just throw it all in a crock pot and cook on low for 6-8 hours.

Preheat oven to 400°F. Remove meat from liquid in pot and put the meat into a roasting pan.

With 2 forks, shred the meat into large pieces.

Roast meat for 15 to 20 minutes until parts are brown and crispy.

While the meat is roasting, remove the liquid in the casserole pan.

Boil the juices, stirring, until reduced to 2½ cups, 8 to 10 minutes.

Return the meat to the pan.

Stir in chopped cilantro.

Season with salt.

Seasoned Cabbage Slaw

Thinly slice cabbage and place in a medium sized bowl.

Sprinkle on olive oil, seasoned rice vinegar, salt and pepper.

You can also use white vinegar or apple cider vinegar in place of the rice vinegar.

Sprinkle with a little sugar to balance out the acidity of the vinegar. Toss.

Season to taste. Let sit for 10 minutes for the cabbage to absorb some of the dressing.
Nutrition Facts:
Calories: 343kcal (17%) Carbohydrates: 10g (3%) Protein: 40g (80%) Fat: 14g (22%) Saturated Fat: 4g (25%) Cholesterol: 121mg (40%) Sodium: 671mg (29%) Potassium: 978mg (28%) Fiber: 1g (4%) Sugar: 6g (7%) Vitamin A: 465IU (9%) Vitamin C: 14.1mg (17%) Calcium: 63mg (6%) Iron: 3.4mg (19%)
* Disclaimer: All nutrition information are estimates only. Read full disclosure here.