This Pumpkin Pie Mikshake is the perfect way to use up leftover pumpkin pie.  If you don't have leftover pie, make or buy a pie just so you can make Pumpkin Pie Shakes!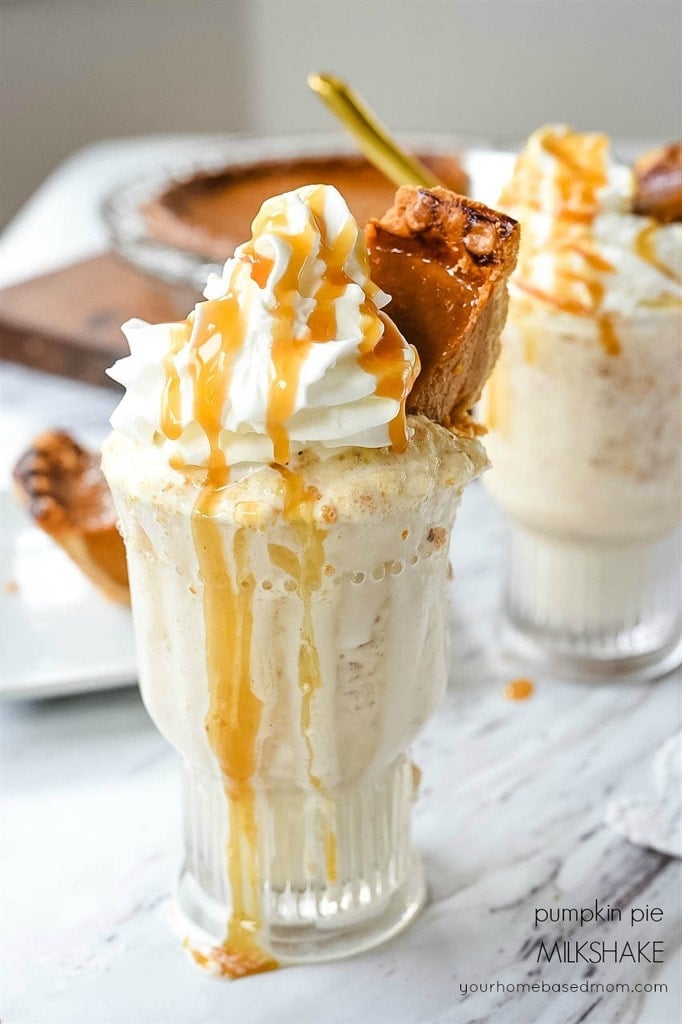 Pie Shake
The first time I saw a pumpkin pie milkshake on a menu, I thought, YUCK! I love my milkshakes, but I don't like pumpkin pie. And the thought of a piece of pie in a milkshake was just a little too weird for me. Well, I have quickly changed my tune!!
I first saw the idea of a pie shake on the menu at a restaurant in Provo, Utah. They had all different flavors and combos. The first one I ever tried was an Oreo Mint Pie Shake and it was delish. I discovered that the idea of combining a piece of pie and a milkshake was pretty much brilliant. They put the whole piece of pie, crust and all, into the blender with ice cream.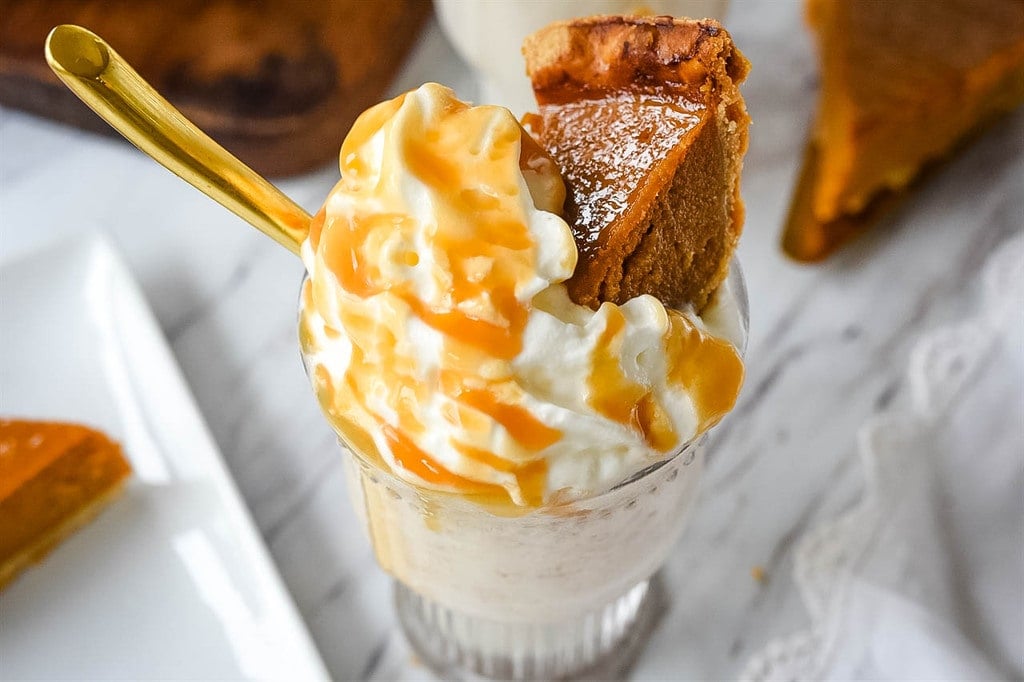 So maybe the idea of a Pumpkin Pie Shake wasn't so strange after all?!
How to make a Pumpkin Pie MilkShake
I decided I didn't want to wait until we had leftover Thanksgiving pumpkin pie to give it a try so I bought a frozen pumpkin pie!
Bake the pie according to directions on box or use leftover pie.
Cut baked pie into slices and freeze individual slices.
Chop up the frozen slice of pie.
Place pie in blender along with ice cream, milk and blend.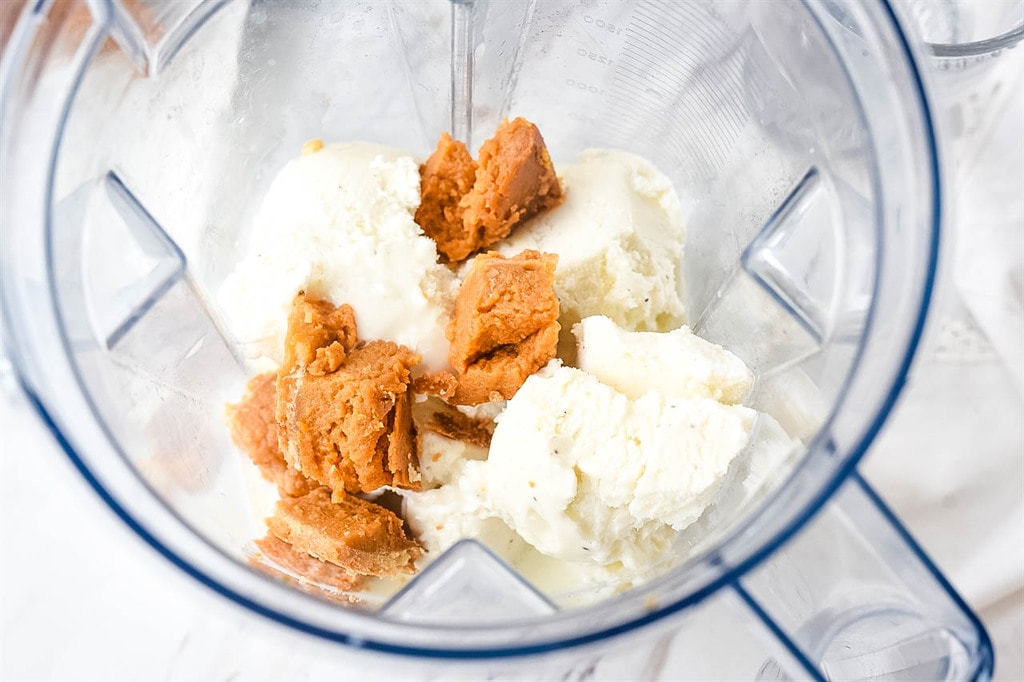 Guess what? It is awesome!! Remember, I don't even like pumpkin pie but a pumpkin pie shake is amazing! For me, it is the texture of pumpkin pie I don't like but I like the flavor so a pumpkin pie milkshake is perfect.
You can also use pumpkin pie made from scratch. This would be a fun way to enjoy your leftover Thanksgiving pie. But the quick and easy store bought pie is pretty delicious too!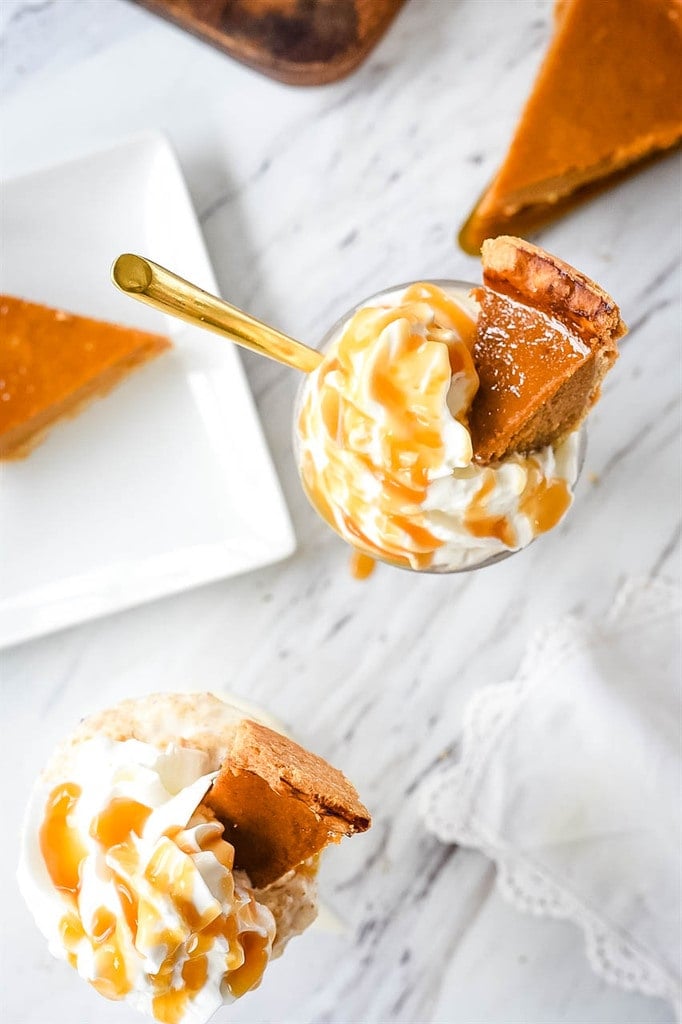 Can I Use Other Kinds of Pie?
So when you have some leftover pumpkin pie – try something new! Pop it in the freezer and then make yourself a Pumpkin Pie Shake – you won't regret it!! The possibilities are endless – Banana Cream Pie Shakes, Chocolate Cream Pie Shakes, and Coconut Cream Pie Shakes just to name a few! If you have other pies leftover from Thanksgiving, give them a try too!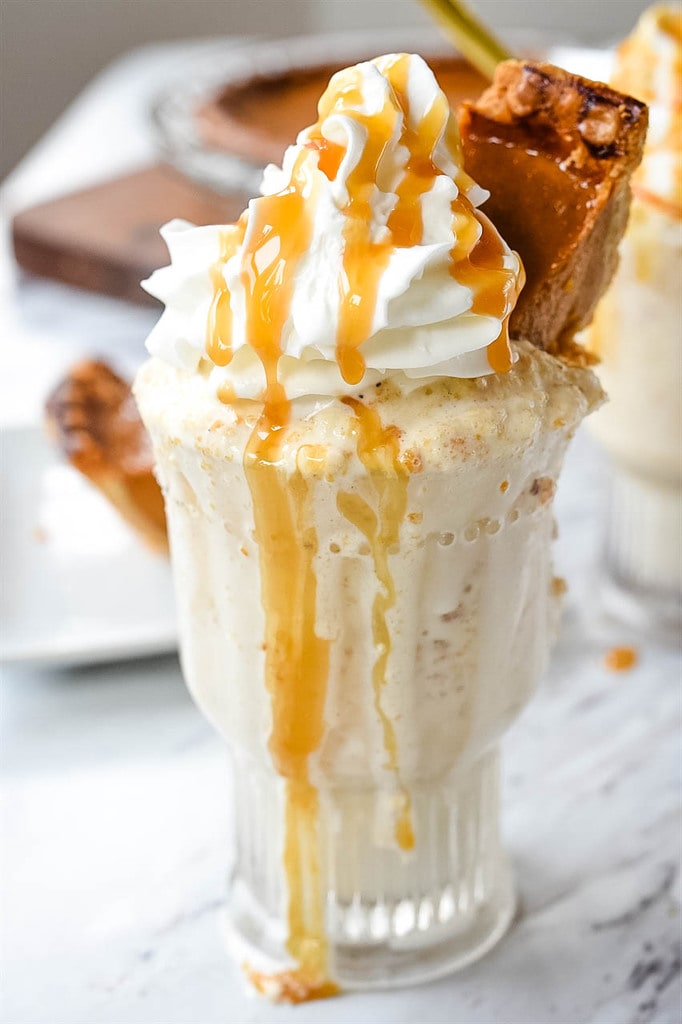 Just top the milkshake with some whipped cream, caramel sauce and a little piece of pumpkin pie!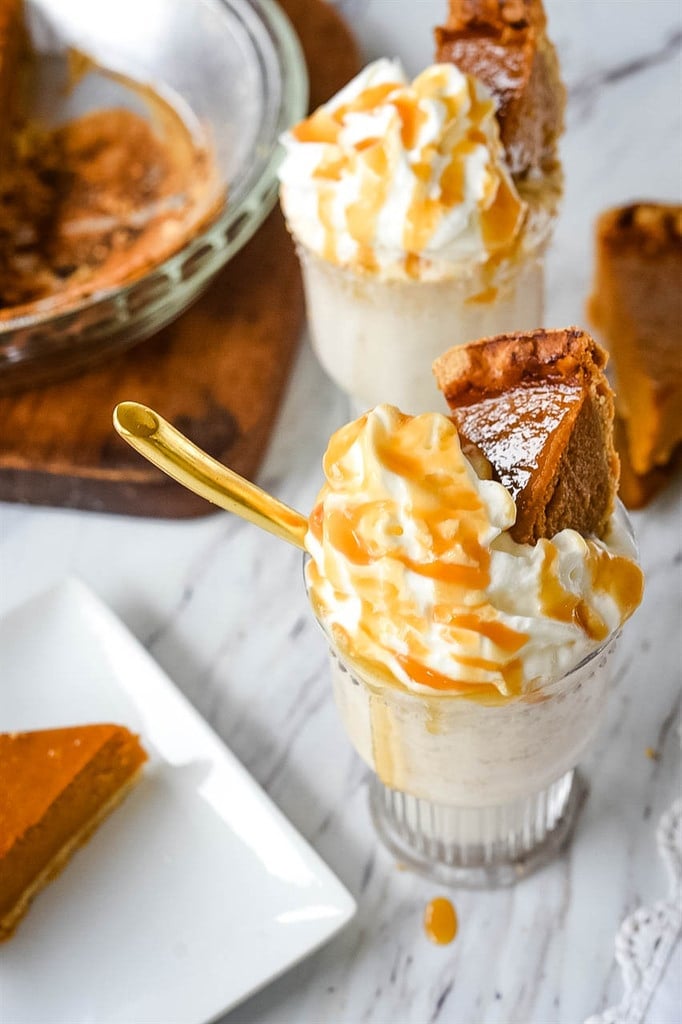 Then grab a spoon and dig in!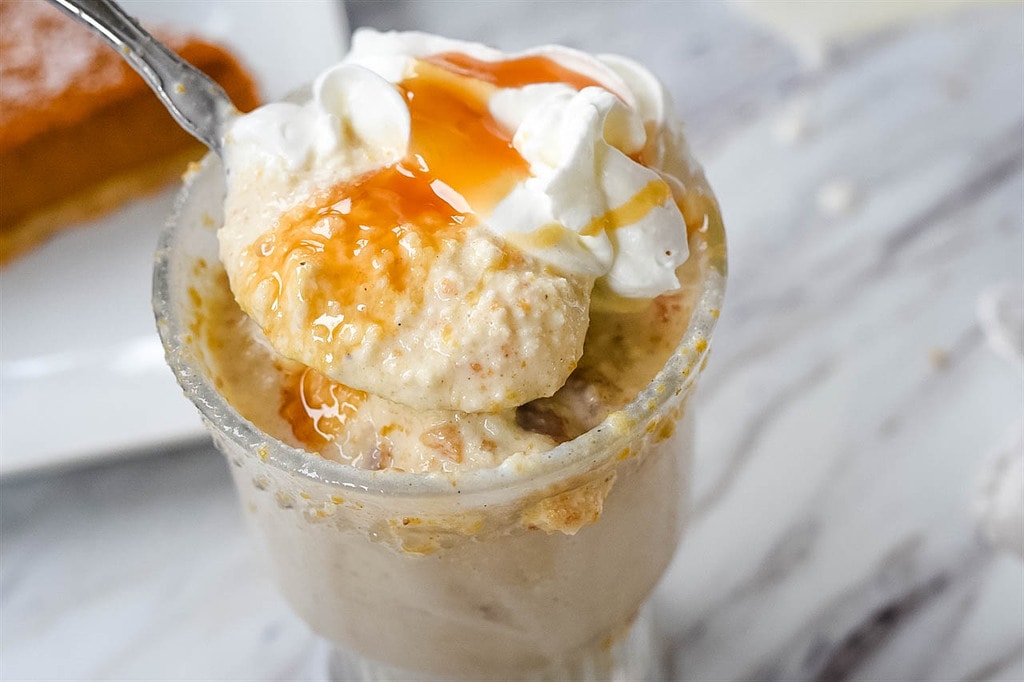 Check out more of my favorite ice cream recipes:
For all my other favorite kitchen products and tools visit my Amazon Store.
Did you know I wrote a cookbook? Check out the Holiday Slow Cooker Cookbook for 100 delicious recipes. Be sure and follow me over on You Tube for weekly cooking demos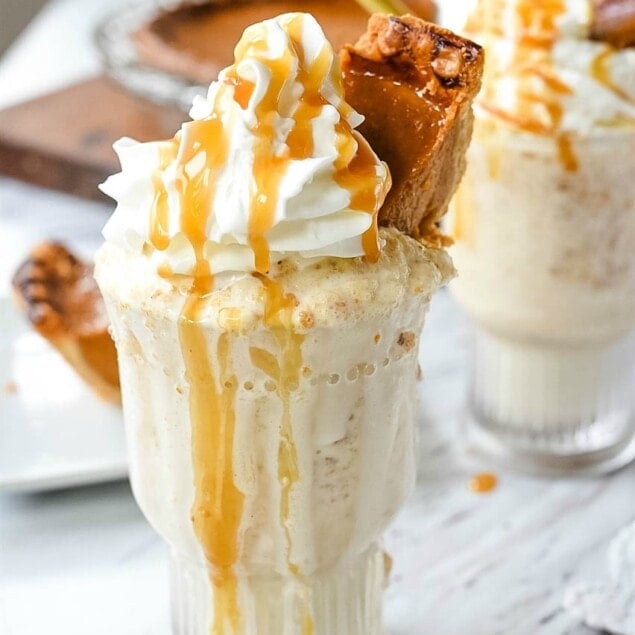 Pumpkin Pie Milkshake
This yummy Pumpkin Pie Shake is the perfect way to use up leftover pumpkin pie.
Ingredients
2 cups vanilla ice cream
1 cup milk
1 large slice pumpkin pie chopped and frozen (can be used unfrozen also)
Whipped cream garnish
caramel sauce garnish
Instructions
Combine ice cream, milk and pie in blender.

Pulse to blend. Keep in freezer if not serving immediately.

When ready to serve, stir and scoop with a big spoon into mugs. serve with a dollop of whipped cream, a drizzle of caramel sauce and a small piece of pie as a garnish.
Nutrition Facts:
Calories: 348kcal (17%) Carbohydrates: 37g (12%) Protein: 8g (16%) Fat: 18g (28%) Saturated Fat: 11g (69%) Cholesterol: 70mg (23%) Sodium: 159mg (7%) Potassium: 423mg (12%) Sugar: 34g (38%) Vitamin A: 795IU (16%) Vitamin C: 0.8mg (1%) Calcium: 307mg (31%) Iron: 0.1mg (1%)
* Disclaimer: All nutrition information are estimates only. Read full disclosure here.