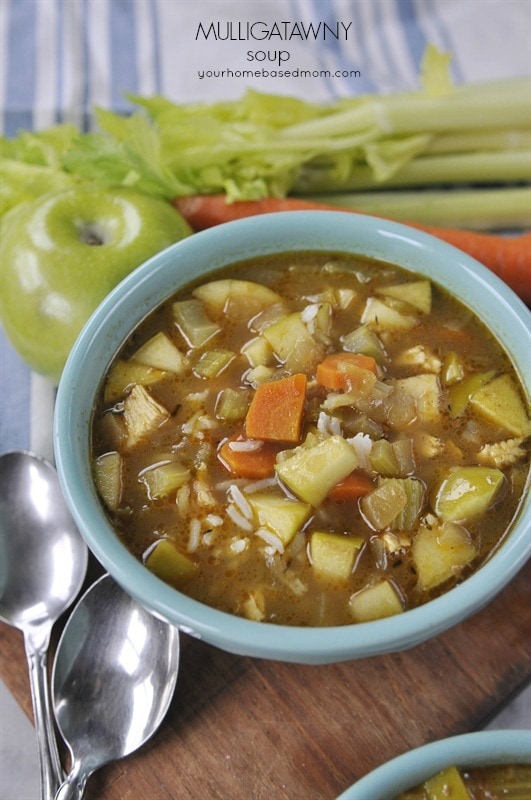 Mulliga what?  That's exactly what I said when I ran into a friend from church at a local soup and salad restaurant.  She was going in to see if they had Mulligatawny soup that day.  I pretended like I knew what she was talking about and quickly went home and Googled it.
Here is what I learned.  Mulligatawny soup is a curry flavored soup that is Anglo-Indian cuisine.  The soup is typically thickened with lentils or rice.  I Googled around some more and found various recipes for Mulligatawny Soup.  I then got to experimenting in the kitchen.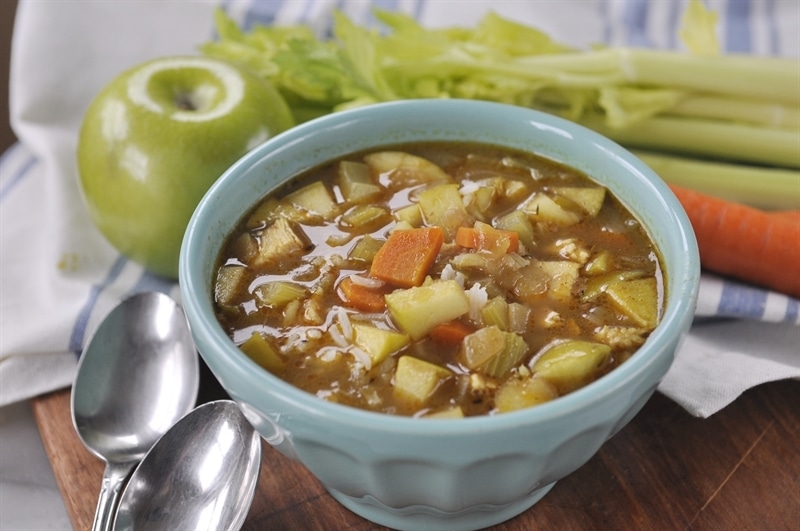 The soup has a few interesting ingredients.  Apples for one.  Apples in and of themselves are not unusual but I had never had soup with apples in it before.  I talked to someone else who has a version of Mulligatawny soup that she uses bananas in.  I'm not sure about bananas in soup?
This soup has lots of flavor t hanks to the curry.  I also decided to add in some garam masala which added some heat to the soup.  If you don't like heat I suggest leaving the garam masala out.  It is a spice blend that can be found at Indian grocery stores.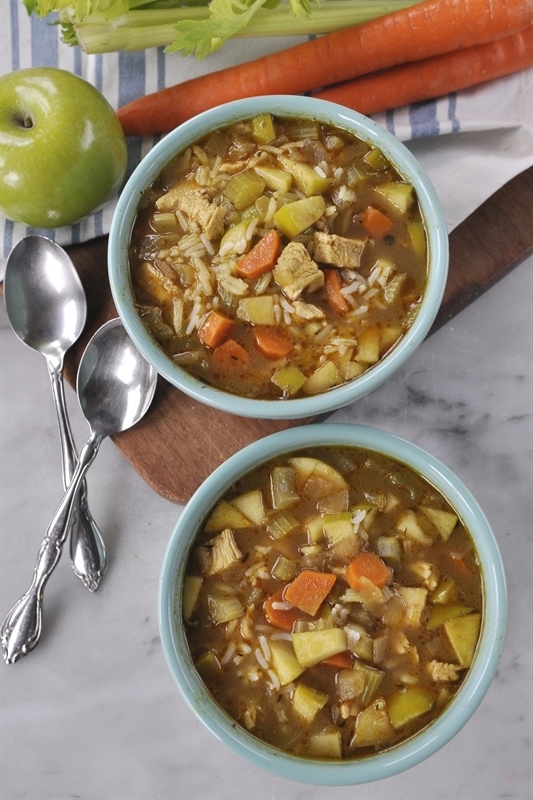 I loved the rice in the soup and the body and texture it gave it.  The soup also has chicken in it.  It is full of lots of fun flavors and textures.  We will definitely be making this one again at our house.  Mulligatawny Soup typically has cream in it but because Jim is dairy free I left out the cream.  You could use coconut milk if you want the creaminess but not the dairy.  We thought it was great without any kind of milk/cream.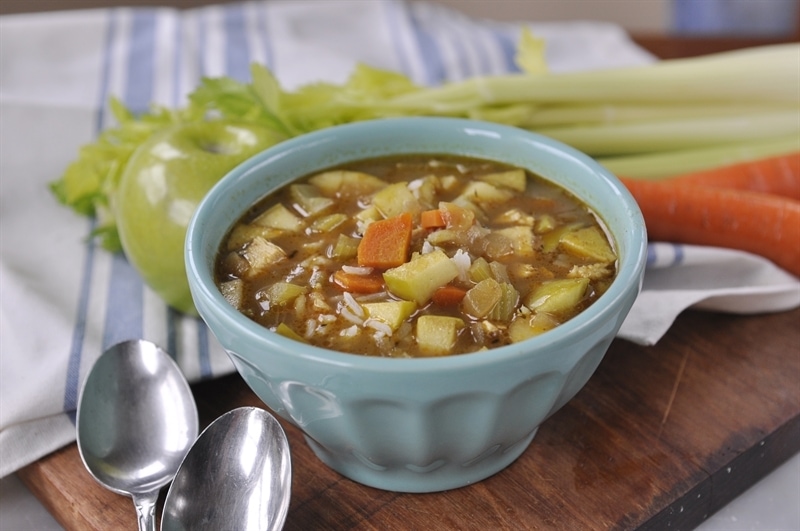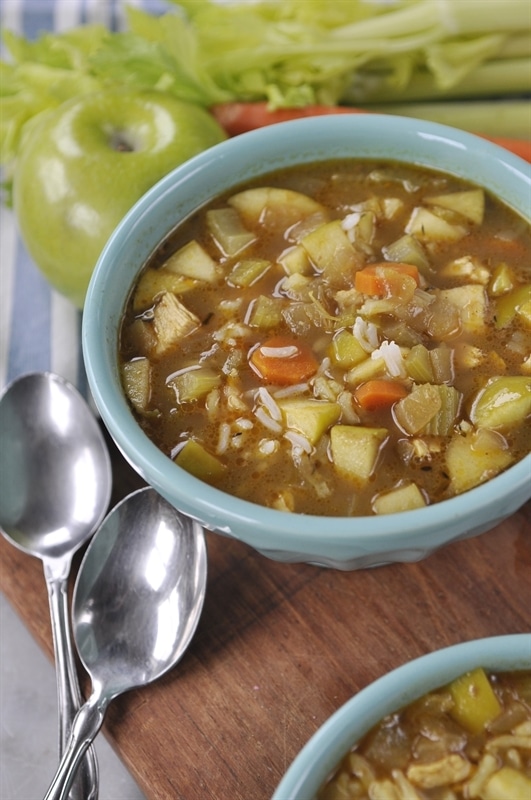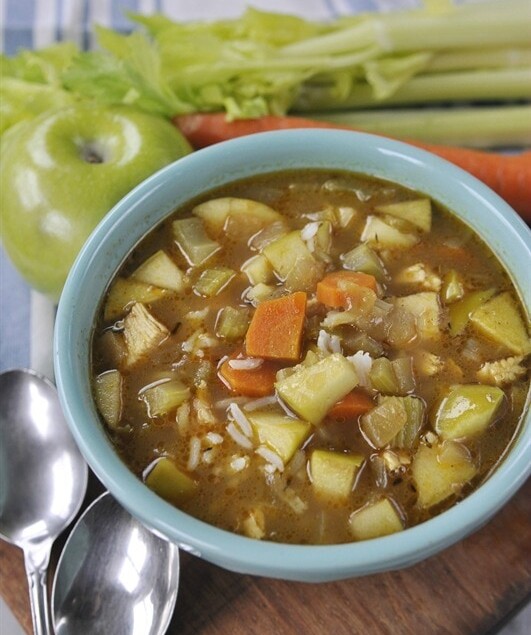 Mulligatawny Soup
Ingredients
1/2 C onion chopped
1 C celery chopped
1 C carrot chopped
1 tsp garlic minced
1/4 C butter
1 1/2 Tbsp all purpose flour
1 -2 tsp yellow curry powder
5 C chicken broth
1/2 Tbsp garam masala optional for extra heat
1 granny smith apple cored and diced
1 C cooked rice
1 skinless boneless chicken breast, cooked and cut into cubes
salt and pepper to taste
1/4 tsp dried thyme
1/2 C heavy cream or coconut milk
Instructions
Saute onions, celery, carrots and garlic in butter in a sou pot.

Add flour and curry. Cook for 5 minutes.

Add in chicken broth and bring to a boil. Simmer for 30 minutes

Add in apple, cooked rice, salt, pepper,and thyme.

Simmer for 15-20 minutes.

When ready to serve add in warm cream or coconut milk