These Malted Milk Ball Cookies are crispy on the edges and chewy in the middle.  Pretty much a perfect cookie!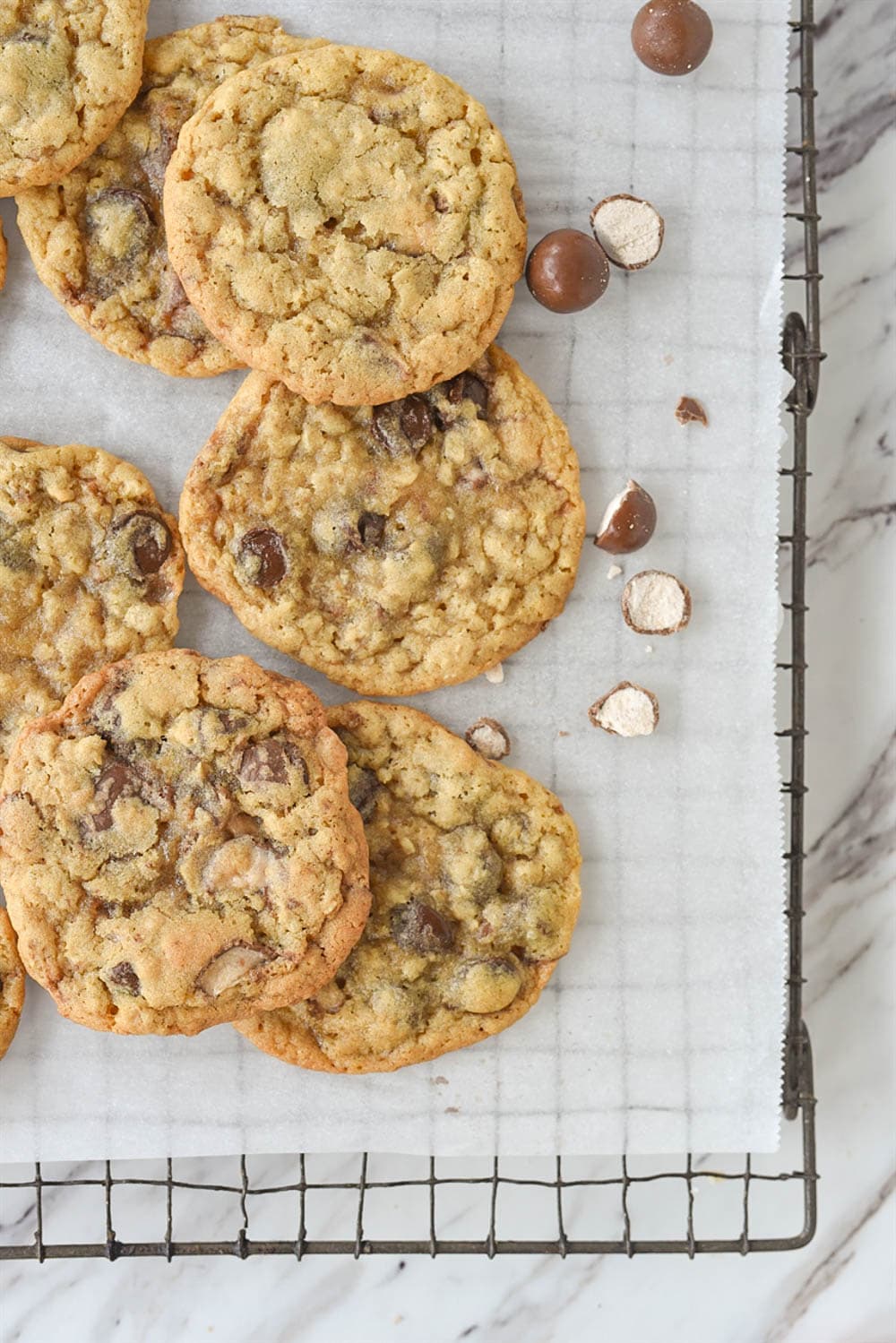 I have a rating system for cookies and it doesn't involve stars or thumbs up, it involves cookies. More specifically, it involves how many of the cookies did I eat?!
Some cookies are just One Cookie Recipes, meaning I ate one and was satisfied, I got a taste and that was enough.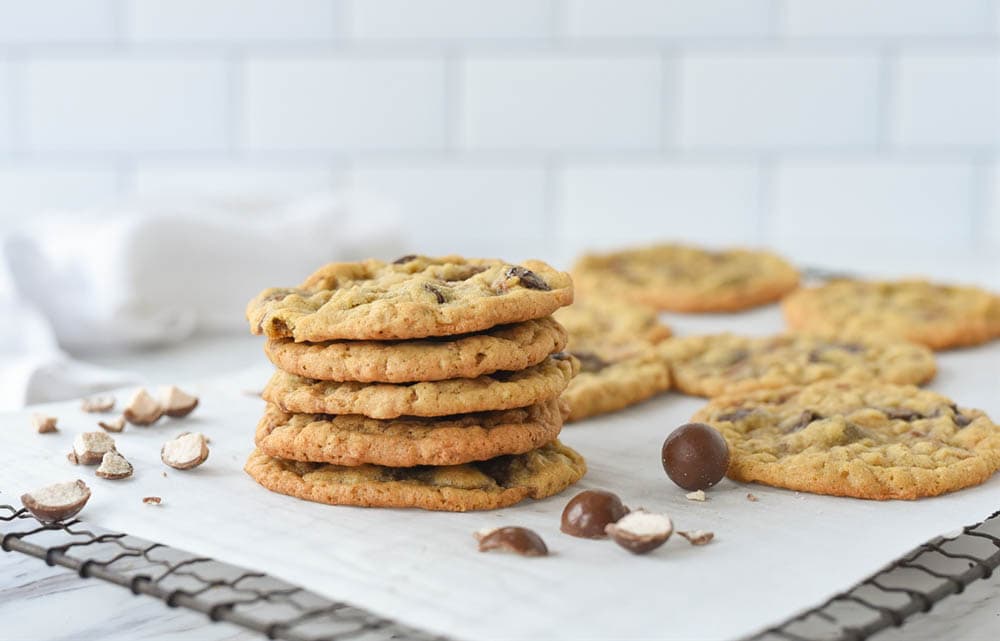 But some cookie recipes are Five Cookie Recipes and today's recipe is one of them!  I think I ate at least five, so much for portion control!!
The use of malted milk balls in this cookie is a fun alternative to chocolate chips. You get a hint of chocolate and I love the malted flavor it adds. The cookies are a nice thin, crispy edged cookie but chewy in the middle type of cookie which is just the way I like my cookies. The addition of oatmeal and malted milk balls help give the cookie it's chewiness.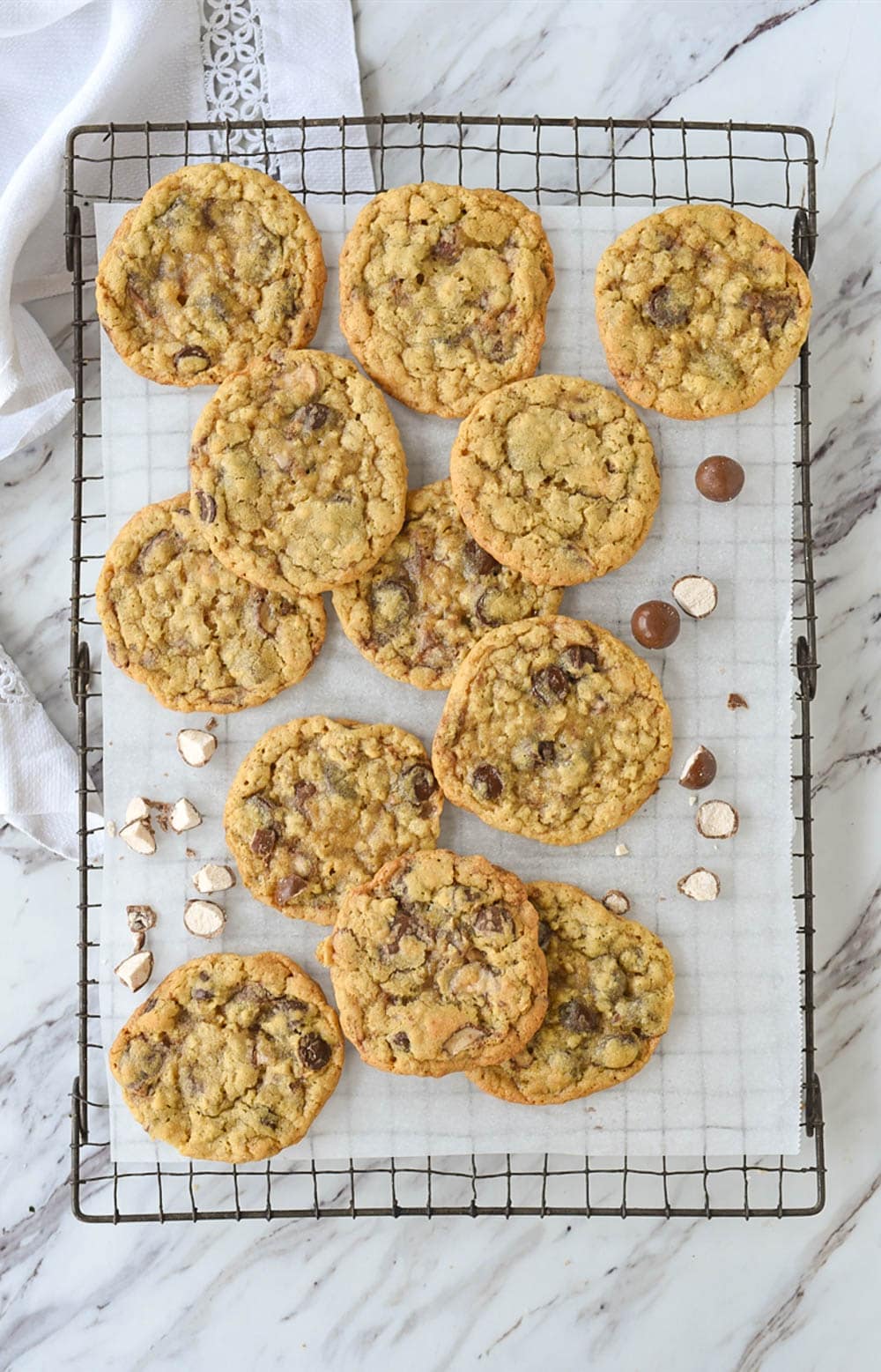 How to Make Malted Milk Ball Cookies
The secret ingredient to these cookies is malted milk balls. I used the Whopper variety which are usually easy to find in the candy aisle of the grocery store.
Coarsely chop your malted milk balls. I do this with a knife. Don't chop them up too finely, I like to be able to bite into pieces of malted milk balls in my cookie.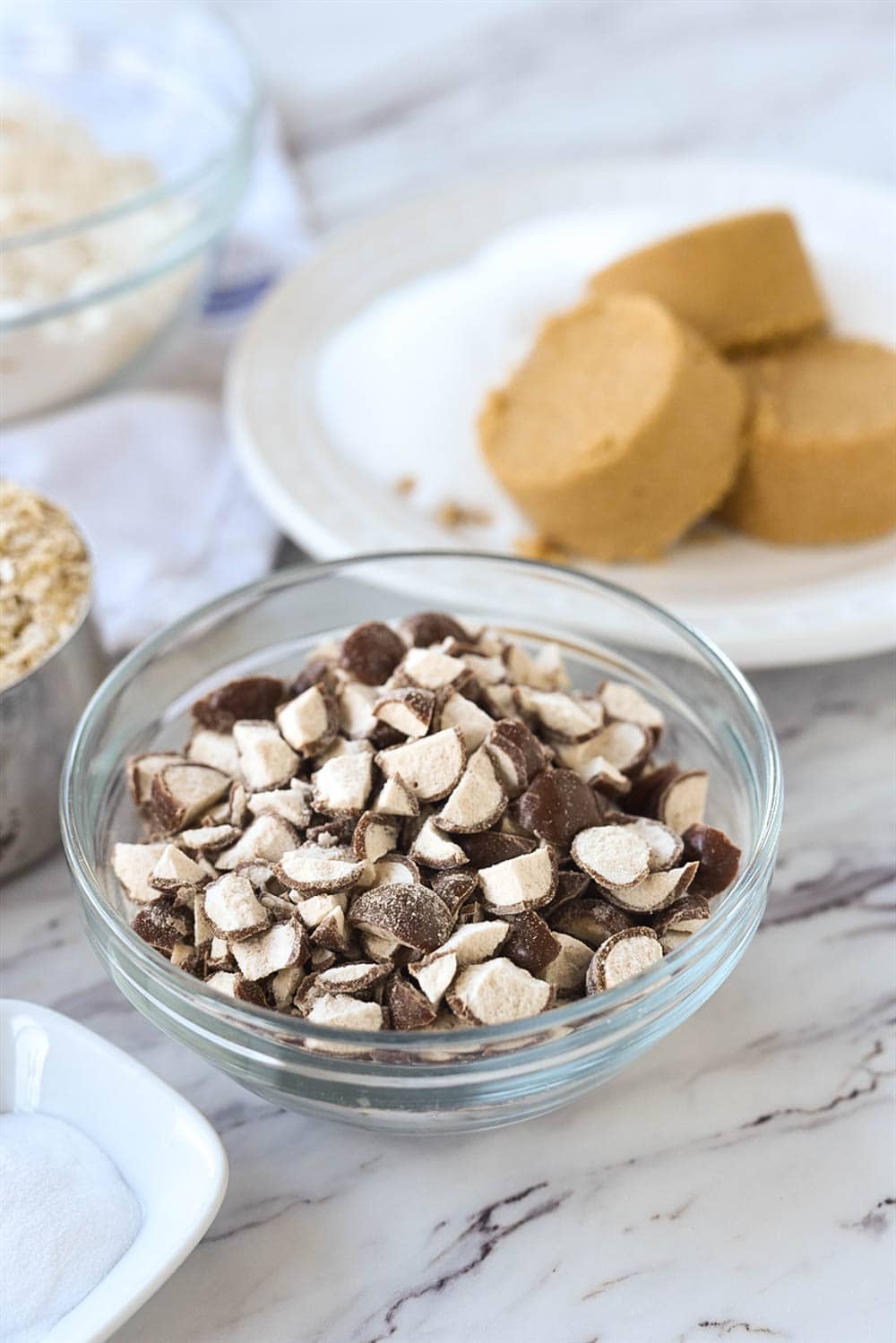 Cream together sugars and butter until light and fluffy. Add in eggs and vanilla.
Add in dry ingredients and pulse mixer just until ingredients are incorporated. Don't over mix.
Stir in malted milk ball pieces by hand.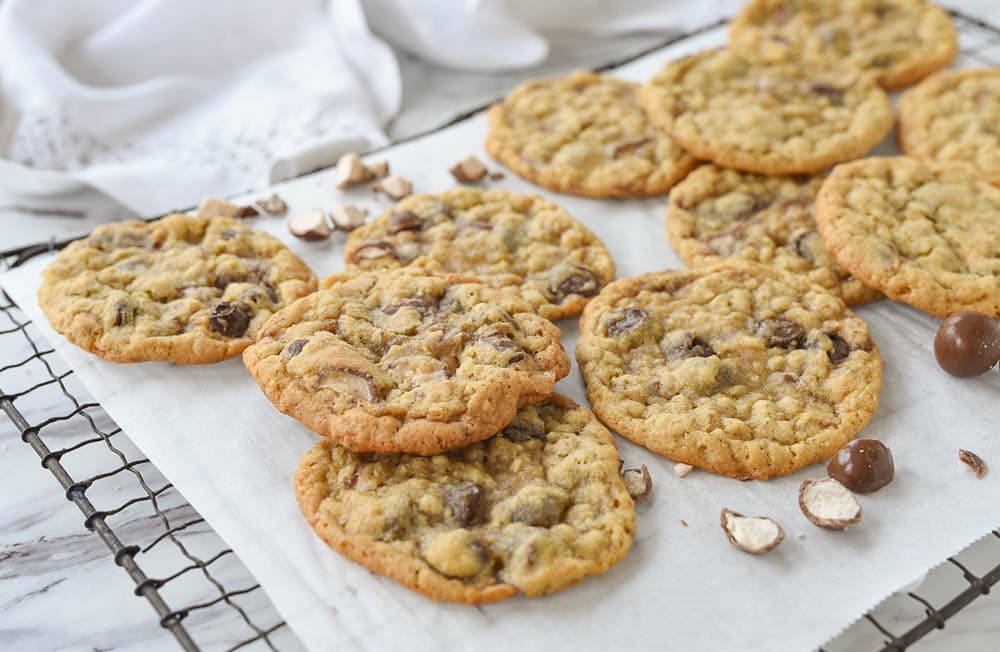 Line baking sheets with parchment paper and form balls of dough.
Bake in a 350 degrees F oven for 8-10 minutes or until edges of cookies begin to brown. Less time for a chewier cookie, more time for a crisper cookie.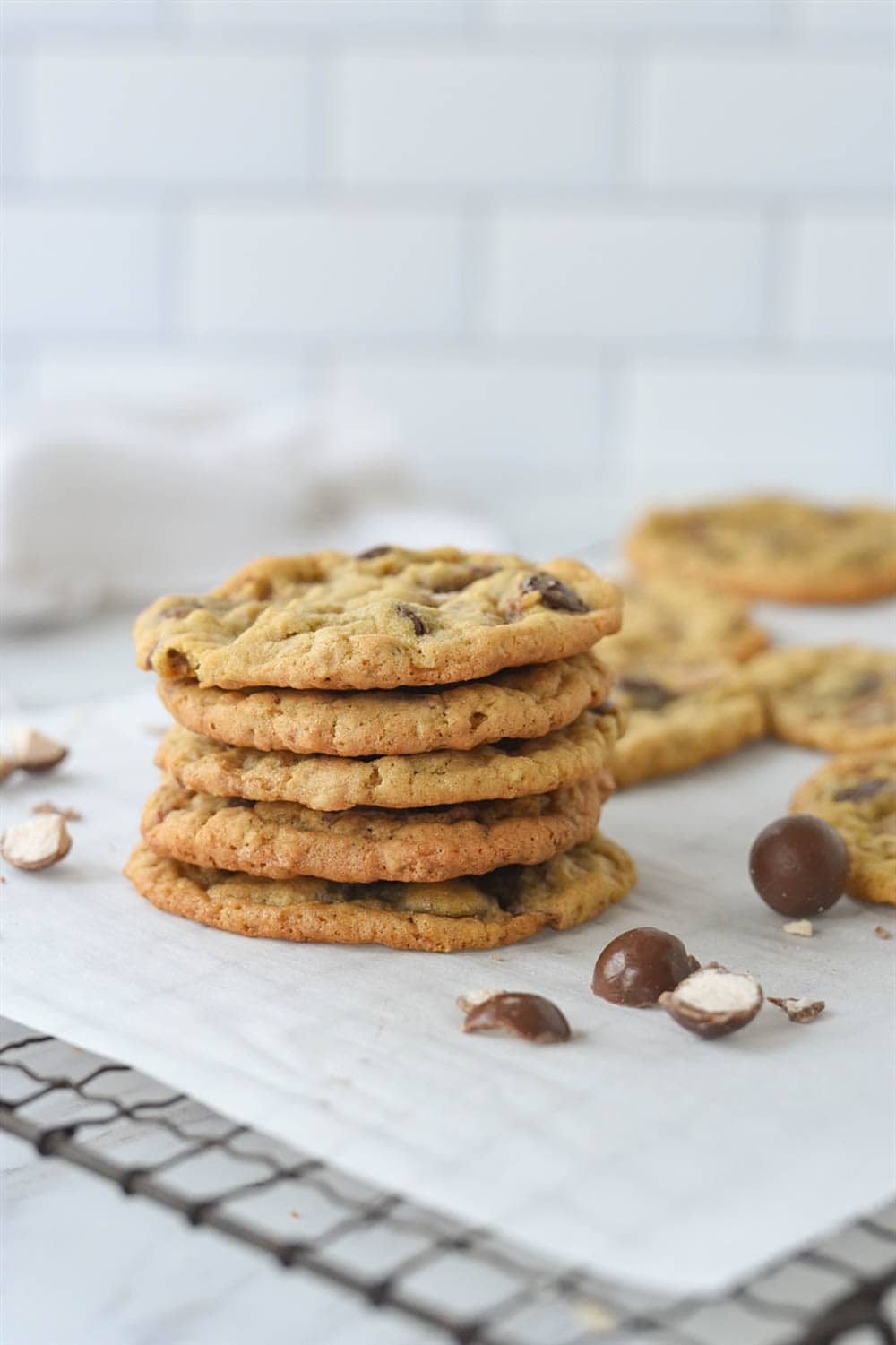 Reasons to Use Parchment Paper:
Parchment paper regulate the temperature of your baking sheet. Not all baking sheets are created equal or cook evenly. The parchment paper helps even out the temperature.
It prevents the cookie from sticking to the baking sheet.
Cookies will spread less when baked on parchment paper.
Clean up is easier! I do reuse my parchment paper several times, turning it over to use both sides to avoid excess waste.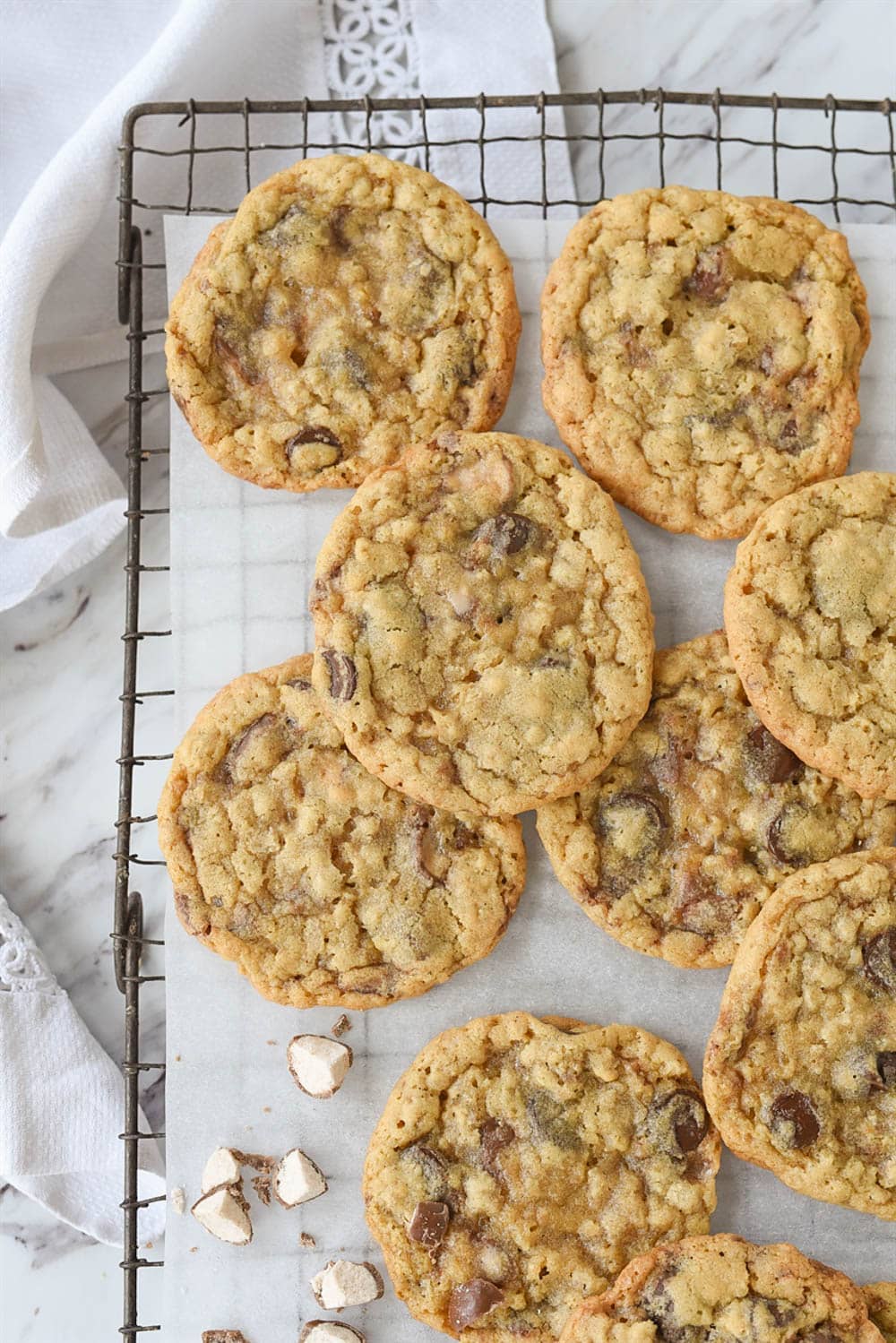 So, don't say I didn't warn you, this is definitely a Five Cookie recipe! I can't be held for responsible for all the extra calories you may be consuming.
Some of my other favorite things to make with malted milk balls:
For all of my other favorite kitchen products and tools visit my Amazon Store.
Malted Milk Ball Cookie Recipe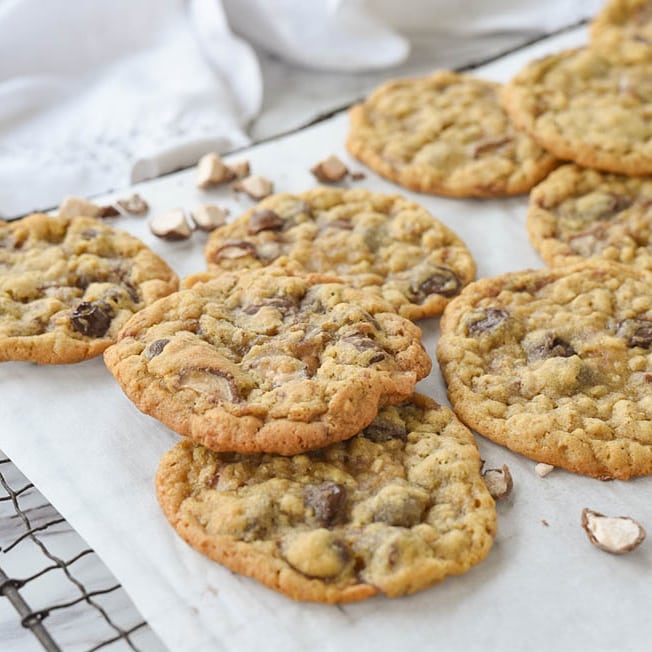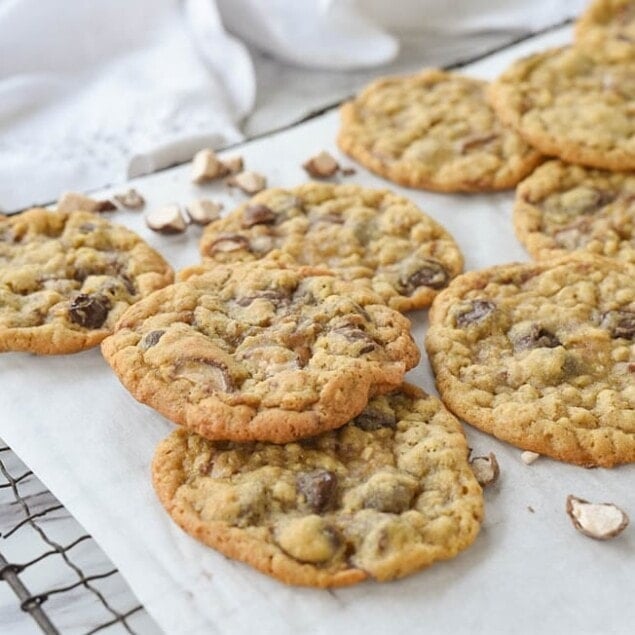 Malted Milk Ball Cookies
Oatmeal Cookies with Malted Milk Balls
Ingredients
3/4 cup butter softenend
3/4 cup brown sugar packed
3/4 cup granulated sugar
2 eggs
2 tsp vanilla extract
2 cups flour
1 cups quick cooking oats
1 tsp baking soda
3/4 tsp salt
1 1/4 cups malted milk balls coarsely chopped (5 oz. box)
3/4 cup semi sweet chocolate chips
Instructions
Heat oven to 350 degrees

In your mixer, combine the butter and sugar and beat until light and fluffy

Add in eggs and vanilla and mix together.

In another bowl combine your dry ingredients, flour, oats, baking soda and salt

Add dry ingredients into the butter and sugar mixture and mix until just combined.

Stir in malted milk balls and chocolate chips by hand.

Bake on a parchment lined baking sheet for 8-12 minutes, depending on the level of crispness you would like

Cool for a few minutes and then move to a wire rack
Nutrition Facts:
Calories: 157kcal (8%) Carbohydrates: 23g (8%) Protein: 2g (4%) Fat: 6g (9%) Saturated Fat: 4g (25%) Cholesterol: 29mg (10%) Sodium: 183mg (8%) Potassium: 39mg (1%) Fiber: 1g (4%) Sugar: 13g (14%) Vitamin A: 197IU (4%) Calcium: 13mg (1%) Iron: 1mg (6%)
* Disclaimer: All nutrition information are estimates only. Read full disclosure here.