These easy make ahead muffins are the perfect kid friendly recipe, and give you fresh muffins fast anytime you like.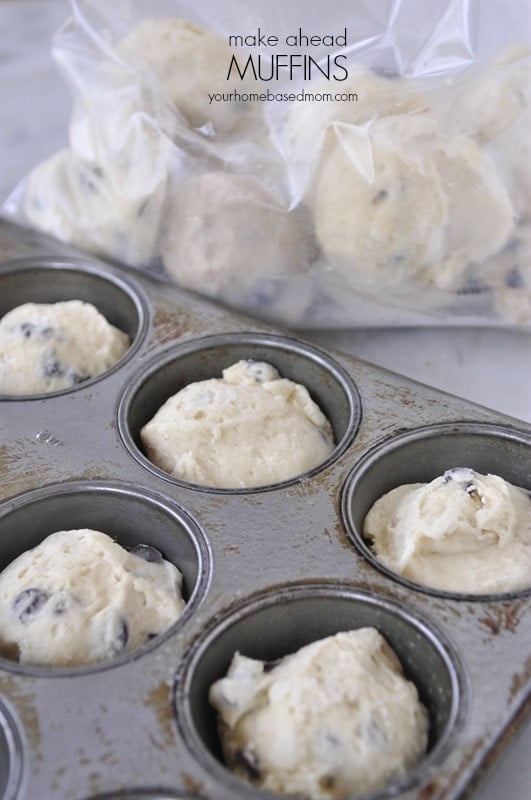 This is a great basic muffin recipe that can be dressed up or dressed down. You can add in your favorite muffin flavors such as blueberries, chocolate chips or apple bits. But the best part of the recipe is that you can make up the batter and then freeze it in the muffin tins!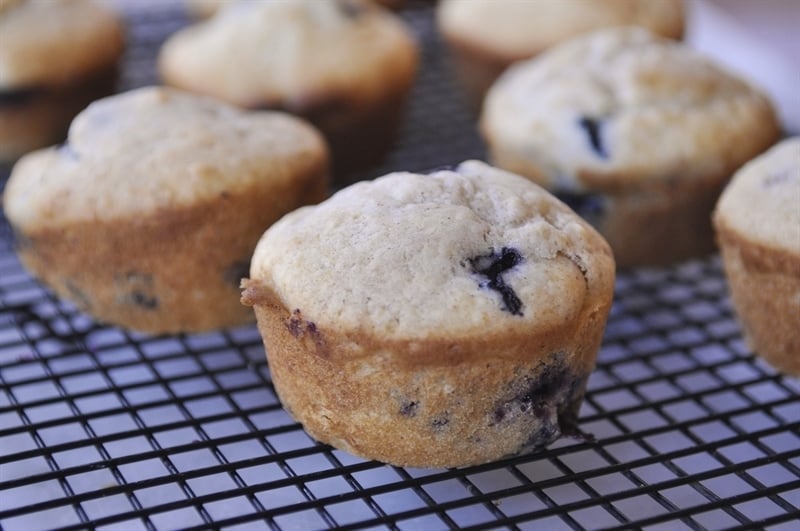 Now you have muffins ready to be popped into the oven in a matter of minutes any morning you want a nice hot muffin. I had my three cute sisters back in the kitchen to help me this time. We had lots of fun along with learning a few things too, like how to level your flour and yogurt. And then how to crack an egg.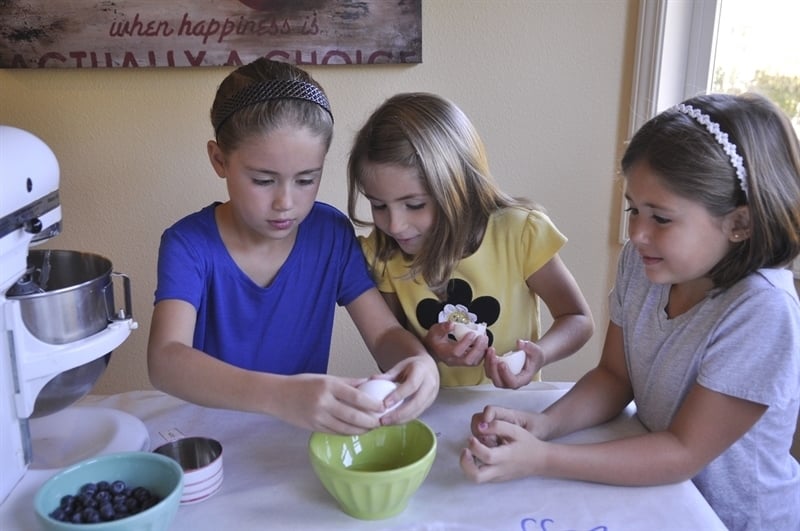 I wrote the recipe out onto the paper covered table so the girls knew exactly how much of each ingredient they needed. They did all the measuring and mixing. They decided they wanted to make both blueberry muffins and chocolate chip muffins so we divided the batter in half and made both.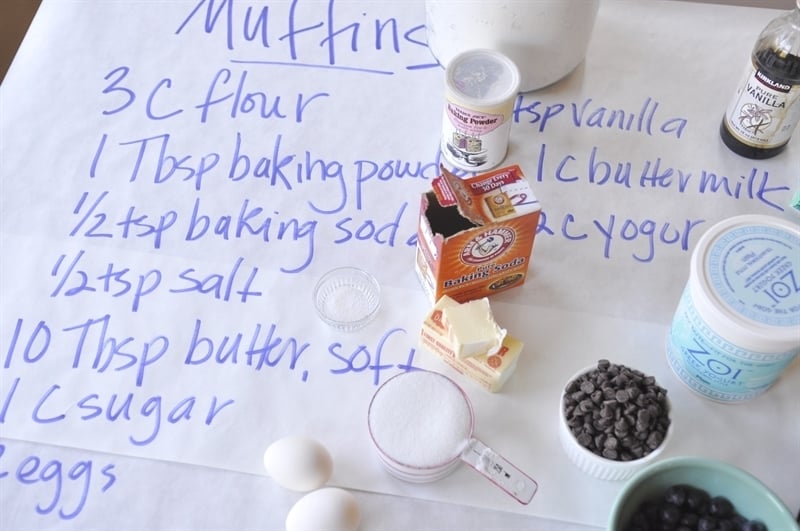 We then used an ice cream scoop to scoop the batter into a well greased muffin tin.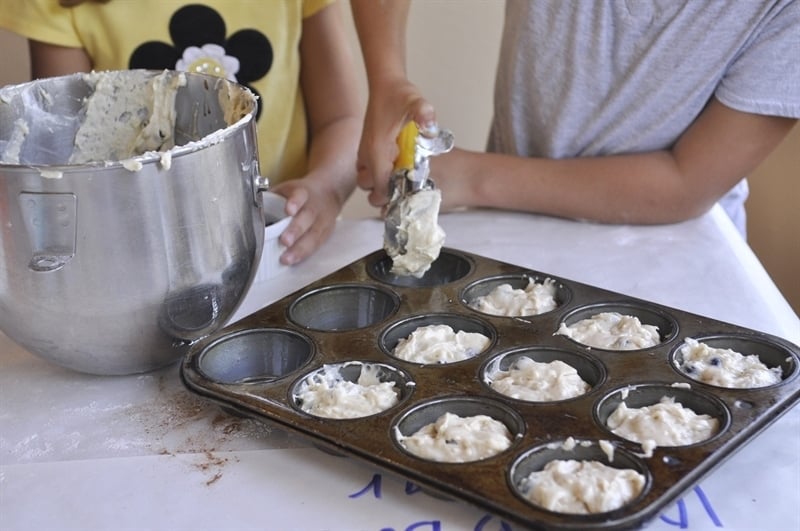 At this point you can cover the muffin tin with plastic wrap and put it into the freezer for about 6 hours or until the batter freezes firm.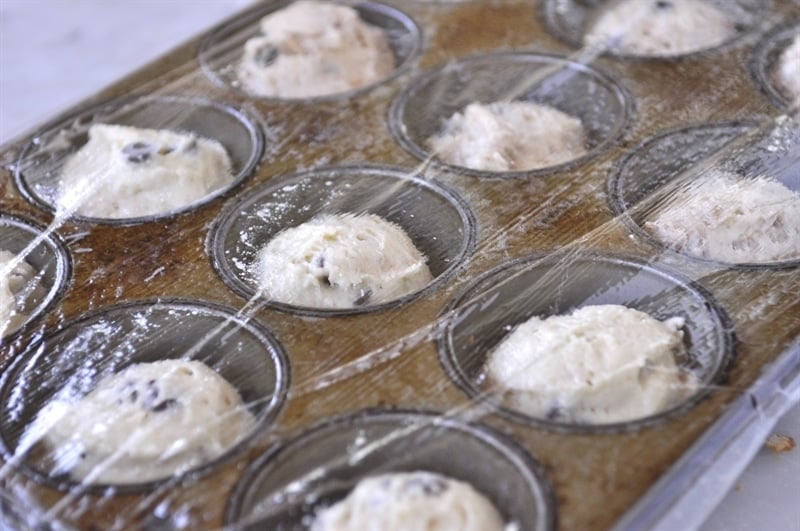 After they are nice and frozen remove them from the freezer and pop them out of the muffin tin and put them into a freezer bag. Now you are ready for a nice fresh, hot muffin at any time! They only take about 20 minutes to bake frozen.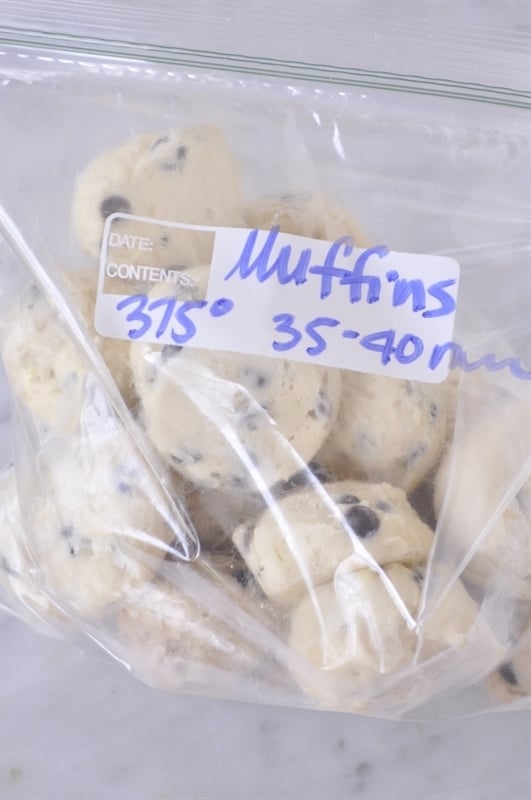 Of course we had to bake a batch right them so the girls could taste test them. They met with the girls approval.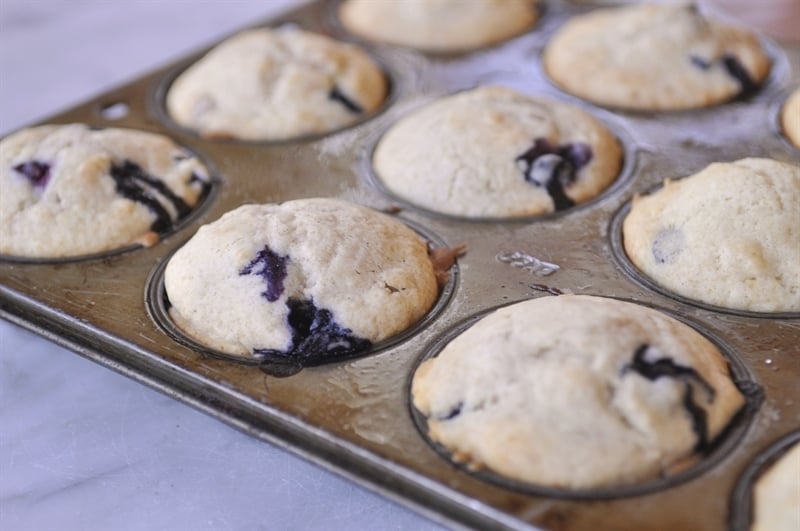 They had a hard time deciding whether they liked the blueberry or chocolate chip better but I think the chocolate chip won out!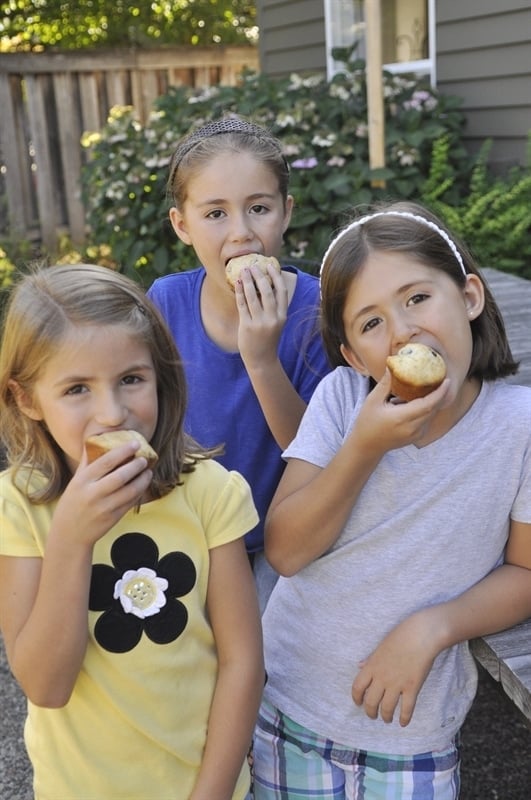 Check out more kid friendly cooking recipes:

Make Ahead Muffins
Delicious muffins you can make ahead and pop in the oven for fresh muffins any time!
Ingredients
3 C flour
1 Tbsp baking powder
1/2 tsp baking soda
1/2 tsp salt
10 Tbsp butter softened
1 C sugar
1 tsp vanilla
2 eggs
1 C buttermilk
1/2 C plain Greek yogurt
1 C chocolate chips blueberries or other add in of choice.
Instructions
Grease muffin tin well.

Mix together all dry ingredients into bowl.

In mixer beat butter and sugar until light and fluffy, about 2-3 minutes.

Add in eggs, once at a time.

Add in vanilla.

Alternate adding in flour mixture, buttermilk and yogurt.

Mix until just combined

Fold in blueberries or chocolate chips

Scoop into prepared muffin tin.

Cover with plastic wrap and freeze for approx. 6 hours.

Remove batter balls from tin and place in a freezer bag.

When ready to serve bake at 375 degrees for approx. 25-35 minutes or until golden brown and cooked through. I found the baking time for unfrozen batter to be about the same.
Nutrition Facts:
Calories: 246kcal (12%) Carbohydrates: 35g (12%) Protein: 4g (8%) Fat: 10g (15%) Saturated Fat: 6g (38%) Trans Fat: 1g Cholesterol: 38mg (13%) Sodium: 182mg (8%) Potassium: 117mg (3%) Fiber: 1g (4%) Sugar: 18g (20%) Vitamin A: 269IU (5%) Vitamin C: 1mg (1%) Calcium: 71mg (7%) Iron: 1mg (6%)
* Disclaimer: All nutrition information are estimates only. Read full disclosure here.