This lemon chiffon pie is the perfect answer when you are craving a little sunshine!
Happy National Pi Day! Today is March 14, a.k.a. 3.14, which is short for the irrational and transcendent number ? or Pi.  I know a lot more about pie than I do about Pi so I'm sharing a yummy lemon chiffon pie recipe with  you today.  Math was never my strong subject and I'd take lemon over math or chocolate for that matter any day and this pie is a little slice of heaven as far as I'm concerned!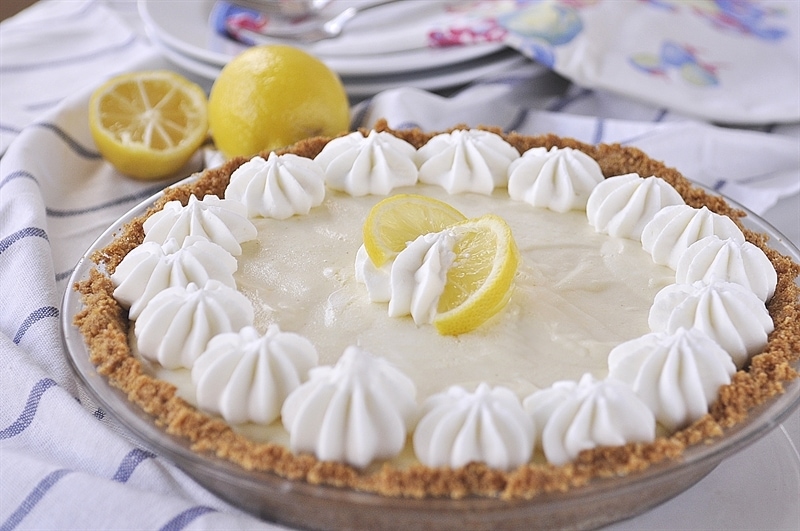 You start with some graham cracker crumbs and a 9 inch pie pan.  Make your own instead of buying a store bought one.  They are super easy to make and so much better!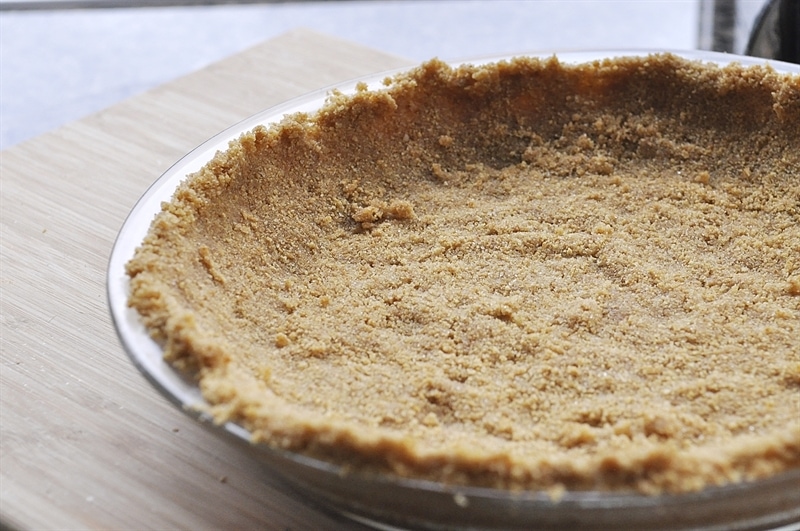 The bottom of the pie is covered with a nice layer of homemade lemon curd.  Again, follow the recipe and make your own! So much better than store bought. You will need a fine mesh strainer to strain the lemon curd through.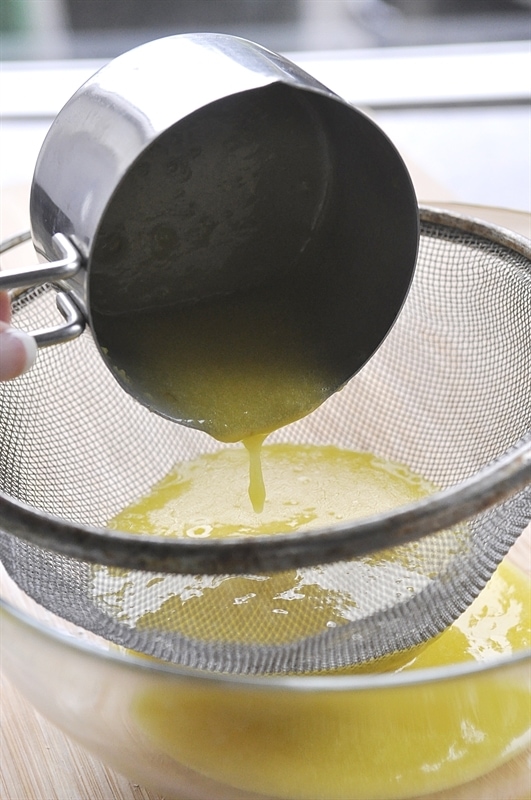 Spread the lemon curd on the bottom of the pie and then top it with the light, fluffy and amazingly delicious lemon chiffon mixture.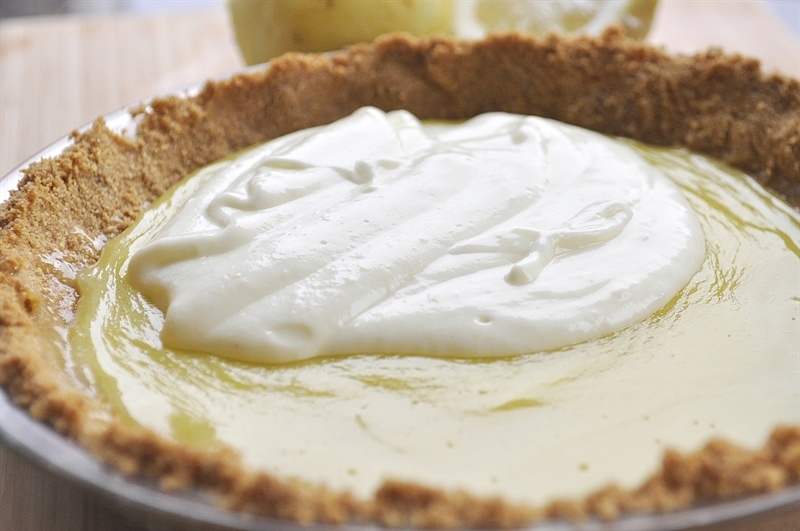 Then pop it in the refrigerator and let it chill.  Top it with some freshly whipped whip cream for the crowning touch!  I use a decorating bag and a large star tip to pipe my whipping cream onto the pie.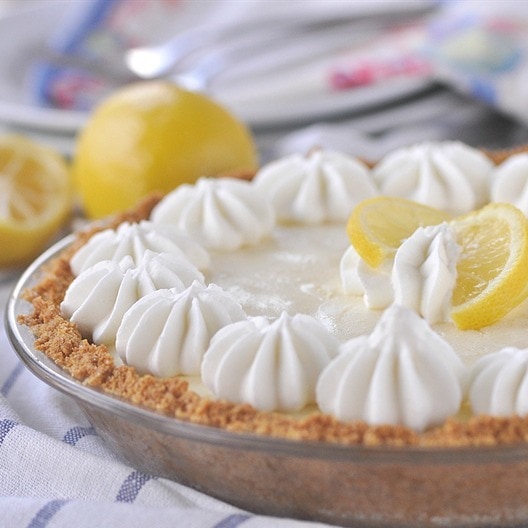 Then just slice yourself up a nice big piece.  It is nice and light so you can eat a big piece!  Love that layer of lemon curd on the bottom.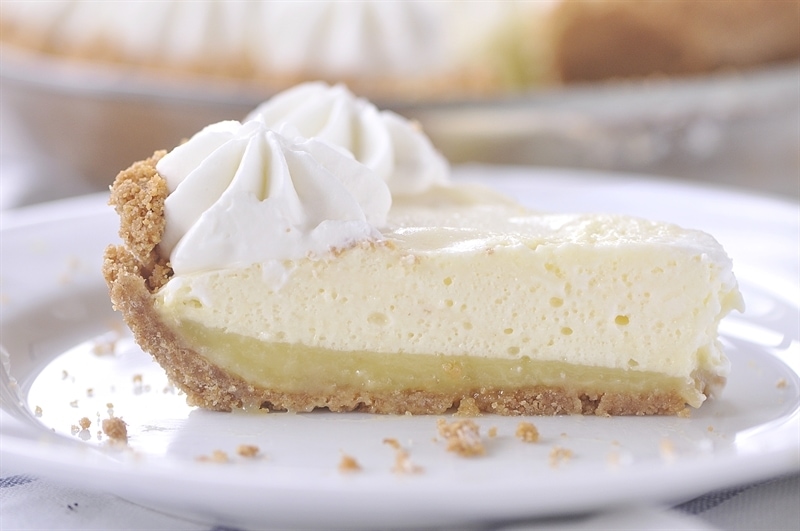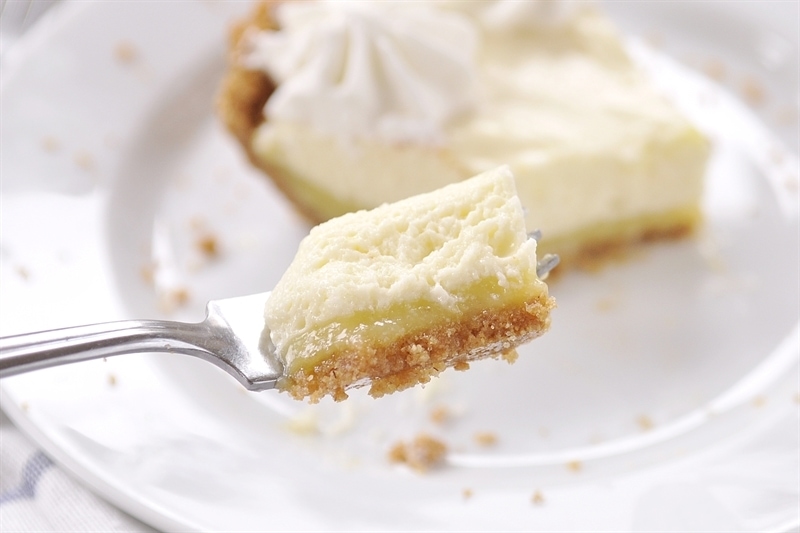 This lemon chiffon pie would make the perfect addition to your Easter dinner or brunch or just because a lemon chiffon pie is always a good idea.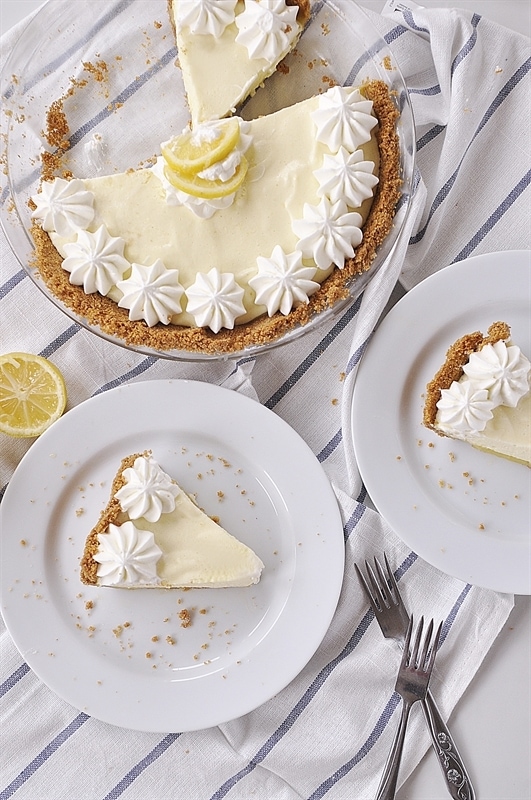 Some of my other favorite lemon pies here on the blog:
Atlantic Beach Lemon Cream Pie
Lemon Chiffon Pie
Ingredients
CRUST
9 whole graham crackers
3 Tbsp sugar
? tsp salt
5 Tbsp unsalted butter melted
FILLING
1 tsp unflavored gelatin
4 Tbsp water
5 large eggs 2 whole, 3 separated
1 ¼ C sugar
1 Tbsp cornstarch
? tsp salt
1 Tbsp grated lemon zest plus ¾ cup juice 4 lemons
¼ C heavy cream
4 oz. cream cheese cut into ½-inch pieces, softened
Instructions
FOR THE CRUST
Preheat oven to 325 degrees F.

Process graham crackers in food processor until finely ground, about 30 seconds (you should have about 1¼ cups crumbs). Add sugar and salt and pulse to combine.

Add melted butter and pulse until mixture resembles wet sand.

Transfer crumbs to 9-inch pie plate. Press crumbs evenly into bottom and up sides of plate. Bake until crust is lightly browned, 15 to 18 minutes. Allow crust to cool completely.
FOR THE FILLING
Sprinkle ½ tsp gelatin over 2 Tbsp water in small bowl and let sit until gelatin softens, about 5 minutes. Repeat with second small bowl, remaining ½ tsp gelatin, and remaining 2 Tbsp water.

Mix together 2 eggs and 3 yolks together in medium saucepan until thoroughly combined

Mix in 1 cup sugar, cornstarch, and salt until well combined.

Whisk in lemon zest and juice and heavy cream.

Cook over medium-low heat, stirring constantly, until thickened and slightly translucent, 4 to 5 minutes (mixture should register 170 degrees).

Stir in 1 water-gelatin mixture until dissolved. Remove pan from heat and let stand for 2 minutes.

Remove 1¼ cups curd from pan and pour through fine-mesh strainer set in bowl.

Transfer strained curd to prepared pie shell.

Place filled pie shell in freezer.

Add remaining water-gelatin mixture and cream cheese to remaining curd in pan and whisk to combine. (If cream cheese does not melt, briefly return pan to low heat.) Pour through strainer into now-empty bowl.

Whip 3 egg whites on medium-low speed until foamy, about 2 minutes.

Increase speed to medium-high and slowly add remaining ¼ cup sugar.

Continue whipping until whites are stiff and glossy, about 4 minutes.

Add curd–cream cheese mixture and whip on medium speed until few streaks remain, about 30 seconds, mix until combined and there are no streaks.

Remove pie shell from freezer and carefully pour chiffon over curd, allowing chiffon to mound slightly in center. Refrigerate for at least 4 hours or up to 2 days before serving