Holiday Chocolate Dipped Oreo Cookies are a fun and easy way to dress up some Oreos quickly!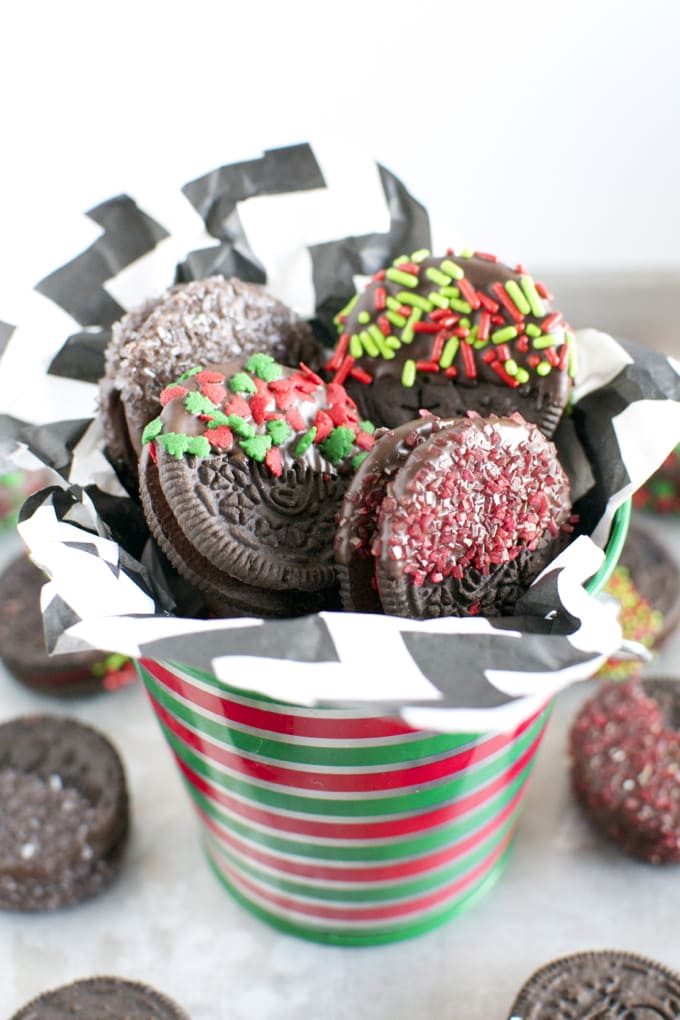 Welcome to Jessica from Stuck On Sweet.  Her idea today may be simple but it is also pretty and delicious!  I love ideas like that and I love Oreos!! Please be sure and visit her blog for more delicious recipes.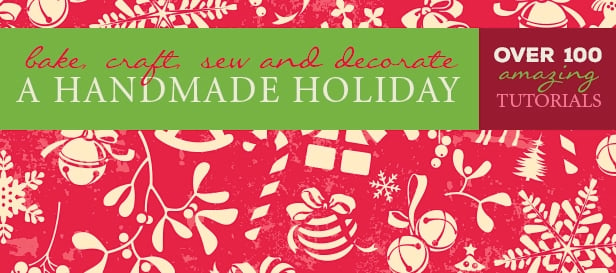 Hello there! It's Jessica from Stuck On Sweet, a food blog that focuses on sharing a little bit of everything but always saves room for dessert. Speaking of dessert, today I am sharing a very simple recipe for Chocolate Dipped Oreo Cookies as part of the Handmade Holiday Series: Bake, Craft, Sew & Decorate. This my my third year participating in the series and I have to say, it's so much fun reading about all the fun and simple ways you can create meaningful and unique gifts for your friends and family!
So…this is hardly a "recipe" because it's simply dipping already made cookies into melted chocolate and decorating with sprinkles. But it is incredibly easy, cheap and absolutely delicious. I decided to share this simple edible gift idea because there is a local chocolate store in Iowa (where I'm from) that sells the best chocolate ever – if you're ever in the Des Moines area, stroll on by The Chocolate Storybook – you won't be disappointed. They actually sell chocolate dipped Oreo Cookies! They are wonderful and a very cute and delicious gift to give, however, they are a bit pricey. Doing it yourself is much cheaper and it gives you the opportunity to be creative.
I decided to use dark chocolate to dip the cookies in, but feel free to use white chocolate or even the colored melting wafers (you can find them at Michael's) to jazz these up even more. I decided to use a variety of sprinkles to give the cookies different looks and textures. Whatever you decide to use, you can't really screw these up.
I promise!
I just love the red sprinkling sugar – it's so pretty! It would look really nice against white chocolate.
As I mentioned, these are incredibly easy to make (that's the best part!). The only issue you could possibly have is overheating the chocolate. If you heat it over a double broiler or in 30 second intervals in the microwave you should not have a problem.
Again, I promise!
There are several different ways to "wrap" this gift. I used an adorable tin can that I found at Target. You could also put these in a box with cute parchment paper or wrap them in a plastic baggie with a bow. Whatever you decide to do, it will very cute!
Happy Holiday's Y'all!
Don't forget to pin this recipe by clicking the image below!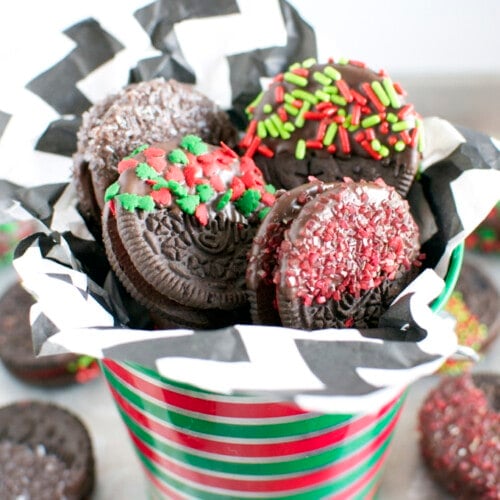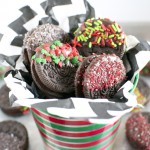 Print
Chocolate Dipped Oreo Cookies
Ingredients
1

package Oreo Cookies

1

package chocolate melting wafers

Sprinkles for decorating
Instructions
First, line a rimmed cookie sheet with parchment paper or wax paper - you will place the cookies on the cookie sheet to cool.

Melt chocolate in a microwavable safe bowl in 30 second intervals, stirring after each, until melted. Careful to not burn!

Next, dip each cookie half way into the chocolate, remove and shake of any excess chocolate. Decorate with sprinkles and place on cookie sheet to cool and harden.