This ground beef chili has amazing flavor and it is award winning!  It received a top prize at our church chili cook off!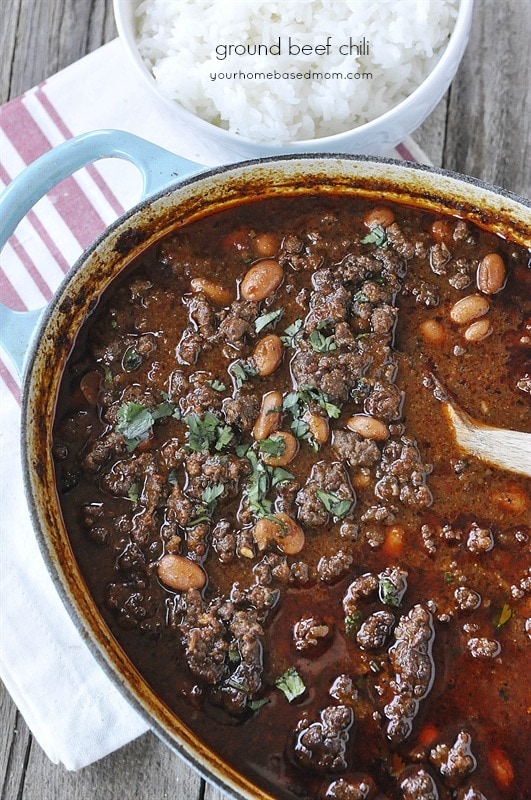 This post contains affiliate links.
This last weekend our church held a Trunk or Treat and Chili Cook Off.  I decided I was up for the Trunk or Treat and the cook off!  Jim and I had fun dressing up as Clark Kent and Lois Lane and decorating our car for the trunk or treat!  I entered the chili cook off too and earned a second place price with this recipe.  I was too busy chasing Clark Kent down to try and get an interview so I didn't get to taste the first prize chili!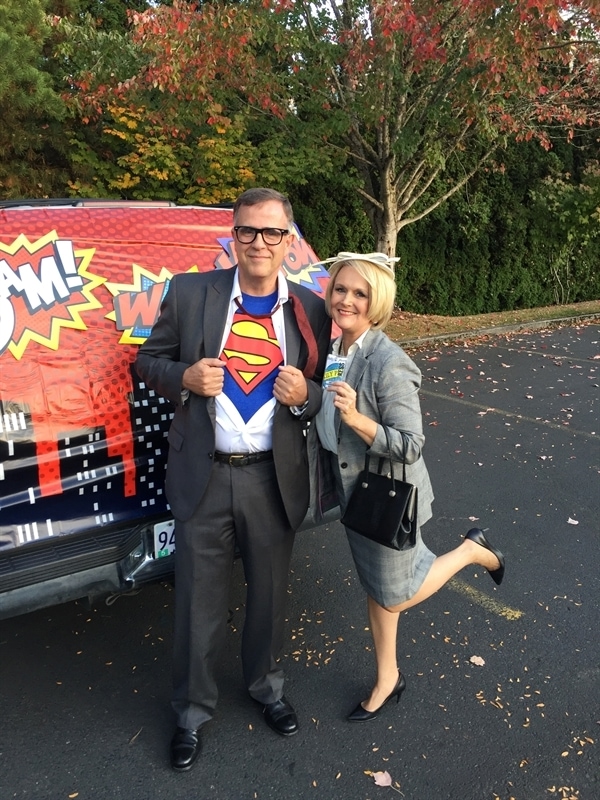 For the chili cook off I decided to try a new chili recipe.  Now I could have made my Pumpkin Chili  or my Slow Cooker Double Beef Chili  but that would have been no fun.  I'm always up for an opportunity to try a new recipe.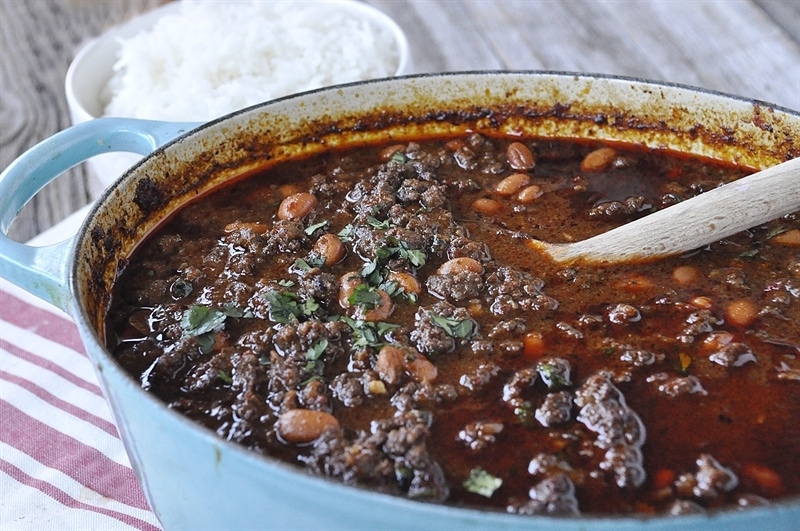 I am more of a meat fan than a bean fan when it comes to my chili so this Ground Beef Chili recipe I found over at Cooks Illustrated was the perfect solution. There are a couple of secrets to good chili I have discovered.  Good seasoning and letting it cook and simmer for a while. This recipe covers both!
The recipe calls for a seasoning mix that requires a little bit of work and a few seasonings but I promise it is worth it.  It uses dried Ancho peppers which I found in the hispanic section of the grocery store.  If you grocery store doesn't have a large hispanic section like mine you might need to go to a latin market or you can get them on Amazon here.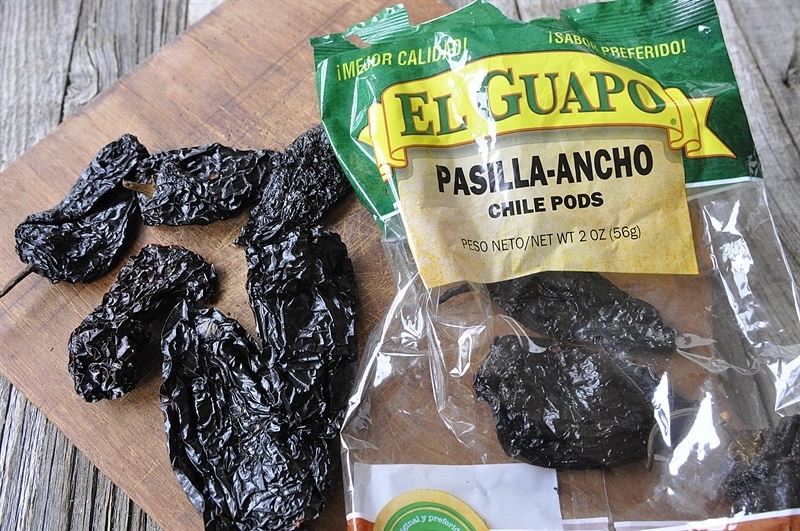 You cut up the chilis, remove the seeds and then  toast them in a pan for 5 minutes or so.  Just until they smell nice and yummy.  They are then put into the food processor along with some tortilla chips, cumin, paprika, garlic powder, coriander, oregano, thyme, and pepper and ground up to make an amazing chili seasoning.  This is what gives this recipe some amazing flavor.  Don't let the peppers scare you – this is not a real spicy chili.  It has a bit of heat but not too much.  Just the right amount of chili heat!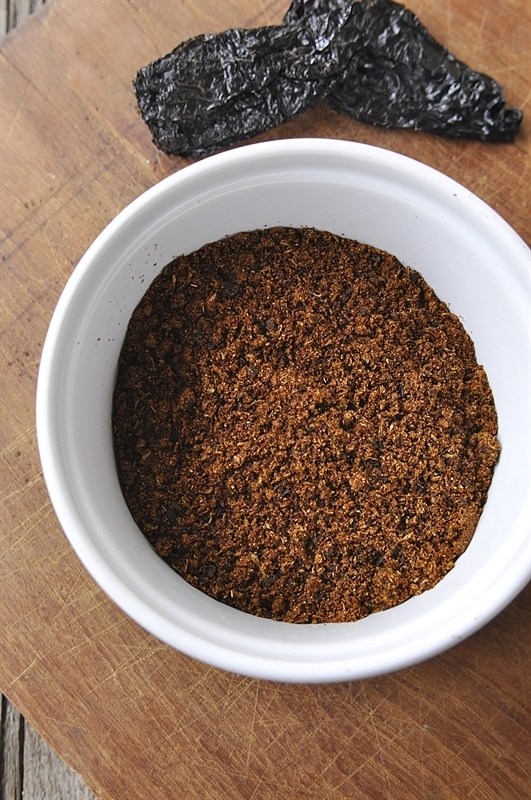 The ground beef is browned along with some onion and garlic and  you add in water, beans, sugar, tomato puree and your seasoning mix.  I used my trusty Le Creuset pan and put the lid on and then popped it into the oven and let it bake on 275 degrees F for a couple of hours.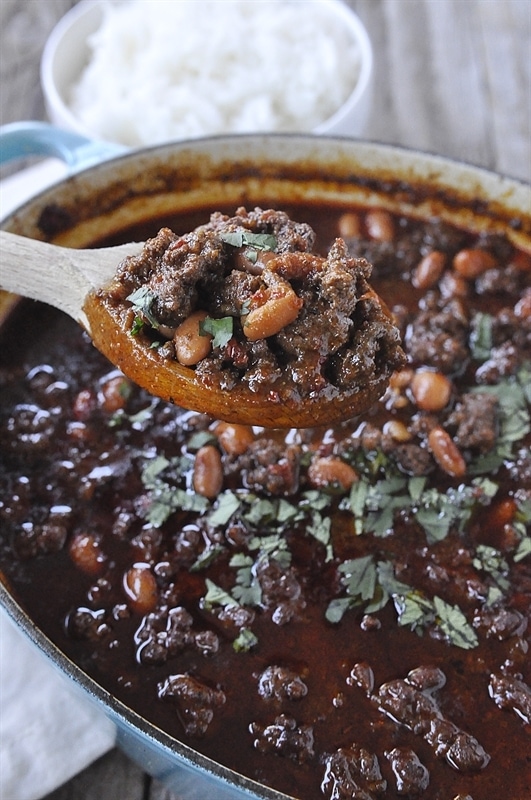 I like to serve the chili over rice and top it with some chopped cilantro.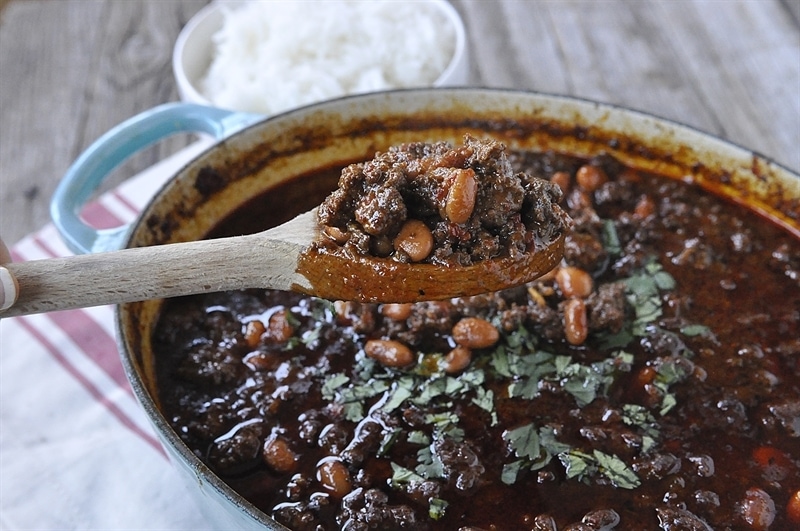 I brought home an empty pan and a prize from the church chili cook off with this recipe!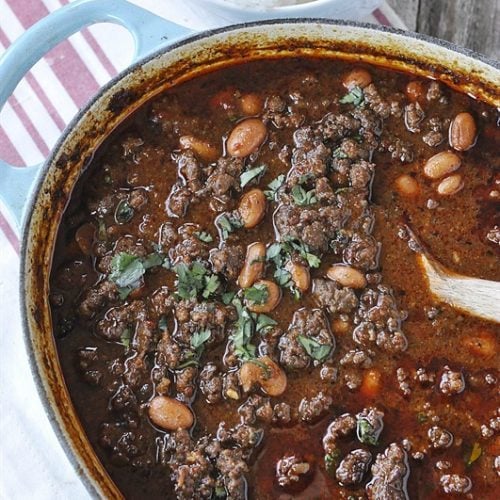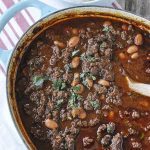 Print
Ground Beef Chili
Ingredients
2

pounds

85 percent lean ground beef

2

Tbsp

plus 2 cups water

Salt and pepper

¾

teaspoon

baking soda

6

dried ancho chili

stemmed, seeded, and torn into 1-inch pieces

1

ounce

tortilla chip

crushed (¼ cup)

2

tablespoons

ground cumin

1

tablespoon

paprika

1

tablespoon

garlic powder

1

tablespoon

ground coriander

2

teaspoons

dried oregano

½

teaspoon

dried thyme

1

14.5-ounce can whole diced tomatoes

1

tablespoon

vegetable oil

1

onion

chopped fine

3

garlic clove

minced

1

teaspoons

minced canned chipotle chiles in adobo sauce

2

15-ounce can pinto bean

2

teaspoons

sugar

2

tablespoons

cider vinegar
Instructions
Adjust oven rack to lower-middle position and heat oven to 275 degrees.

Toss beef with 2 tablespoons water, 1 1/2 teaspoons salt, and baking soda in bowl until thoroughly combined. Set aside for 20 minutes.

Meanwhile, place anchos in Dutch oven set over medium-high heat; toast, stirring frequently, until fragrant, 4 to 6 minutes, reducing heat if anchos begin to smoke. Transfer to food processor and let cool.

Add tortilla chips, cumin, paprika, garlic powder, coriander, oregano, thyme, and 2 teaspoons pepper to food processor with anchos and process until finely ground, about 2 minutes.

Transfer mixture to bowl. Process tomatoes and their juice in now-empty work bowl until smooth, about 30 seconds.

Heat oil in now-empty pot over medium-high heat until shimmering. Add onion and cook, stirring occasionally, until softened, 4 to 6 minutes.

Add garlic and cook until fragrant, about 1 minute.

Add beef and cook, stirring with wooden spoon to break meat up into 1/4-inch pieces, until beef is browned, about 12 to 14 minutes. Add ancho mixture and chipotle; cook, stirring frequently, until fragrant, 1 to 2 minutes.

Add remaining 2 cups water, beans and their liquid, sugar, and tomato puree. Bring to boil, scraping bottom of pot to loosen any browned bits.

Cover, transfer to oven, and cook until meat is tender and chili is slightly thickened, 1 1/2 to 2 hours, stirring occasionally to prevent sticking.

Remove chili from oven and let stand, uncovered, for 10 minutes. Stir in any fat that has risen to top of chili, then add vinegar and season with salt to taste.

Garnish with cilantro
Recipe slightly adapted from Cooks Illustrated.