One of my favorite things about going to a Mariner's game in Seattle are the Garlic Fries. Or Rally Fries as they are known at the game! Now you can make homemade garlic fries just like these even when it isn't baseball season!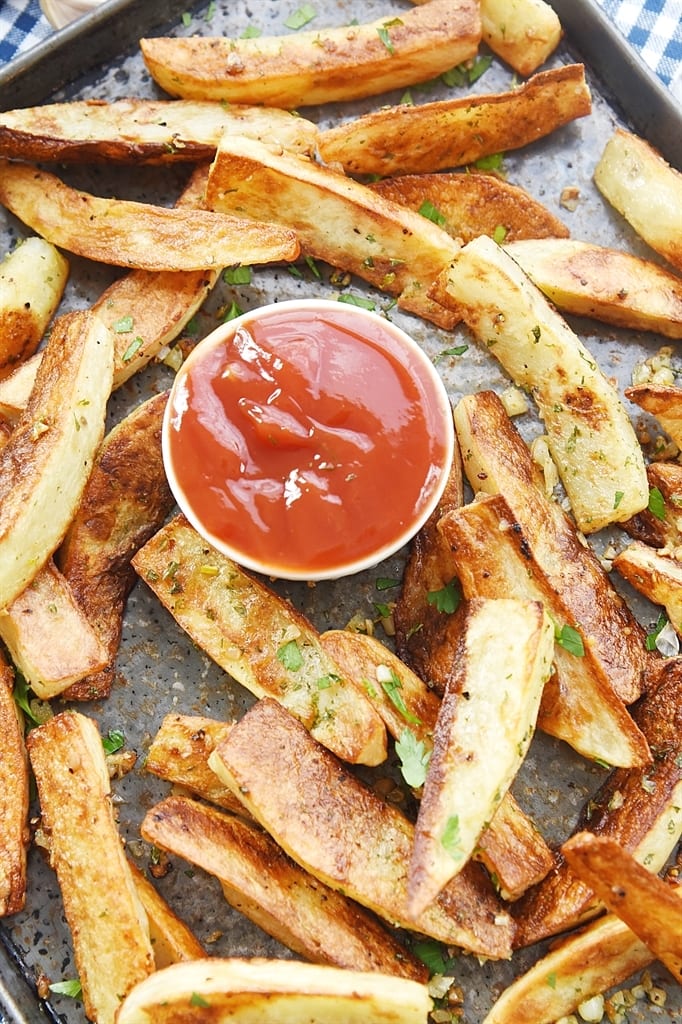 The baseball team of choice at our house is the Seattle Mariner's. We've been attending Mariner's games up in Seattle at Safeco Field for years. In fact, this weekend we are headed to Seattle to celebrate my husband's birthday a little early and his choice of activities was a Mariner's game. That will be no surprise to anyone who knows him.
For those of you who know me, I'm not much of a sport's fan. In fact, the only games I like to watch are ones my children are playing in. But my boys – all three of them are HUGE sport's fans and I mean HUGE!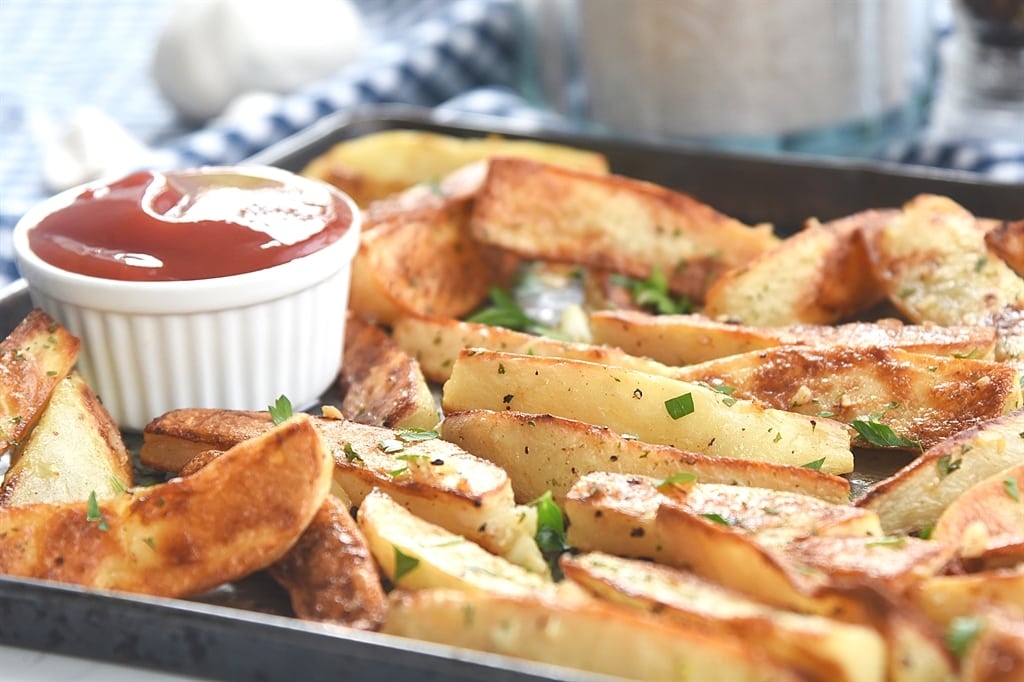 I do agree to go along to the Mariner's games once or twice a year, as long as I can take a book! Yes, I read at baseball games. But I mainly agree to go because I get to go to the beautiful city of Seattle, eat Fish 'n Chips on the pier, visit Pike Street Market and I get to eat Mariner's Garlic Fries!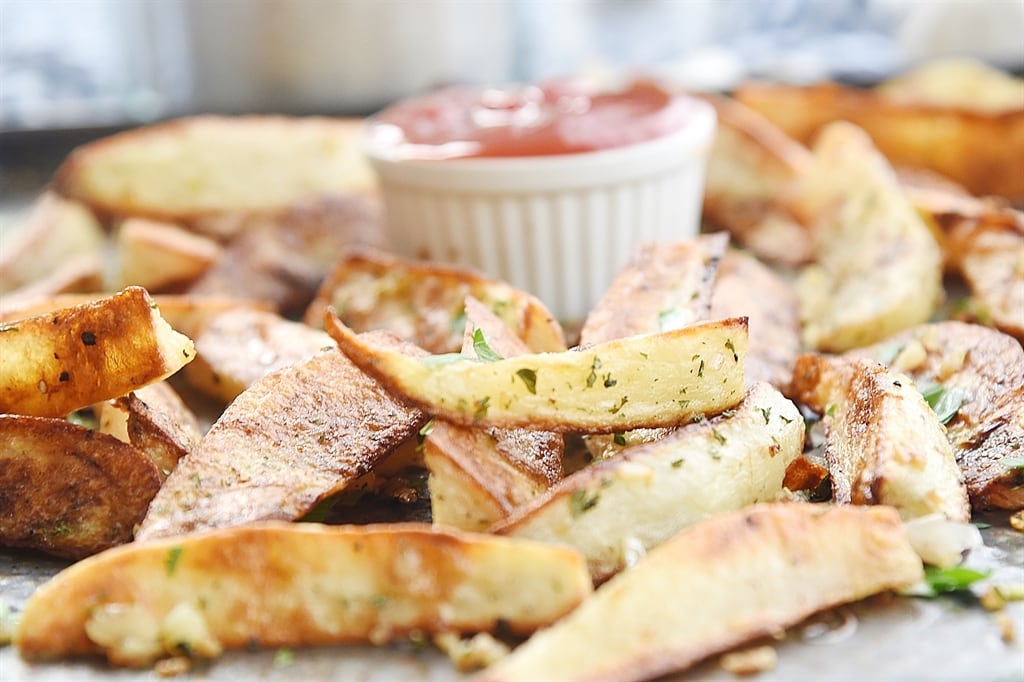 I go to baseball games for the food and for a baseball stadium, Safeco Field has pretty good food. One of the first things you smell when you enter Safeco Field is the amazing aroma of garlic fries. They are so good and so garlicky!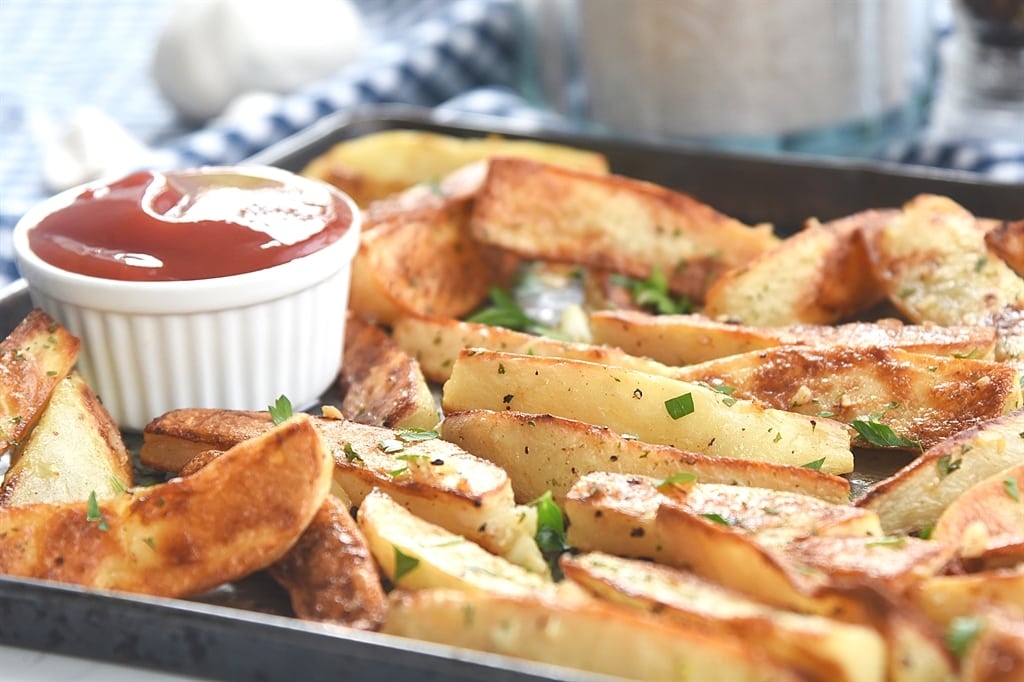 Today's recipe is my version of Mariner's Fries. This garlic fries recipe tastes just like the fries you enjoy at the park. Now I can have them anytime.
The first time I made these I didn't put the garlic and parsley topping on all the fries thinking one of the girls might not like it, but I was wrong. They loved them and I ended up adding the reserved fries in with the rest.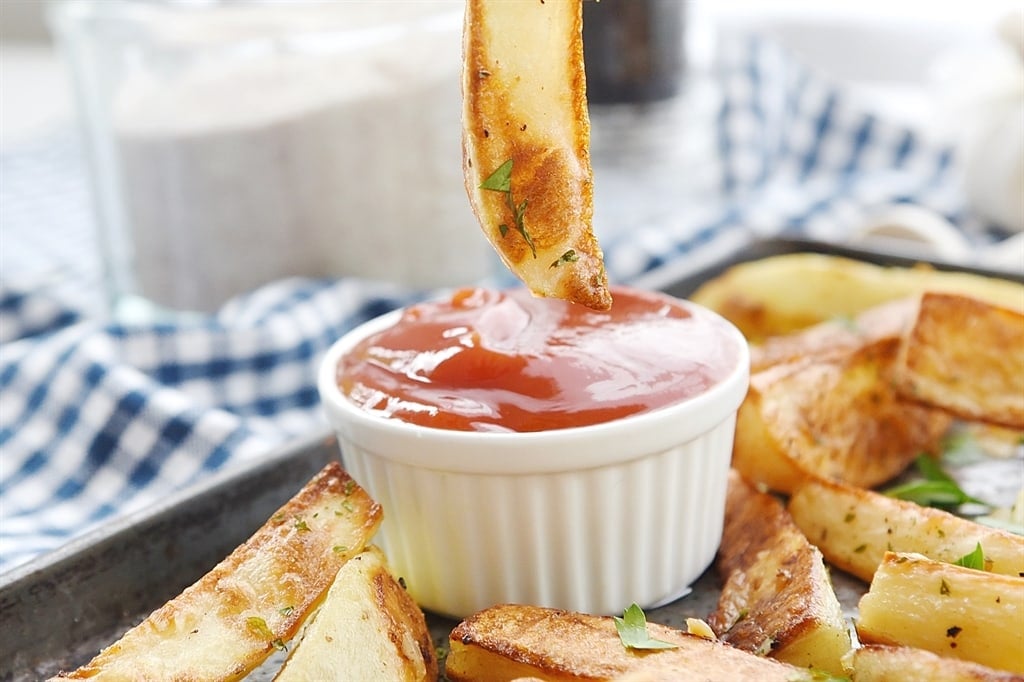 Some of my other favorite potato recipe:
Garlic Fries Recipe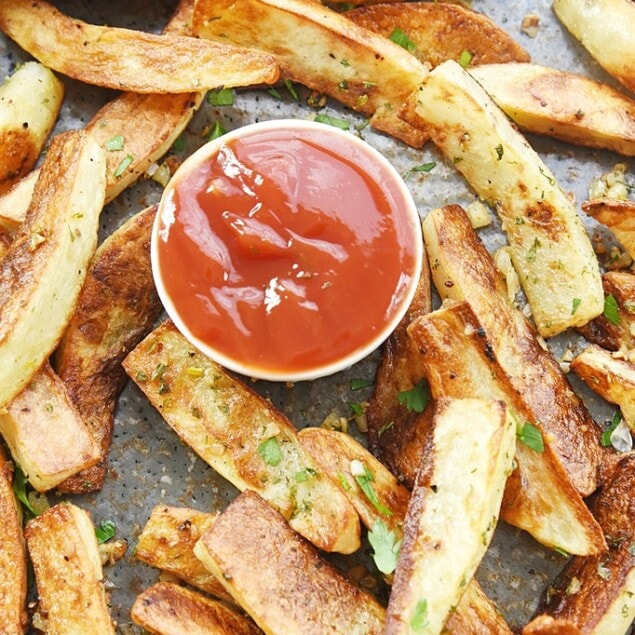 Homemade Garlic Fries
These delicious homemade garlic will soon become your new favorite!
Ingredients
Non stick vegetable oil spray
2 pounds unpeeled russet potatoes scrubbed, cut lengthwise into wedges
2 Tbsp. canola oil
Garlic and Parsley Topping
2 Tbsp. canola oil
1/2 cup garlic cloves finely chopped
1/2 cup finely chopped fresh Italian Parsley
Instructions
Preheat oven to 450 degrees

Spray large rimmed baking sheet with nonstick spray

Toss potato wedges with canola oil in large bowl

Sprinkle potato wedges generously with salt and pepper; spread in single layer on prepared baking sheet

Roast potato wedges until tender and brown in spots, turning occasionally, about 45 minute Sprinkle with salt and pepper and add Garlic and Parsley Topping
Garlic and Parsley Topping
Heat oil in heavy small skillet over medium high heat

Add garlic, saute until golden and beginning to crisp, about 1 minute

Using slotted spoon, transfer garlic to small bowl, cool

Mix in parsley

Can be made 2 hours ahead

Let stand at room temperature
Nutrition Facts:
Calories: 168kcal (8%) Carbohydrates: 23g (8%) Protein: 3g (6%) Fat: 7g (11%) Sodium: 9mg Potassium: 527mg (15%) Fiber: 1g (4%) Vitamin A: 315IU (6%) Vitamin C: 14.1mg (17%) Calcium: 35mg (4%) Iron: 1.4mg (8%)
* Disclaimer: All nutrition information are estimates only. Read full disclosure here.