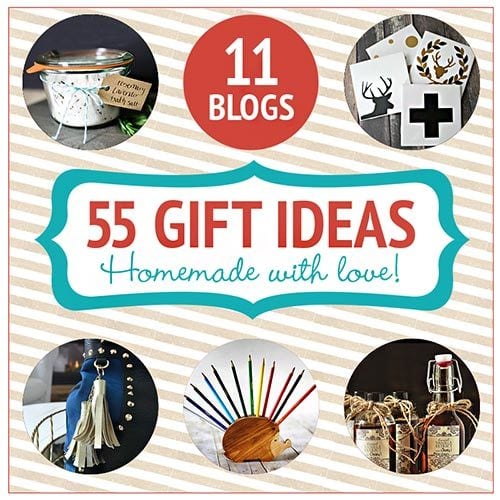 Today I am excited to join together with a group of some of my favorite bloggers to bring you 55 homemade gift ideas.  Welcome to everyone who hopped on over here from Mod Podge Rocks!  At the bottom of the post I'll share with you who you will hop over too next!  Be sure to pay them a visit for more holiday gift giving fun!
It's that time of year when we start thinking, if we haven't already, about holiday gifts.  I love to be able to make homemade gifts and so we are here to help you!  I love giving gifts from my kitchen so today  I am sharing five of my favorite food gift ideas.
I try lots of new recipes every  year during the holidays but no matter how many new recipes I try and love there are  five things that must make an appearance at my house every Christmas season or I am in trouble.  They also are required to show up on the goodie plates I put together for our friends and neighbors.  It wouldn't be the holidays without them, at least not at our house.
So if you are looking for some yummy food gift ideas to share with your friends and neighbors this holiday season I've got you covered.  Your friends will be waiting anxiously for your delivery if these items are on your goodie plate – promise!
Be sure and check out all the other awesome gift ideas my blogger friends are sharing too!
White Chocolate Popcorn Crunch
This was first given to me as a gift from one of my friend's kitchens!  I think I may or may not have eaten the entire bag of it myself.  Since then it has been a holiday must make at our house and I always make plenty so I can share.  I love the sweet and salty combo from the chocolate, pretzels and peanuts.  Make lots!
 Those of you who know me well know how I feel about candy corn – I love it.  Several years ago I discovered that my candy corn obsession does not have to be limited to Halloween when I found Reindeer Corn at the store.  I made a yummy cookie bark out of it that is pretty addictive.  It uses crushed up cookies, pretzels, white chocolate and reindeer corn on top!  So fun to make and to eat.  If you can't find Reindeer corn use holiday colored M & M's.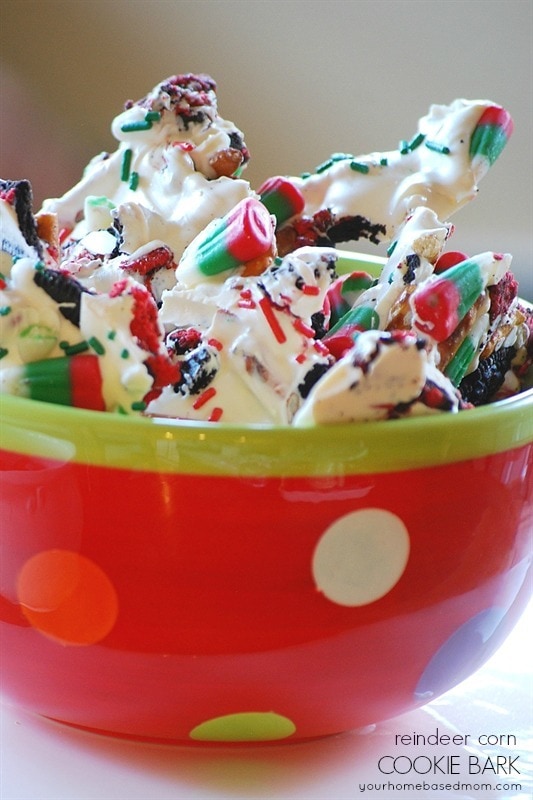 White Chocolate Cinnamon Pretzels
I first discovered these little treasures at a gift shop in Utah.  I bought a bag and brought it home to Oregon and quickly discovered I needed more so I better figure out how to make it myself.  It is easily and quickly done in the microwave and is so yummy.  Again that sweet and salty combo I love so much.
White Chocolate Peppermint Fudge
This fudge combines two of my favorite flavors – white chocolate and peppermint.  The first time I made this I think I consumed the entire pan myself.  Not sure any of it made it onto my cookie plates I gave away that year.  But since then I always make two batches.  One for me to enjoy and one to give away!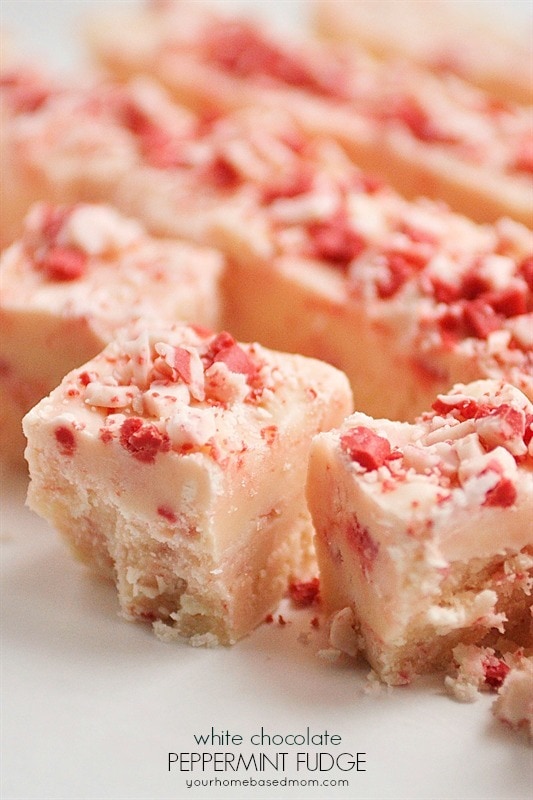 This fudge has been making an appearance at our house at the holidays for decades!  My mom has made this every Christmas for as long as I can remember and it definitely isn't Christmas without rocky road fudge.  It can be made with or without nuts but I prefer it without!
I hope you'll give a couple of these recipes a try this holiday season – they really our the favorites at our house.
Now it's time to hop on over to the next blog.  Go pay Kellie over at  Nest of Posies a visit and see what fun she has for you!
All the participating blogs:
Kim – Today's Creative Blog
Cindy – Skip To My Lou
Cheryl – TidyMom
Cheryl – Cheryl Style
Amy – The Idea Room
Amy – Mod Podge Rocks
Leigh Anne – Your Home Based Mom
Kellie – Nest of Posies
Jen – Tatertots and Jello
Amy – Living Locurto
Jill – One Good Thing By Jillee