Need to feed a crowd? This Brownies for a Crowd recipe is perfect. A delicious recipe that makes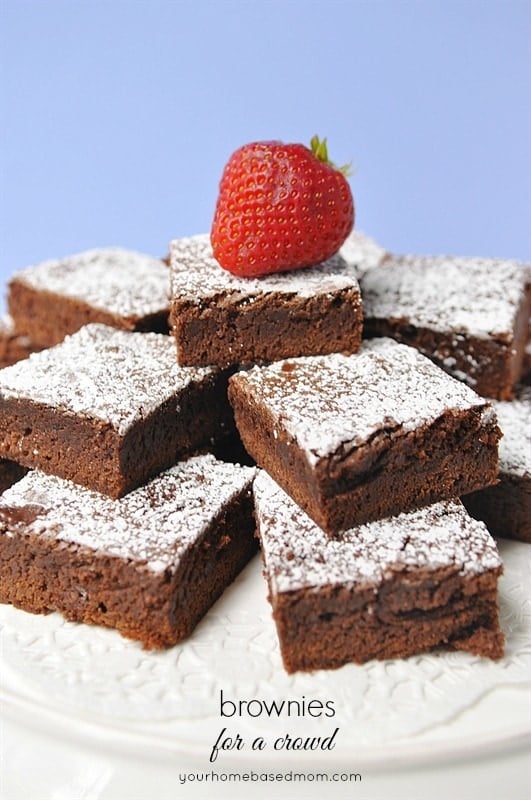 One of the best parts of being a blogger is all the really nice bloggers you meet along the way.
I attended my very first blogger conference a few years ago and one of the first people I met was Laura from Real Mom Kitchen. She was so friendly and kindly let me hang a bit with her and her sister that day. I love Laura's blog and have used many of her recipes. When she told me she was coming out with a cookbook I was so excited for her. I was even more excited when she shared with me an "advance" copy.
And in the meantime you can drool over these yummy brownies, a recipe I made from Laura's new cookbook – Brownies for a Crowd.
I know some people prefer a chewy, gooey brownie and others a more cake like brownie. I am right in the middle and these brownies are just that – a little chewy but not too chewy and a little cake like but not too cake like.
The recipe calls for a chocolate frosting but I ran out of time and butter so I just sprinkled them with a little powdered sugar!
In addition to being just the right consistency of brownie this recipe makes a large batch – it totally filled my 12 x 17 jelly roll pan almost to overflowing! I had a couple of different meetings at my house this past week and this big batch of brownies was perfect.
The next time you need a nice big batch of brownies give this recipe a try and be sure and check out Laura's new cookbook.
Brownies for A Crowd Recipe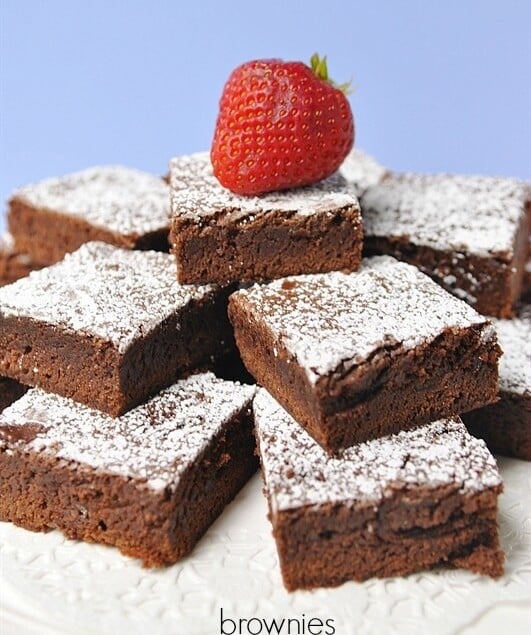 Brownies for a Crowd
Ingredients
8 eggs
4 C sugar
2 tsp. salt
4 tsp. vanilla
2 C butter melted
3 C flour
1 1/2 C cocoa
Frosting:
4 C powdered sugar
1/2 C butter softened
1/2 C cocoa
milk
Instructions
To make brownies:
Preheat oven to 350 degrees

Beat eggs in mixer until blended

Add in sugar, salt and vanilla and beat for 1 minute

Add in melted butter and blend together well

In another bowl mix flour and cocoa and whisk until well blended

Add flour/cocoa mixture to wet mixture and mix until well combined

Spread into a greased 12 x 17 jelly roll pan

Bake for 20-25 minutes

Cool for 15 minutes and then frost
To make frosting:
Mix together powdered sugar, butter, and cocoa along with enough milk to make the frosting a good consistency to spread

Spread over brownies after they have cooled for 15 minutes

The frosting will melt, making it nice and even with the brownies

Allow to cool