Arugula Salad Pizza is a fun and delicious way to eat your pizza and salad together! If you haven't tried it, be ready to love arugula pizza.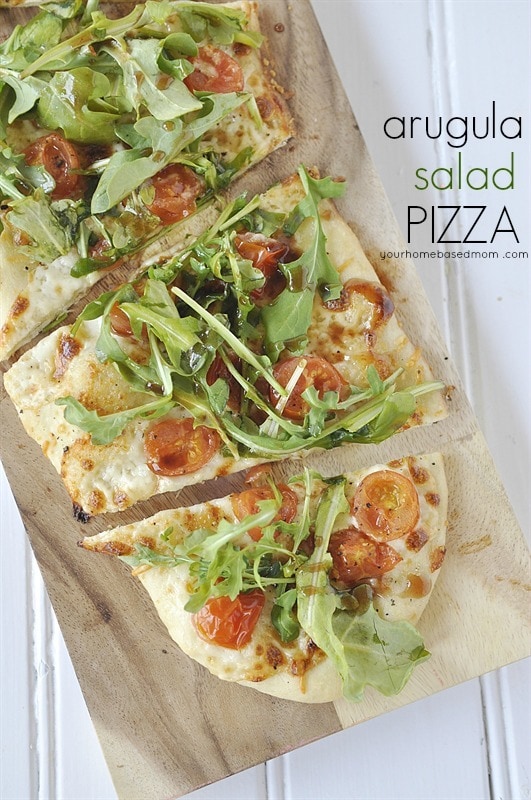 I am one of those boring people that get the same thing every time they go to a restaurant.  I have my favorite dish and I don't deviate.  I'm always afraid of being disappointed if I do.  At California Pizza Kitchen I actually have two favorites that I alternate between.  The first is their Sicilian Pizza and the one I get the most often is their Tricolore  Salad Pizza.  I love it!
For our Super Bowl Party I decided to recreate the Tricolore Salad Pizza at home.  Lest you think we had some big party here for the Super Bowl, our party included Jim and I.  And only Jim watched the game although I did watch a few commercials.
I used my homemade pizza dough for the Arugula Salad Pizza but you could also buy store bought pizza dough.  I usually buy it at Trader Joes or Winco.  The first time I made this I used whole wheat pizza dough but on Sunday I used just regular pizza dough.  I love them both. One batch of pizza dough will make four pizzas.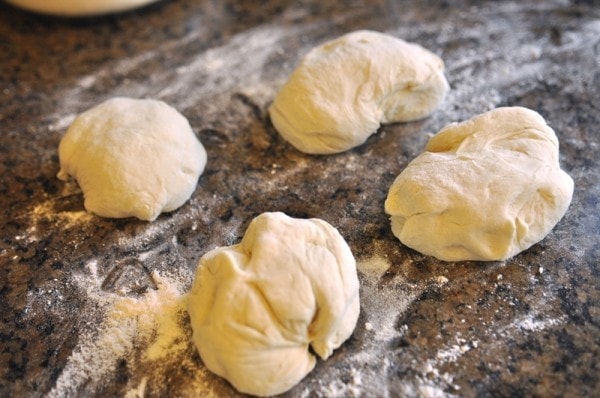 This pizza is a thin crust pizza topped with olive oil, mozzarella cheese, parmesan cheese, sliced cherry tomatoes and a bit of pepper.   I roll the dough out on a counter with some cornmeal sprinkled over it.  I roll it into a 6 x 12 inch rectangle.  Then brush it with some olive oil and top with the cheese and tomatoes.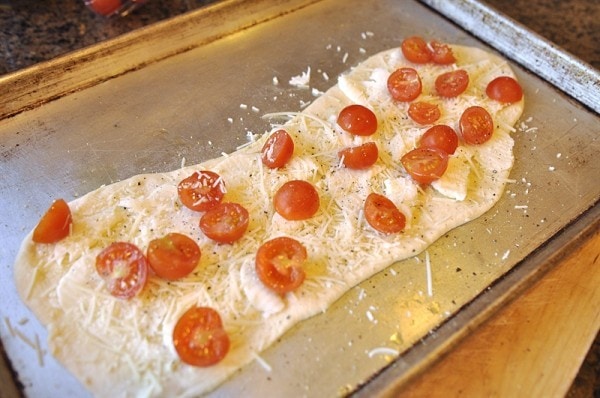 Bake it at 475 degrees for about  10-12 minutes.
I then topped it with some arugula and drizzled it with my favorite, go to balsamic vinaigrette.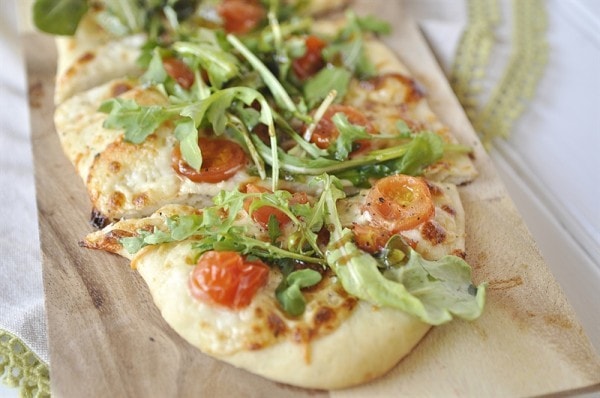 I love pizza and salad and I love it even more when the two are combined.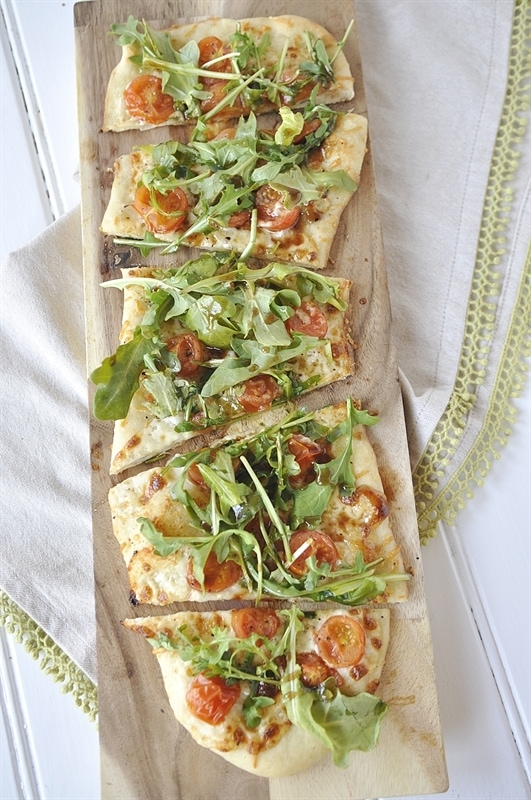 If you wanted to add a little protein you could definitely add some cut up chicken, shrimp or whatever your favorite is.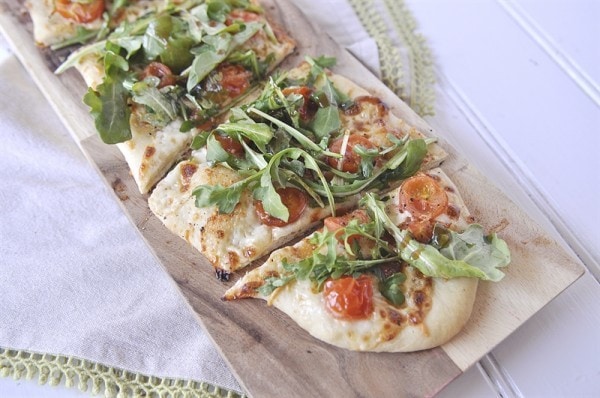 Besides being delicious this pizza is just so darn pretty too!!

Arugula Pizza Recipe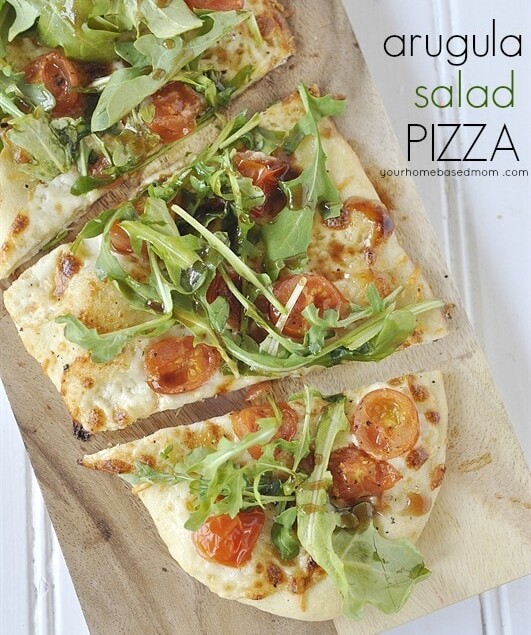 Arugula Salad Pizza
Ingredients
1 lb. store bought pizza dough or homemade
Homemade Pizza Dough
1 C warm water
3 tsp yeast
1 Tbsp sugar
2 C bread flour or all purpose flour
1 tsp kosher salt
1 Tbsp. olive oil
Pizza Toppings
1/2 C fresh grated Parmesan cheese
1 lb. fresh mozzarella sliced
1 Tbsp cornmeal
4 Tbsp olive oil
fresh ground pepper
1 1/2 C sliced cherry tomatoes
4 C arugula
Balsamic Vinaigrette
Dressing
1 Tbsp Dijon mustard
3 Tbsp balsamic vinegar
3 Tbsp lemon juice
2 Tbsp honey
1-2 cloves of garlic minced
Scant 1/2 cup olive oil
Instructions
Preheat oven to 450 degrees
Homemade Pizza Dough
Combine yeast and sugar with warm water and allow to sit for 5-10 minutes until bubbly

Combine wet ingredients into dry ingredients into mixer and knead for 5 minutes until dough is smooth, will be a little sticky

Allow to rise for at least one hour

Divide dough into four parts.

Roll out each part into a 6 x 12" rectangle

Brush with olive oil

Cover with slices of mozzarella cheese.

Sprinkle with Parmesan cheese and black pepper

Top with sliced cherry tomatoes

Bake for 10-12 minutes

Top with arugula and drizzle with Balsamic Vinaigrette
Dressing
Mix all ingredients together.