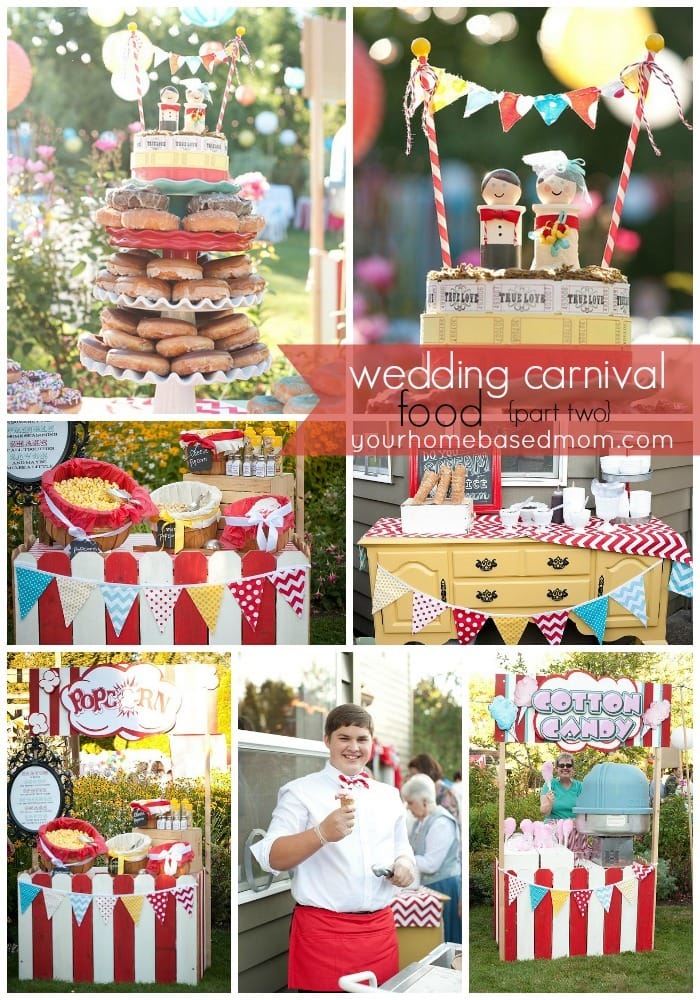 You can view The Wedding Carnival}The Food Part One here.
More carnival food!
Of course a carnival has to have cotton candy so we had a cotton candy booth. We rented the cotton candy machine from Party Pros here in Portland and Jim built the cotton candy holders for me. Jim also built all of the booths. He built them around a table. The booth is collapsible so we can store them. We are also renting them out so if you are in the Portland area and thinking of having a carnival – let me know!
My dear friends Gary and Sara manned the cotton candy booth all night.


It's a little bit of a messy job!

But a sweet job!
The other food booth was the popcorn booth.

I purchased the regular popcorn and the cheese corn already popped from Enchante in Milwaukie, Oregon. If you live in the area you must check it out – it is an amazing place. I made the caramel corn myself using my amazingly easy and delicious microwave caramel corn recipe.



I purchased different flavoring seasonings online that could be added to the plain popcorn from Kernel Seasons .

There were even directions so people knew what to do! I found the idea for the sign here.

I also borrowed a friend's cute little vintage style popcorn cart. It was mainly for the ambiance and smell. It sure looked cute.


I found cute little vintage style popcorn bags from GroopDealz (one of those daily deal emails you get)

I couldn't wait to use the vintage ice cream cart I bought earlier this spring off of Craig's List and repainted.
In addition to the cute ice cream cart I had a great ice cream scooper – Taylor was a doll and scooped ice cream all night!!


We had four flavors to choose from – vanilla, chocolate, strawberry and mint chocolate chip. I purchased the ice cream in the big round containers from Cash & Carry. It was great ice cream.


I pulled my yellow sideboard that is in my dining room out into the yard for the night along with a couple of other pieces of furniture. The yellow side board made the perfect counter for the ice cream toppings.


We had chocolate syrup, caramel sauce, two kinds of sprinkles, mini chocolate chips, and mini M & M's.


People had their choice of a bowl or a cone. I made a cute little cone holder out of an antique sewing machine drawer. I used a piece of lightweight cardboard that I cut holes out of it, just the right size to hold the cones.

The ice cream cart was a huge hit and I know of a few people (they will not be named) who just camped out by the ice cream most of the evening!!
One of my favorite things from the carnival was the doughnut cake! I saw the idea on Pinterest and knew it was the perfect thing for our carnival. I didn't want to do traditional wedding cake but wanted something to symbolize that. The doughnut cake was the perfect answer.

I built it out of cake plates I already owned and doughnuts from Krispy Kreme. I think Krispy Kreme must have heard about the Wedding Carnival because they even had cotton candy doughnuts just for me!!

A special thanks to Emily who, at the last minute made the cute little Washi Tape flags for me when someone mentioned – these doughnuts need flags! She jumped right in, grabbed the tape and made them! They were a nice touch.
Of course sprinkle doughnuts were perfect for a carnival too.

And then the bride and groom did the traditional eating of the doughnut!


But the very best part of the doughnut cake was the cake topper. I love, love, love it. My friend and amazing party photographer Meg had made something similar for her brother's wedding last year and so I asked her to create a custom cake topper for Clark and Jessica. She did a great job and even matched their eye and hair color!!

I placed the bride and groom onto the rolls of carnival tickets. I stamped the white roll with a stamp that said True Love. I also added the bunting tied to paper straws with gumballs glued on the top. Isn't it just about the cutest little wedding cake topper you have ever seen!!?? I am totally in love.


All of this wonderfulness would not have been possible without the help of so many of my dear friends. They were even good sports and wore the red aprons and red and white stripe ties I had bought for the carnival workers. The ties are from StripedNeckTies.com and the aprons came from Bestaprons.com.

See that cute blonde on the left – I love it when people think she is my sister. I have such great friends.
My sweet friend Dyann along with so many others was such a huge help. She showed up first thing in the morning and stayed most of the day with her daughter Calista (named after my Cali) and then went home for a couple of hours and showed back up to work all night at the carnival. I have amazing friends!! On top of that she came over a few weeks ago and helped me clean my house!!!

I didn't get a photo of my friend Patrice who organized and ran the kitchen – she was probably too busy working in the kitchen!!
Tomorrow we'll be back with The Wedding Carnival}Decorations
The Wedding Carnival}The Food Part One
The Wedding Carnival}The Food Part Two
The Wedding Carnival}The Decorations
The Wedding Carnival}Carnival Games
The Wedding Carnival}Music, Dancing and a Flash Mob
The Wedding Carnival}The Bride and Groom