One of my goals for the Wedding Carnival was to have people come and spend the evening with us. Not just stop in, sign a book, shake hands, grab a quick bite to eat and leave. I wanted them to enjoy a fun evening and celebration. In order to create this atmosphere we set aside part of the yard for Carnival Games.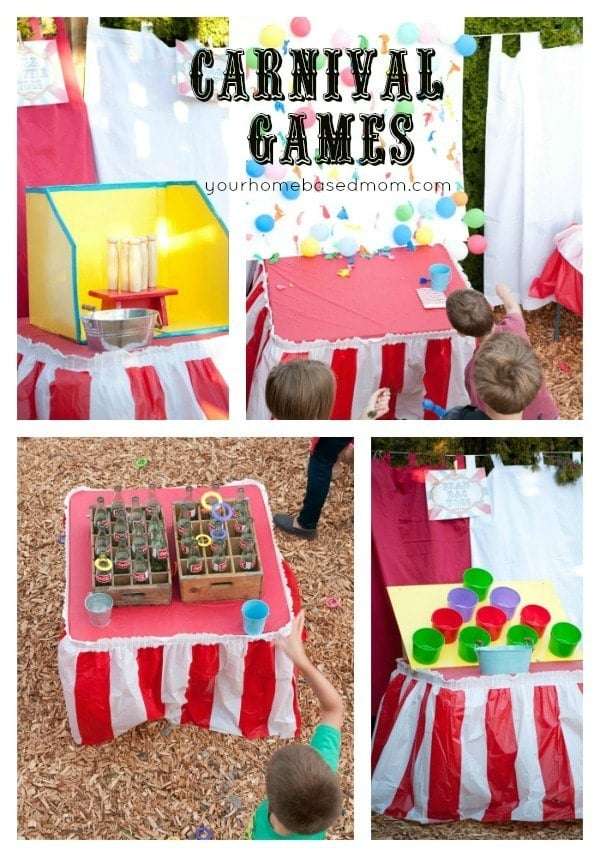 What would a carnival be without games!! We used our play structure area for the games

Using red and white curtain panels I found at Goodwill I created a backdrop for the games so that we didn't loose things that were being thrown into the trees!


There were five different games.
Bean Bag Toss
The Bean Bag Toss was made from a piece of plywood and some plastic buckets we glued to the board.

Milk Bottle Throw

For the Milk Bottle ThrowI just spray painted a box to contain the game so that the milk bottles didn't going flying when hit. The red little stool was found at Goodwill and spray painted and the milk bottles and balls came from Oriental Trading as did the bean bags.
Ring Toss
We also had an old fashioned Ring Toss using a couple of old soda pop crates we had and some glass Coke bottles. My neighbor kids very happily drank the Coke so I would have empty bottles! The rings came from Oriental Trading.

Spray Away
There was also a squirt gun Spray Away game. You placed ping pong balls on the golf tees and then used a squirt gun to knock the balls off.
Balloon Darts
The last game was Balloon Darts. We just thumb tacked the balloons onto a thick piece of cardboard we picked up for free at Home Depot. Darts and balloons are from Oriental Trading.


The games were set up on card tables and I covered them with plastic tablecloths from the Dollar Store and the table skirts came from Oriental Trading.
Or course there were prizes too!
Photo Booth
In the game area we also had a photo booth set up. I had two cute girls that ran the game/photo booth area for me all night. They were great!!

We had all kinds of fun props to use.


As well as another chalkboard sign to let people know what to do.


There was also a fun poke your head through photo op I bought through Oriental Trading and then attached to some PVC pipe so it was free standing.

Balloon Man
We also had a balloon man at the carnival! He was kept busy the entire evening.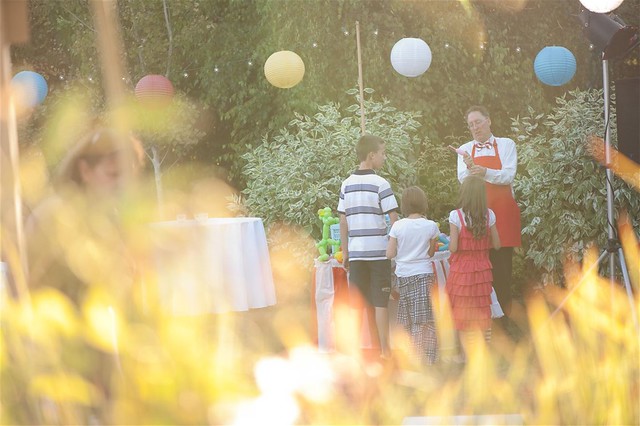 Good thing he had a pump that blew up the balloons for him!

Cary is a friend of ours from church. I saw some pictures on his wife's Facebook page of some balloon animals he had made for his kids and asked if I could hire him! He was great!!


My darling niece Jacky who came all the way from Utah for the party!

Everyone loved the games – young and old but they were especially great for keeping all the kids busy and entertained.
Tomorrow I'll be back to share with some photos of the best money we spent for the Wedding Carnival and maybe even a video of our flash mob!
For more Wedding Carnival fun:
Carnival Pictorial can be found here
The Wedding Carnival}The Food Part One
The Wedding Carnival}The Food Part Two
The Wedding Carnival}Decorations
The Wedding Carnival}Music, Dancing and a Flash Mob
The Wedding Carnival}The Bride and Groom