Tamale is pie is pure comfort food in my book.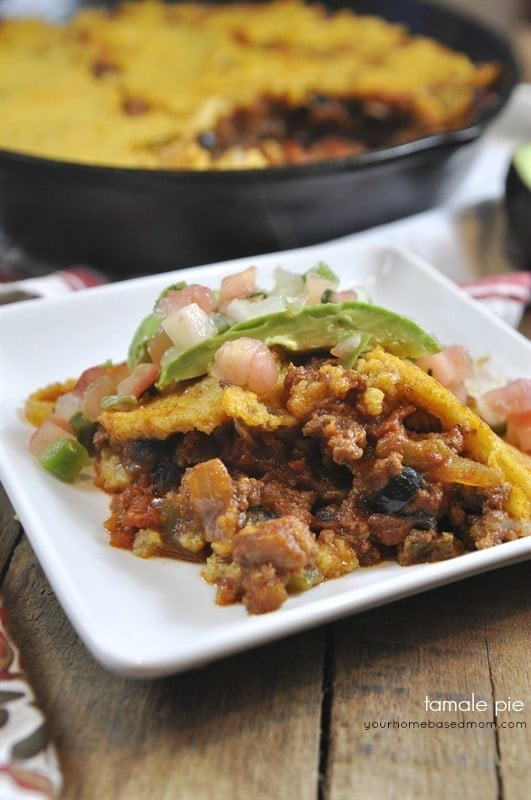 Were you feeling as "cooked out" as I was the last few days.  I love cooking a big Thanksgiving dinner, especially when my kids are there to eat it, but I have to say after cooking so much last week I was ready for a little break.  Thank goodness for leftovers!  But I can only do leftovers once.  My husband can eat the same thing for days but I'm only good for one day.  It's been really cold here in Portland so I was in the mood for some some good "warm the belly comfort food."
Tamale Pie was the answer.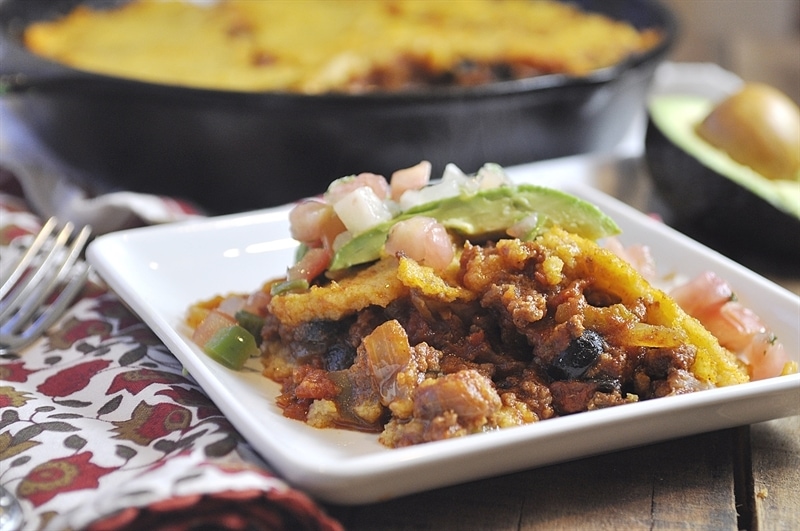 I make my tamale pie in my cast iron pan which makes it feel even more like comfort food to me but you can also do it in a glass casserole dish.  I like tamales but I am not a fan of a really thick layer of corn meal.  So this version of Tamale Pie was perfect for me.  You get a yummy meat mixture in between two thin layers of cornmeal.  Another thing I love about this recipe is it is gluten free!
If you are a big fan of thick cornmeal I would suggest doubling the recipe for the cornmeal layer so it will be thicker.  The trick with your cornmeal layer is to make sure it is really, thick – more like stiff!   Cook it on the stove until it gets nice and stiff.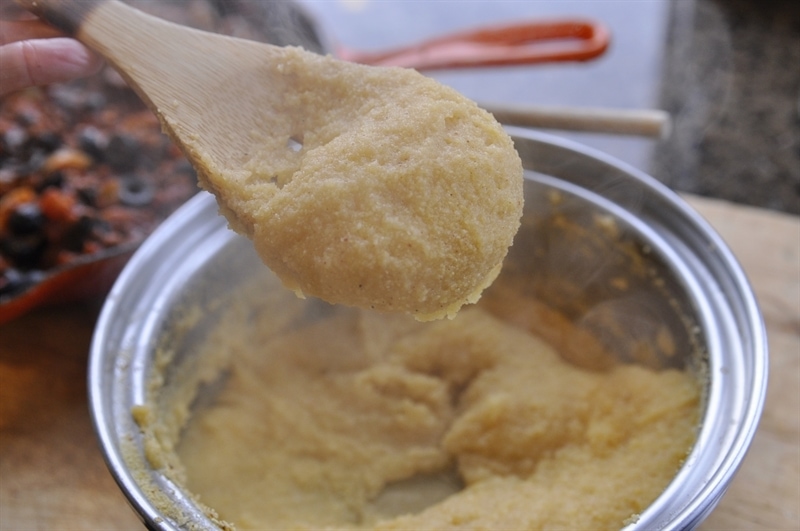 I used 1/3 of the mixture in the bottom of my cast iron pan.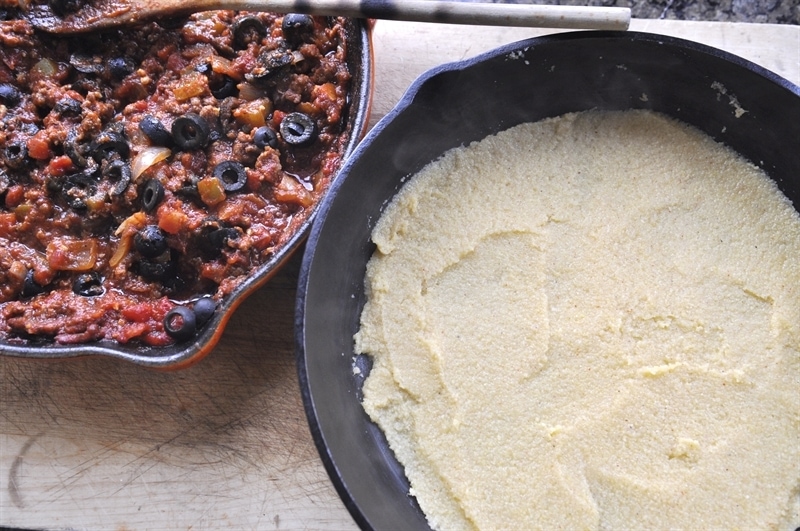 I then added my meat mixture which I had let simmer until the liquid was gone and it was nice and thick.  Put the meat mixture onto of your cornmeal layer and then add the rest of the cornmeal layer on top.  Don't worry about this looking really pretty – you can see mine didn't.  Just keeping it real.  This dish may not bee so pretty but it is delicious.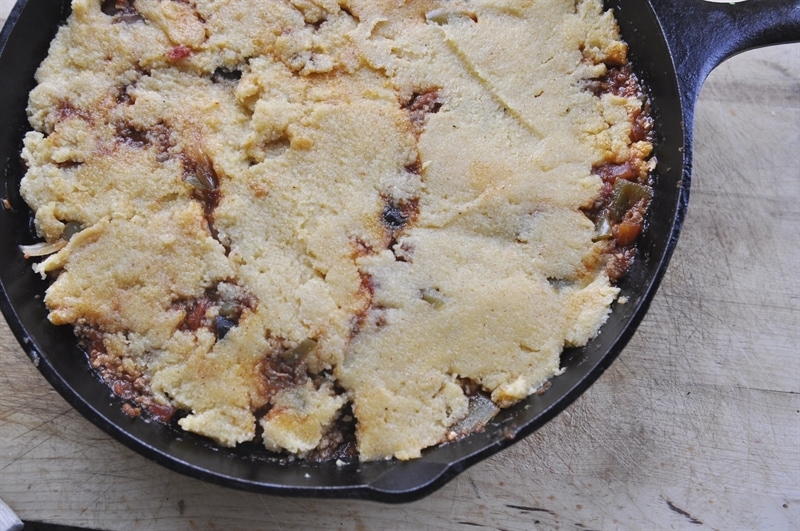 Bake it in the oven for about 25-35  minutes and t hen dish it up!  Even your gluten free eaters can enjoy t his!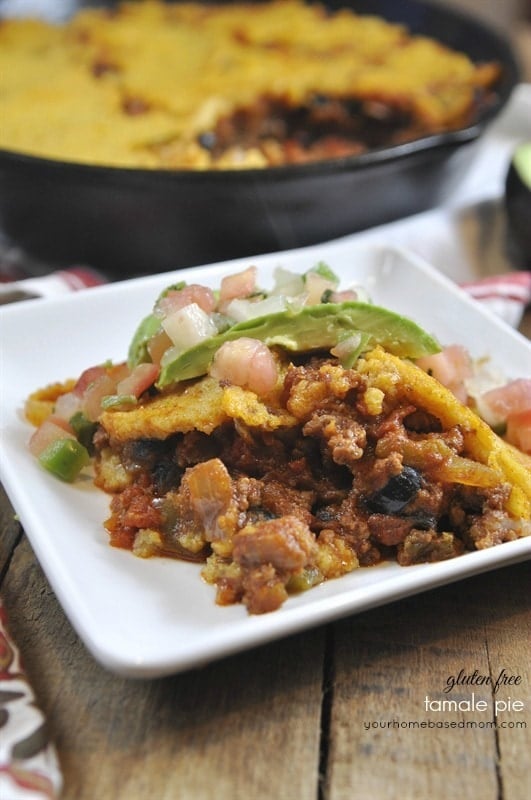 I served mine with some slice avocado and pico de gallo on top.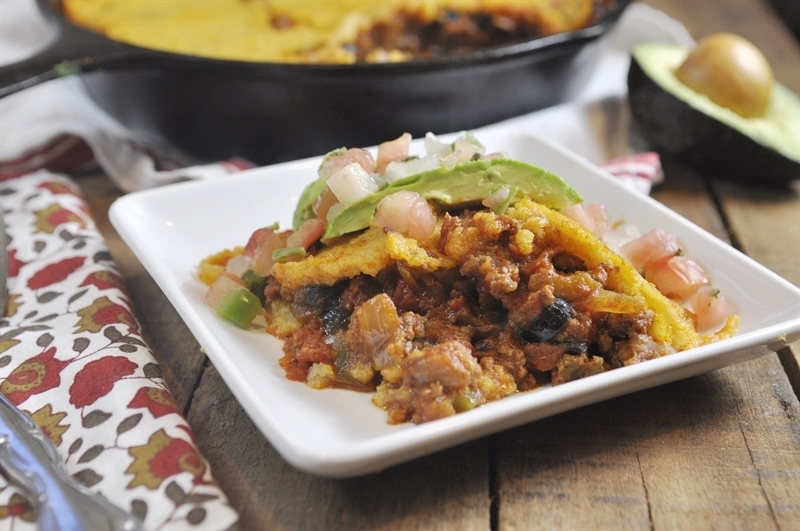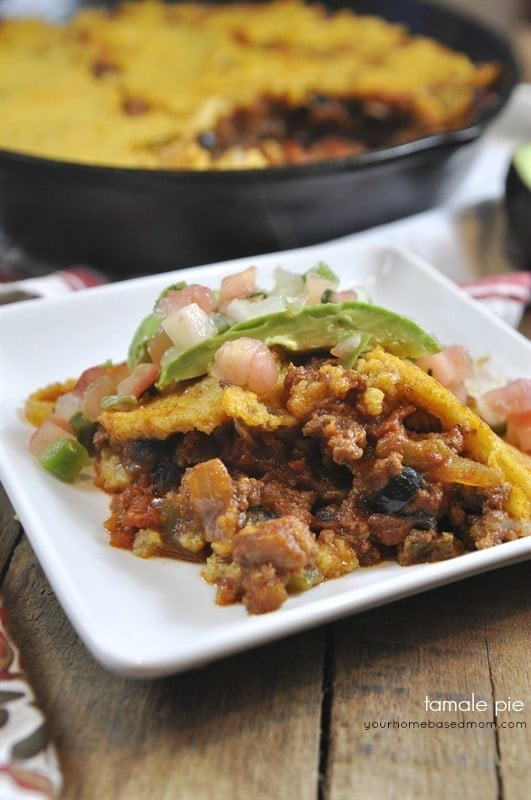 Tamale Pie
Ingredients
1

lb.

ground beef

1/2

C

chopped onion

1

green pepper

chopped

1 15

oz.

can tomato sauce

2 15

oz.

cans petite cut tomatotes

1 4

oz.

can sliced black olives

3

cloves

garlic

minced

1

Tbsp

sugar

1

tsp

cumin

1/2

tsp

salt

2

tsp

chili powder

dash of black pepper
Cornmeal Crust
3/4

C

yellow cornmeal

1/2

tsp

salt

2

C

cold water

1/2

tsp

chili powder

1

Tbsp

butter
Instructions
Brown beef with onion, green pepper and garlic.

Add tomato sauce, tomatoes, olives, sugar, and seasonings

Bring to a boil and reduce to a simmer.

Simmer until liquid is gone and mixture has thickened
Cornmeal Crust
Combine cornmeal, salt, chili powder and water.

Cook over medium heat, stirring consistently until stiff.

Put 1/3 of mixture into bottom of cast iron pan or casserole dish

Add meat mixture

Top with remaining cornmeal crust.

Bake at 375 for 30-35 minutes