Slow Cooker Pork with Basil Sauce is a quick & easy dinner idea that is full of flavor and looks fancy!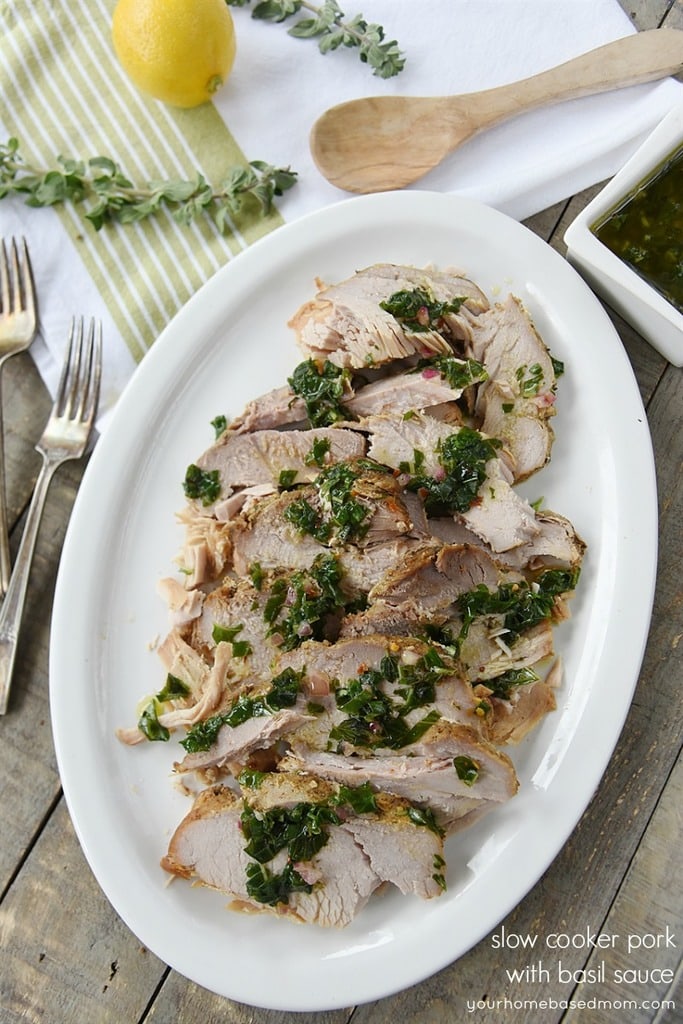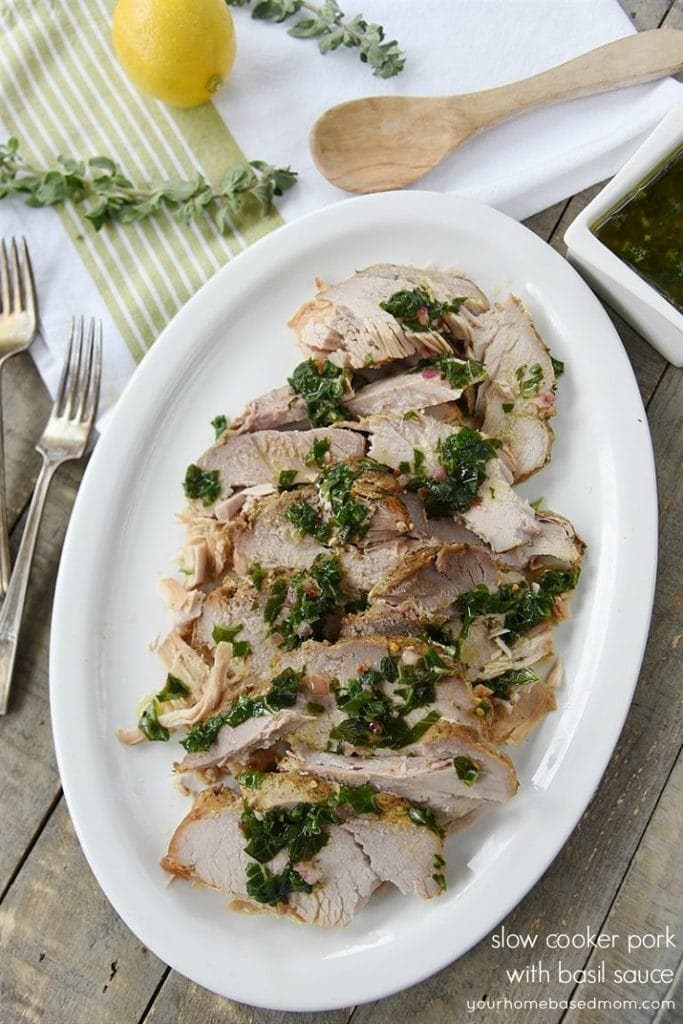 For Easter this year we changed things up a bit.  I know ham is the traditional Easter meal but I'm not a big fan of ham but I love pork.  I just prefer my pork in the form of a pork roast.
It was a quiet Easter at our house this year, that happens when you are an empty nester and all your kids live other places.  Jim and I spent Easter with my mom up in Longview so we took dinner to her.  My challenge was I had to transport the food over an hour away and I also had to have it ready to go after church.  Slow cookers to the rescue! I had two of them going.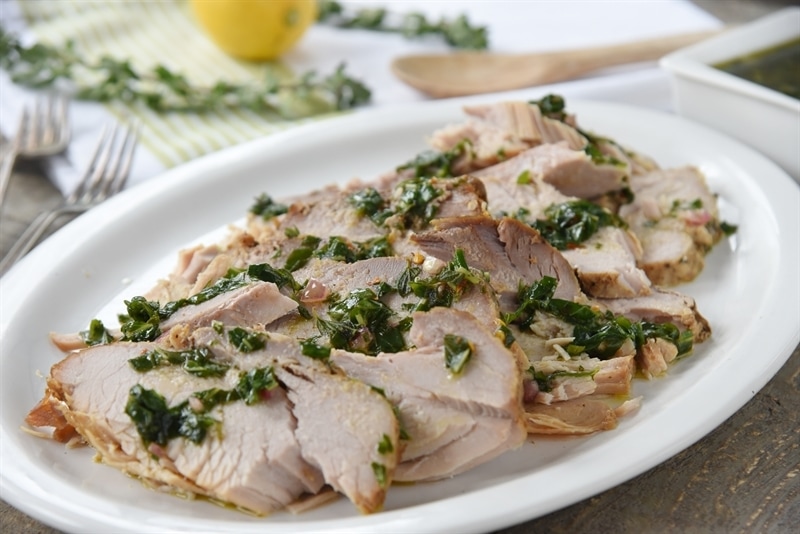 This pork roast with basil sauce was so easy and had great flavor thanks to marinading it overnight.  I just put the roast into a slow cooker liner bag along with the marinade and closed it up.  The next morning I just opened up the bag and put the whole thing, pork, bag and all, right into the slower cooker!  Easy!!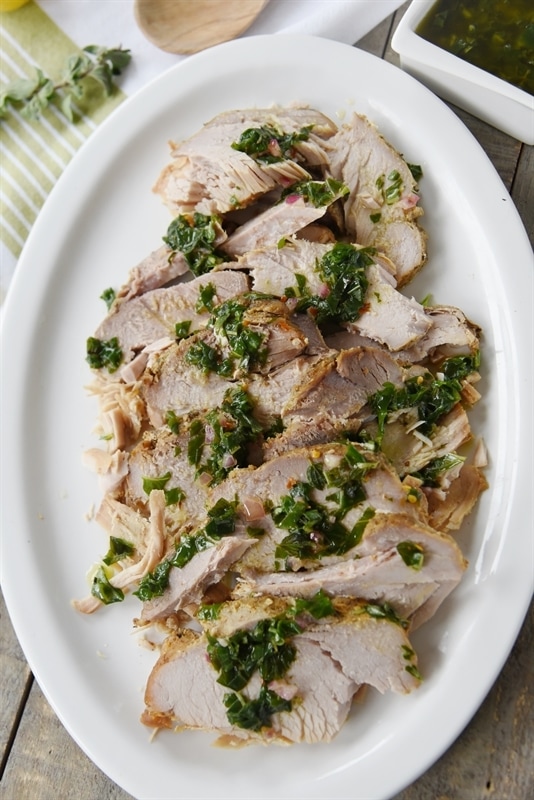 We headed off to church  and when we got home, the pork was ready to go with us up to my mom's. I had also put some red potatoes in the other slow cooker (a recipe that will be in my new cookbook, sorry you have to wait for that one) and they were ready when we got home too.  Transporting the food  in the slow cooker is easy and helps keep it warm.  (I did reheat the meat once we got to my mom's)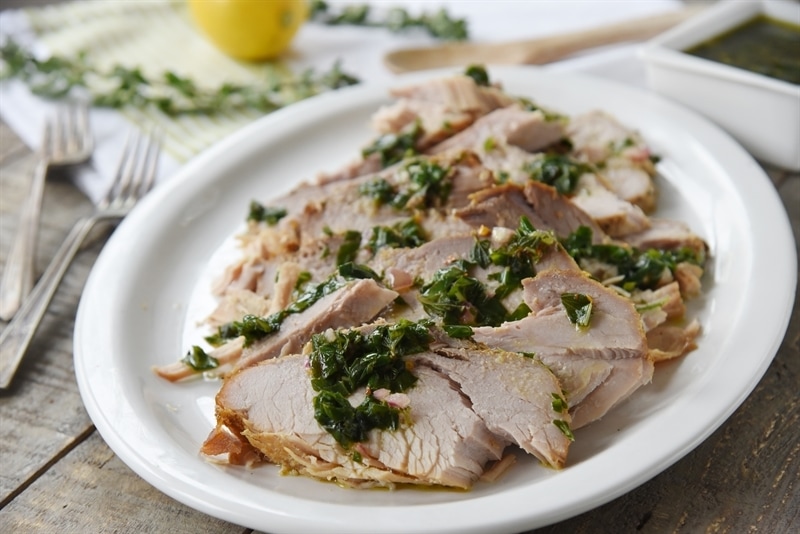 The basil sauce on this pork roast is what really dresses it up and adds some additional great flavor. The sauce is similar to a chimichurri sauce which is an Argentine sauce traditionally made with fresh parsley, garlic, and other herbs.  For this version I used basil and oregano along with olive oil, red onion and some fresh lemon juice.  This stuff is yummy and it would be delicious served on all kinds of meats.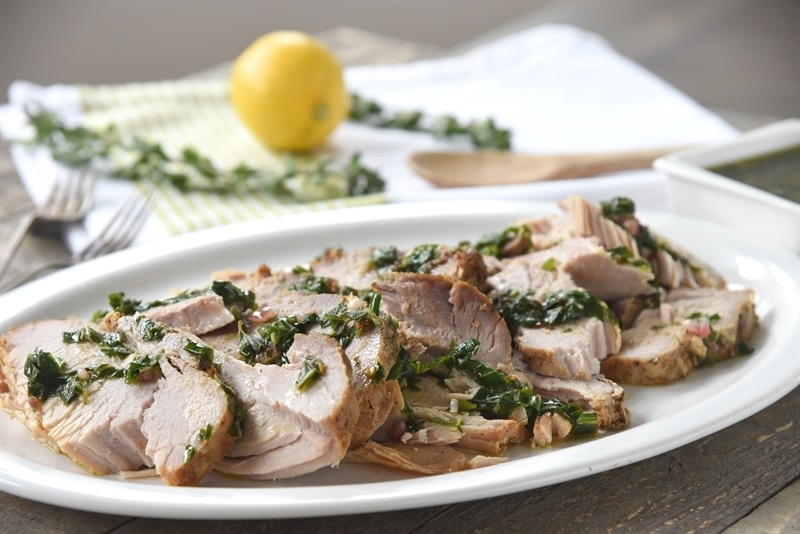 It was the perfect Easter dinner but would also be great for a weeknight dinner as well.  The meat has plenty of flavor without the chimichurri sauce if you think that might scare the kids!
My favorite slow cooker tools:
I actually own two of these 6 Qt. Crock Pot an often have two going at one time.
To help make clean up easier I often use these Crock Pot liners.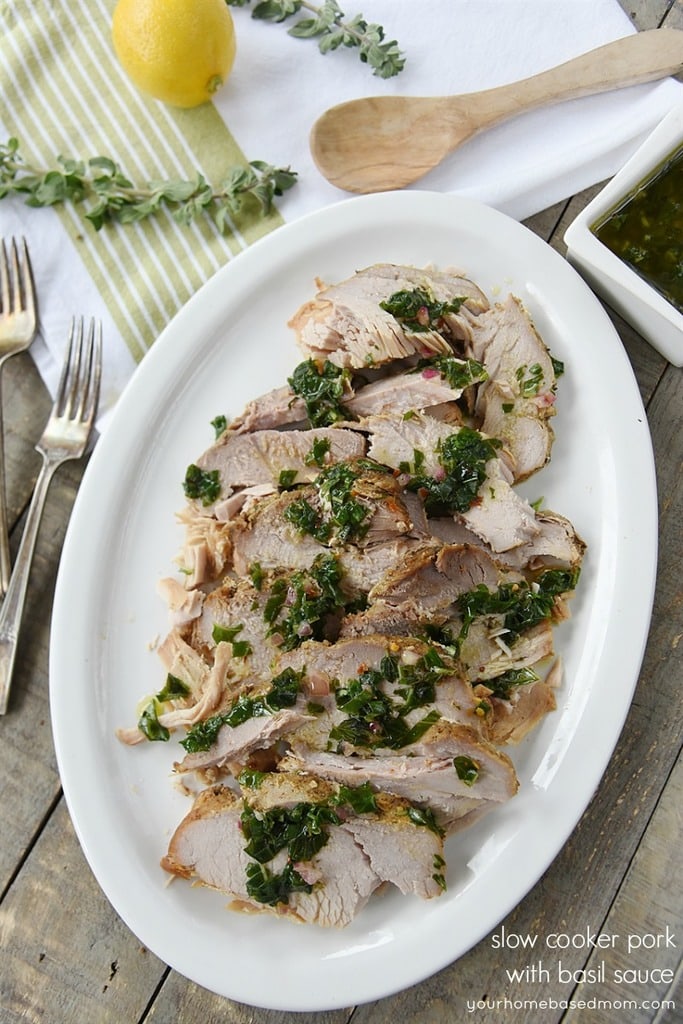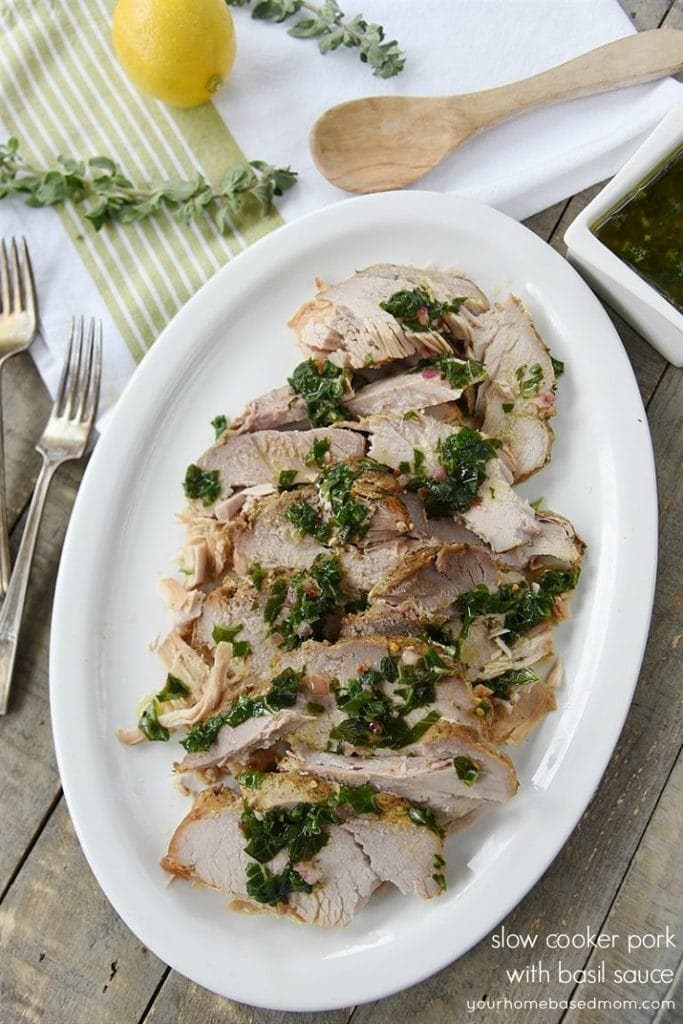 Slow Cooker Pork with Basil Sauce
Ingredients
8

tsp

freshly chopped garlic

1/4

cup

olive oil

3

Tbsp

spicy brown mustard

3

Tbsp

brown sugar

1

Tbsp

kosher salt

1

tsp

freshly ground black pepper

2

tsp

fresh oregano leaves

chopped

1

tsp

smoked paprika

1 4-5

lb.

boneless pork sirloin roast
Sauce
1/3

c

red onion

finely chopped

2

cups

basil leaves

finely chopped

1

cup

olive oil

1/4

cup

fresh oregano leaves

finely chopped

1/4

tsp

crushed red pepper flakes

1

tsp

kosher salt

1/2

cup

fresh lemon juice
Instructions
Mix together the garlic, oil, mustard, brown sugar, salt, pepper, oregano and smoked paprika in a bowl for form a paste.

Rub all over the pork. Place the pork into a resealable plastic bag or a slow cooker liner and close, chill in refrigerate overnight.
Sauce
Mix together the red onion, basil, oil, oregano, red pepper flakes and salt in an airtight container.

Let rest up to 3 hours or overnight in the refrigerator. Stir in lemon juice before serving.

Place pork into slow cooker and cook on high for 4-5 hours or low for 7-8 hours. Pork will be fork tender but not completely falling apart.

Remove from slow cooker and allow to sit for 5 minutes before slicing.

Place meat on a platter and drizzle with sauce. Serve additional sauce on the side if desired.
Notes
Recipe adapted from Epicurious.com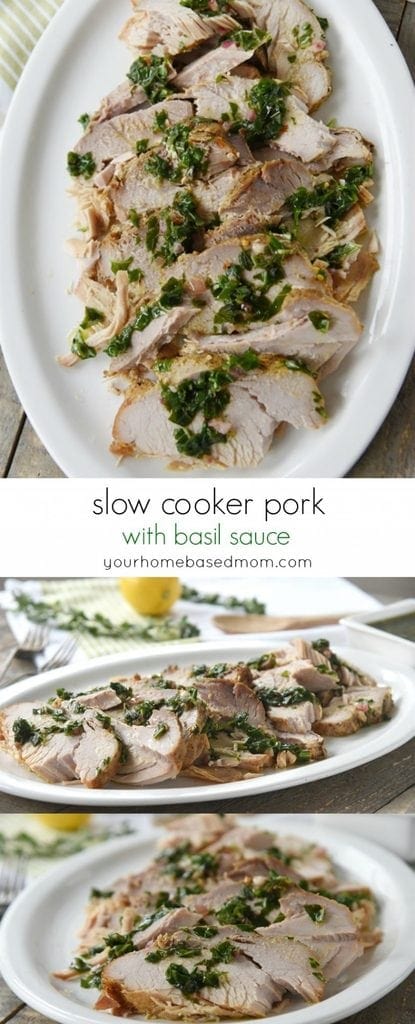 Get my Weekly Menu Plan for FREE!
Receive my FREE "What's for Dinner?" Meal Planning Course, a copy of my FREE ebook that includes my most popular recipes and my FREE weekly Meal Plan.