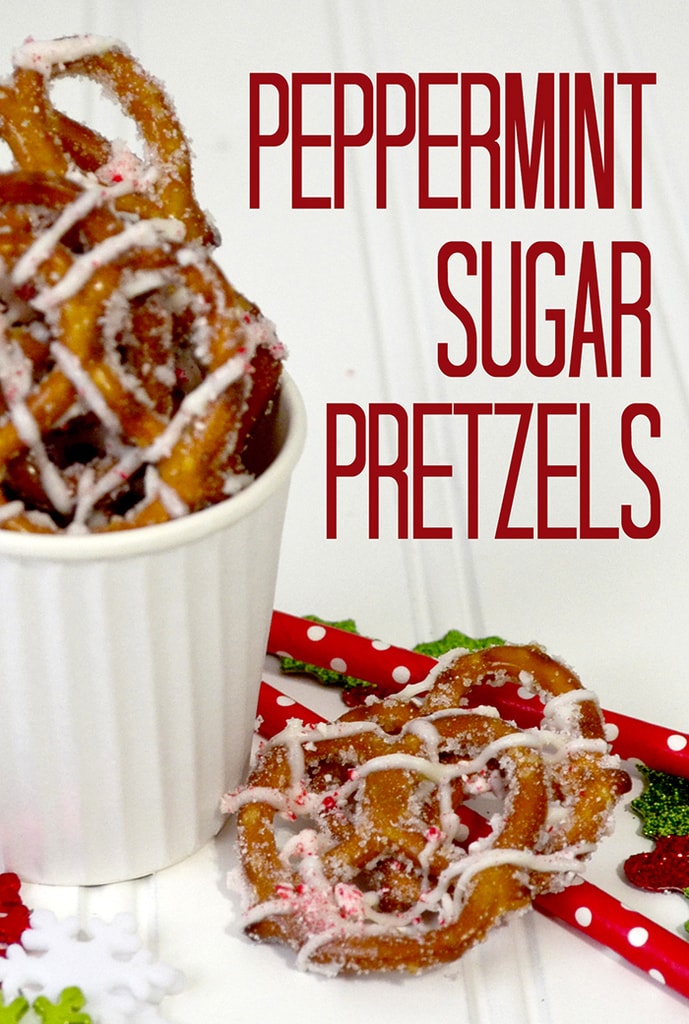 Hello! This is Laura from Pink Cake Plate! I am over the moon excited to be a part of Bake Craft Sew 2015! With the holidays fast approaching its time to start baking all those goodies! I stopped at my local convenience store and came across these yummy peppermint pretzels, they were to die for! I had to try and recreate these tasty pretzels. Well they were completely dipped in white chocolate so I wanted to make mine a little different and that is how these Peppermint Sugar Pretzels came to be!
Now dipping pretzels completely in chocolate is great but can take a lot of time and a lot of chocolate! These pretzels are just drizzled with chocolate, with the peppermint sugar its a perfect combination! And the peppermint sugar adds a great texture to this yummy treat!
Making peppermint sugar is as easy as pie well easier! Just place 1 cup of sugar in a zip lock bag add 1/4 teaspoon of peppermint extract zip it shut and mix it up! Super easy!
These will make a great addition to your goodie trays or you can package these up cute and give them as a hostess gift! We all need those for all the holiday parties we will be attending!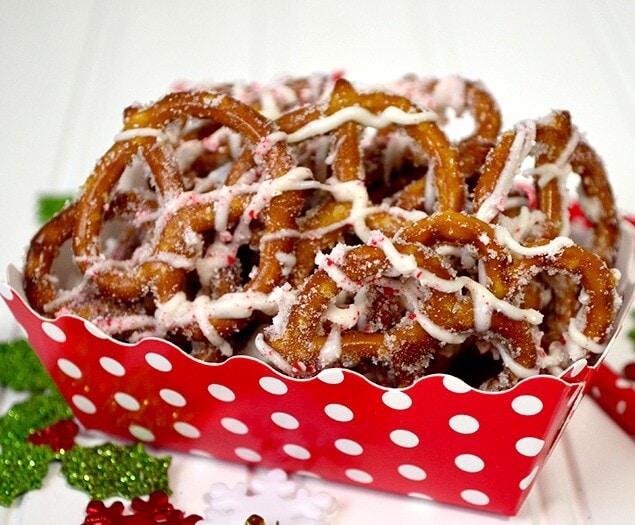 Peppermint Pretzels
Ingredients
? cup vegetable oil
¼ cup peppermint sugar 1/4 tsp peppermint extract and 1 cup sugar mixed
8 oz mini pretzels
2 oz white chocolate melted (optional)
about 4 crushed peppermint candies for garnish
Instructions
Preheat oven to 350 degrees

Mix the oil, peppermint sugar, and mini pretzels thoroughly

Spread on parchment paper lined cookie sheet and place in preheated oven. Bake for about 5-6 minutes stirring the pretzels every couple of minutes. Remove from oven and let pretzels cool completely. Melt white chocolate and then drizzle on pretzels sprinkle with crushed peppermint candies, Let white chocolate harden and then serve immediately or store in an airtight container
You wont be able to eat just one of these little goodies!
If your looking for more delicious holiday goodies you might like these!