This Nacho Grilled Cheese Sandwich combines two favorites foods into one and is the perfect game day food!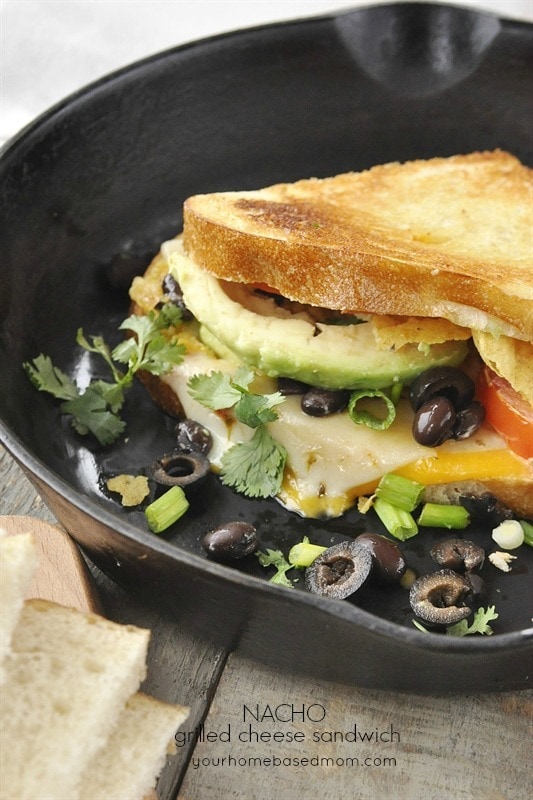 This post is sponsored by Sargento® Cheese but all opinions are my own.
I grew up on grilled cheese sandwiches. I loved them as a kid and I still love them as an adult. There is just something about a grilled cheese sandwich that makes me feel like everything is going to be o.k. and all is right with the world, at least for right then.
Growing up my mom always made our grilled cheese sandwiches with white bread and individually wrapped processed American cheese slices. I grew up in Wisconsin and I love cheese. My husband's grandparents were dairy farmers and cheese makers, so cheese flows through our blood.
I still love using sliced cheese when making my grilled cheese sandwiches but my go to cheese is Sargento® Sliced Cheese which is 100% real, natural cheese. They don't use any of that processed cheese. Those American singles my mom used to use are only 51% real cheese.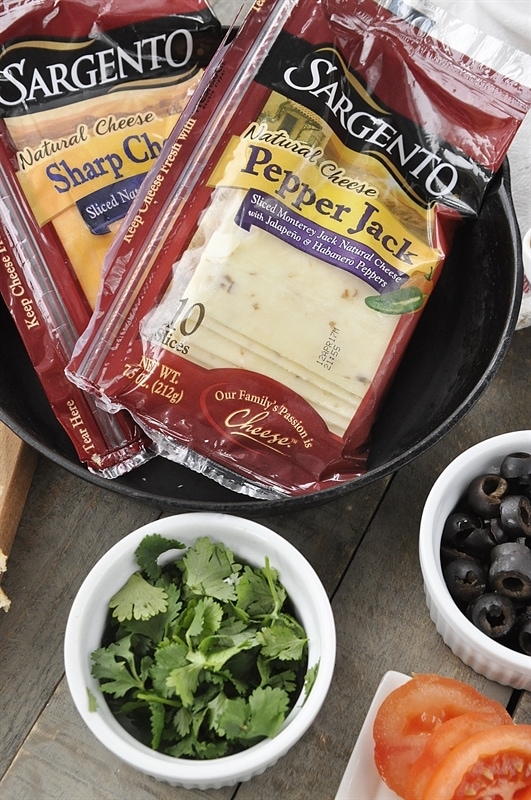 There is a lot of football, baseball and basketball watching going on at my house right now and that means there needs to be some ball game watching food and just about anything covered in cheese works! Nachos are always popular around here. I thought it might be fun to take two favorite foods, nachos and grilled cheese and combine them into one. I took all our favorite nacho toppings – tomatoes, avocado, beans, black olives, green onions, cilantro, chips and of course cheese and created a Nacho Grilled Cheese Sandwich.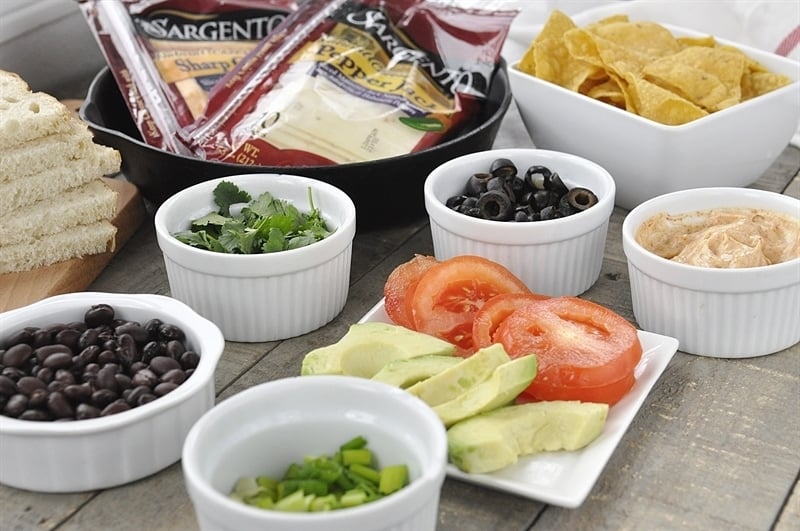 I also combined some sour cream and taco seasoning to use as a spread on the sandwich. Of course I buttered both sides of my bread and then added all my nacho toppings. I ended with a slice of Sargento® Cheddar and a slice of their Pepper Jack to add a little kick to my Nacho Grilled Cheese Sandwich. This is a great idea for a game day party. Put out all the ingredients and let everyone put together their own combination.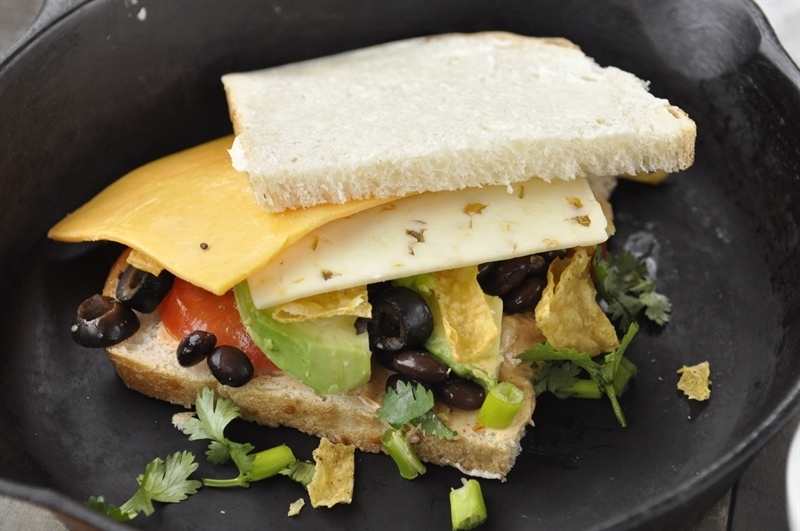 I like to cook my grilled cheese in a cast iron skillet but any skillet or pan will do. You just want to get that bread nice and golden brown and that cheese melted.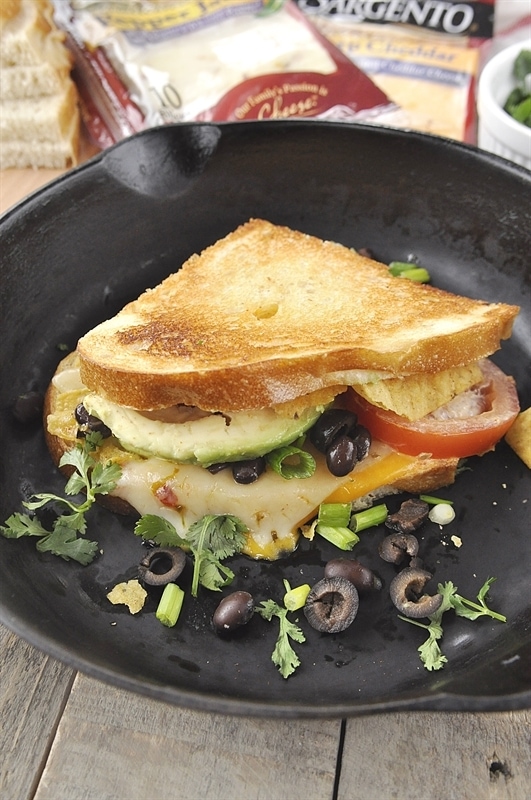 I will admit, this is a little messy to eat but so worth it!!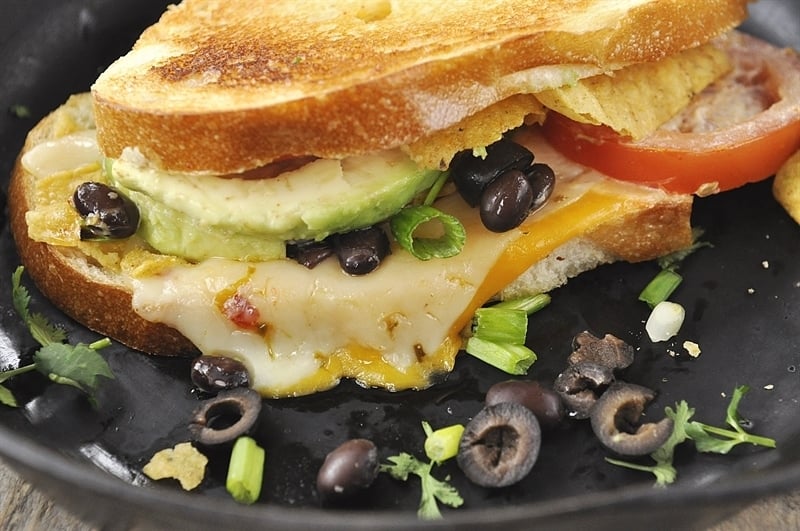 Check out the other great Sargento® sliced cheese at your local grocery store. Perfect sandwiches or just for snacking.
For more info- connect with Sargento® on Instagram or Facebook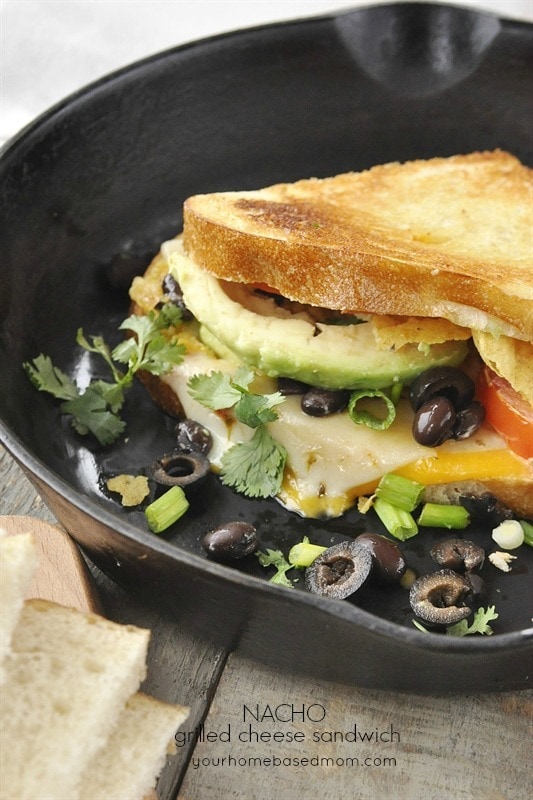 Nacho Grilled Cheese Sandwich
Ingredients
black beans

rinsed and drained

tomatoes

sliced

avocado

sliced

green onions

chopped

black olives

sliced

tortilla chips

1/2

cup

sour cream

2

tsp

taco seasoning

Cheddar and or Pepper Jack Cheese slices

bread

butter
Instructions
Combine sour cream and taco seasoning.

Butter outside of two pieces of bread.

Spread the inside of one slice with sour cream mixture.

Layer on tomato, avocado, black beans, black olives, and tortilla chips.

Add two slices of cheese and top with other piece of bread.

Cook in frying pan until cheese melts and bread is golden brown.

Get my Weekly Menu Plan for FREE!
Receive my FREE "What's for Dinner?" Meal Planning Course, a copy of my FREE ebook that includes my most popular recipes and my FREE weekly Meal Plan.