My packing list for Mediterranean Cruise was compiled of mainly summer dresses.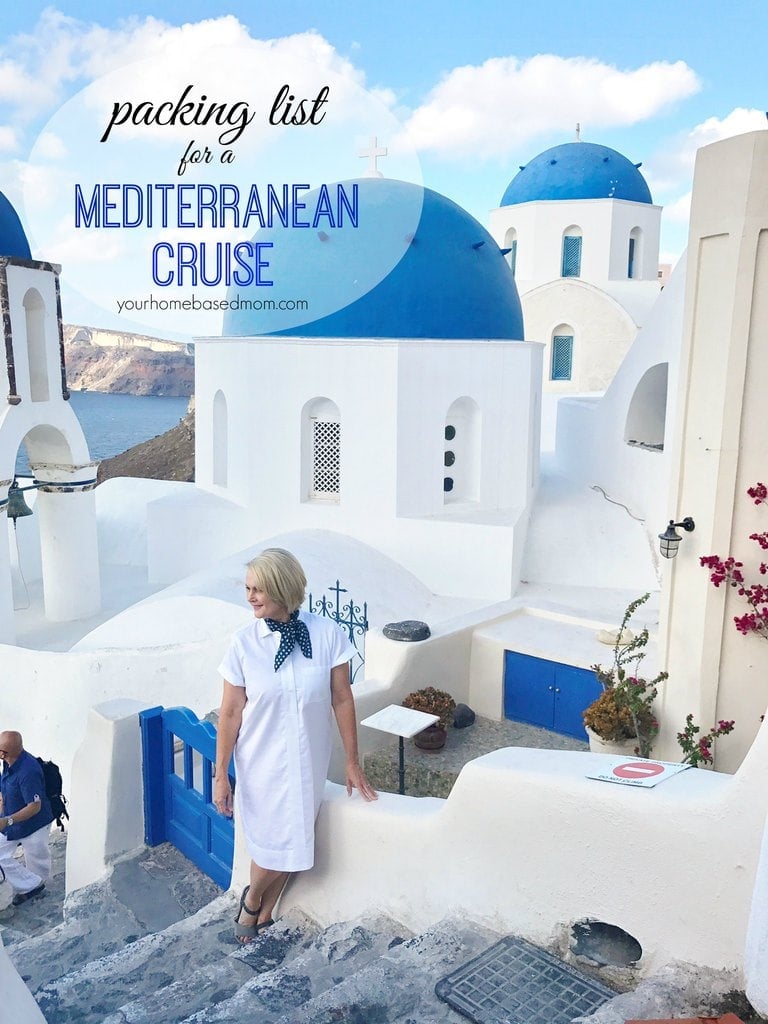 For those of you who follow me on Instagram you know that my husband and I just returned from our #wilkesgrandadventure.  It was a trip I've dreamed of for a long time.  We took two weeks and toured Italy and Greece.  Nine of the days were on a Mediterranean Cruise. 
I had a lot of direct messages while I was gone asking me to share more information on the dresses I wore on our trip. I love wearing dresses when I travel, especially to warm climates. I find them cooler, easier and more comfortable to wear than shorts or pants. And you don't have to worry about your pants fitting after you eat too much gelato!
They also just look nicer and have a more, chic European feel to it and you don't stick out as a major American tourist as much. I can't tell you how many compliments I got on how nice I looked. Several of the places we visited had a dress code, knees and shoulders needed to be covered and a pretty dress was the perfect solution.
I wore a dress or skirt every day of our trip except on our two travel days and one day in Mykonos when we were bicycling around the island. I was able to get everything into a carry on too!
Where possible I have included a link to the dress I am wearing, if that particular item is no longer available I have linked to a similar item. Watch for an upcoming post with more details of our trip, where we went and what we did.
Day One: Venice
This was one of my favorite dresses and I wore it twice during the cruise. In Venice I wore it with a scarf I picked up at Target the day before I left on my trip and then I wore it again in Rome with a denim jacket. This dress did wrinkle but I hung it in the bathroom and the wrinkles disappeared with the steam.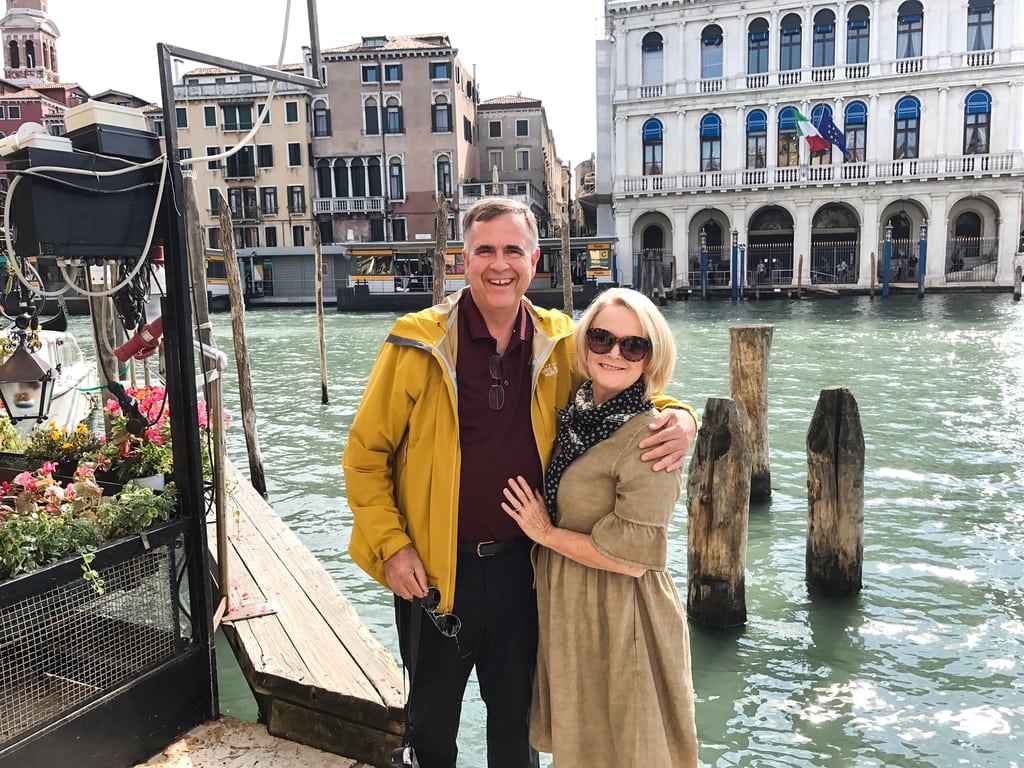 Dress – Scarf (similar)
Day Two: Tuscany
I always travel with a denim or leather jacket. It is the perfect thing to throw over a dress or top when it's a little cool.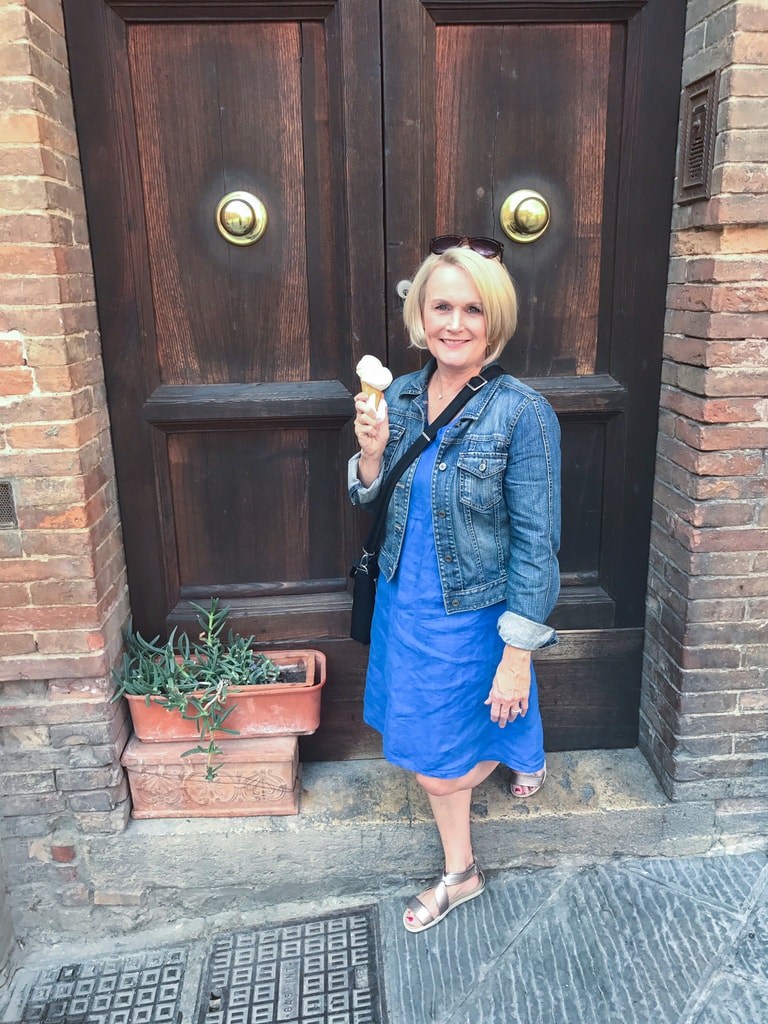 Linen Dress (bought in France) – Denim Jacket
Day Three: Florence
Same scarf as Day One (I wore this a lot). This super comfy dress is knit and the perfect travel dress, just roll it up! Other than travel days, this was the only day I wore tennis shoes (see link at bottom for shoe info) I also had a grey v-neck pullover I had worn on the plane that I wore over this dress in the morning when it was a bit chilly. This dress could also be dressed up with some jewelry to wear to dinner at night on the cruise.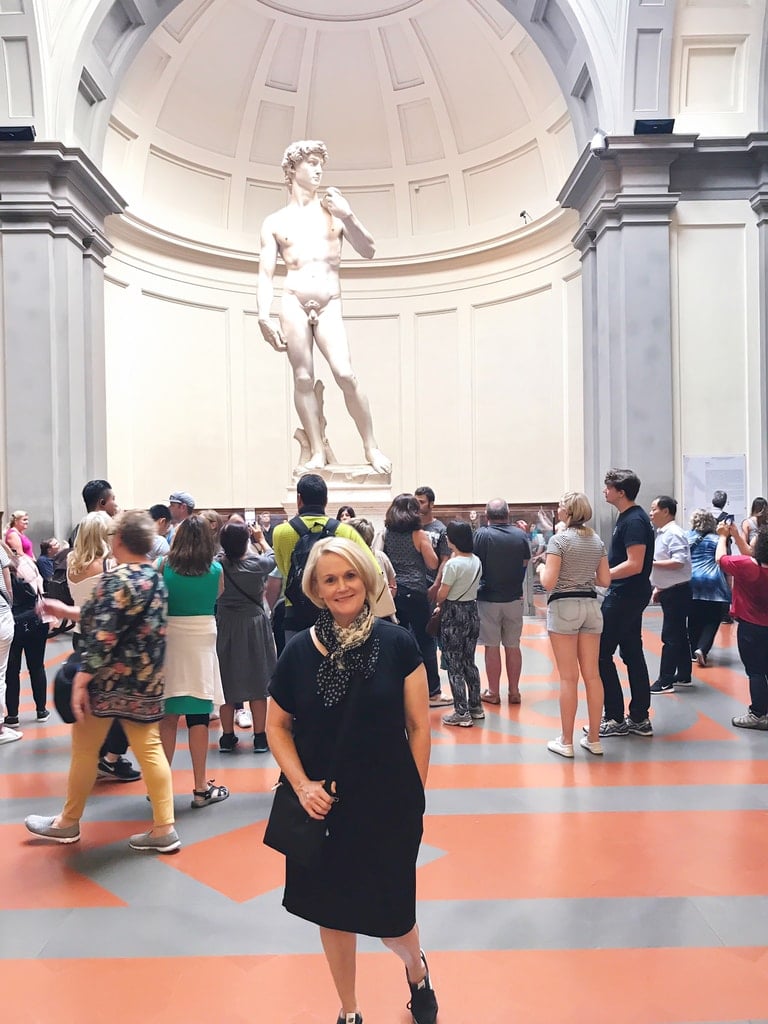 Day Four: Rome
I always roll my clothes to pack them and this dress rolled great, there were a few wrinkles but because of the dark color and floral print they don't show at all.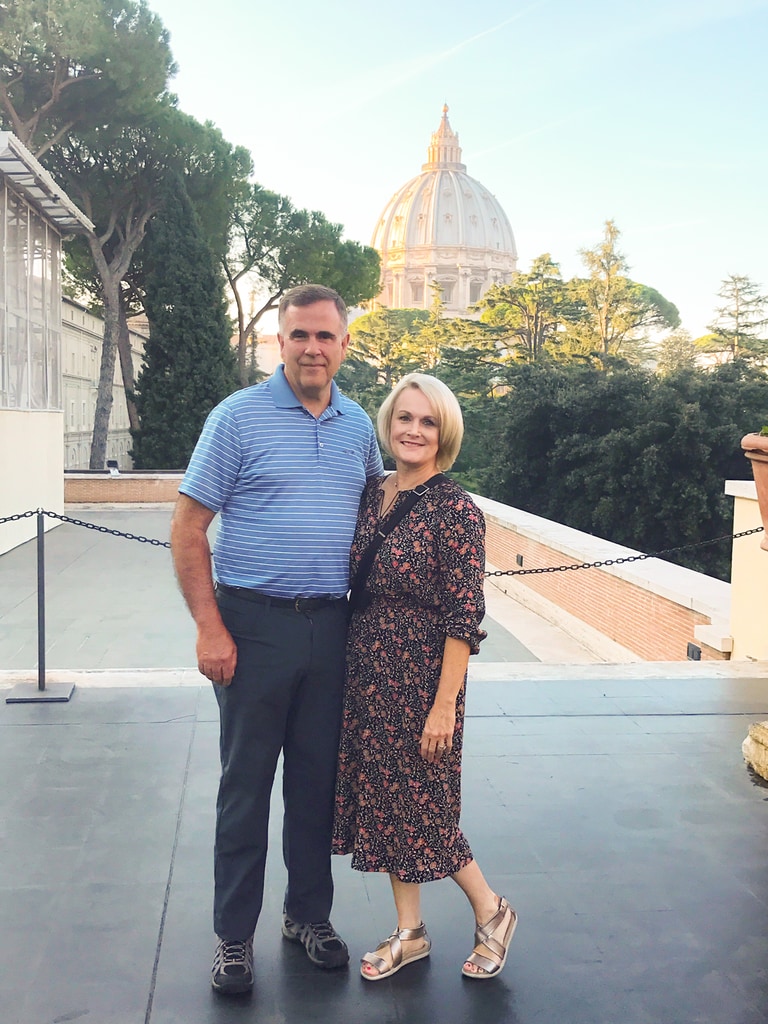 Day Five: Sicily (First day of cruise)
Another great roll it up, no wrinkle dress!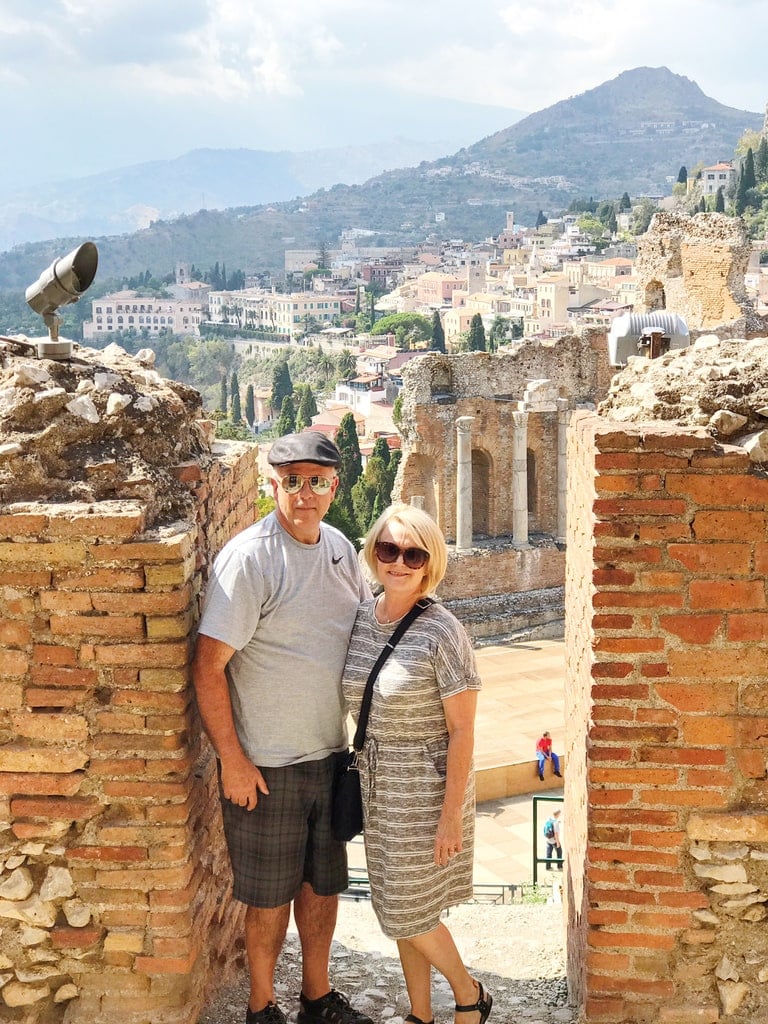 Grey Knit Striped Dress
Day Six: Day at Sea and Formal Night at Dinner
Jim ran out of room in his suitcase for dress shoes so he wore his casual shoes on formal night. This pretty white dress arrived in the mail from one of my daughter in laws the day before we left on the trip. How sweet is that?! She said everyone need a good white dress for a Mediterranean Cruise and this is the one she picked out for me. It fit perfect and I loved it. I got so many compliments on it when I wore it to the formal night on the cruise.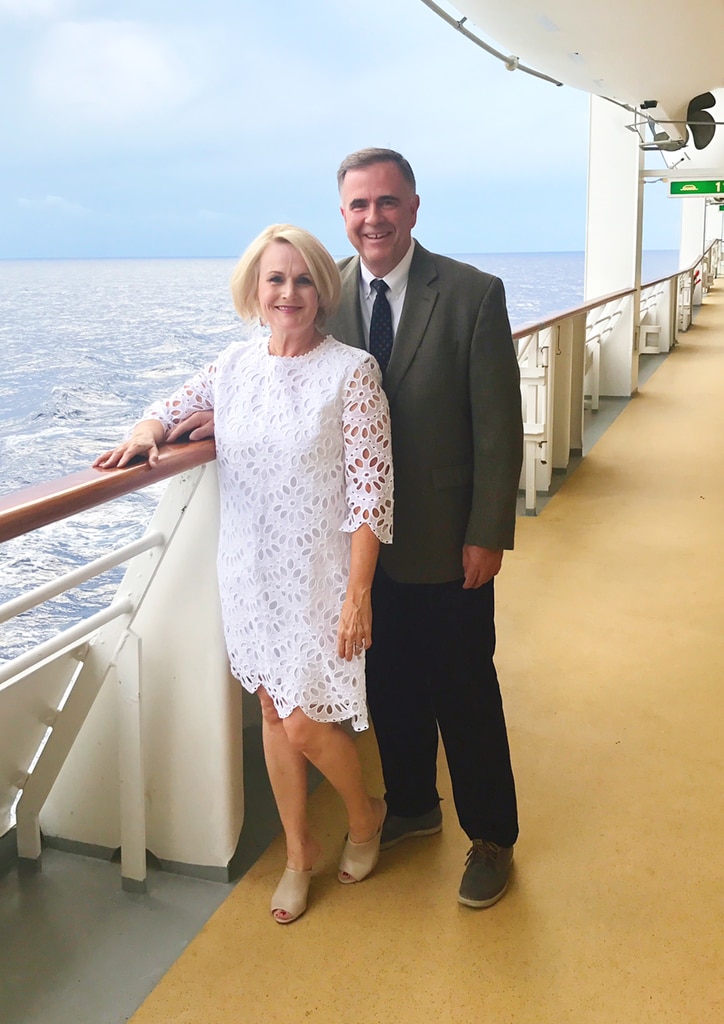 Day Seven: Mykonos
This was the day we bicycled around the island so white shorts and a striped sweater were the perfect choice. The sweater, shorts and tshirt were items I had from several seasons ago.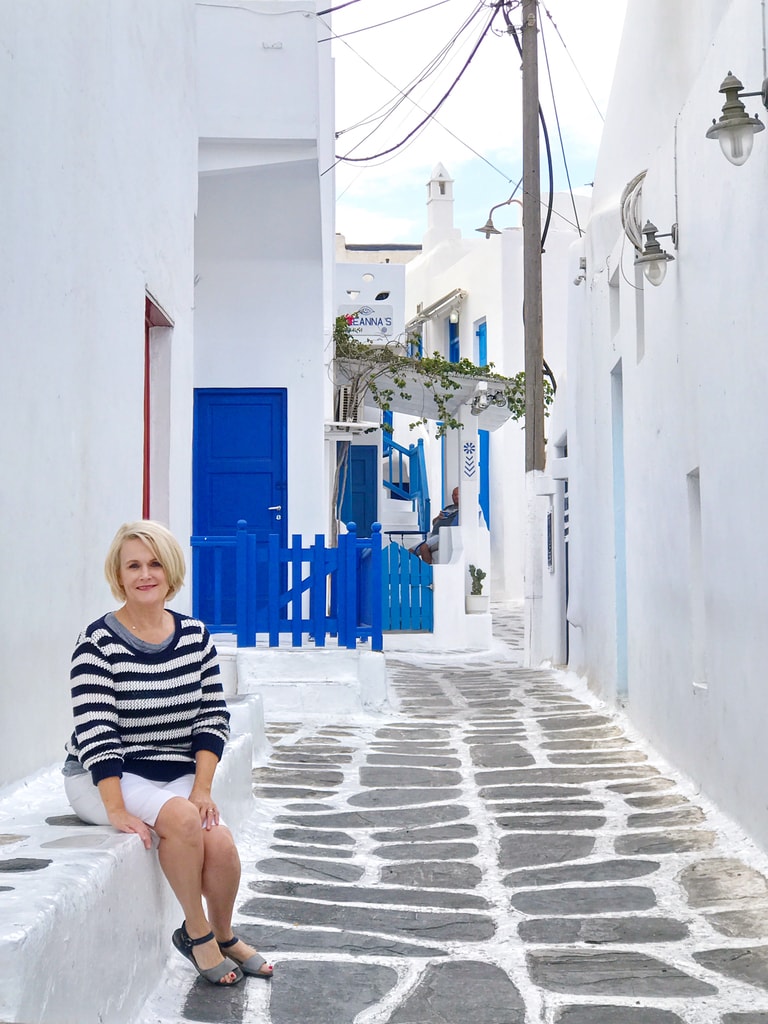 Day Eight: Rhodes
A cool, comfortable chambray dress is a must have item on your packing list for Mediterranean Cruise.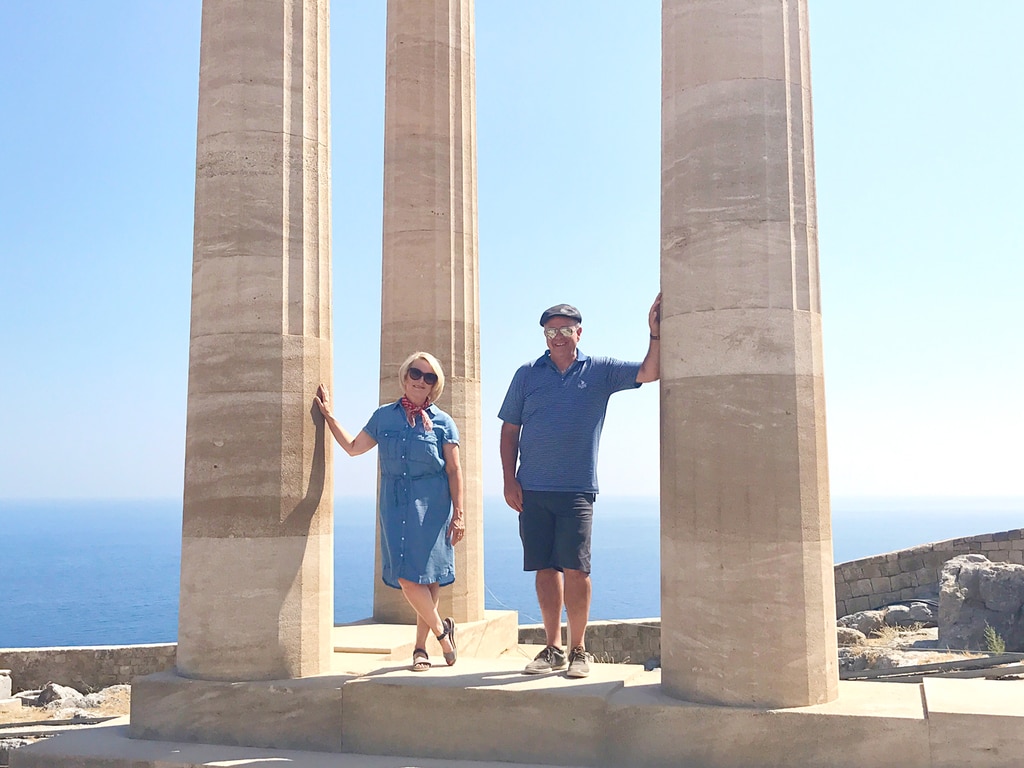 Chambray Dress (similar) – Scarf
Day Nine: Santorini
Blue and white is required in Santorini! This dress wrinkled quite a bit and since irons are not allowed on the cruise ship I did send this dress out to be pressed.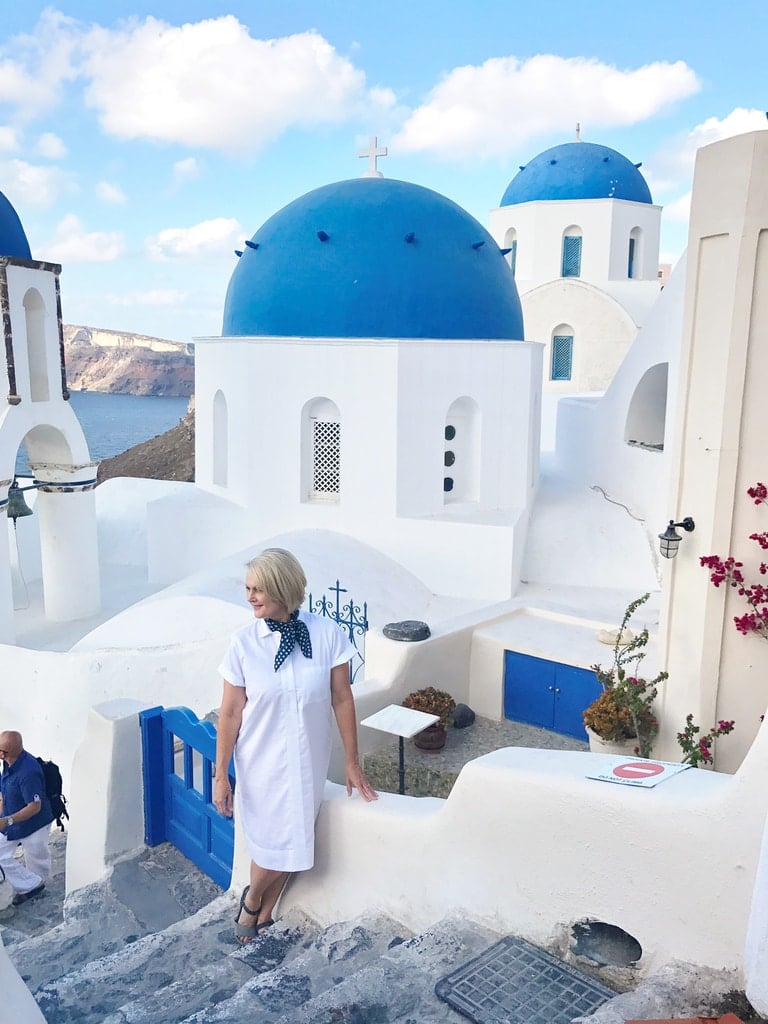 Day Ten: Athens
Went with a skirt and graphic t-shirt with a sunhat for our sunny day in Athens.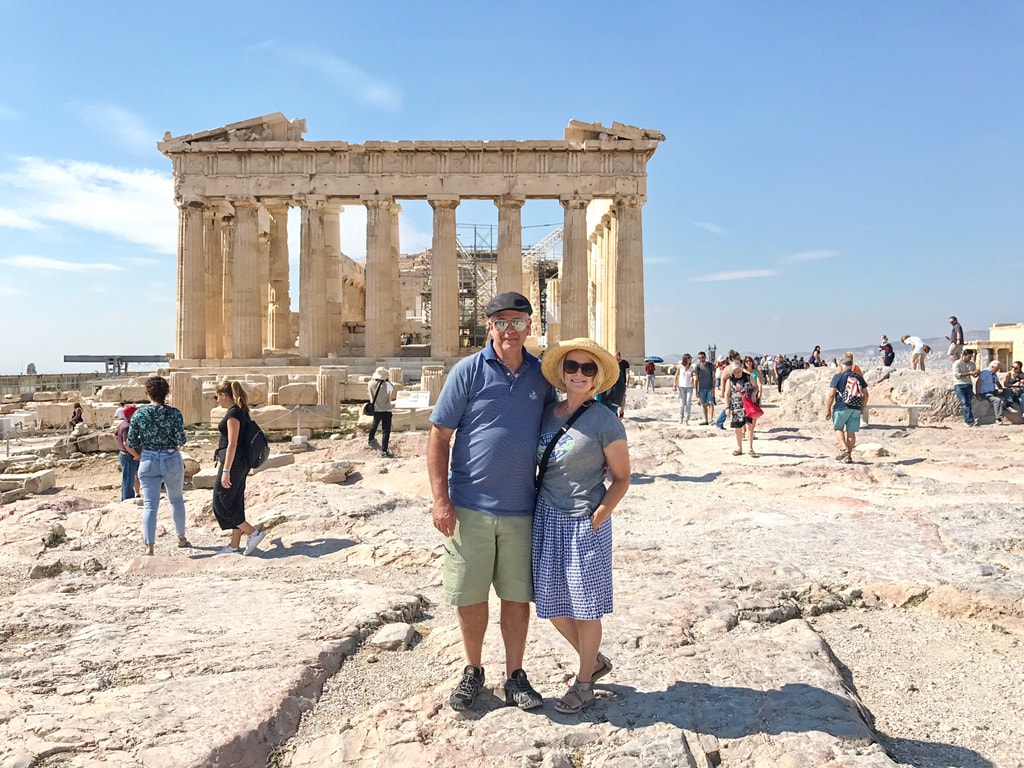 Skirt – Graphic tee shirt
Day Eleven: Naples/Amalfi Coast/Pompeii
I think this was my favorite day on the cruise!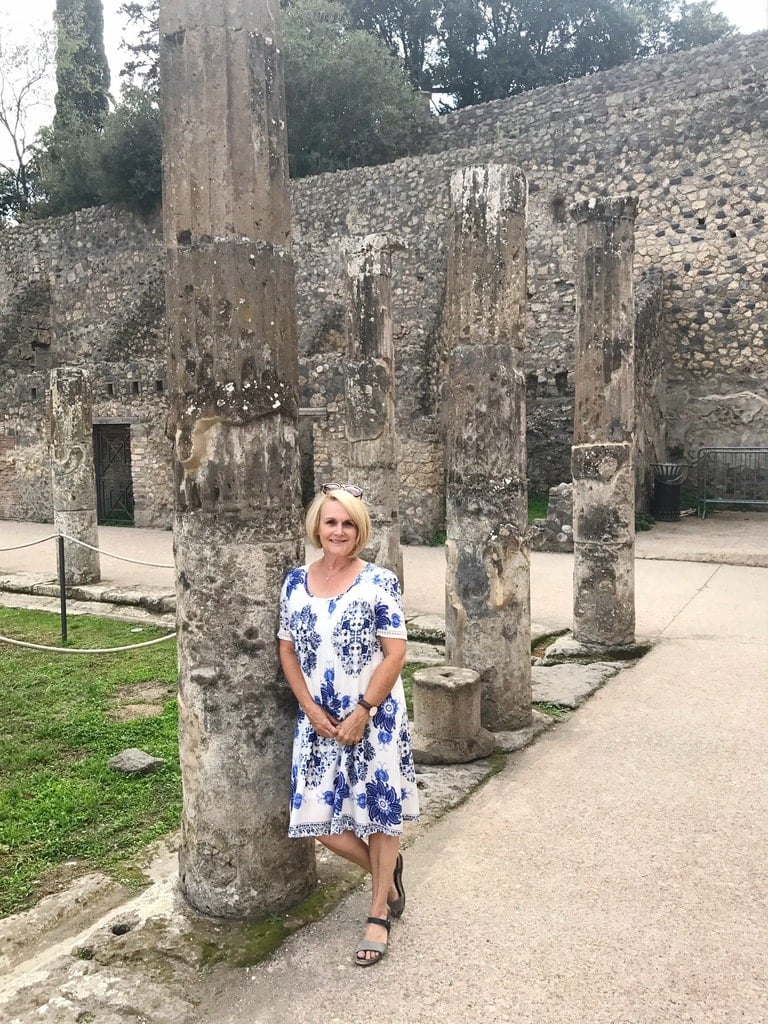 Gabriella Print Dress
Shoes: I wore the same shoes I took on my trip to France earlier in the summer and I am more in love with them than ever. We walked alot – like over 233,000 steps and my feet were never sore, they were tired but not sore. And no blisters!
You can read all about my favorite travel shoes here.
Bag: My travel bag can be found here.