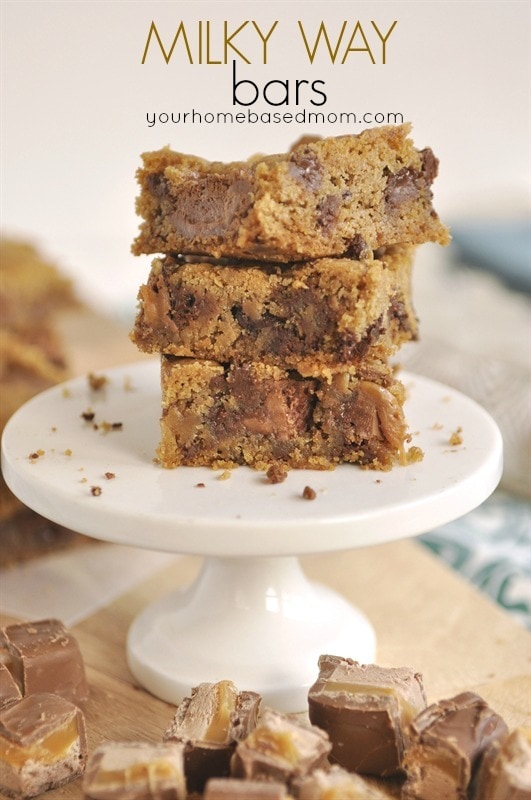 It's the moment you've all been waiting for… the 10th of the month! Today we will be appealing to your naughtiest sweet tooth, because this month's blog hop is all about CANDY: candy crafts, candy recipes, candy printables… candy, candy, candy! So, pull up a seat and get ready to have your cravings triggered by 10 original posts, provided by 10 delicious bloggers. Pin your heart out, my friends.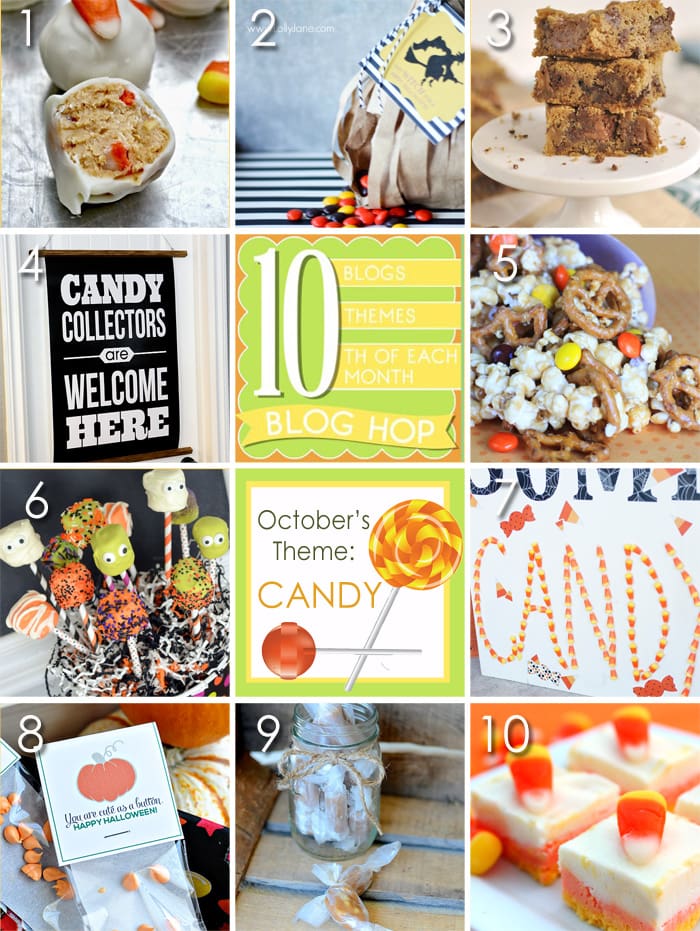 1. 'Or so she says…' sharing White Chocolate Candy Corn Buckeyes
2. Lolly Jane sharing Witch's Broom Candy Bag and Printable
3. Your Homebased Mom sharing Milky Way Bars
4. Eighteen 25 sharing Candy Collectors Halloween Printable
5. Landeelu sharing Reeses Pieces and Pretzel Popcorn
6. Little Miss Momma sharing Candy Covered Halloween Marshmallow Pops
7. Capturing Joy sharing Halloween Candy Porch Sign
8. Thirty Handmade Days sharing Halloween Candy Buttons and Printable
9. Simply Kierste sharing The Best Homemade Caramels
10. Six Sisters' Stuff sharing Candy Corn Fudge
Today's recipe is delicious and EASY!!  And I mean easy with a capital EASY!  Does it get any easier than two ingredients?  Well, maybe one ingredient!
I first had these Milky Way bars over 20 years ago.  We were having dinner at my husband's bosses home and his wife served this treat for dessert.  I remember going crazy over it.  One of my top 3 favorite candy bars is Milky Ways.  When she gave me the recipe I couldn't believe it – only two ingredients.  Milky Way candy bars and store bought chocolate chip cookie dough.  You know the kind, the one that comes in the roll in the refrigerator section of the store!?
You will need two rolls of dough and 4 full size Milky Way bars or 12 of the fun size candy bars.  Now later this month when your trick or treaters come home – be sure and pick out all the Milky Way bars so you can make this.   Or then, you could just go to the store and buy a bag of those little candy bars and make it now!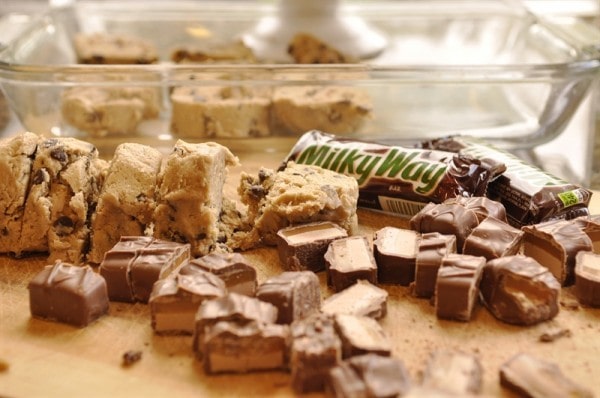 I sliced up the cookie dough and laid it on the bottom of a 9 x 13 pan.  I sliced it about an inch thick.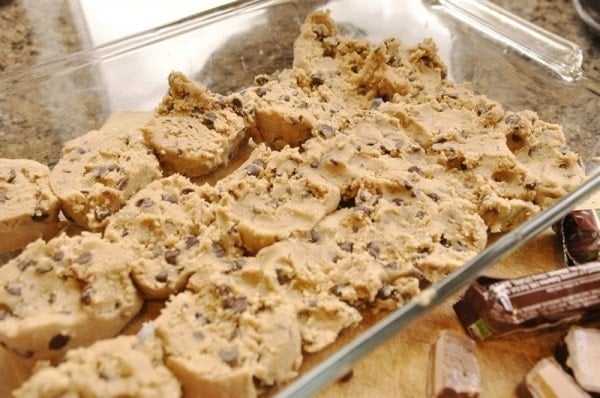 Pop it in the oven and bake for about 15 minutes at 350 degrees.  While it's baking chop up your candy bars.
After 15 minutes pull it out of the oven and sprinkle the chopped up candy over the top.  Use your finger to gently poke the candy down into the dough.  Remember the dough is hot!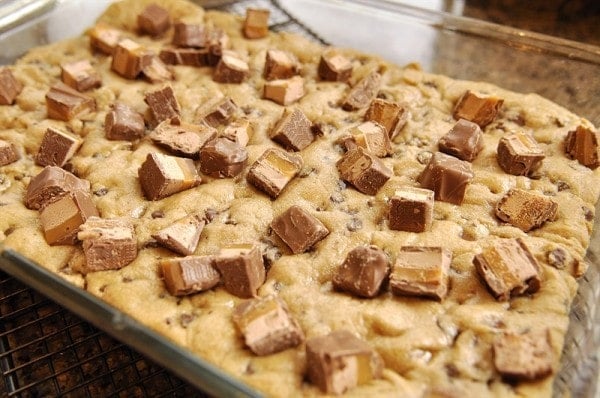 And then return to the oven for about 15 more minutes.
Allow the bars to cool and then cut up into nice size pieces!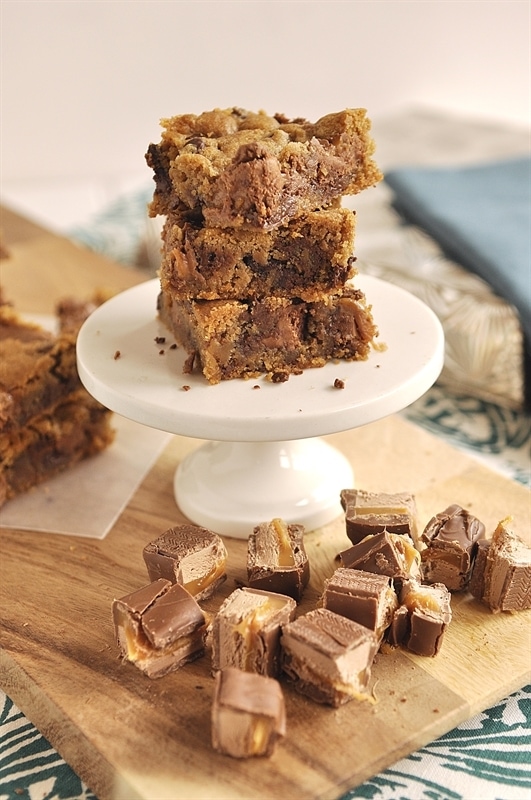 How easy is that!!??
Of course they taste wonderful when they are warm and ooey and gooey.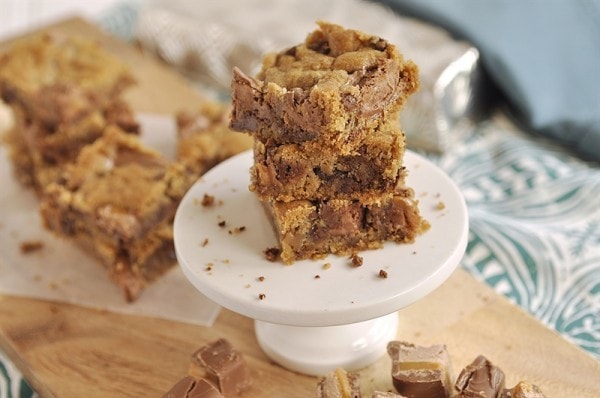 But they are also wonderful at room temperature – how can chocolate chip cookie dough and Milky Way bars not be wonderful anytime!?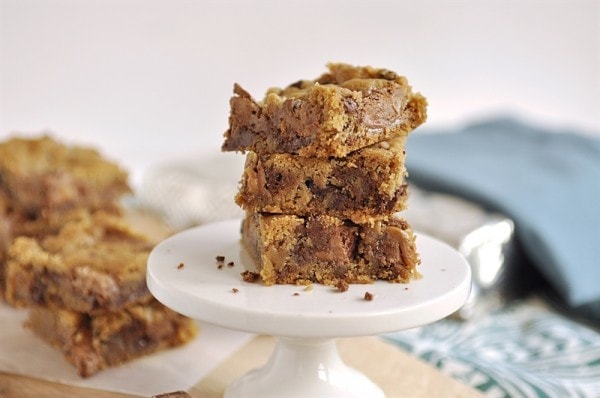 For a few other candy themed recipes try these: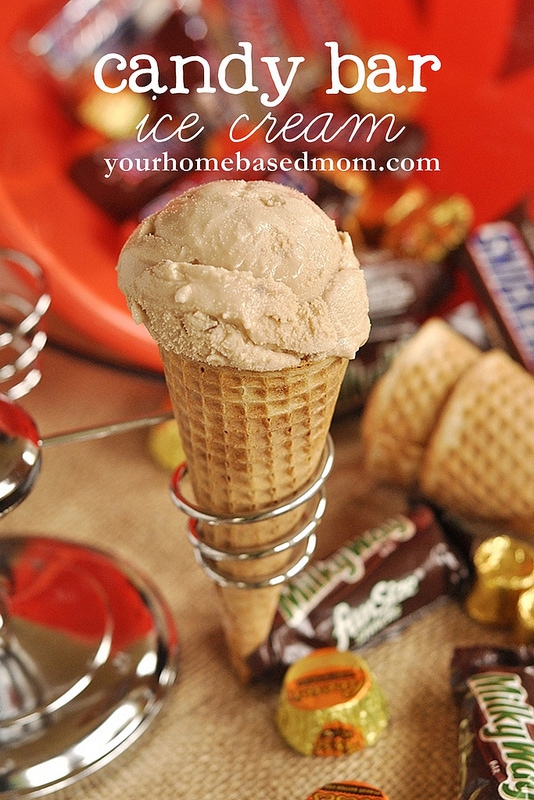 Enjoy!
Leigh Anne
You can also visit me on Facebook, Pinterest, Twitter, Instagram
and Google+
For a list of where I Link Up each week go here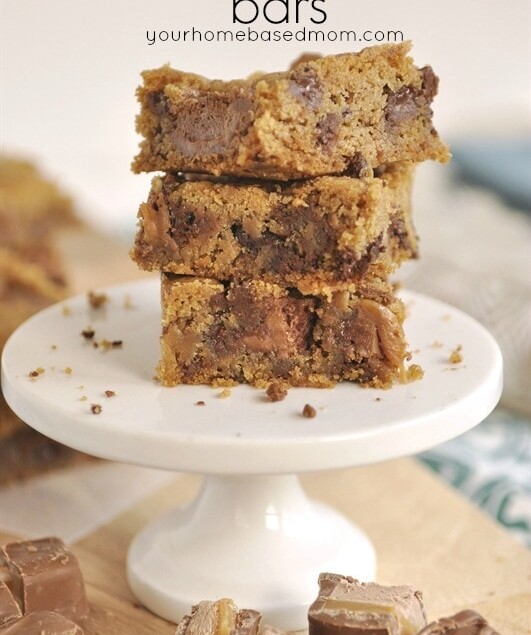 Milky Way Bars
Ingredients
2 rolls of Pillsbury chocolate chip cookie dough in the roll
4 full size Milky Way Bars or 12 Fun Size
Instructions
Slice cookie dough into one inch pieces and lay on the bottom of a 9 x 13 pan.

Bake at 350 for 15 minutes

While dough is baking cut up candy into small pieces.

Remove pan from oven and lay candy onto of hot dough. Use finger to push the candy into dough.

Return to oven for 12-15 more minutes.