On my last two trips to Provo, Utah I have visited the Black Sheep Cafe. I actually did more than visit – I ate there! It is a new restaurant in Provo and is Native American cuisine. It is so good and if you are in the Utah Valley area you must pay them a visit.
One of the items we had was a wedge salad. It had been years since I had a wedge salad and I forgot how fun and delicious they are. It is a fun salad to share. Because we wanted to leave room for all the other yummy food we had ordered we ordered one wedge salad, put it in the middle of the table and dug in. After I tasted it I was kind of wishing we weren't sharing.
I also thought it would be an easy and fun thing to recreate at home. At The Black Sheep Cafe their wedge salad has a chipotle lime dressing which is delicious. I decided to go with a Mexican Ceasar dressing recipe that a blog reader had sent me.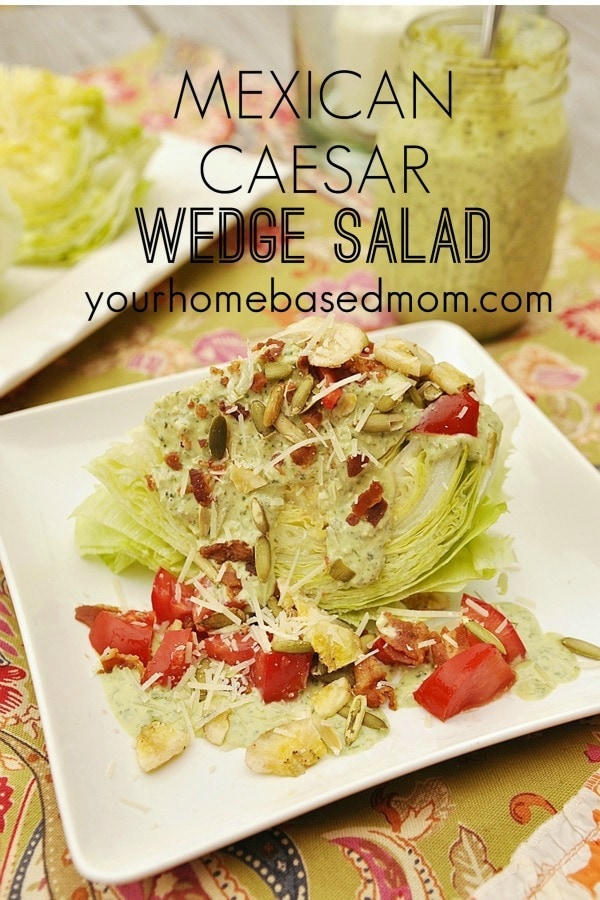 Traditionally, a wedge salad is a wedge of iceberg lettuce with a blue cheese dressing. I don't like blue cheese dressing so a Mexican Caesar Wedge Salad was just the thing for me.
For the dressing I used an Anaheim chili, pumpkin seeds, garlic, cotija cheese, cilantro and mayo along with some salt, pepper and olive oil. I purchased my roasted pepitas (pumpkin seeds) from Trader Joes. If you can only find the pepitas raw you can roast them yourself. Just put them in a dry pan over medium heat. Stir or shake them as they will burn easily. In just a few minutes they will start to pop and puff up and then they are roasted.


Blend up the chili, roasted pepitas, garlic, olive oil, salt, pepper vinegar and Cotija cheese in your food processor.


Then add in your cilantro.

This dressing is delicious on any kind of salad. Just keep it in a jar in your refrigerator. I rarely buy store bought dressing because homemade dressing is just so easy to make and so much better.

Cut your head of iceberg lettuce into wedges. I usually cut it into 8 wedges. Place your wedge or wedges on a plate and then add your toppings. In addition to the Mexican Ceasar dressing I topped my wedge salad with fresh tomatoes from the garden, bacon, Parmesan cheese and more pepitas.
Jim and I just dig into the same piece and share. Make sure you get plenty of the toppings as they do tend to fall of the wedge and puddle around the bottom but that is half the fun making sure you get a little bit of each flavor on your fork.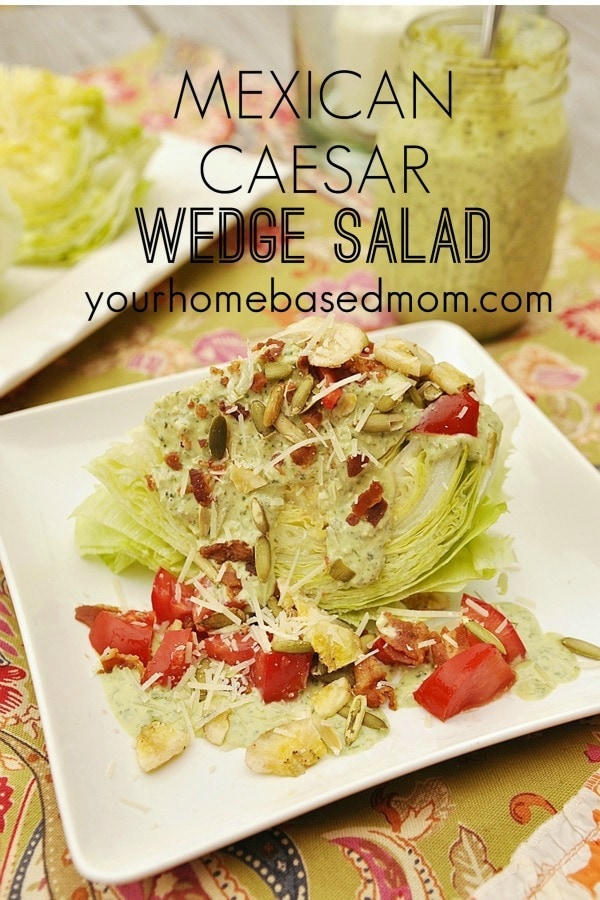 Mexican Ceasar Wedge Salad
Ingredients
1

medium Anaheim chili

1/3

C

roasted pepitas

green pumpkin seeds

3

garlic cloves

peeled

1/4

tsp

black pepper

1

tsp

salt

1

C

olive oil

1/4

C

red wine vinegar

5

Tbsp

Cotija cheese

Mexican cheese

1

bunch of cilantro

1

C

mayonnaise

1/4

C

water

Wedges of Iceberg Lettuce

Toppings: bacon

tomato, pepitas, Parmesan cheese, dried bananas
Instructions
If you can not find roasted pepitas you can roast your own in a dry pan. Just heat them, stirring often, until they begin to puff and pop. They are then roasted.
Dressing
Place chili, pepitas, garlic, pepper, salt, olive oil, vinegar and cheese into food processor and pulse until well combined.

Add in cilantro and pulse some more.

In another bowl combine mayo and water and mix until smooth. Add in cilantro mixture.

Serve over wedge of Iceberg lettuce.

Top with bacon, tomato, pepitas, Parmesan cheese and dried bananas
Stay Updated!
Need more recipes and creative ideas? Sign up and get a FREE copy of my ebook! Do you think your friends would love this too? Please share my blog with them. Thanks!