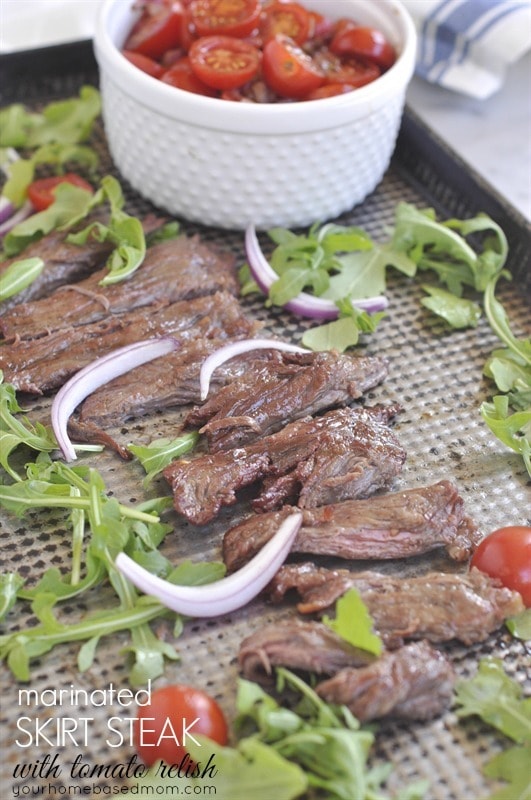 It's been a hot week here in Portland.  We're in the 90's and that is 10 degrees higher than our average temperature for this time of year.  I'm not complaining but when the temperatures get that high my desire to turn on the stove or oven go way down.  To almost non-existent!  Thank goodness for our grill.  Keep that heat outside!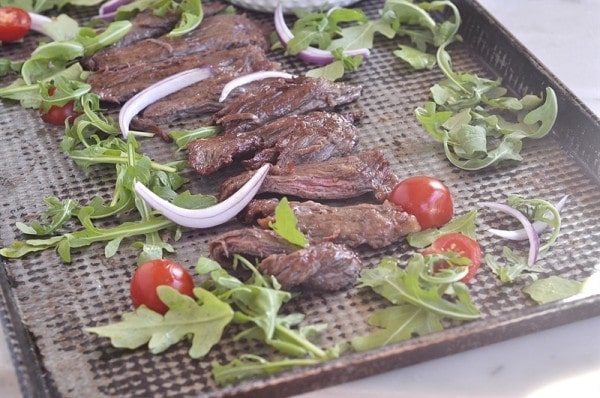 Today's recipe uses skirt steak.  Skirt steak is a nice inexpensive cut of meat but it definitely needs to marinate.  I marinated it over night.  I would give it at least 4-6 hours but overnight is best.  The longer it marinades the more tender the meat is. So give it plenty of time. Because the meat is so thin it cooks up really fast too.  After it is to your desired doneness slice the meat and you are ready to go.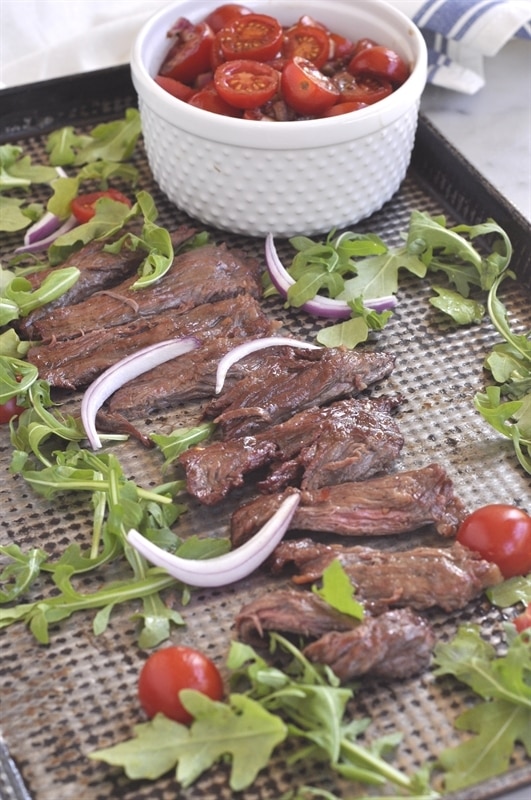 I added a nice tomato relish to go along with the meat.  My husband loved it.  I can't wait until our cherry tomatoes are ripe in the garden because then it will be even better!  A few weeks ago I posted a video on Facebook with an amazing tip on how to slice cherry tomatoes. If you missed the video here is a link to it.  I used this technique and it worked perfect.  Amazing!!  Will also work on grapes.  Life changing.
The tomato relish is a combination of olive oil, balsamic vinegar and red onion.  So yummy.  I mixed it up an hour or so before dinner and let it sit in the refrigerator so the flavors could combine.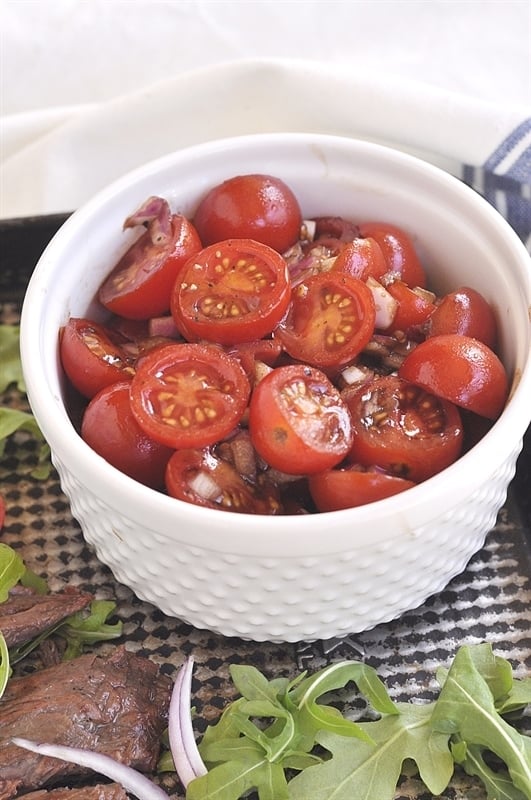 I topped my skirt steak with some arugula and then added the tomato relish on top of that .  Yum!!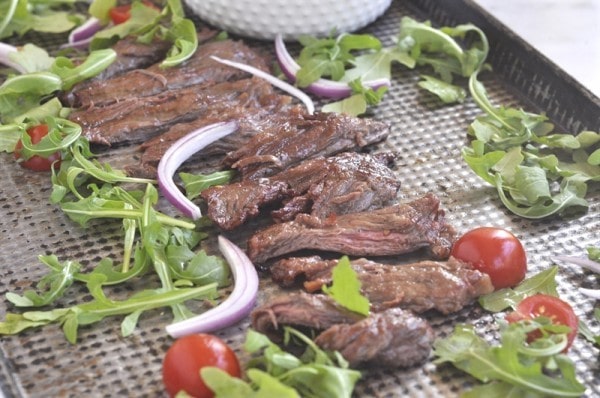 I just added some roasted asparagus and we were good to go for dinner.  I used my toaster oven for the asparagus so I didn't have to heat up the oven for that either!
Other favorite things to grill:
Fast Fire Flank Steak – Flank Steak with Pesto – Grilled Marinated Flank Steak with Chimchurri Sauce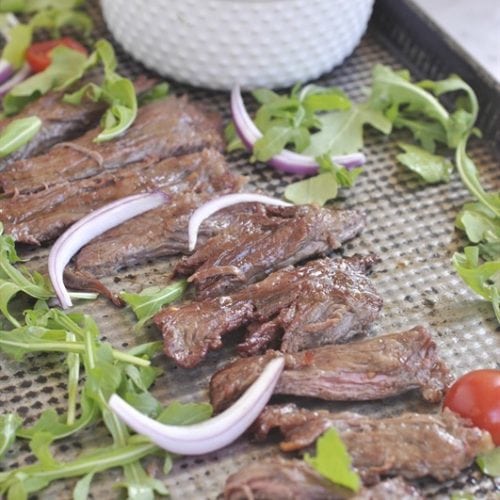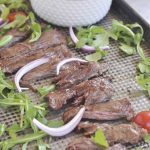 Print
Marinated Skirt Steak with Tomato Relish
Ingredients
2

lbs.

skirt steak

1/3

C

olive oil

4

cloves

garlic

chopped

3

Tbsp

red wine vinegar

1/4

C

soy sauce

3

Tbsp

honey! Tomato Relish

2

C

cherry tomatoes

halved

2

Tbsp

olive oil

kosher salt

1-2

Tbsp

balsamic vinegar

1/4

C

chopped red onion

fresh pepper

Arugula
Instructions
Mix together 1/3 C olive oil, garlic, red wine vinegar, soy sauce and honey in zip loc bag and add meat.

Marinade over night or at least 6-8 hours.

Grill meat to desired donenes
Tomato Relish
Cut tomatoes in half.

In a bowl combine 2 Tbsp olive oil, salt, pepper, balsamic vinegar and chopped red onion with tomatoes

Refrigerate until ready to serve.

Place arugula on meat and cherry relish on top
Recipe adapted from What's Gaby Cooking.
Enjoy!
Leigh Anne
You can also visit me on Facebook, Pinterest, Twitter, Instagram
and Google+