I am so excited to finally be sharing with you my Living Room Redo Reveal!! I showed you a little hint of it when I shared my How to Paint a Piano with Chalk Paint Post. Now you get to see the rest of the room. If you follow me on Instagram you got a preview of the big reveal.
This week my living room was featured over at Style Me Pretty Living and Caitlin Wilson Design.  Caitlin is a friend of mine and an amazing designer.  If you haven't checked out her beautiful line of pillows, fabric and furniture you need to!  
For full details on products, furniture etc. used in my living room be sure to head over to Style Me Pretty Living.
Here she is!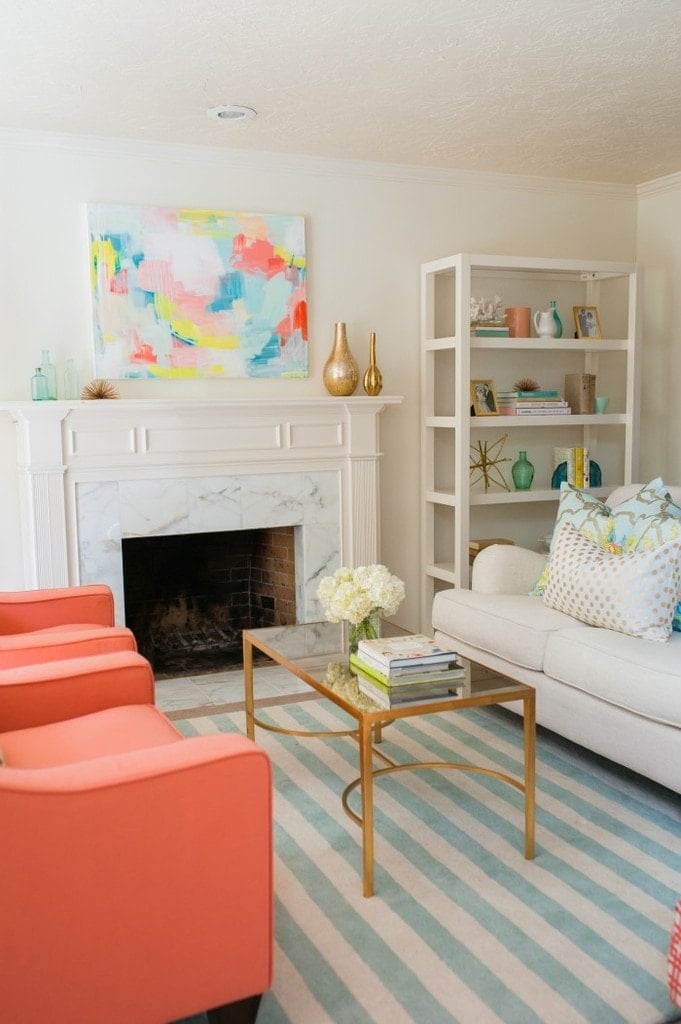 Before you can fully appreciate this Living Room Redo you must see the before pictures. I am a little embarassed to share them with you. The contrast is so stark. The old living room was dark, heavy and just plain boring. I didn't realize how dark and heavy it was until we redid it and I looked back at the old photos. The room was basically brown and if you know me I am not a brown person. I don't ever wear brown and I don't think I have a brown personality. Why my living room was all brown, I don't know, but it was.

The photos are not good and make it look a little worse than it really was. I took them on a dark day and in a hurry. But you can get the feel of how dark this room was. I needed a change – a big change. I told Caitlin I wanted it light, bright and happy! I never went into my former living room and about the only time we used it was Christmas Eve. No more! I spend as much time as I can in my new living room. It has become my favorite room in the house.
Here is the before: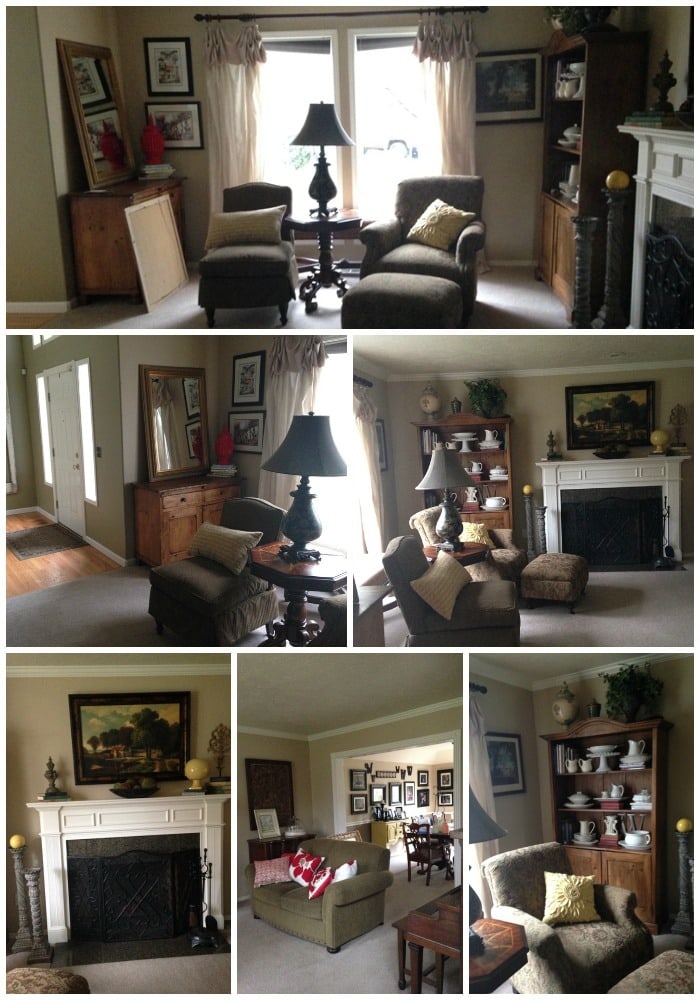 When I sent my daughters a preview photo of the new room, one of them responded, "Is that our house?" A total transformation. We have since added hardwood floors in the living room and dining room too and it makes the room even better!
So what was our inspiration for this room? This beautiful french floral fabric on the pillows on the couch. I fell in love with it the minute I saw it.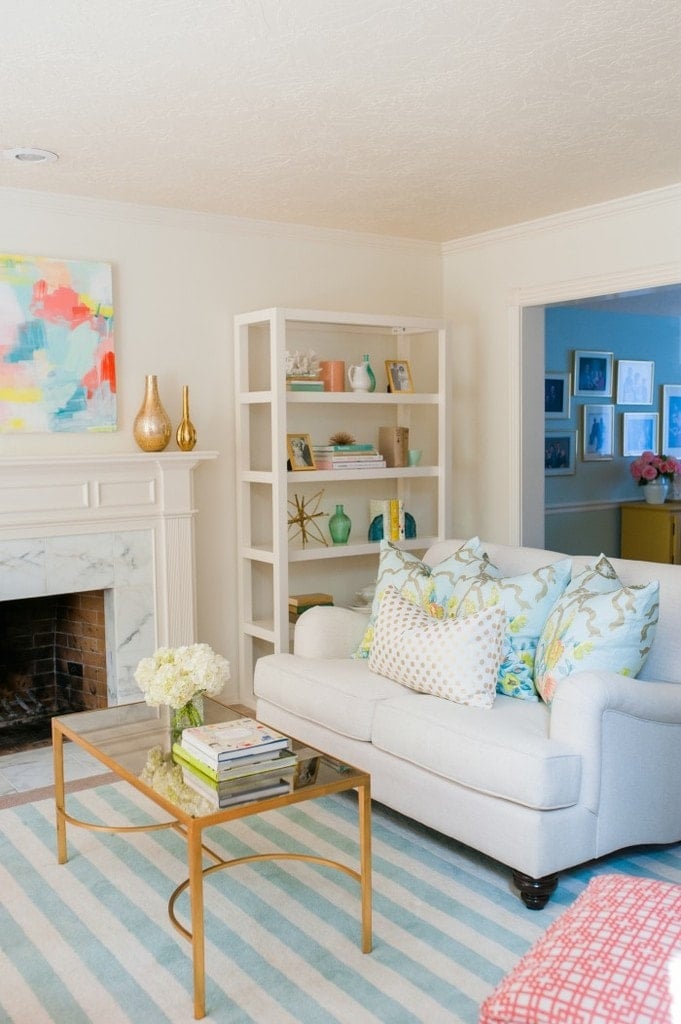 Combining it with Caitlin's Gold Dot pillow was perfection.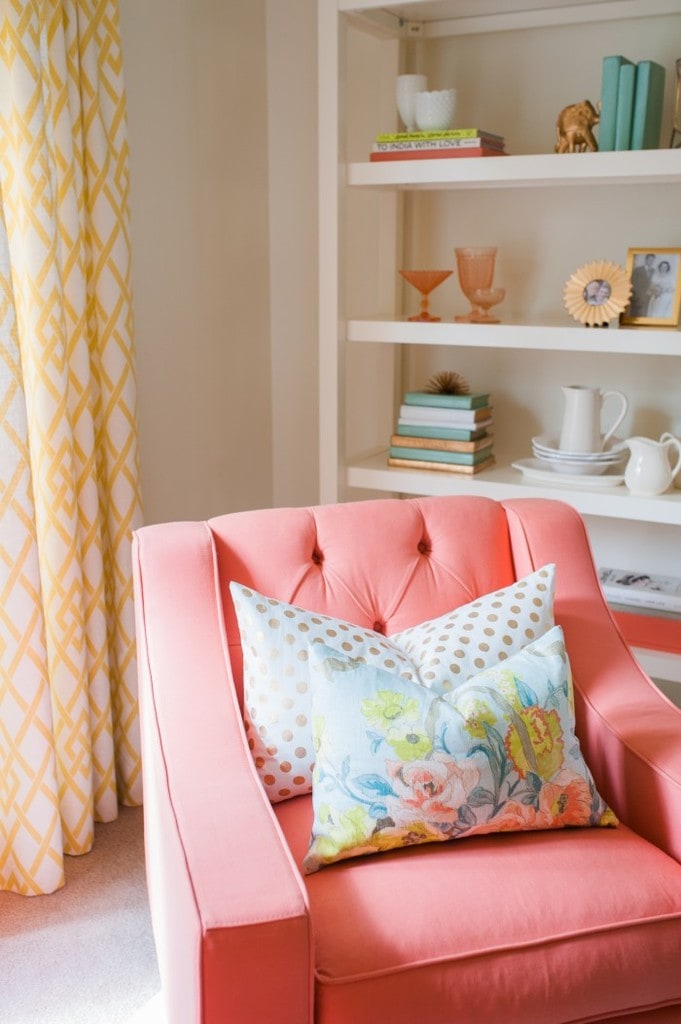 One of my favorites things in the new room are my new coral chairs. Love these chairs and love the color!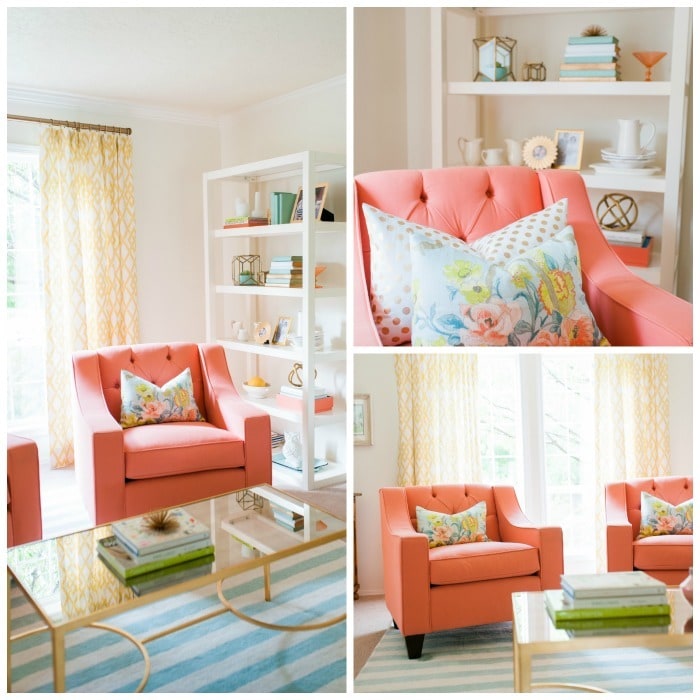 Of course that awesome custom designed Caitlin Wilson Rug on the floor is a favorite too. It looks even better now on the new hardwood floors we just had installed in the room.
We painted the walls Benjamin Moore floral white and added lots of white and gold touches to lighten up the room. The gold and glass coffee table was perfect. The sofa is available through Caitlin Willson.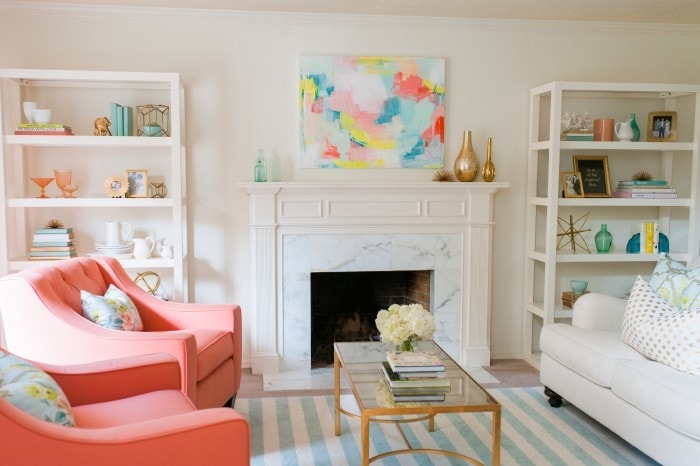 The shelves from West Elm are another one of my favorite things. My daughter Tessa was interning for Caitlin this summer so Tessa helped us style the shelves. We made lots of trips to Home Goods, Target, Anthroplogie and even Goodwill to find the perfect accessories for the shelves. We added in some of my vintage white ironstone and old books. I love adding a touch of vintage to new! Also used my vintage blue glass bottles I've been collecting.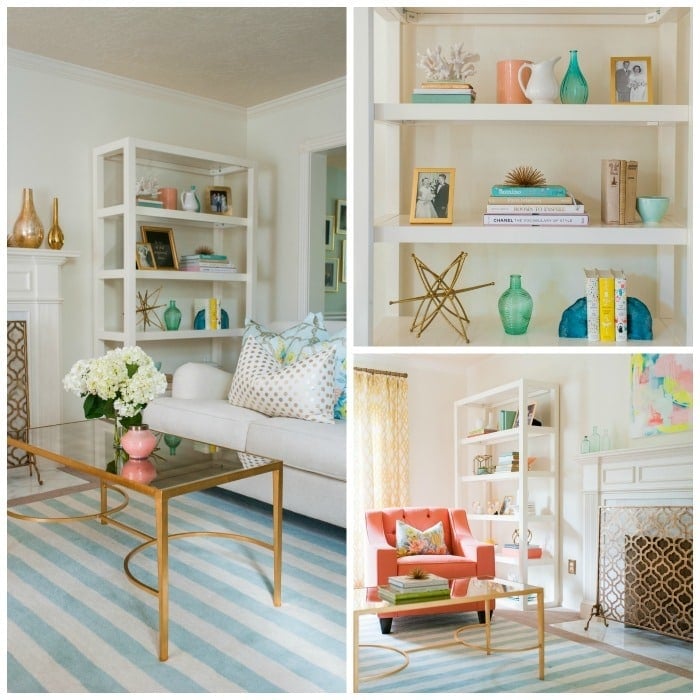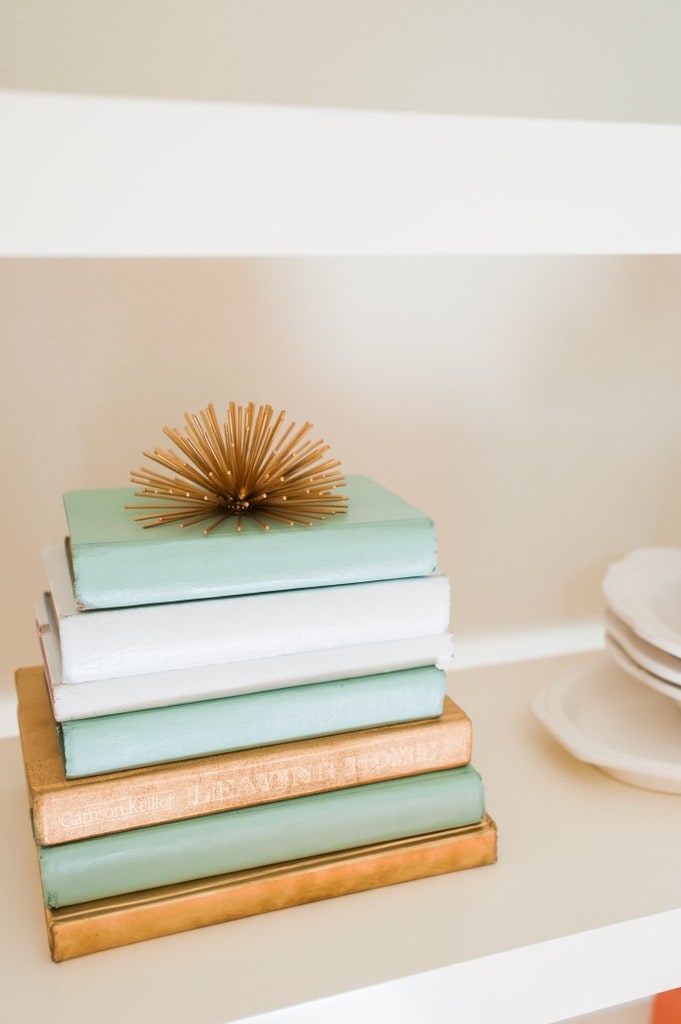 Family photos are important to me so we used parent's and inlaw's wedding photos and some recent family photos too on the shelves. We even used some old books I found at Goodwill and spray painted them to match the room's colors!

Of course my "new" chalkpainted piano is a highlight in the room too! My mother in law recently gifted me her pink depression glass collection which looks perfect atop my piano.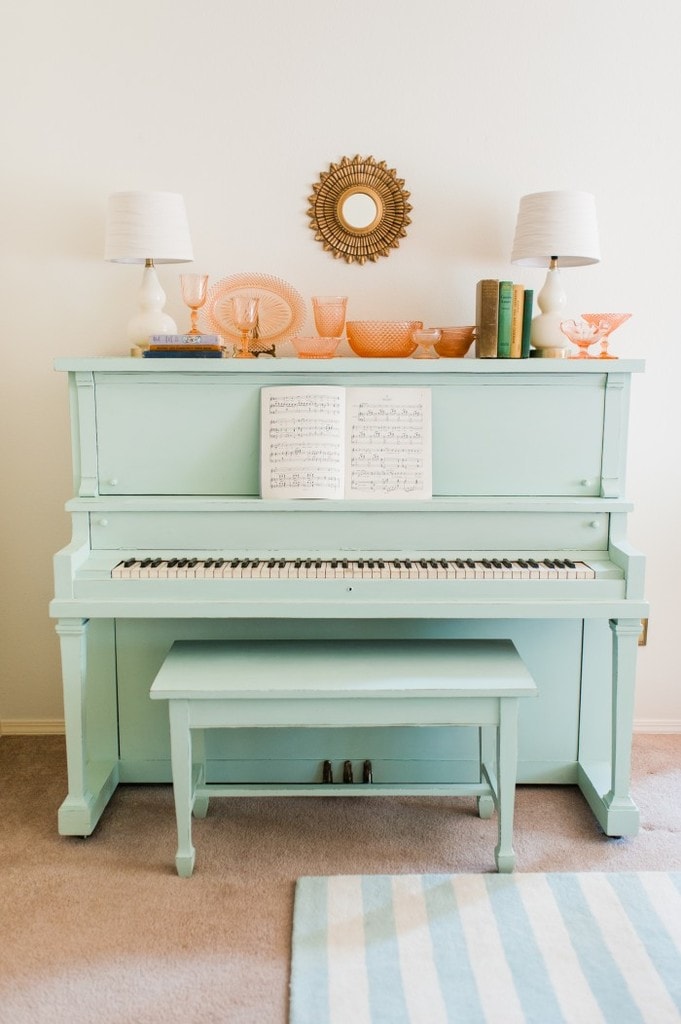 The thing that ties the room together though is my new Britt Bass painting that she made just for me! It looks perfect over the mantel and brings it all together.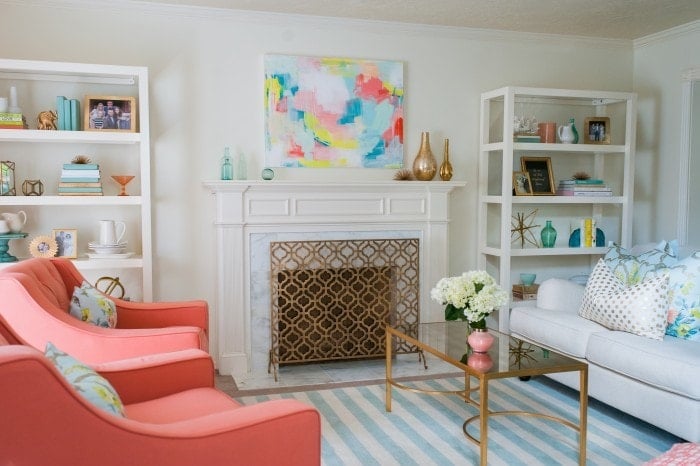 How can you help but be anything but happy in this room!
I kept only a couple of things from my old living room. One was this little slipper chair. I loved the style of the chair, just not the fabric so I had it recovered to make it cute and new and it works perfectly in the room.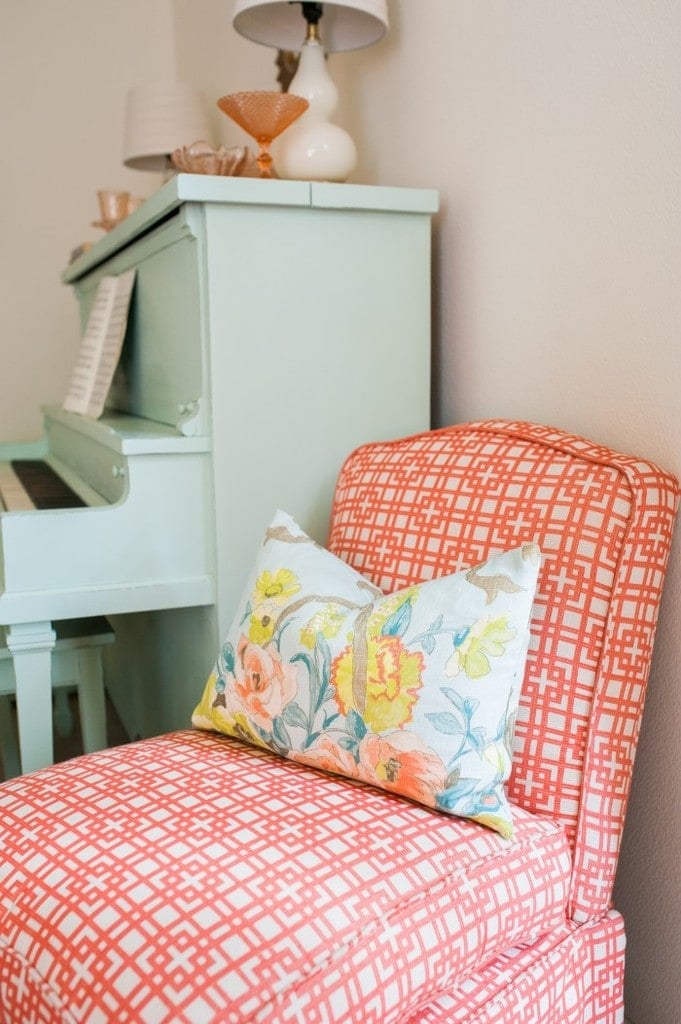 I also kept this antique French pine piece that I have had for years and love. Tessa just added some fresh new old accessories to it. Things I already had just got a new home.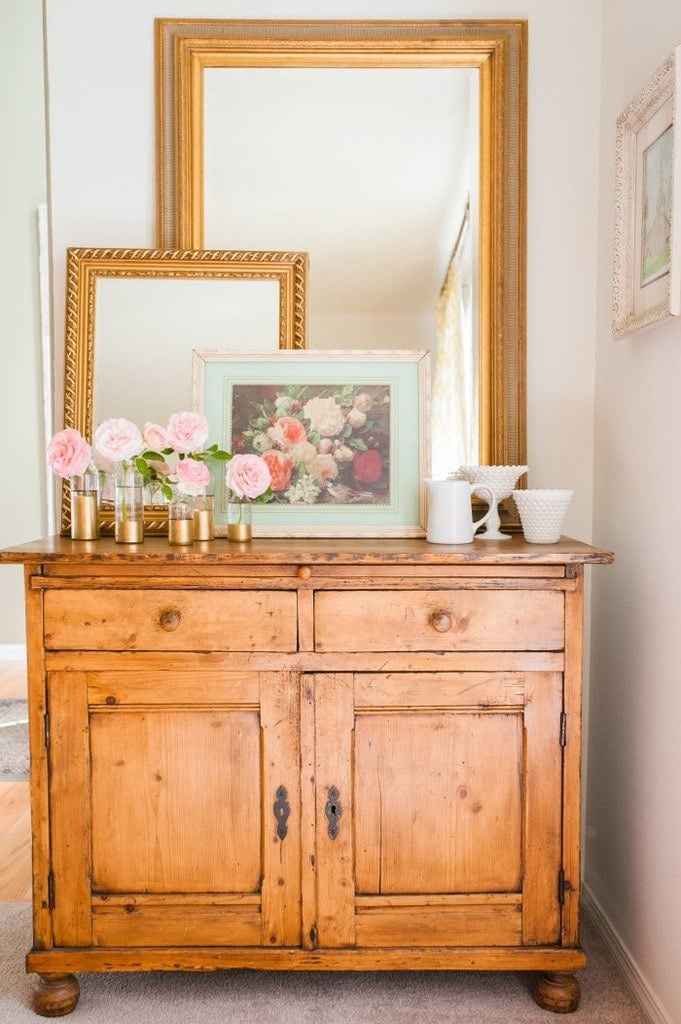 Just a few more photos of a few of the little fun touches around the room.