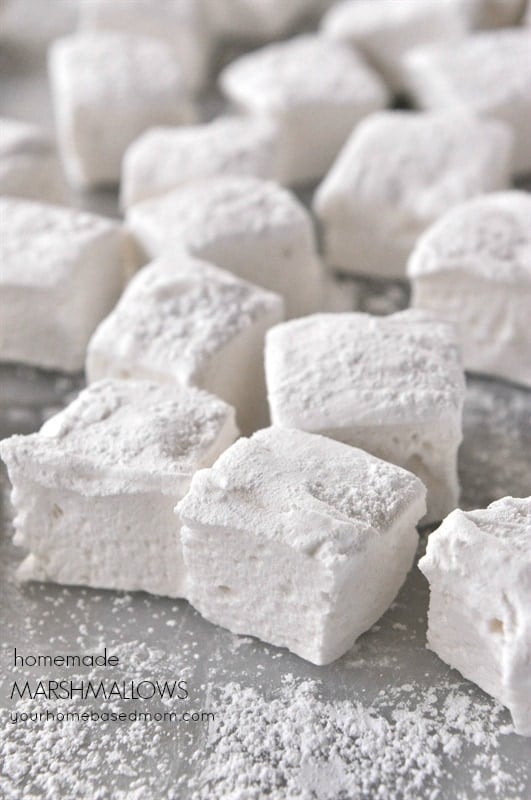 It's the 10th of the month! This month my friends and I got busy with the theme GOLD. It's kind of perfect for the holidays right? Check out my post and then hop on over to visit all of the others
It is hot chocolate season at our house. It is our hot beverage of choice. And if you are going to have hot chocolate, you must have marshmallows. Lots of marshmallows. We love the little mini marshmallows you buy at the store, is there anything better than a handful of mini marshmallows in your hot chocolate?! Actually there is, a homemade marshmallow!! They are so yummy and in fact you really don't even need the hot chocolate to go with the marshmallows. They make really good eating all by themselves and so much easier to make than you might think.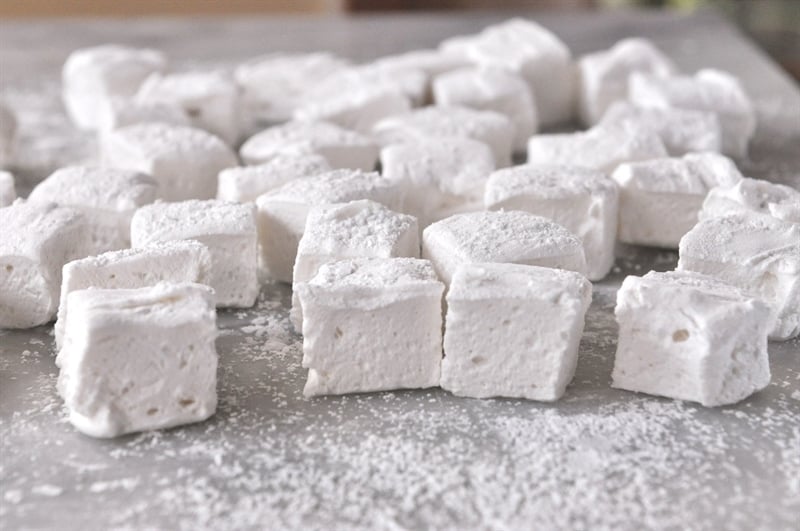 Since this month our theme was gold I decided to make some golden homemade marshmallows. They really dress up that mug of hot chocolate. They would be perfect for any party and I'm thinking New Year's Eve would be the perfect ocassion! They are so fun and festive.
Making homemade marshmallow is a lot easier than you might think.
You will need a nice heavy pot and a candy thermometer which you can pick up for around $5.00 – 6.00. I tried several different marshmallow recipes until I found one that set up just right, had the right texture and tasted great. The recipe I love is one from Marshmallow Madness by Shauna Seever.
Marshmallow is a combination of sugar, corn syrup, and gelatin.
See recipe below for detailed instructions.
After they have set for several hours they are ready to cut. Just pop them out of the dish onto a powdered sugared surface and use a pizza cutter to cut them.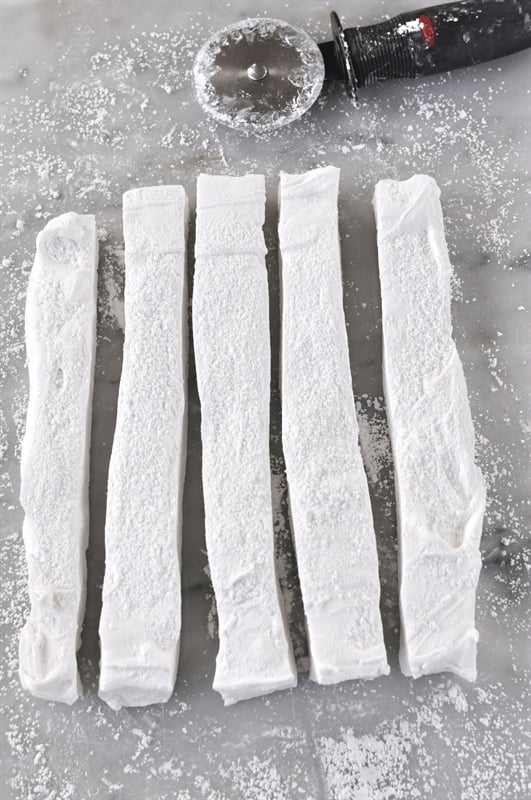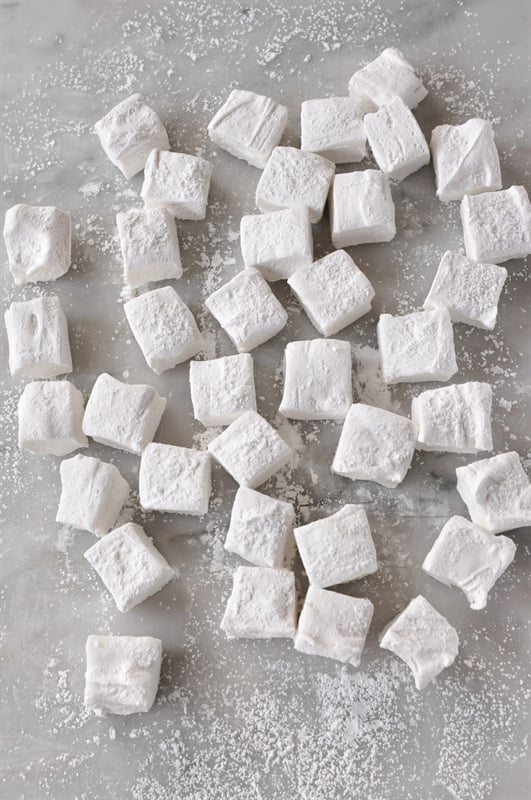 Now it's time to dress them up for the holidays! I used gold pearlized sugar crystals I picked up at the cake decorating store or you can also get it at most craft stores. Sprinkles would work too or sanding sugar.
The top and the bottom of the marshmallow will be dry from the powdered sugar but you are going to dip the four cut sides of the marshmallow, which are sticky, into your sugar. If you aren't using colored sugar just use more powdered sugar to coat the four sticky sides.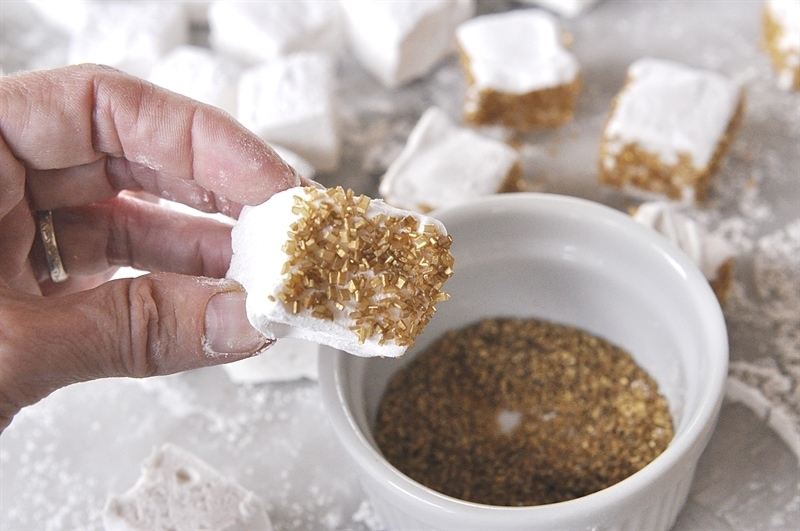 There you have it, golden marshmallows!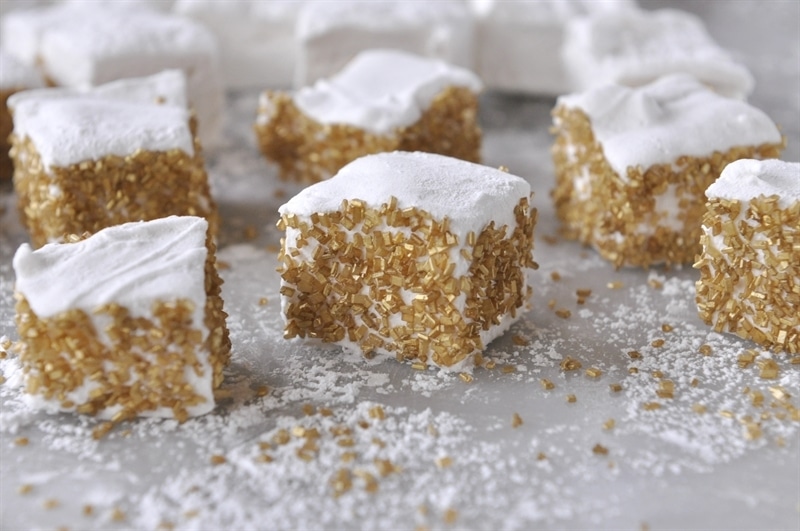 The sugar will just melt into your hot chocolate adding even more sugary goodness.
I think golden homemade marshmallows would be perfect for any holiday celebration. Christmas, New Year's, a Golden Anniversary….
You can use the idea for any ocassion or holiday by changing the color of your sugar to fit the ocassion or theme!
Recipe adapted from Marshmallow Madness
Homemade Marshmallows
Delicious homemade marshmallows are light and fluffy and tastier than their store bought counterparts.
Ingredients
2 Tbsp unflavored powdered gelatin
1/2 C cold water
1 C granulated sugar
1/2 C light corn syrup
1/4 C water
pinch of salt
1 tsp pure vanilla extract
1/2 cup powdered sugar for dusting divided
Instructions
Spray a pan with cooking spray. You can use an 8 x 8 pan or for slightly thinner marshmallows I used a 7 x 10 size pan

In your mixer bowl, Sprinkle gelatin over cold waterl and let sit for 5 minutes.

Stir together the sugar, corn syrup, water, and salt in a medium saucepan over high heat.

Bring to a boil and allow to boil, stirring occasionally, until the temperature reaches 240 degrees F

Slowly pour the hot mixture into the mixer bowl over the gelatin, keeping the mixer running.

Increase the speed to medium and beat for 6-7 minutes until white and fluffy.

Beat in the vanilla;

Pour mixture into the prepared pan, using an offset spatula to smooth it into the corners.

Allow to set for several hours. Once set, use a knife to loosen the marshmallow from the edges of the pan.

Turn over onto a powdered sugar dusted work surface, cut into squares with a knife or pizza cutter and toss marshmallows into powdered sugar to coat all sides, shake off the excess.
Nutrition Facts:
Calories: 43kcal (2%) Carbohydrates: 11g (4%) Protein: 1g (2%) Fat: 1g (2%) Saturated Fat: 1g (6%) Sodium: 4mg Potassium: 1mg Sugar: 11g (12%) Calcium: 1mg Iron: 1mg (6%)
* Disclaimer: All nutrition information are estimates only. Read full disclosure here.