Fresh Strawberry Cheesecake is not only delicious but it is a total show stopper!  Just sit back and wait for all the oohs and ahhs you are going to get!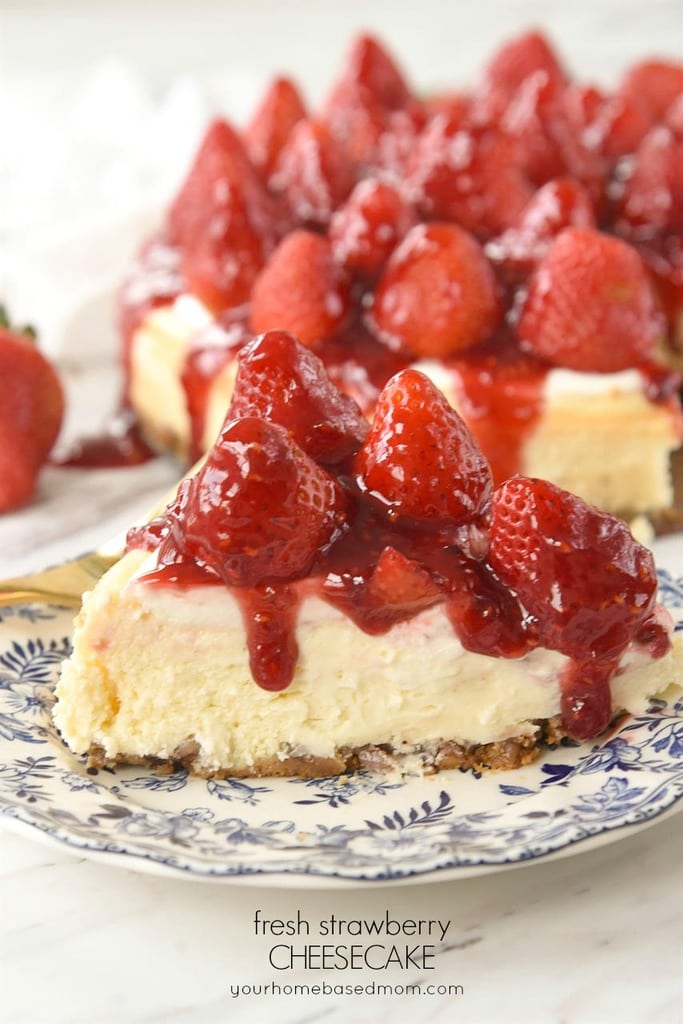 I have been in a dessert mood lately.  Sometimes it doesn't matter what is for dinner if the dessert is outstanding!  And this Strawberry Cheesecake is just that!  I was doing a little cheesecake experimenting last week and took this beauty to a Super Bowl Party we attended.  It was so fun to walk in with this on a plate and listen to the comments from the guessts!  Wow!  Yum!  Amazing!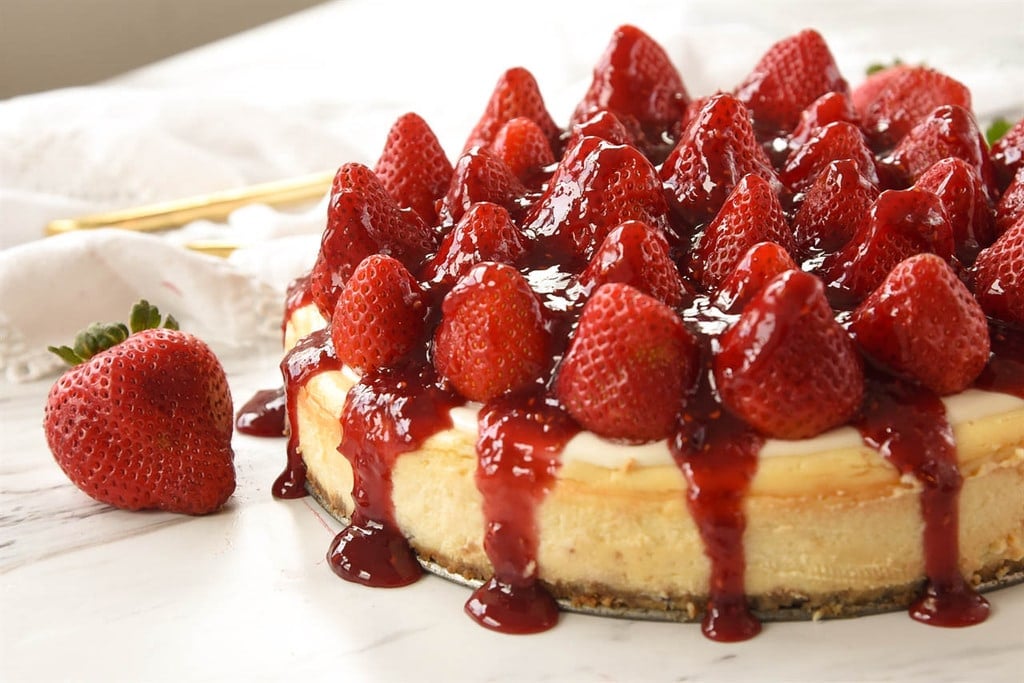 Not only does it get comments because it is so pretty but I alway know it's a winner when I go home with a totally empty plate!
Strawberry Cheesecake
This cheesecake starts with a base of graham cracker crumbs and pecans.  I love the crunch and flavor that the pecans gives the crust.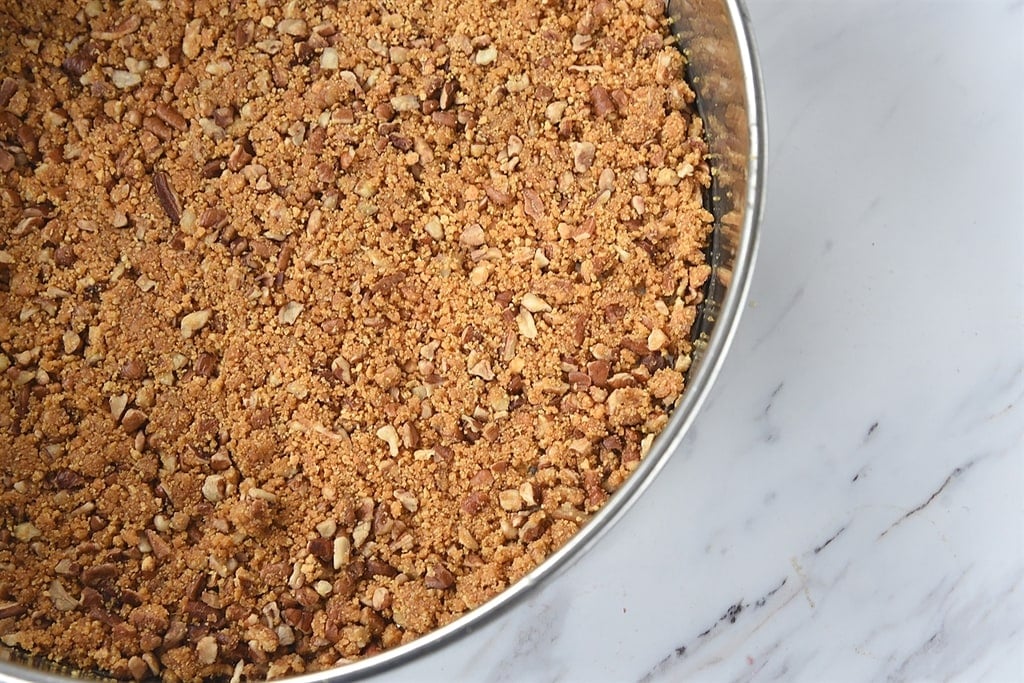 Next comes the cheescake layer and then that is topped with a sour cream layer.  I love the little bit of tang that it gives to the sweet cheesecake.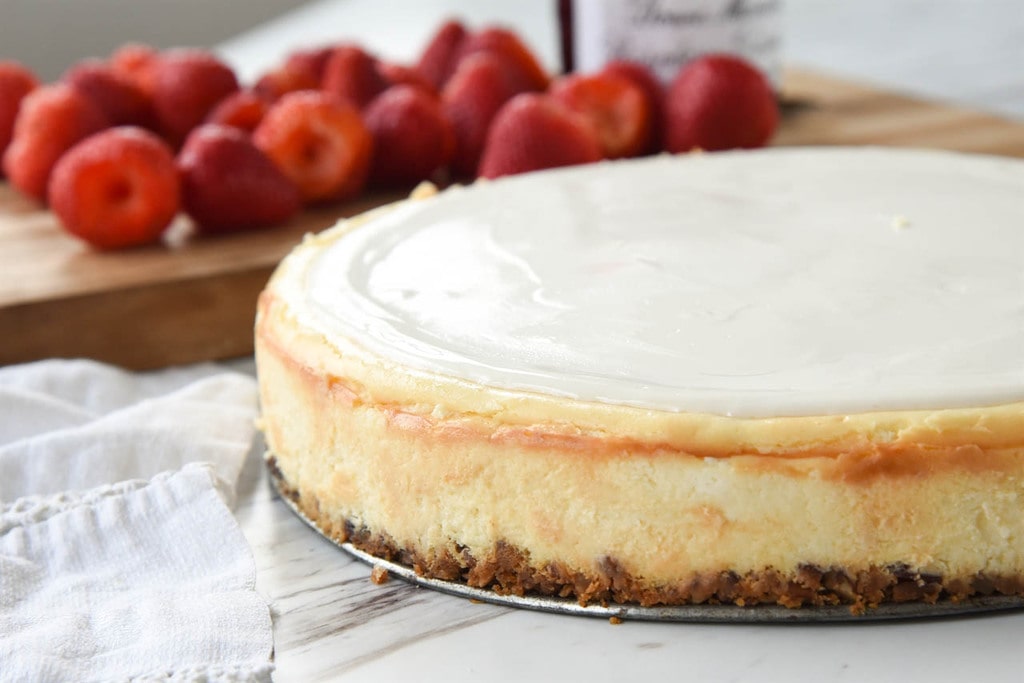 I know there are people who are afraid to make cheesecake because they worry about it cracking on top.  Well, the best part about this cheesecake is it doesn't matter!  That sour cream layer hides any cracks there may be!
And the crowning glory of this cheesecake is the fresh strawberry top.  It's nice if your strawberries can all be about the same size but when you buy the container full at the store, you get what you get.  And the strawberry cheesecake is delicious, and beautiful, either way!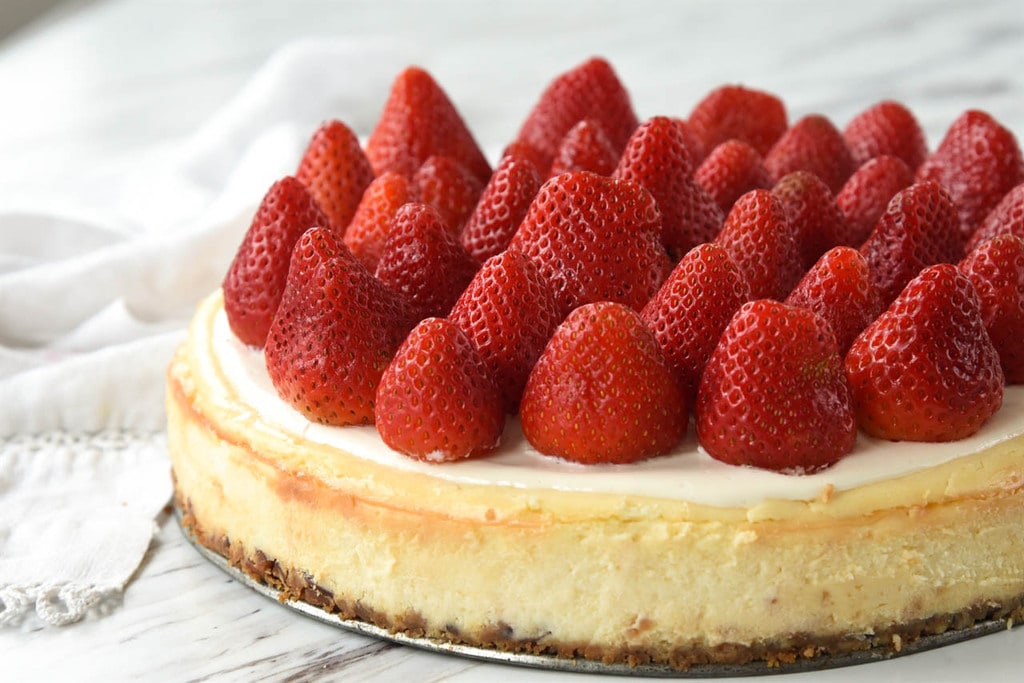 It looks so pretty just like this but a topping of raspberry jam thickened with cornstarch makes it even better.  Yes, I used raspberry jam, not strawberry.  It gives it a little more depth of flavor to have the two berries.  This is my favorite raspberry jam.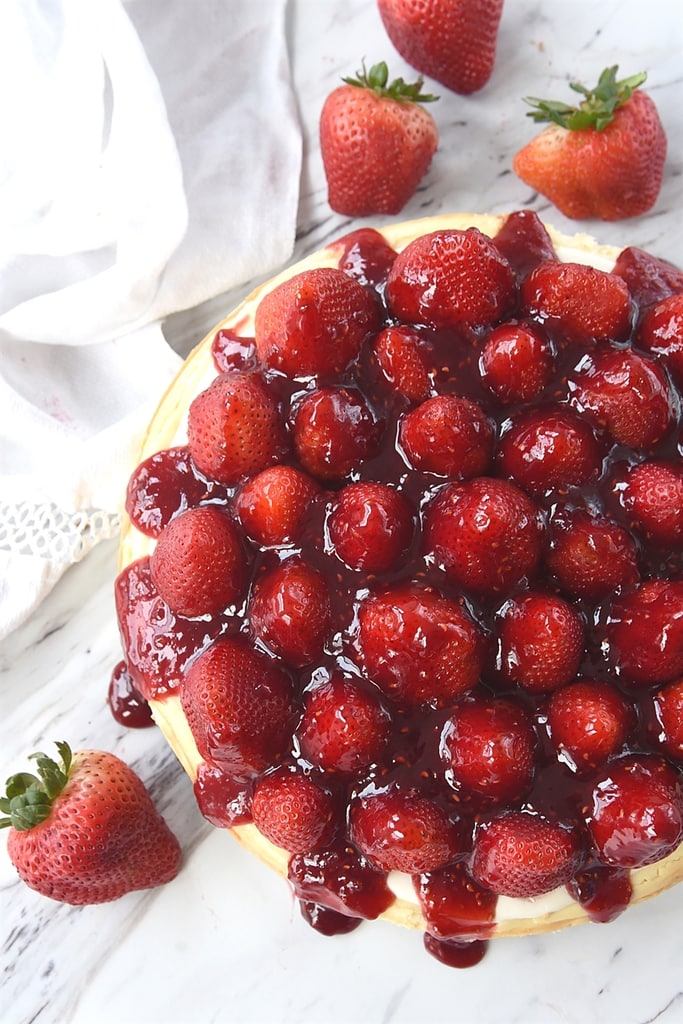 Just pour the glaze over the top making sure it gets in between the strawberries.  I like to let it run down the sides too, I love the way it looks even if it is a little messy!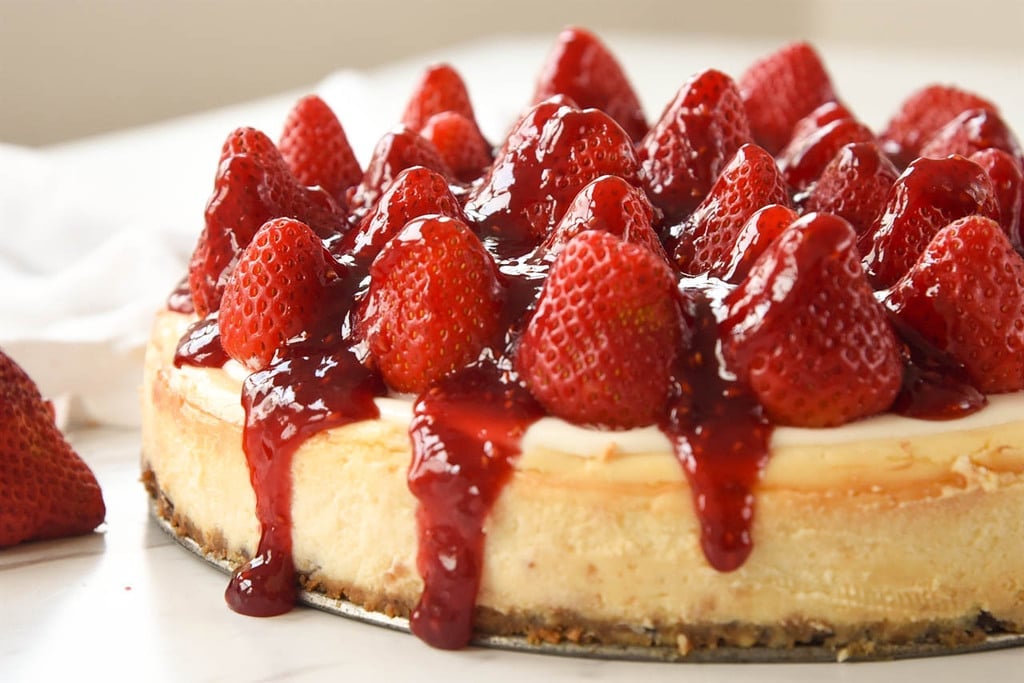 This Fresh Strawberry Cheesecake is the perfect dessert for any gathering.  But be sure and grab yourself a piece before it disappears!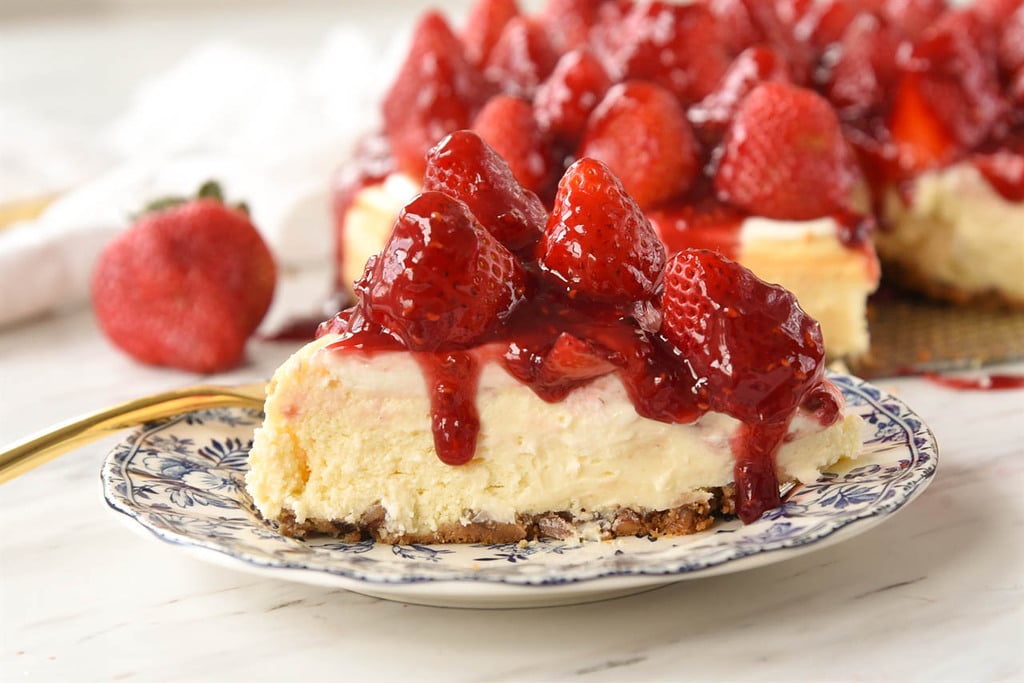 Some of my other favorite dessert recipes:
White Chocolate Raspberry Cheesecake
My favorite kitchen items I used to make FRESH STRAWBERRY CHEESECAKE:
SPRINGFORM PAN – this one is 10" but I also have 8 and 9".  I use them for cheesecake as well as lots of other things.
STRAWBERRY HULLER – I love this thing.  It is the quickest and easiest way to hull a strawberry.
MINI FOOD PROCESSOR – this is the perfect thing for making graham cracker crumbs,  chopping up nuts and all those small jobs that you don't need a full size food processor for.  I use this baby a lot!
Strawberry Cheesecake Recipe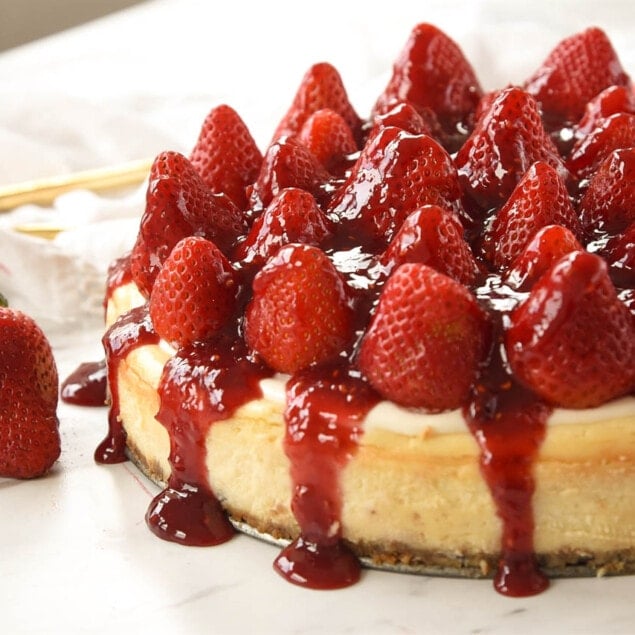 Strawberry Cheesecake
Fresh Strawberry Cheesecake is not only delicious but it is a total show stopper! Just sit back and wait for all the oohs and ahhs you are going to get!
Total:
1
day
1
hour
10
minutes
Ingredients
Crust
3/4 cup pecans chopped
3/4 cup graham cracker crumbs
3 Tbsp butter, melted
Cheesecake Layer
32 oz cream cheese Four 8oz packages, softened
4 eggs
1 1/2 cups sugar
1 Tbsp lemon zest
2 tsp vanilla extract
Sour Cream Layer
2 cups sour cream
1/4 cup sugar
1 tsp vanilla
Strawberry Glaze
4 cups strawberries, hulled
13 oz raspberry jam
1 Tbsp cornstarch
1 Tbsp Orange juice concentrate
1/4 cup water
Instructions
Crust
Preheat oven to 350 degrees F.

In a bowl, combine pecans, graham cracker crumbs and butter. Mix and then press into bottom of 10 inch springform pan.
Cheesecake Filling
Beat together cream cheese until smooth. Add in eggs, sugar, lemon zest and vanilla. Beat until combined.

Spoon filling over crust into pan and bake for 40-45 minutes. Don't worry if it cracks in the middle! Remove from oven and cool at room temperature for 15 minutes. Leave oven on.
Sour Cream Layer
Mix together sour cream, sugar and vanilla and blend together. Spoon topping over cake after cake has cooled for 15 minutes. Pour into the middle and extend to within 1/2 inch of edge. Leave part of the cheesecake layer showing. Return to oven and bake for an additional 5-7 minutes. Cool and then refrigerate for at least 24 hours or up to 3 days.
Strawberry Glaze
Add cornstarch into a few Tablespoons of the jelly in a saucepan. Then add in remaining jelly, OJ concentrate and water. Stir over medium heat until thickened and clear. Cool until lukewarm.

With a sharp knife, loosen cheesecake from edge of pan and remove springform. Arrange hulled strawberries onto of cheesecake. Spoon glaze over the berries, allow some of it to drip down the sides of cake. Refrigerate until ready to serve.
Nutrition Facts:
Calories: 665kcal (33%) Carbohydrates: 64g (21%) Protein: 9g (18%) Fat: 43g (66%) Saturated Fat: 22g (138%) Cholesterol: 165mg (55%) Sodium: 365mg (16%) Potassium: 319mg (9%) Fiber: 2g (8%) Sugar: 52g (58%) Vitamin A: 1432IU (29%) Vitamin C: 34mg (41%) Calcium: 148mg (15%) Iron: 1mg (6%)
* Disclaimer: All nutrition information are estimates only. Read full disclosure here.