On each of our children's birthdays we always celebrate by going out to dinner (Yeah! – no cooking for mom).  The birthday child gets to select the restaurant.  For years, it never failed, all four children would select Applebee's for their birthday – I think it was because they got a balloon, a free dessert and they would sing to them.
Now that the children are older and their palettes are a bit more sophisticated, Applebees is usually not the restaurant of choice.  But there is one thing on their menu that I love and every time I have eaten at Applebee's I have ordered it.  My family calls me boring but I figure, why mess with a good thing.  Don't you hate it when you go to a restaurant and instead of ordering the thing you know you love, you try something new and are disappointed!?
Well,  I love their Oriental Chicken Salad and I ALWAYS order it.  I was so excited when I discovered the recipe for the salad.
LA Notes:  The salad is served with a sliced, breaded chicken breast on top and the recipe I found gives you instructions on how to do it, but I cheat.  I use the frozen, breaded chicken tenderloins from Costco.  They taste just as good and it makes the salad super easy and fast to put together.  You can also use regular white vinegar in place of the rice wine vinegar if you don't have it.  I buy my toasted almonds at Trader Joe's or you can toast them yourself in the microwave or oven.  Also, if you want a lower calorie version just used a grilled chicken breast.
Please note the new "Print This" feature at the bottom of each post for your convenient recipe printing!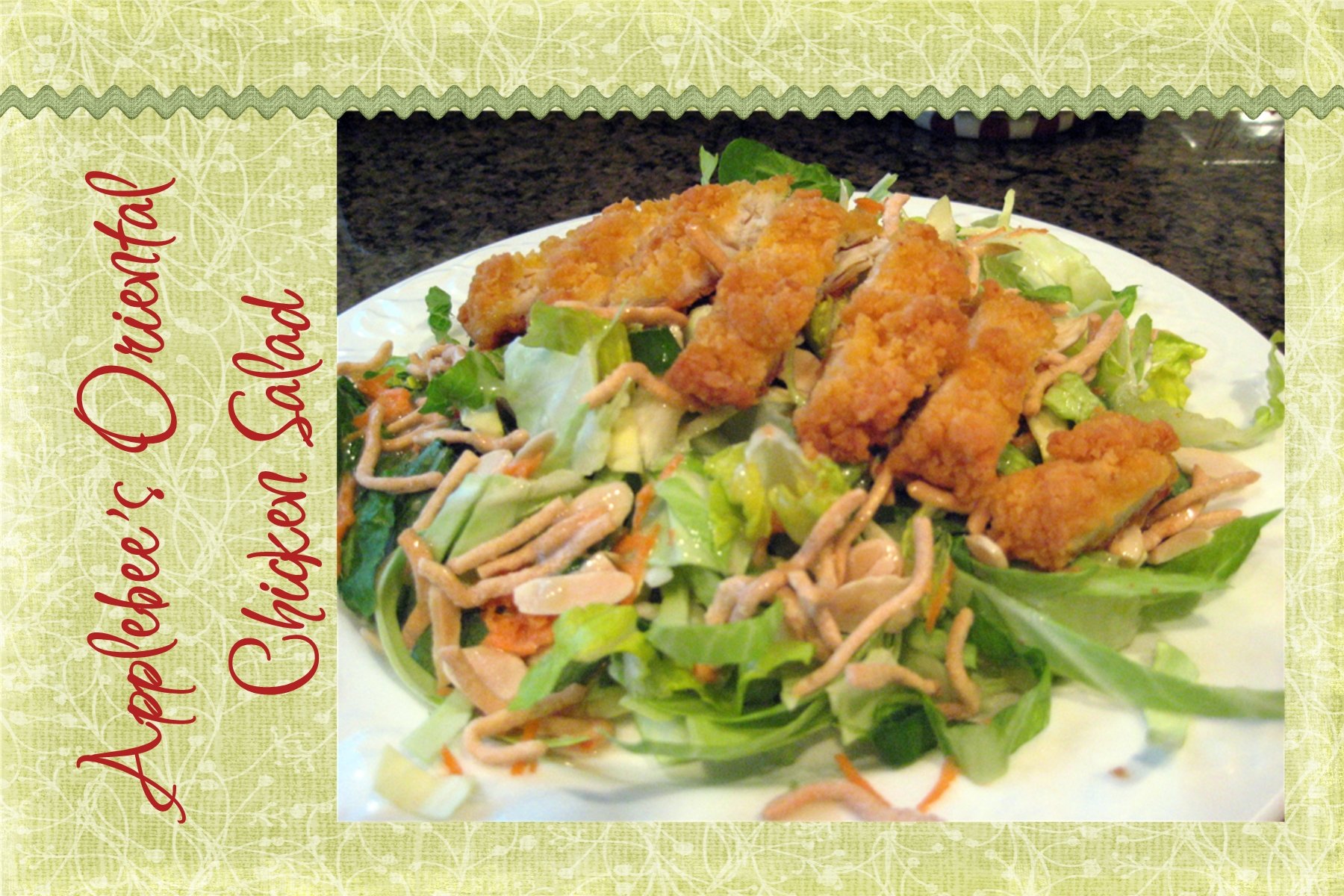 Copycat Recipe – Applebee's Oriental Chicken Salad
Ingredients
Dressing: (serves 4)
6

Tbsp.

honey

3

Tbsp.

rice wine vinegar

1/2

cup

mayo

2

tsp

dijon mustard

1/4

tsp.

sesame oil
Salad:
1

frozen

breaded chicken tenderloin per person

2

cups

green cabbage

chopped

2

cups

red cabbage

chopped

6

cups

romaine lettuce

chopped

1

carrot

shredded

2

green onions

chopped

1/4

cup

toasted

sliced almonds or just throw a handful in like I do.

2/3

cup

chow mein noodles
Get my Weekly Menu Plan for FREE!
Receive my FREE "What's for Dinner?" Meal Planning Course, a copy of my FREE ebook that includes my most popular recipes and my FREE weekly Meal Plan.