This Oriental Chicken Salad is the perfect copycat of the popular Applebee's recipe. It's my favorite salad on their menu and I love making it at home.
Some of my other favorite salads include this BLT Salad, Cobb Salad and our family's favorite Celestial Salad.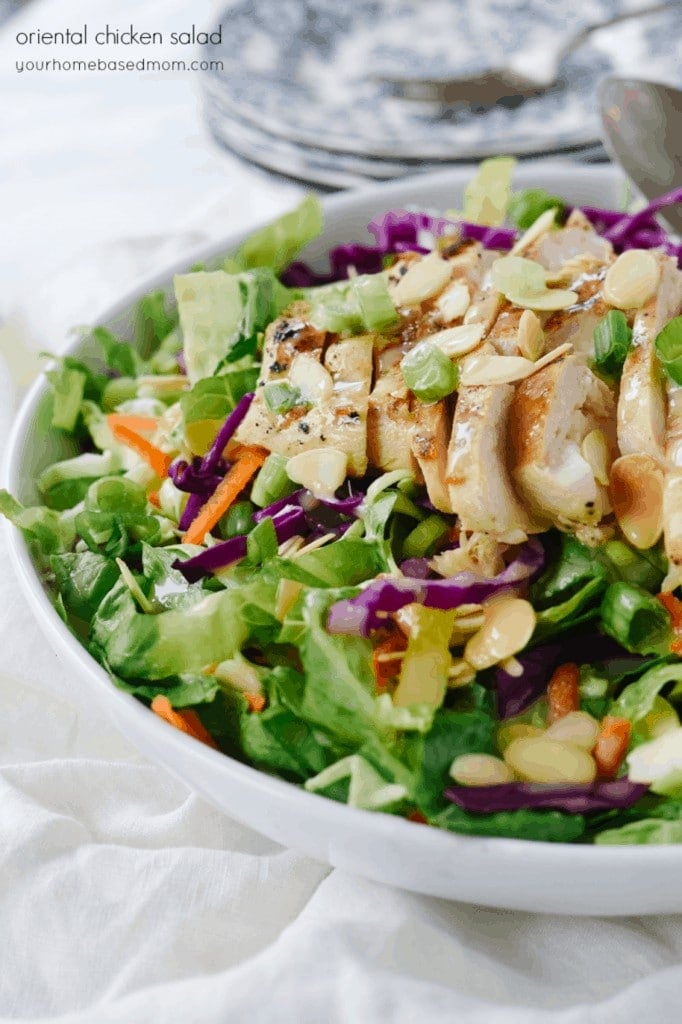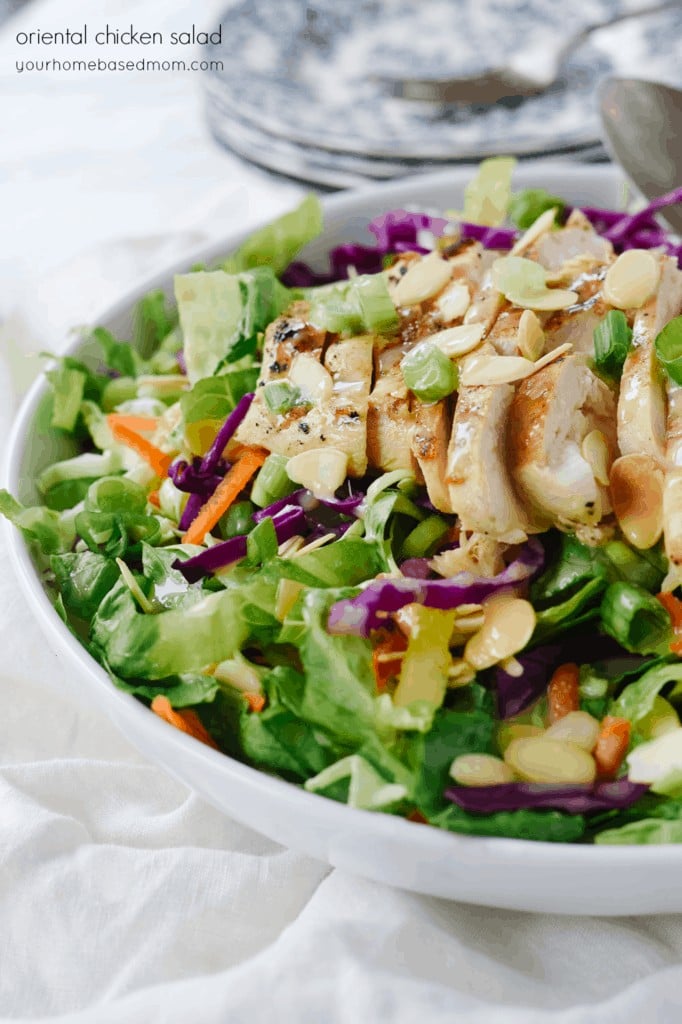 When my children were at home we always celebrated their birthday by going out to dinner. The birthday child got to select the restaurant. For years, it never failed, all four children would select Applebee's for their birthday, I think it was because they got a balloon, a free dessert and they would sing to them.
There is one thing on the Applebee's menu that I love and every time I have eaten at Applebee's I have ordered it, every time. My family calls me boring but I figure, why mess with a good thing.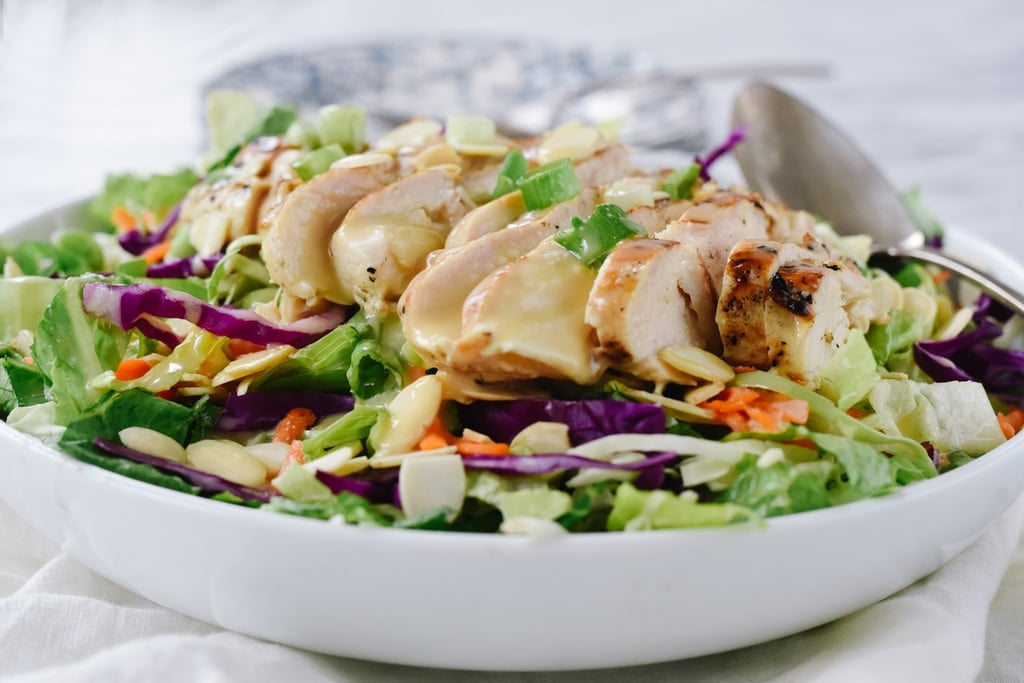 Oriental Chicken Salad
Well, I love their Oriental Chicken Salad and I ALWAYS order it. I was so excited when I discovered a copycat recipe for the salad, especially now that the kids aren't at home and we aren't going to Applebees for their birthdays! I can make it at home anytime I want and it doesn't have to be someone's birthday.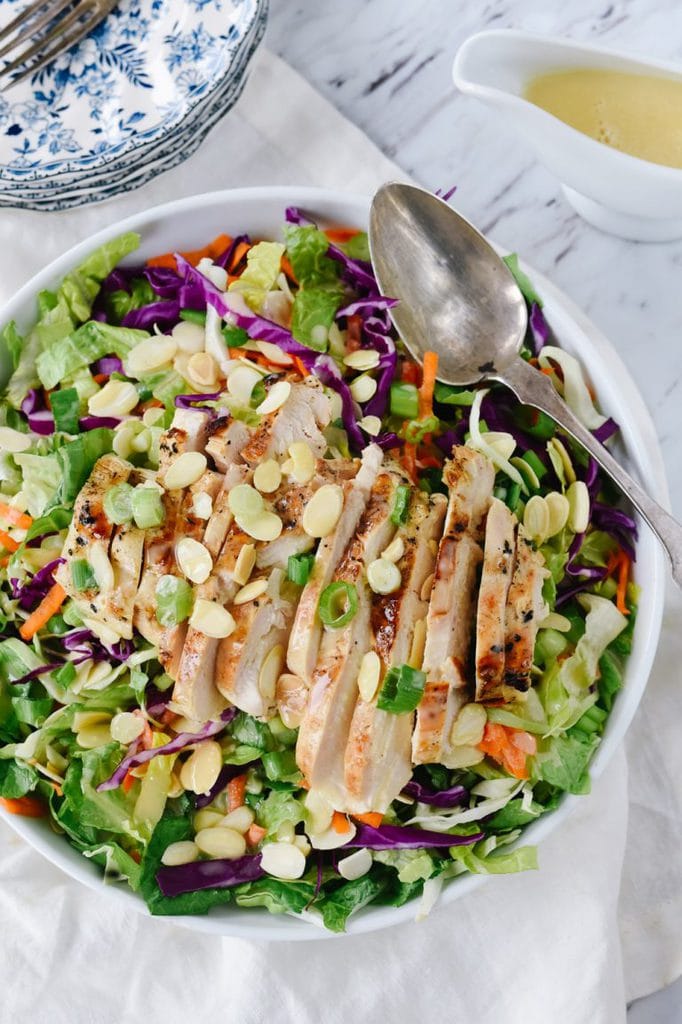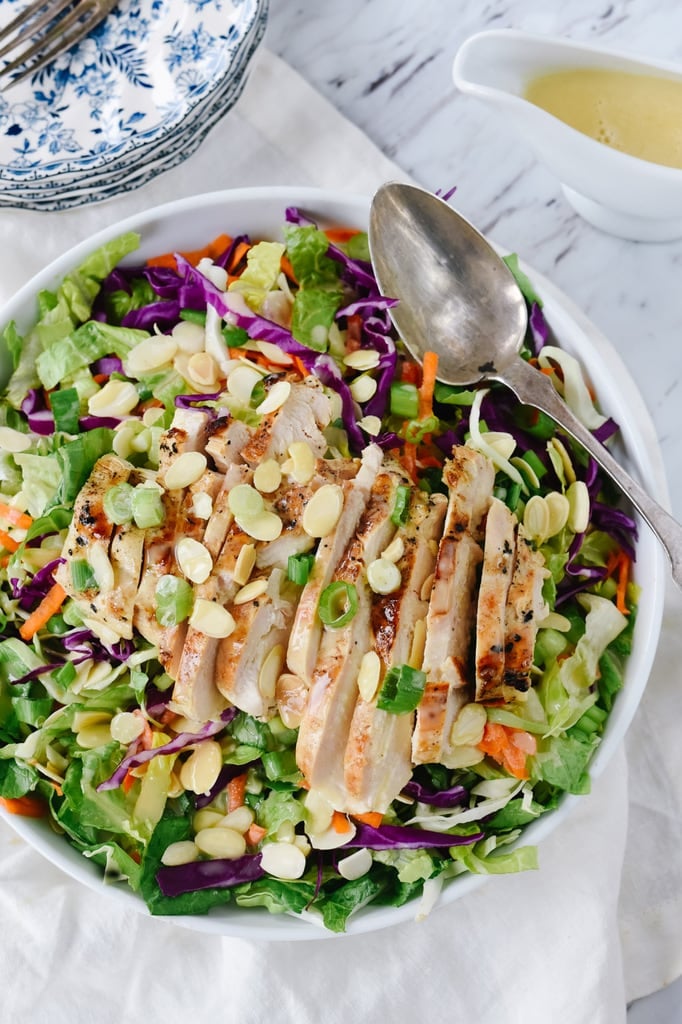 How to Make Applebee's Oriental Chicken Salad
At the restaurant, the salad is served with a sliced, breaded chicken breast on top. I have used the frozen, breaded chicken tenderloins from Costco. They taste just as good and it makes the salad super easy and fast to put together.
I actually prefer to serve it with grilled chicken. I pound my chicken breast into an even thickness, coat it with some olive oil, salt and lemon juice and let it sit for an hour or so in the fridge. Then I grill it or bake it in the oven and then slice it up.
You can buy toasted almonds or you can toast them in the microwave or oven too.
At Applebee's they also serve it with crispy chow mein noodles which I love, I just forgot to add them for the picture.
I use a combination of romaine lettuce as well as green and red cabbage for some fun color. Grated carrot also adds some great color.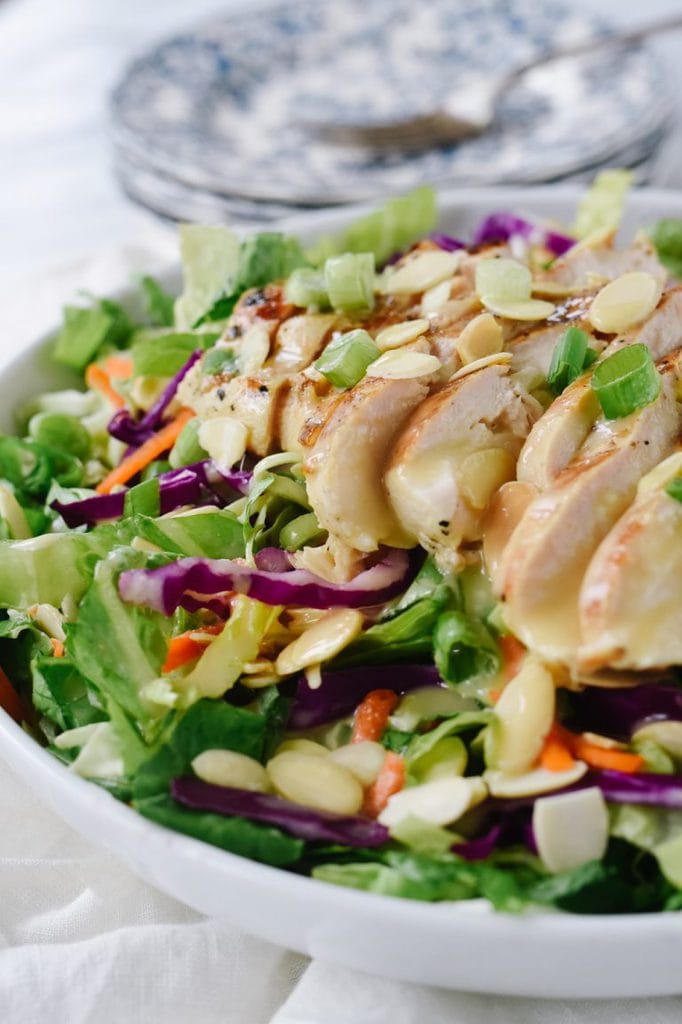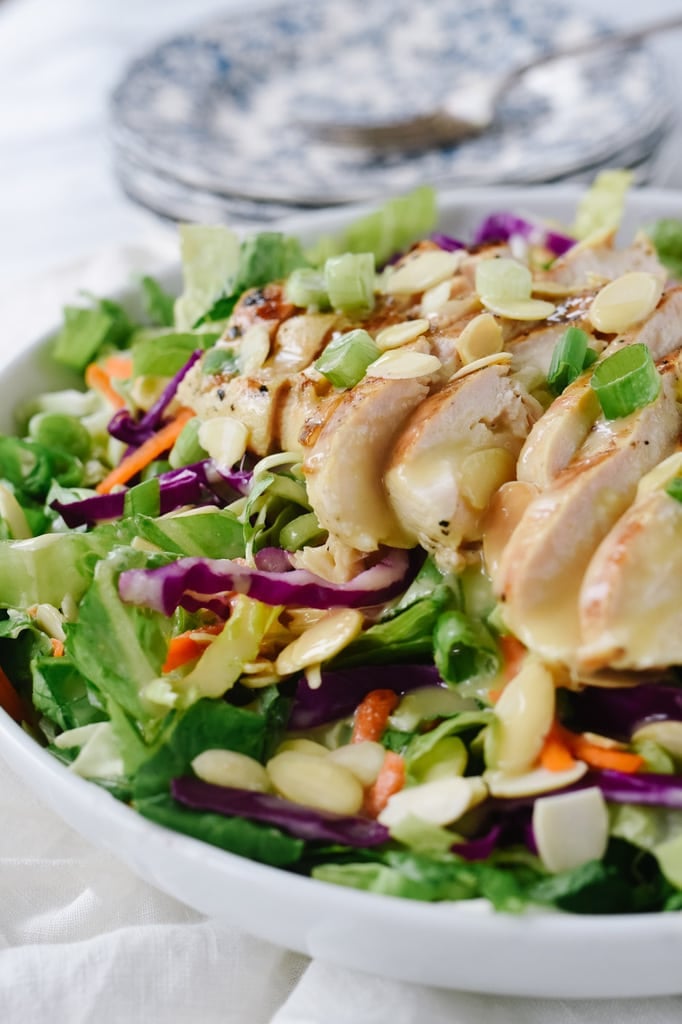 Applebee's Oriental Chicken Salad Dressing
The dressing calls for rice wine vinegar but I have also used regular white vinegar or just white vinegar and don't really notice a difference in the flavor.
Don't skip the sesame oil, it gives the dressing a great flavor.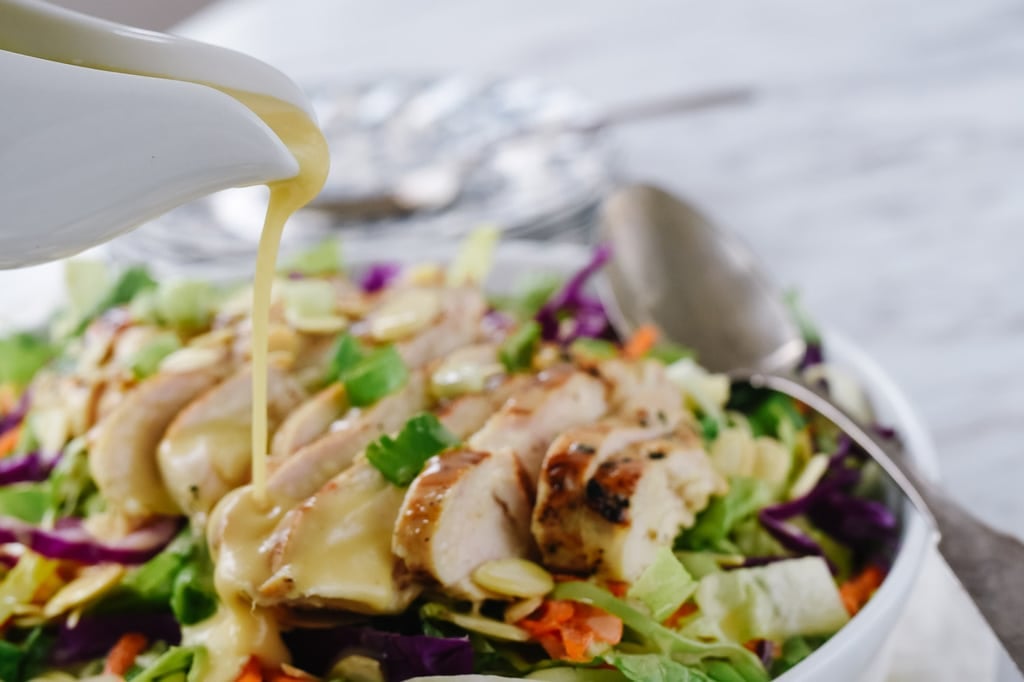 For all my other favorite kitchen products and tools visit my Amazon Store.
Did you know I wrote a cookbook? Check out the Holiday Slow Cooker Cookbook for 100 delicious recipes.
Be sure and follow me over on You Tube for weekly cooking demos.
Oriental Chicken Salad Recipe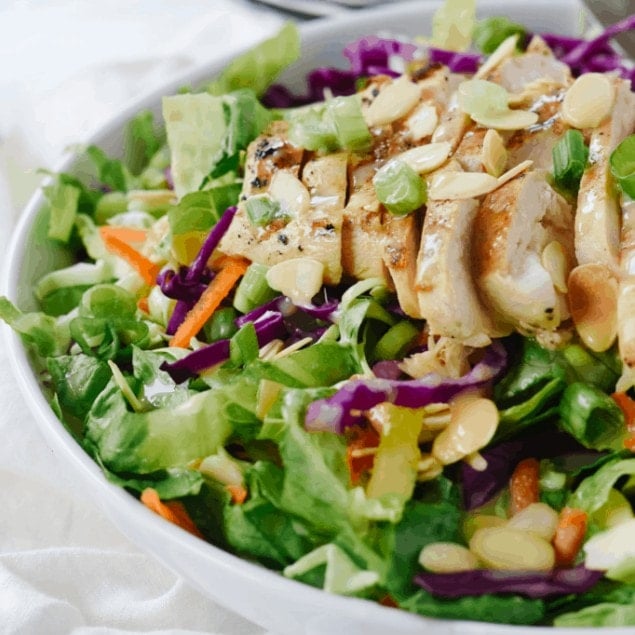 Applebee's Oriental Chicken Salad
This copycat Applebee's Oriental Chicken Salad recipe is as good as the real thing. It's my favorite salad on their menu and I love making it at home.
Ingredients
Dressing:
6 Tbsp. honey
3 Tbsp. rice wine vinegar
1/2 cup mayo
2 tsp dijon mustard
1/4 tsp. sesame oil
Salad:
2 breaded chicken tenderloin or grilled chicken breast
2 cups green cabbage chopped
2 cups red cabbage chopped
6 cups romaine lettuce chopped
1 carrot shredded
2 green onions chopped
1/4 cup toasted sliced almonds or just throw a handful in like I do.
2/3 cup chow mein noodles
Nutrition Facts:
Calories: 645kcal (32%) Carbohydrates: 56g (19%) Protein: 32g (64%) Fat: 32g (49%) Saturated Fat: 4g (25%) Cholesterol: 84mg (28%) Sodium: 776mg (34%) Potassium: 861mg (25%) Fiber: 6g (25%) Sugar: 25g (28%) Vitamin A: 9330IU (187%) Vitamin C: 44.4mg (54%) Calcium: 75mg (8%) Iron: 3.3mg (18%)
* Disclaimer: All nutrition information are estimates only. Read full disclosure here.
Originally posted January 17, 2008