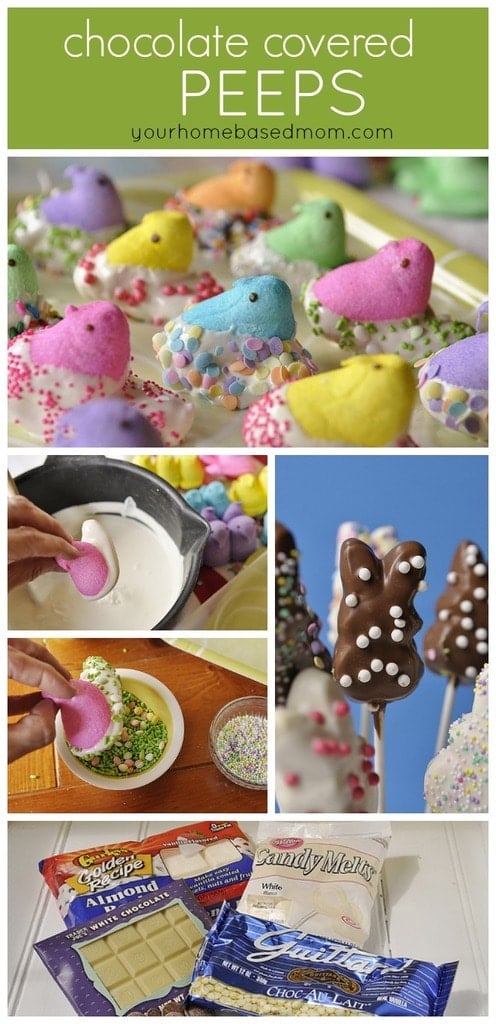 So I am a Peep lover.  Since I was a little girl my favorite Easter candy has always been Peeps.  As any experienced Peep connoisseur knows, Peeps are best eaten after they have dried out for a few days.  It makes them oh so nice and chewy.
But a close second to a dried out Peep is a chocolate covered Peep!
Last year I went a little crazy and started covering all kinds of Easter goodies in chocolate. There were Peeps, Oreos and Gummies.  They were so yummy I had to do it again this year.
So I stocked up on some Peeps!  Who knew there were so many amazing colors.
So me and my Peeps had a little photo shoot before we got to work.  They were very cooperative.
After our fun, we were ready to get to work.  The first step was to melt the chocolate.  I use a variety of different products – chips, melts and bark.  They all work basically the same.  If you do use  real white chocolate though just beware that it burns very easily so you will want to melt it slowly.  I melt my chocolate in the microwave but a double boiler can also be used.  The important thing is do not let any water or moisture get in with the chocolate or it will seize up on you.  If the chocolate doesn't melt smoothly, try adding a little vegetable oil to it to thin it out.
Peeps love a nice warm bath of chocolate.
Last year I just dipped them in chocolate so this year I decided to dress them up a bit and add some sprinkles!
Aren't they cute!
I decided to make Peep suckers so I added sucker sticks (from the cake decorating store) and then dipped and sprinkled!
I stood them up in a drinking glass so they could dry.
Of course we had to give the bunny Peeps equal time.
I decided a Peep bouquet was the perfect Easter gift for my neighbors.
I wrapped the individual Peep Pops in small plastic bags and tied them up with some ribbon.
I added a little tag I found here.
I boxed up a bunch of Peeps and they are headed to school with Tessa tomorrow to share with her friends!

And then I just couldn't resist….a Peep s'more!!
Just 20 seconds in the microwave and you have a perfect s'more!
Have fun going a little Peep crazy at your house!!
Inspired by the family kitchen