We are taking a momentary pause from all my trip posts because this really is a food blog not a travel blog! But I still have a few more travel posts to share later this week.  But first some food….
Remember that yummy Toffee Brownie Bark I shared a while ago?  Well, if you don't remember it you should definitely check it out.  It's pretty amazing.  Ever since I  made it I have been thinking about it – do you ever think about food.  I do, way too much!  Good thing there are no calories in thinking about food or I'd be in real trouble.
I got to thinking about all kinds of fun flavors of bark you could make.  Since my favorite cookie flavor is chocolate chip I knew I had to start with that.  So today I've got some pretty tasty Chocolate Chip Cookie Bark for you.  Cookie bark is thin and crisp and is perfect with a nice cold glass of milk to dunk it in.
I made it over the weekend for our Memorial Day BBQ and it pretty much disappeared right away.  I did stash a little bag of it away to enjoy later.  I'm thinking of crumbling it over ice cream!
I basically used my shortbread recipe, added in some mini chocolate chips and pressed it down into a 10 x 13 cookie sheet so it was nice and thin.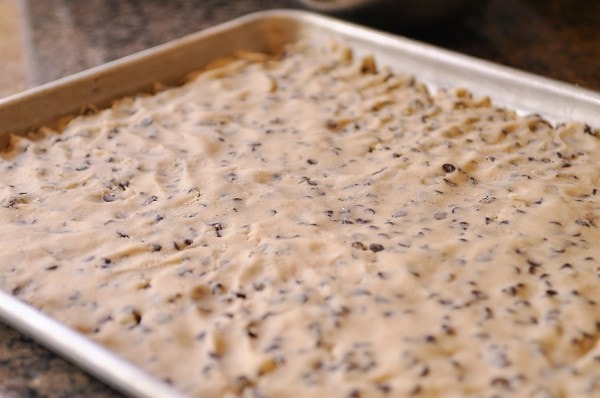 Bake it until it is nice and golden brown, you want it crisp and then allow it to cool.  After it is cool just break it up into pieces.
After mine was cool I found that part of the pan wasn't as crisp as the rest of it so I just stuck that section of the cookie bark back in the oven for about 5 more minutes and it will crisp right up.  Because it is a shortbread base it is nice and rich and buttery.
I liked using the mini chocolate chips in it but I am sure regular size chips would work just fine.
For other delicious cookie recipes check these out:
Chocolate Chip Nutella Cookies
The Best  Chocolate Chip Cookies
Chewy and Amazing Chocolate Chip
Enjoy!
Leigh Anne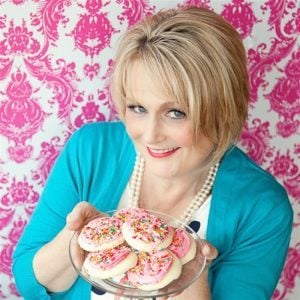 You can also visit me on Facebook, Pinterest, Twitter or Instagram.
For a list of where I Link Up each week go here.
Chocolate Chip Cookie Bark
Ingredients
1 C butter softened
2 tsp vanilla
1/2 C sugar
1/2 C brown sugar
2 C flour
1/4 tsp salt
1 C mini chocolate chips
Instructions
Mix together butter, vanilla, salt and sugars and beat until blended.

Add in flour and chocolate chips and mix.

Press into an ungreased 15 x 10 jelly roll style cookie sheet. Bake at 375 for 15-20 minutes or until golden brown and crisp.

Cool.

If it is not crisp enough return the oven for another 5 minutes

After cool, break into pieces.
adapted from busycooks.com