Carne Asada is a Mexican style grilled meat and is perfect for tacos or served just by itself. You can grill it or cook it on the stove top.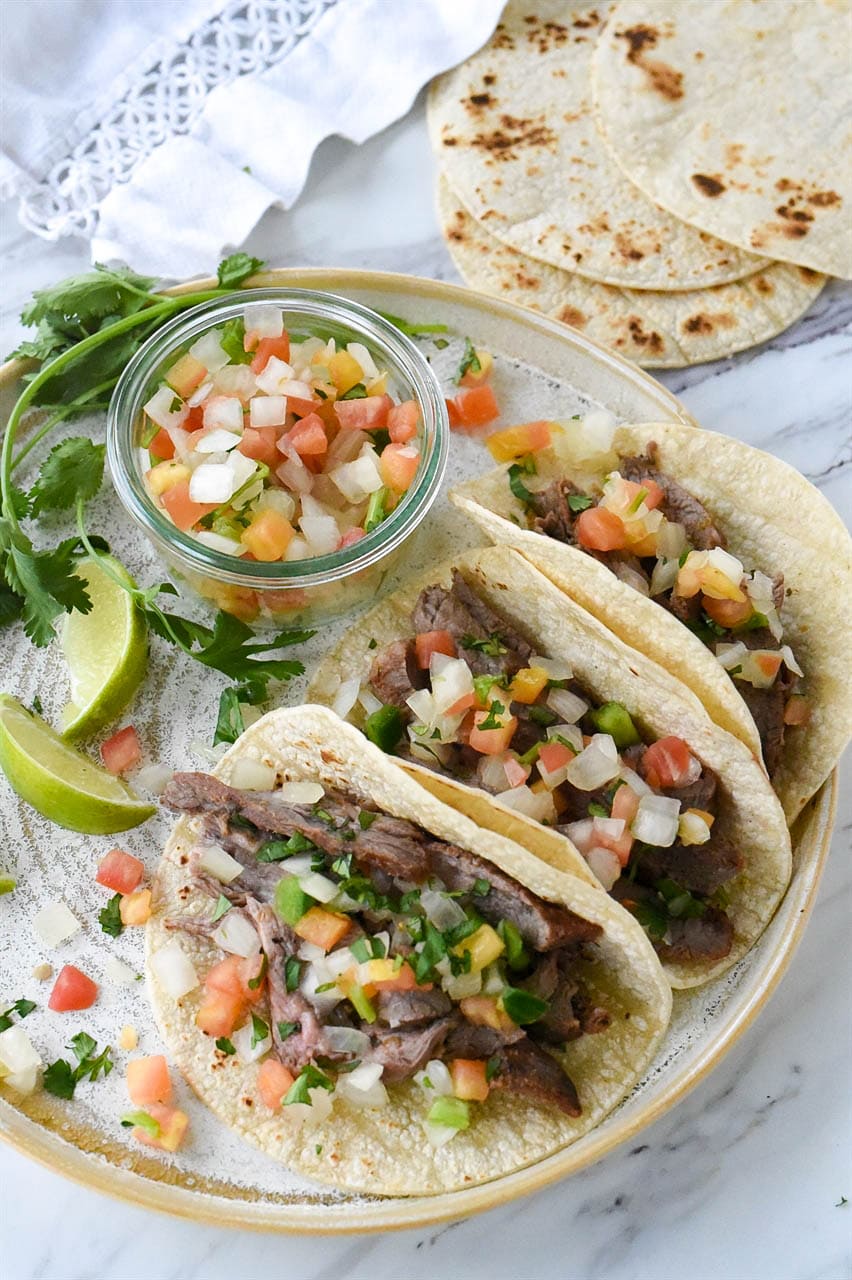 When we go out for Mexican food my two favorite things to order are cheese enchiladas and carne asada, every time. Just ask my husband. I love the challenge of recreating my favorite restaurant meals at home so I took on the challenge to find a great carne asada recipe.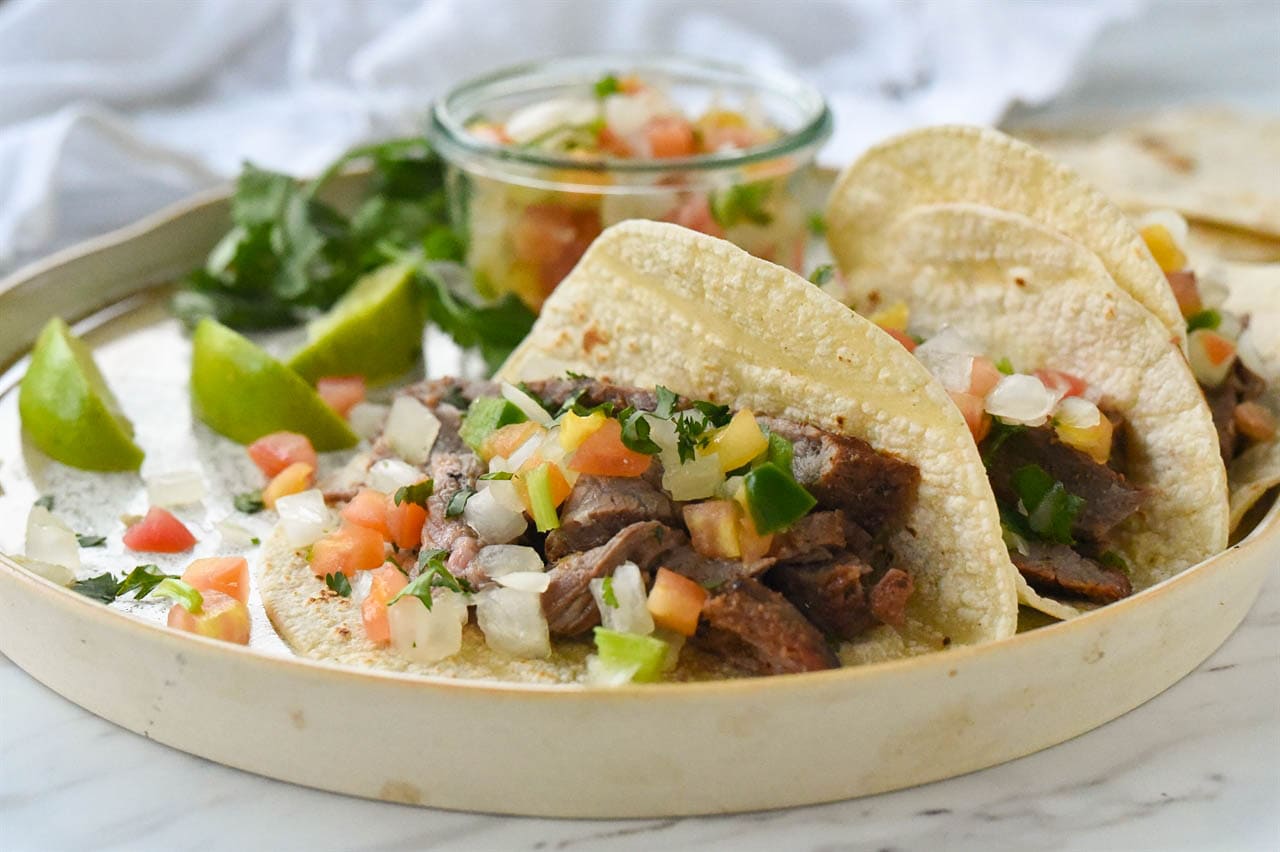 What is Carne Asada?
Carne Asada translates to "grilled meat." It is typically skirt steak that has been marinated and then grilled.
In most Mexican restaurants, they use skirt steak for their carne asada. I have experimented with skirt steak a lot. It tends to be a tougher, more gristly cut of meat. If you are going to use skirt steak you want to make sure you marinade the meat for a good long time, even 24 hours. I prefer to use flank steak for my carne asada recipe. It is a more tender cut of meat and doesn't have to be marinaded as long.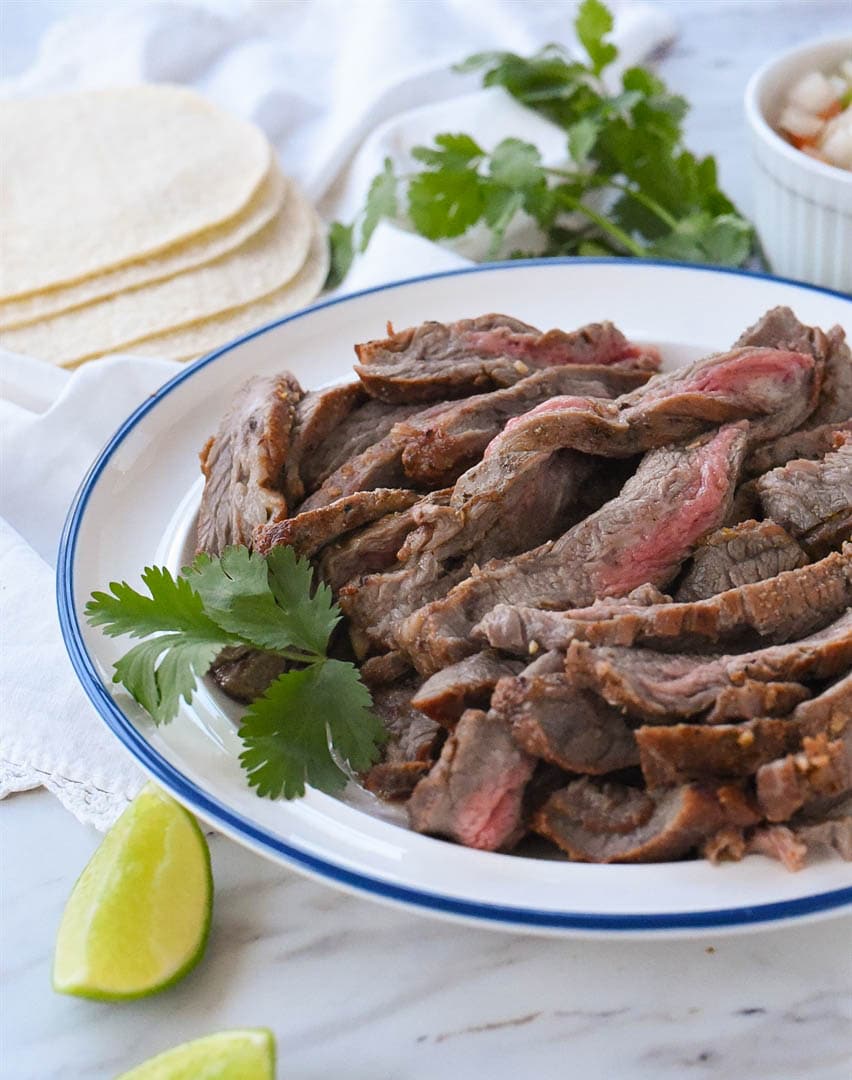 How to Make Carne Asada?
Meat. Use flank steak or skirt steak. My personal preference is flank steak as it is more tender. Other options include sirloin, tenderloin or rib steak.
Marinade. Mix together vinegar, garlic, lime juice, oil and seasonings With flank steak, I usually mix it up in the morning and let it marinade through the day, at least 2-4 hours but the longer you do it the more tender and flavorful the meat is.
Cook. Carne Asada can be cooked on the grill or on the stove top. Before cooking sprinkle both sides of meat with some coarse salt. On the stovetop, add a tablespoon of olive oil to a large skillet. Cook the meat for 4-5 minutes on each side or until desired temperature is reached. I like my meat medium which is 145 degrees F. I always remove my meat at 140 degrees and let it sit for a minute.
Rest. After removing it from the grill allow it to rest for a few minutes before you slice it. Slice it across the grain into nice thin slices.
Make Ahead Tip
Place your meat and marinade into a zipper plastic bag or airtight container and place in the freezer. It will keep for 2-3 months in the freezer and 2-3 days in the refrigerator.
How to Serve Carne Asada
I like to serve it on a tortilla as a taco.  You can use corn and flour tortillas, but I prefer corn.  Tortillas can be warmed in the microwave or my favorite way to heat up a corn tortilla is in a cast iron pan, lightly browning them on both sides.
Serve with some pico de gallo, chopped cilantro and a squeeze of fresh lime juice.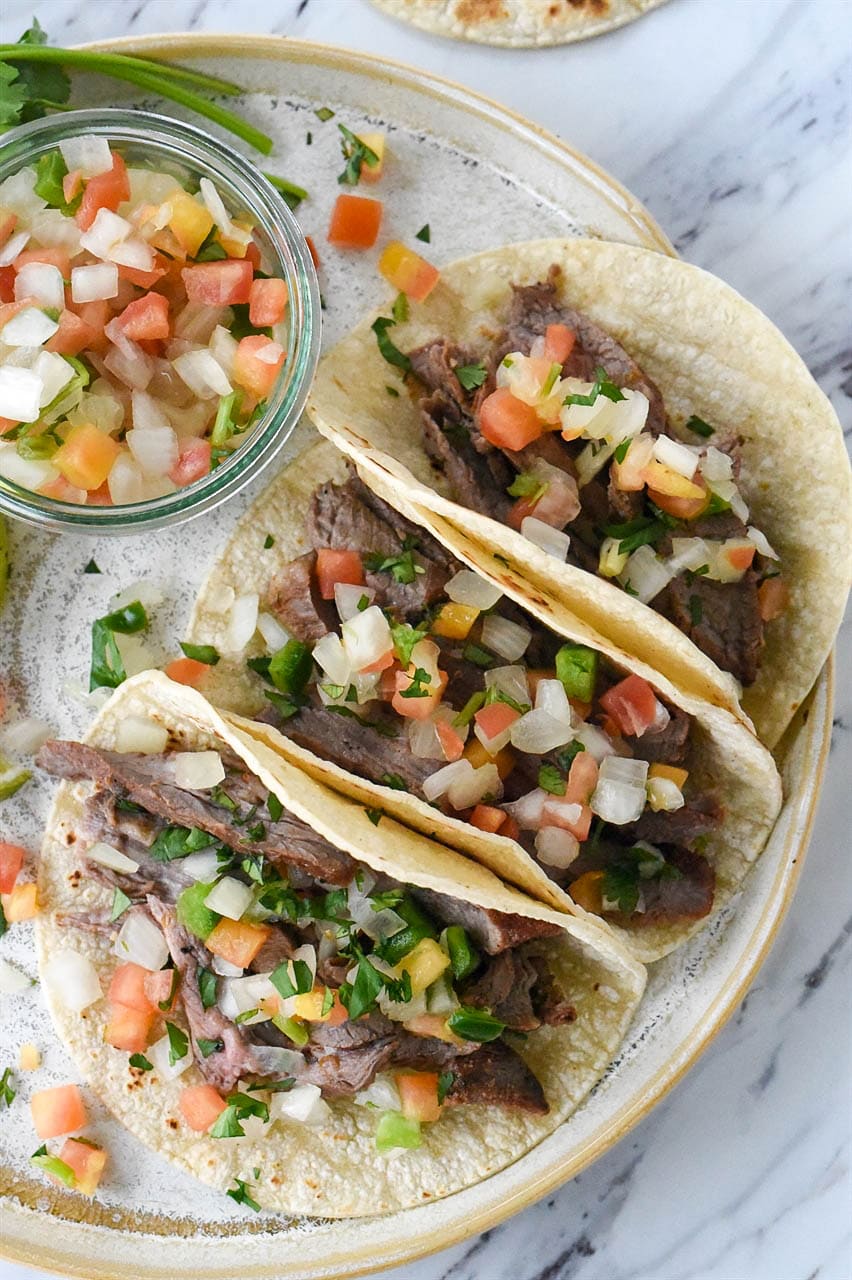 Check out more of our favorite taco recipes:
For all of my other favorite kitchen products and tools visit my Amazon Store.
Did you know I wrote a cookbook?  Check out the Holiday Slow Cooker Cookbook for 100 delicious recipes.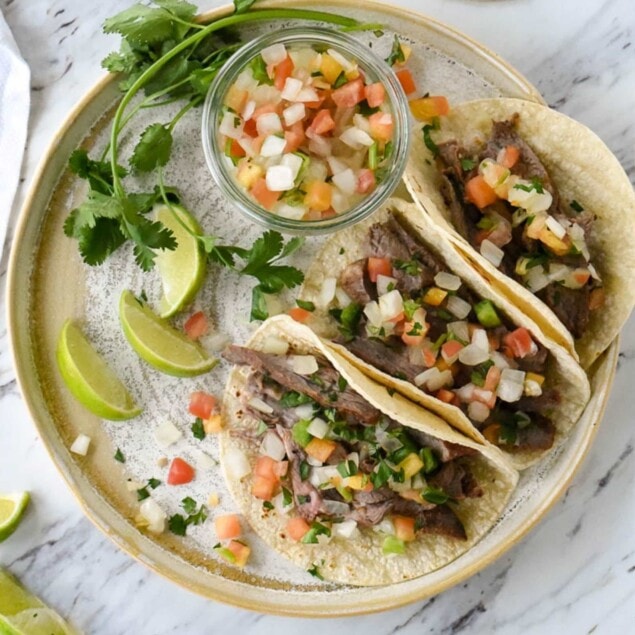 Carne Asada
Carne Asada is a Mexican style grilled meat and is perfect for tacos or served just by itself.  You can grill it or cook it on the stove top.
Ingredients
2.5 lbs. flank steak
1/4 cup white vinegar
4 cloves garlic chopped
juice of 2 limes
1/3 cup olive oil
1 tsp black pepper
1 tsp garlic powder
1 tsp dried oregano
1 tsp ground cumin
1 tsp paprika
1/4 cup chopped fresh cilantro
For garnish: chopped onion and cilantro
Instructions
Mix together all the ingredients above into a bowl. Place flank steak into a glass dish or a plastic bag and pour marinade over the top. Refrigerate for at least 2-4 hours or overnight for a more tender piece of meat.

Heat grill or pan on stove top.

Sprinkle both sides of meat with kosher salt and grill to desired temperature.

Allow meat to set for a few minutes before slicing.

Serve with chopped onion and cilantro on corn tortillas.
Nutrition Facts:
Calories: 376kcal (19%) Carbohydrates: 2g (1%) Protein: 41g (82%) Fat: 22g (34%) Saturated Fat: 6g (38%) Cholesterol: 113mg (38%) Sodium: 103mg (4%) Potassium: 672mg (19%) Fiber: 1g (4%) Sugar: 1g (1%) Vitamin A: 209IU (4%) Vitamin C: 1mg (1%) Calcium: 52mg (5%) Iron: 3mg (17%)
* Disclaimer: All nutrition information are estimates only. Read full disclosure here.