I have lots of chocolate chip cookie recipes on the blog and this one for chewy chocolate chip cookies is one of my top two favorites!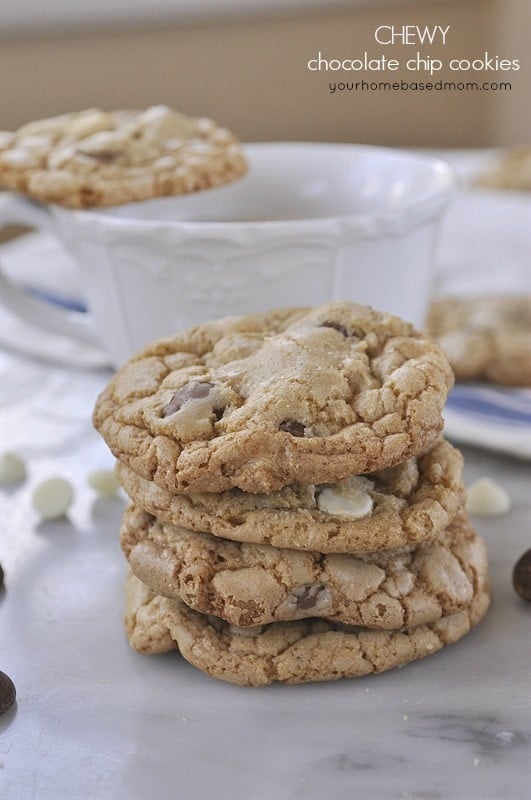 If you don't need 2 dozen cookies I also have a small batch version of this recipe which makes 6 cookies.

This morning I was in the pediatrician's office with my two girls. No one is sick – just some updates on their immunizations. While we were waiting for the nurse we had a good time reading the poster that was on the wall entitled "Things I Know…"
We got a kick out of the "I know you can't hide broccoli in a glass of milk" and "I know if you spread your peas around the plate it looks like you ate more."
But the one that caught my attention was "I know that a chocolate chip cookie should be eaten warm." I so agree with that one!! My favorite treat in the world is a warm chocolate chip cookie and a cold glass of milk.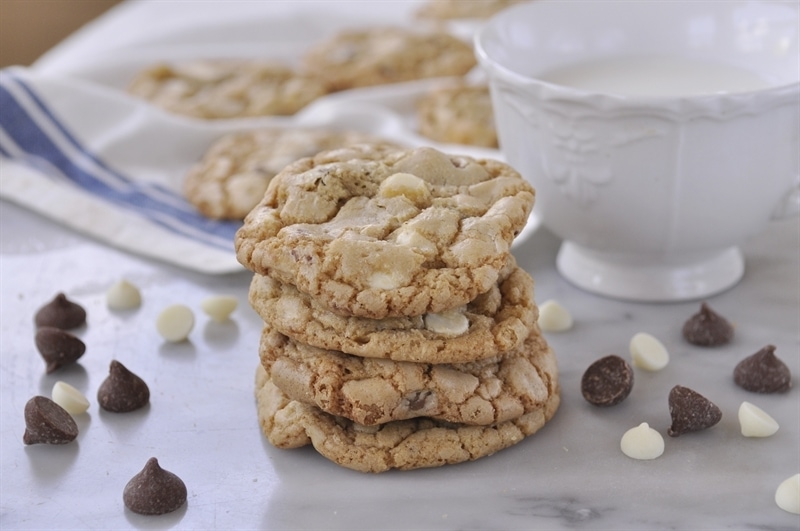 So guess what I came home from the doctor's office craving – yep – warm, chocolate chip cookies. The oven is preheating as I write!
I know everyone has a favorite chocolate chip cookie recipe. My favorite has varied through the years but today I want to share with you my current "favorite". It is from www.allrecipes.com and the description of the cookie reads…
"These cookies are the pinnacle of perfection! If you want a big, fat, chewy cookie like the kind you see at bakeries and specialty shops, then these are the cookies for you!"
I am pretty particular about my chocolate chip cookie. The best cookies are not too thick, but not too thin. They need to be chewy. And they must be served warm with a glass of cold milk.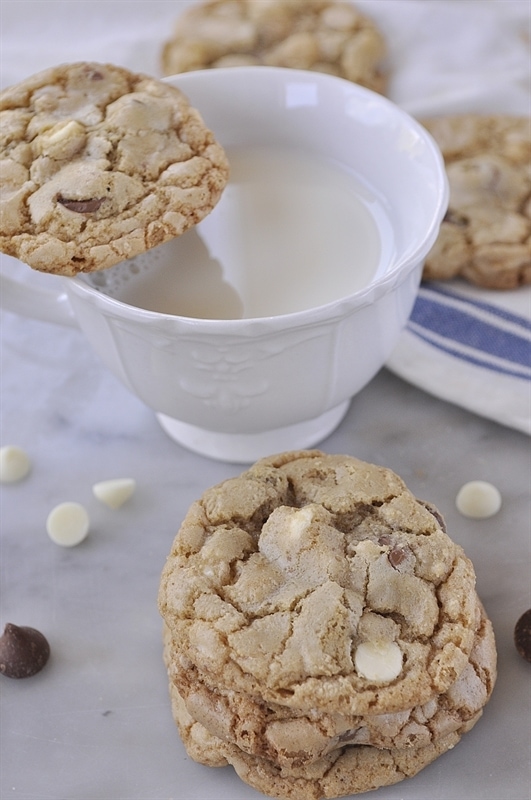 I am a dunker.
This recipe is "just right." My favorite way to make chocolate chip cookies is with half milk chocolate chips and half white chocolate chips – yum!
The best part is when you bite into a cookie and it has both white chocolate and milk chocolate all in the same bite.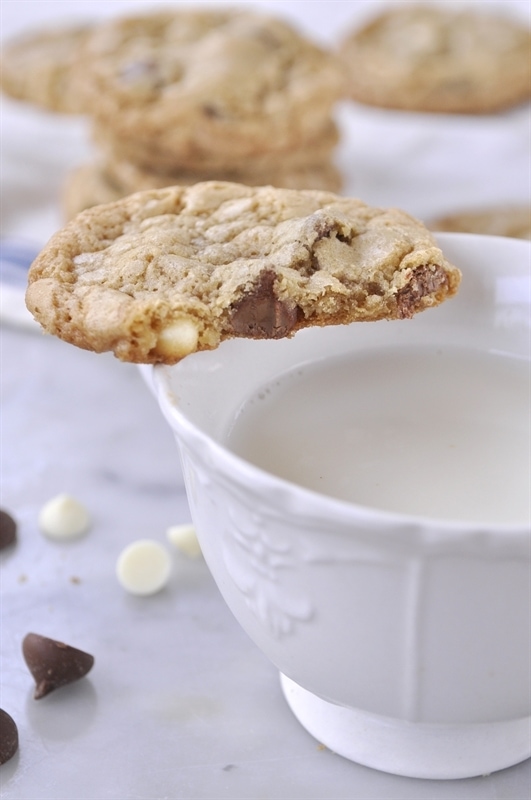 This recipe is great because it calls for melted butter – don't need to worry about softening the butter.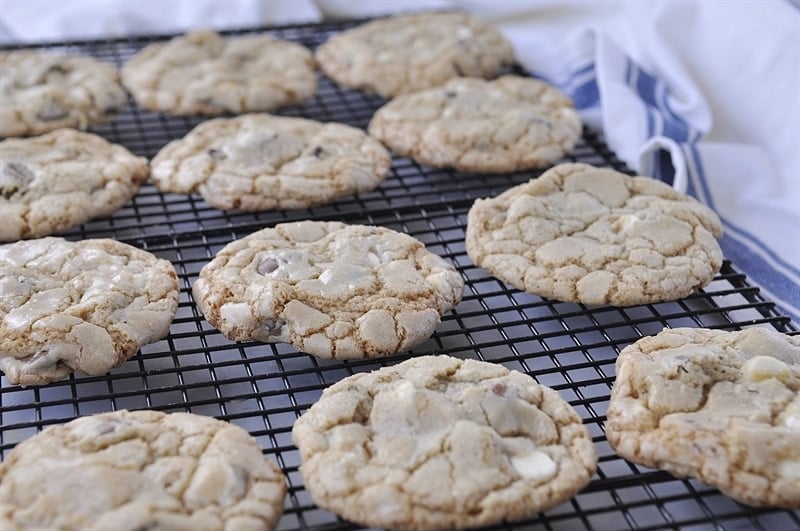 What's your favorite way to eat a chocolate chip cookie?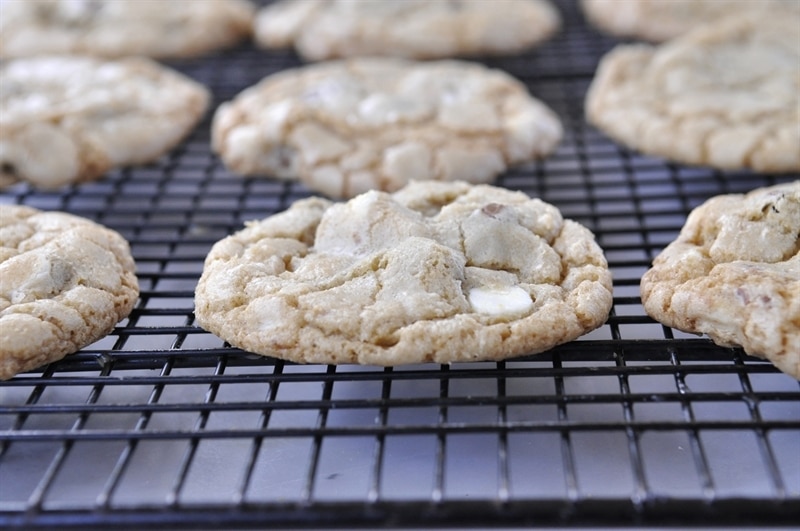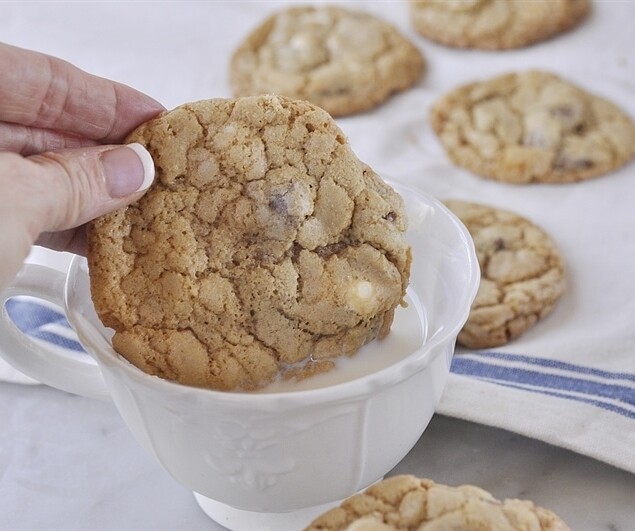 Best Big, Fat, Chewy Chocolate Chip Cookies
Chewy chocolate chip cookies are the perfect chocolate chip cookie.
Ingredients
2 cups all-purpose flour
1/2 tsp. baking soda
1/2 tsp. salt
3/4 cup unsalted butter melted
1 cup packed brown sugar
1/2 cup white sugar
1 Tbsp. vanilla extract
1 egg
1 egg yolk
2 cups chocolate chips I use 1/2 white and 1/2 milk chocolate
Instructions
Preheat the oven to 325 degrees

Grease cookie sheets or line with parchment paper

Sift together the flour, baking soda and salt; set aside

In a medium bowl, cream together the melted butter, brown sugar and white sugar until well blended

Beat in the vanilla, egg and egg yolk until light and creamy

Mix in the sifted ingredients until just blended

Stir in the chocolate chips by hand using a wooden spoon

Drop cookie dough onto the prepared cookie sheets

Cookies should be about 3 inches apart

Bake for 15-17 minutes (depending on size of cookie) in the preheated oven, or until the edges are lightly toasted

Cool on baking sheets for a few minutes before transferring to wire racks to cool completely
Nutrition Facts:
Calories: 222kcal (11%) Carbohydrates: 31g (10%) Protein: 2g (4%) Fat: 10g (15%) Saturated Fat: 6g (38%) Cholesterol: 32mg (11%) Sodium: 85mg (4%) Potassium: 28mg (1%) Fiber: 1g (4%) Sugar: 23g (26%) Vitamin A: 232IU (5%) Vitamin C: 1mg (1%) Calcium: 30mg (3%) Iron: 1mg (6%)
* Disclaimer: All nutrition information are estimates only. Read full disclosure here.