Balsamic & Roasted Garlic Chicken Wings are perfect for the big Game Day. Your sports fans are going to love them and so are you.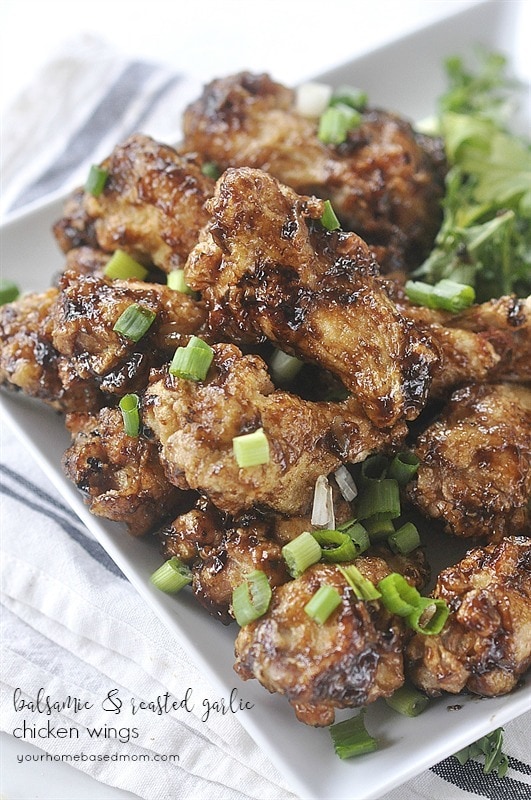 There are certain foods that just scream sports and at our house, one of them is wings. My boys have even been know to go to a certain restaurant that is famous for their wings, order up a bunch and enjoy their favorite ball game or two or three… Thank goodness for multiple screens!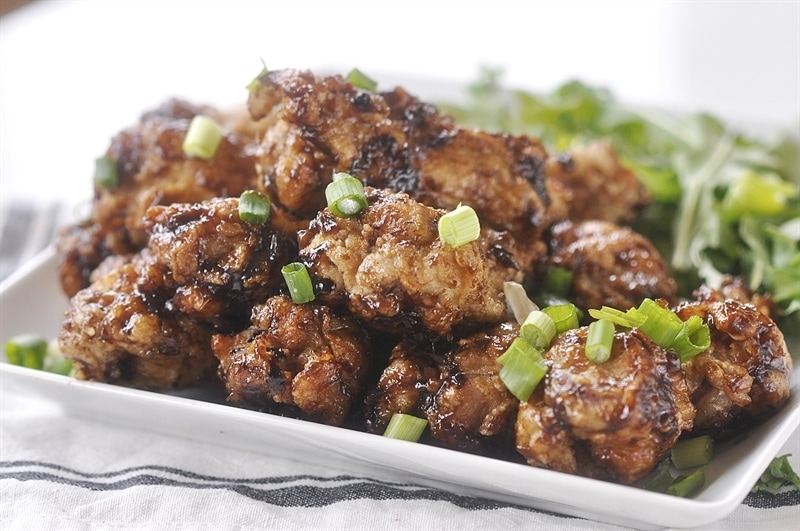 With these delicious chicken wings they can stay home and enjoy their ballgame and they even manage to have multiple screens as they watch one game on the TV, one on the computer and one of their phone. Yes, my boys love their sports and they also love their wings. You don't have to be a sports fan like my boys to enjoy these delicious chicken wings though.
Making your own wings at home is a pretty easy process too. You can chose to fry my wings but they can also be done in the oven but they really are better fried, but isn't just about everything !?!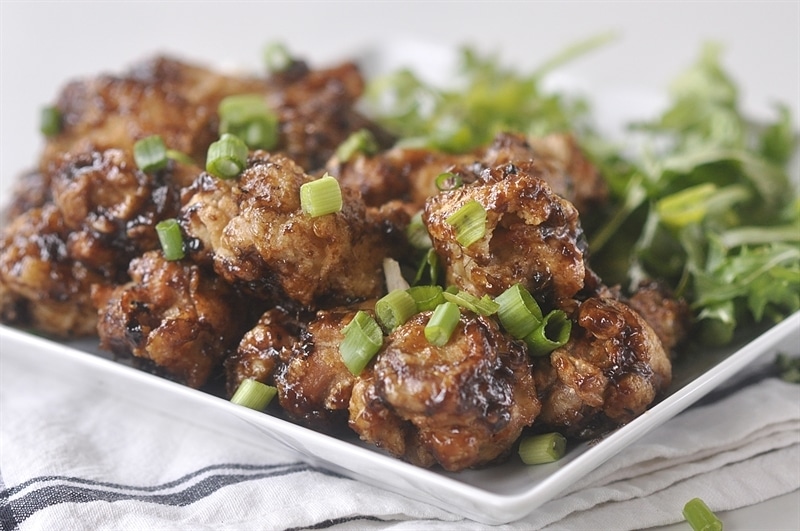 Start by roasting the garlic. I LOVE roasted garlic, it tastes amazing. It is easy to do and makes your house smell wonderful too.
Just trim the top off of the head of garlic, place on a piece of foil and then drizzle with olive oil.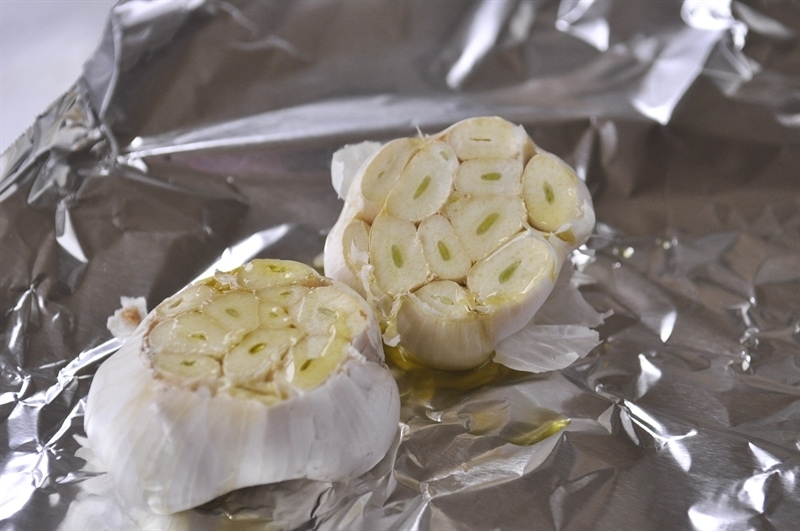 Wrap it up tightly in foil and bake for about 45 minutes at 425 degrees F. You want it nice and soft, and squishy.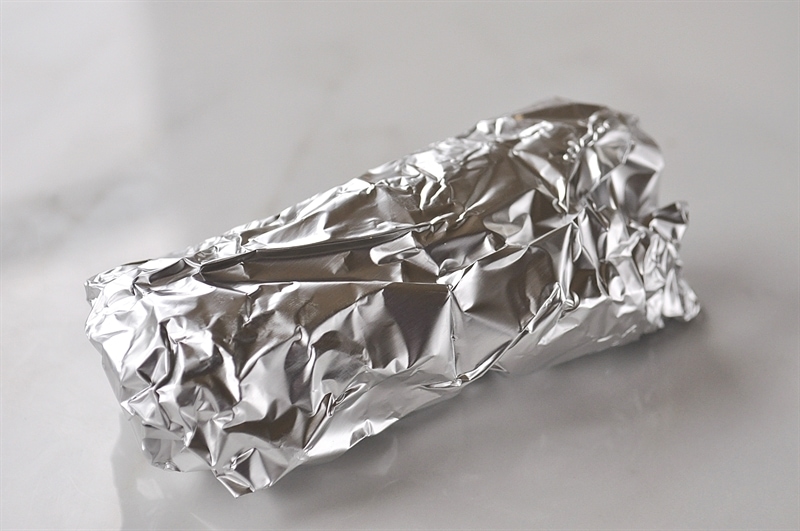 Unwrap the foil and it should look like this, starting to turn golden brown and soft.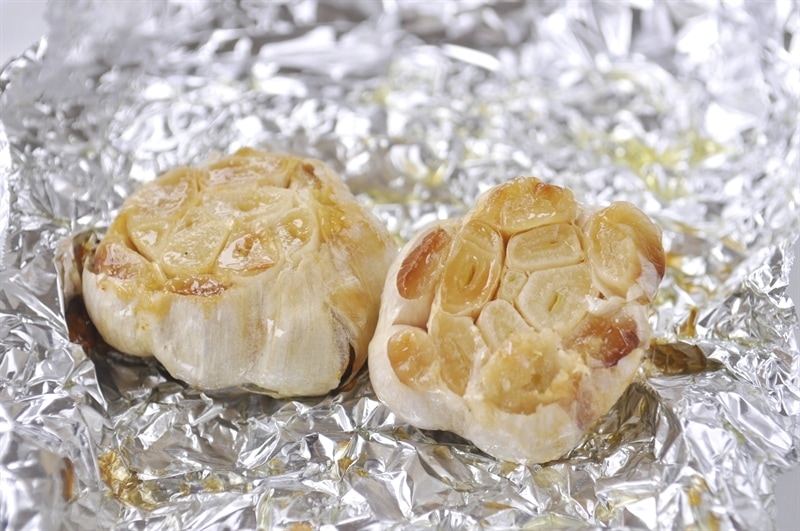 Hold it upside down and squeeze so that all the cloves of garlic come out into your bowl. If it is still warm use a paper towel to hold the garlic with.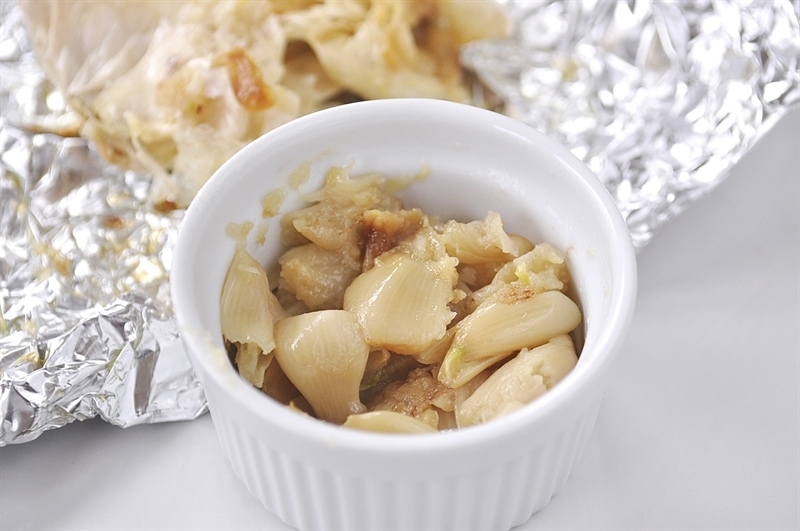 Then you are going to cook up a mixture of balsamic vinegar, honey, thyme, salt, red pepper flakes and water. Boil and let simmer until it thickents up and becomes syrupy. Then add in some olive oil and the roasted garlic. Smash the garlic into the mixture.
Next you are going to coat your chicken wings with cornstarch in a bag. I found my wings in the freezer section at the grocery store.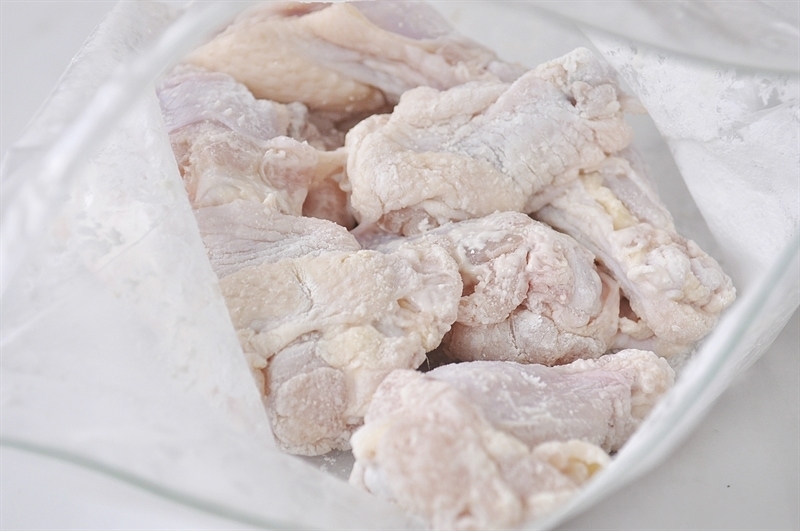 Heat your oil in a heavy cast iron skillet or if you have a deep fryer you can use that too. I have both but decided to use my cast iron skillet. This is the deep fryer I have. Be sure you just have a single layer of chicken. I did mine in two batches. Cook on each side for about 7 minutes for a total of 15 minutes.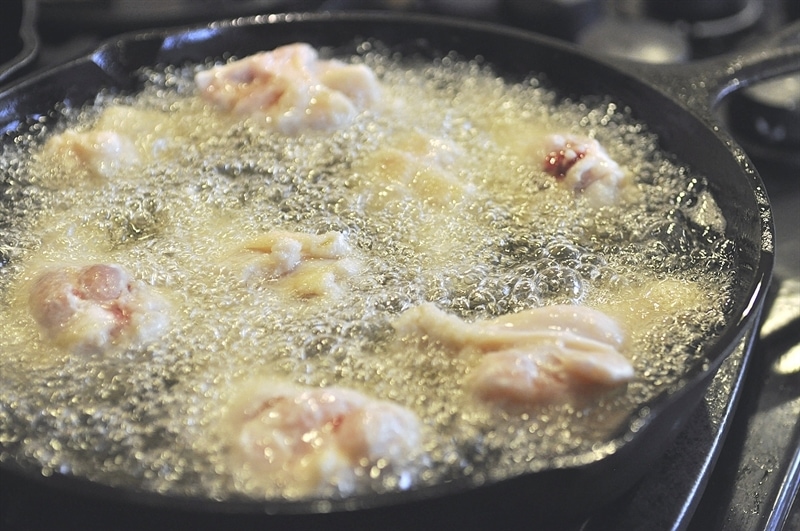 Placed fried chicken on paper towels to allow some of the grease to absorb into the towel. Place the cooked wings into a bowl.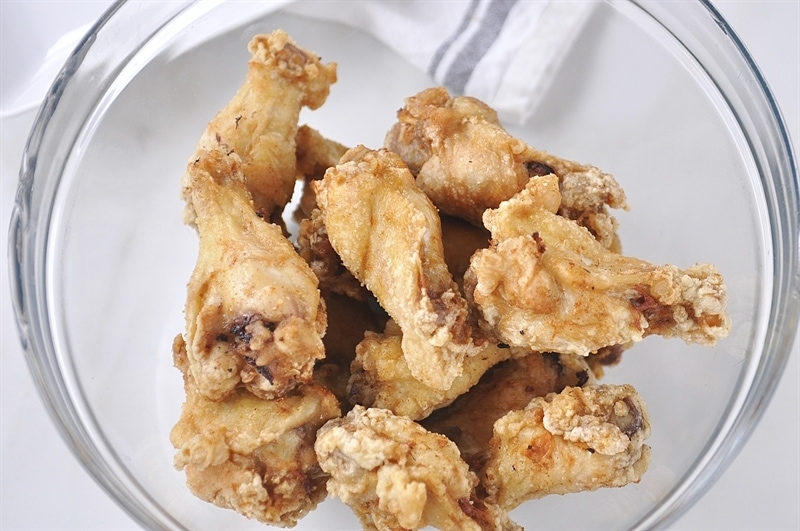 Cover with balsamic and roasted garlic mixture and stir to coat.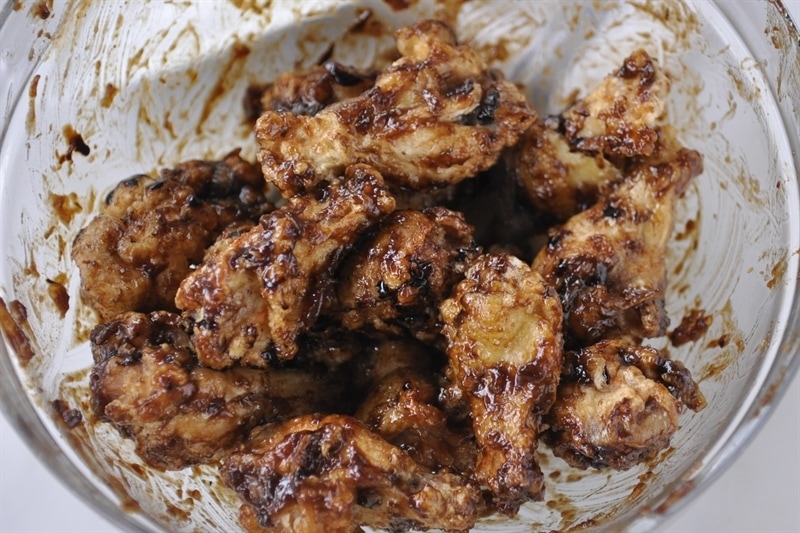 I served them with some chopped green onion on top.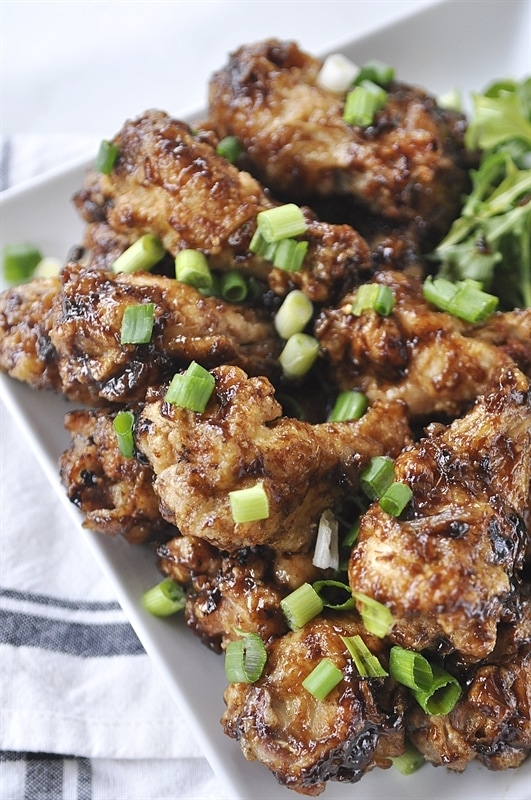 Don't wait for a ball game though to enjoy these. Have a few napkins nearby because wings are messy! But so worth it!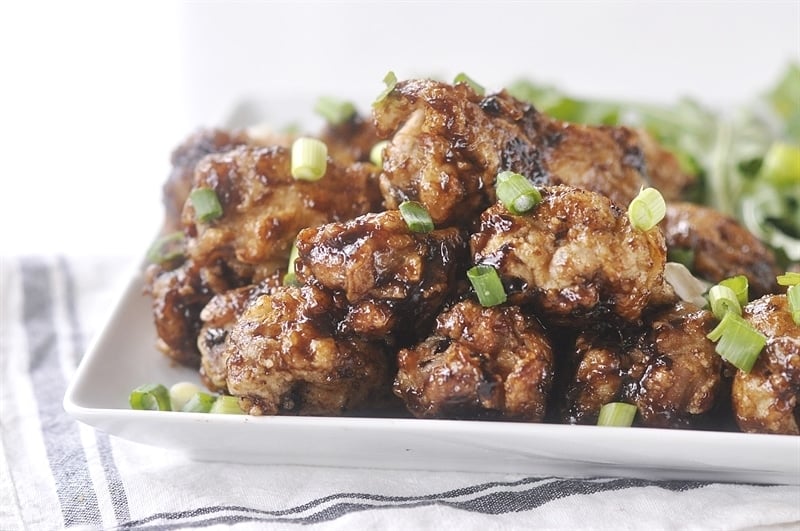 Garlic Wings Recipe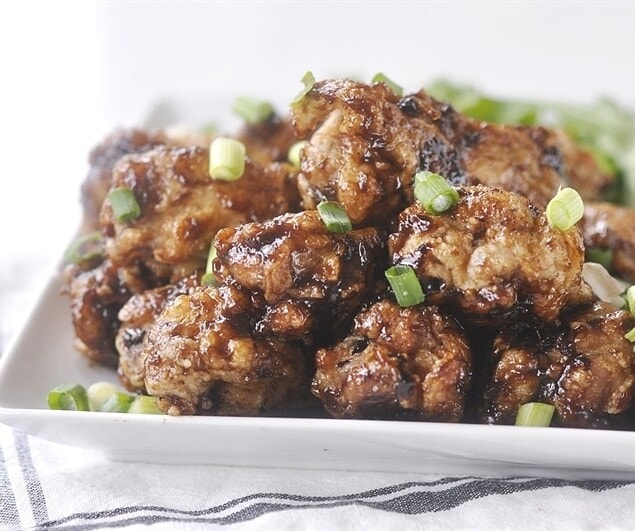 Balsamic Roasted Garlic Chicken Wings
Roasted Garlic Wings with the zing of balsamic vinegar.
Ingredients
2 heads of garlic
2 Tbsp olive oil
3 Tbsp balsamic vinegar
2 Tbsp honey
1/2 tsp dried thyme leaves
1 tsp salt
1/2 tsp red pepper flakes
3 Tbsp olive oil
2/3 C water
4 lbs. chicken wings
1/3 C cornstarch
vegetable oil for frying
Instructions
Slice off the top of garlic heads, place on a piece of foil and drizzle with 2 Tbsp olive oil.

Wrap up tight and roast at 425 degrees F for about 45 minutes or until garlic is nice and soft. Squeeze into a bowl.

Combine balsamic vinegar, honey, thyme, salt, red pepper flakes and water in a sauce pan.

Bring to a boil and boil until mixture becomes syrupy over medium heat. About 5 minutes.

Remove from heat and add 3 Tbsp olive oil and roasted garlic. Smash garlic into mixture.

Toss chicken and cornstarch together in a large plastic bag. Toss to coat.

Heat oil in cast iron pan (about 1 1/2 inches) or fryer to 375 degrees F.

Place chicken into heated oil, in a single layer and fry on each side for about 7 minutes, total of 15 minutes.

Place on paper towels and allow to drain.

Place chicken in a bowl and cover with sauce, stir to coat.

Enjoy!
Nutrition Facts:
Calories: 623kcal (31%) Carbohydrates: 10g (3%) Protein: 42g (84%) Fat: 45g (69%) Saturated Fat: 11g (69%) Cholesterol: 175mg (58%) Sodium: 462mg (20%) Potassium: 361mg (10%) Fiber: 1g (4%) Sugar: 5g (6%) Vitamin A: 370IU (7%) Vitamin C: 2mg (2%) Calcium: 29mg (3%) Iron: 2mg (11%)
* Disclaimer: All nutrition information are estimates only. Read full disclosure here.