So am I allowed two lemon recipes in a row?
I think since it is Easter week and Easter and lemon go together so well it will be o.k.
Some type of lemon dessert is a requirement at our house.  No matter what else we have – there must always be lemon!
Last year I made a lovely lemon crumb cake.  The filling on this cake was amazing.  A combination of cream cheese, whipping cream and lemon curd.  I still dream about it.
This year I decided I wanted to make cupcakes instead of a cake but somehow I wanted to incorporate that filling.  I decided to turn it into a frosting for the cupcakes and fill the lemon cupcakes with lemon curd.  Lemon heaven.
I used half of my lemon curd to fill the cupcakes and the other half in the frosting.
To fill the cupcakes I filled a squeeze bottle with the lemon curd and then just poked the bottle into the cupcake.  It gives you just a tease of lemon curd when you get to the middle of the cupcake.  If you'd like more lemon curd in the center cut out a little hole in the middle of the cupcake and fill it with the lemon curd.
The combination of cream cheese, whipping cream and lemon curd makes for a nice, light, soft frosting.
You may need to refrigerate it for a while before you frost the cupcakes and if you don't eat all the cupcakes in one setting keep them in the refrigerator too.  I like to bring the cake back to room temperature though before eating.
I used a nice big decorating tip to frost the cupcakes with. You will want lots of the frosting – I promise!
Add a few sprinkles for some decoration.
or, if like me, you just can't get enough of those cute little Peeps, top off your cupcakes with some Peeps!
How cute is that!!
Peep or no Peep you will be in lemon heaven with these cupcakes.  Don't let the lemon curd scare you away – it is really quite easy to make.  If you really don't want to give it a try just buy a jar of lemon curd at the store and use it.
For a few other lemon dessert ideas for Easter check these out:
Any of them would the perfect addition to your Easter menu.
Lemon Curd Cupcakes with Lemon Cream Cheese Frosting
Ingredients
Lemon Cake:
3 C flour
1 Tbsp baking powder
½ tsp salt
1 C unsalted butter (room temperature)
2 C sugar
4 eggs (separated)
1 C milk
1 tsp vanilla
1 tsp lemon extract
zest of two lemons
Lemon Curd:
2 lemons
4 egg yolks
¾ C sugar
4 Tbsp butter, cold
Lemon Cream Cheese Frosting
1 8 oz. pkg cream cheese, softened
1 C powdered sugar
⅛ tsp salt
1 tsp vanilla
1½ C whipping cream
Half of the above lemon curd recipe above.
Instructions
Lemon Cake:
Mix together flour, baking powder and salt
Beat together the butter and sugar until light and fluffy
Add egg yolks, one at a time
Mix well
Alternately add in flour mixture and milk
Beginning and ending with flour
Add in vanilla and lemon and lemon zest
In another bowl, beat the egg whites until stiff but not dry
Add egg whites into batter, folding gently
Place into cupcake liners
Bake at 350 for about 20-25 minutes or until toothpick comes out clean
Cool
Use half of lemon curd recipe to fill the cupcakes either with a squeeze bottle or by cutting a small hole in the middle of the cupcake and filling with lemon curd
Lemon Curd:
Zest the lemons
Juice the lemons
In a bowl mix together the egg yolks and sugar until smooth
Stir in lemon juice and zest
In a saucepan, over medium heat, bring to a simmer
Continue cooking, stirring constantly until the mixture coats the back of a spoon
Stir in the butter 1 Tbsp at a time
Cover lemon curd with plastic wrap and refrigerate until chilled and thickened
Lemon Cream Cheese Frosting
In a small bowl beat whipping cream until stiff
In another bowl, mix together the cream cheese, sugar, salt and vanilla
Add in lemon curd
Beat until smooth
Fold in whipped cream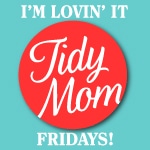 Shared over at http://tidymom.net/