Note:  I have updated my earlier sugar cookie cut out post with a second frosting recipe.  There is a glaze recipe for when I want the cookies to have a dry, glossy finish and although the glaze tastes good I prefer my traditional butter  frosting recipe when they are strictly for eating and not so much for looks or when they don't need to be wrapped up and you are worried about the frosting getting smooshed.
I am sure you have seen those cute cookie  bouquets you can custom order–ever wonder how to make your own cookie bouquet?  They are cute but cost a lot of money and the cookies really don't taste all that great.
Several years ago, a friend of mine had one delivered to her daughter after one of the performances of the high school musical.  I thought it was a great idea.  It was a nice alternative to a flower bouquet.   I decided I could make my own.
So last year, during Guys and Dolls I decided to try my hand at it and I must say, it turned out pretty good.
I did it again this year for Hairspray.
The first step is to decide what shape cookies you are going to make.  Using the storyline of the show, for Guys and Dolls I made cookies shaped like dice and the different suits of playing cards – hearts, spades, diamonds and what's the other one?  Clovers??
For the Hairspray themed bouquet I used crowns and flowers.
I used my basic sugar cookie cut outs recipe.
Remember how I suggested you pick up four paint sticks at the paint store?? Well, this is why.  Because you will be putting a stick into the cookies for the bouquet they need to be thicker than the average sugar cookie.  You will get the perfect thickness if you stack up two paint sticks on both sides of your dough and then place the rolling pin on top of the sticks to roll out the dough!
After your shapes are cut out insert a stick into the cookie.  I used long sucker sticks from the cake decorating store but a wooden skewer will work too (the thicker ones are better).  If the stick comes through a bit on the back side just patch it up with a little extra dough.  Just dampen the area and it will stick.  You don't want the stick to show through.
Just place the cookies, stick and all, on the cookie sheet and back.
Let them cook completely before decorating.  Use my sugar cookie glaze recipe to frost them with. Check out my directions for how to frost a sugar cookie too.
The next step in assembling your cookie bouquet is to pick out some filler.  This is the stuff that you will put in and around the cookies.  My favorite place to get filler is the Dollar Store.
For the Guys and Dolls bouquet I bought some playing cards, dice, red carnations and some chocolate candy bars that looked like dollar bills.  If you aren't familiar with the storyline of Guys & Dolls there is a lot of gambling, dice throwing and red carnation wearing going on.
For the Hairspray bouquet I found some fun glitter flowers on sticks and a fairy princess crown and wand that I used.  Tessa played Amber and it's all about the crown for Amber!
You will also need a container to put it all in.  The Guys & Dolls container is was just a white gift bag.  I removed the handle and folded the upper edge over.  I cut out some black circles from paper and glued them on the bag to make it look like a die (die being the singular of dice.)
For the Hairspray container I bought a pink plastic Easter basket (from the Dollar store),  and removed the handle.  I also found a fun felt cut out of a crown (guess where it was from!) that I glued around the basket.
Fill your container with some green florist foam (Dollar Store) and then cover it with some shredded paper filler (Dollar Store)  Love that Dollar Store!
I insert the cookie sticks first and then fill in around them with everything else.  I cut the sticks to different heights so there is some variation.  A fun little sign or card was the finishing touch.
It is such a fun project and the possibilities are endless.  A cookie bouquet would make a fun birthday gift and or a gift to mark any special occasion or accomplishment.  What ideas can you come up with??!?
Idea shared over at: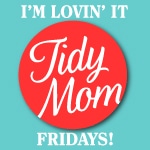 Stay Updated!
Need more recipes and creative ideas? Sign up and get a FREE copy of my ebook! Do you think your friends would love this too? Please share my blog with them. Thanks!