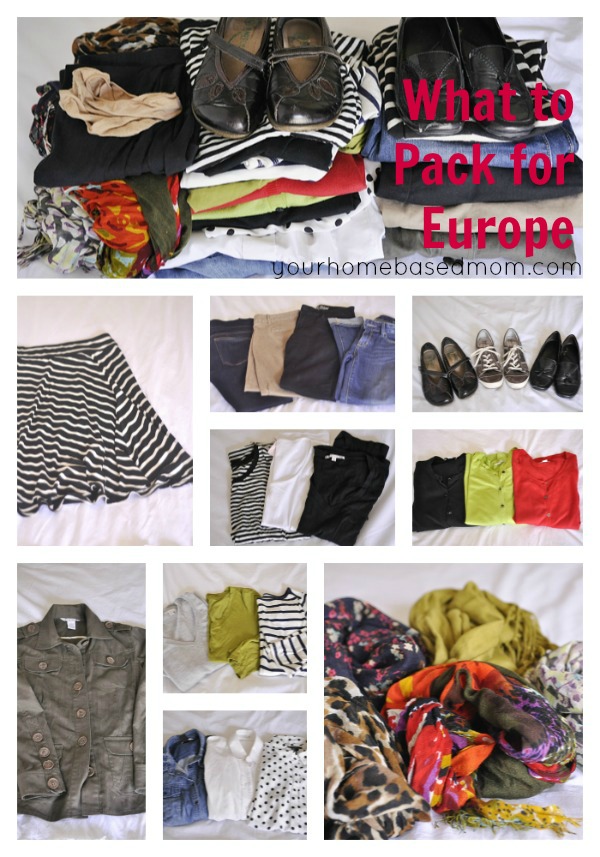 Since I returned from our trip I have had requests from many of you to share what clothes I took on our trip.  Now remember, I am not a fashion blogger but I have done my best with this post.
Packing is hard for me.  I am not a light packer by nature.  Just ask my husband!  I am not sure I will ever be one of those people that can travel through Europe for a month with just a carry on!
So here are a few tips for packing, what I took and then at the end I'll share what I really didn't need to take and could have lived without!  We were gone almost 2 weeks (12 days)
The first step was to decide on a color palette – a selection of 2-3 colors that everything would go with.  I don't include denim(blue) as one of the colors or white.
I went with red, lime green and black.  I chose a cardigan in each of those colors.  Because we were traveling in the Spring I wasn't really sure what the weather would be like. It could be cold. windy and rainy or it would be warm. I knew that layering would be a necessity so cardigans were essential.  It ended up that the weather was all of those things – cold, rainy, windy, sunny and warm.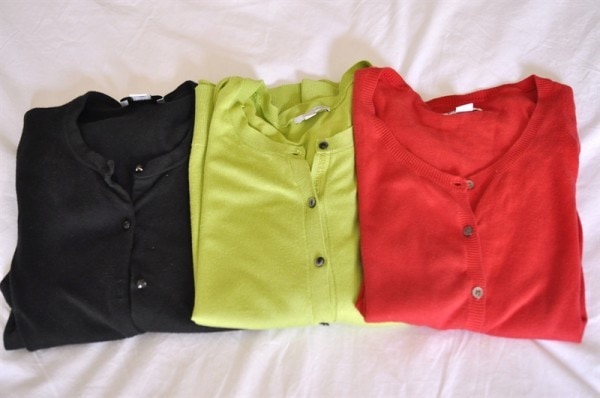 Because of the uncertain weather I needed to take long sleeve and short sleeve.  I took 3 short sleeve t-shirts.  Two solids and a stripe.  Stripes are essential while traveling in France!  Black and white stripe (Gap), white (boutique in Utah), black (Gap)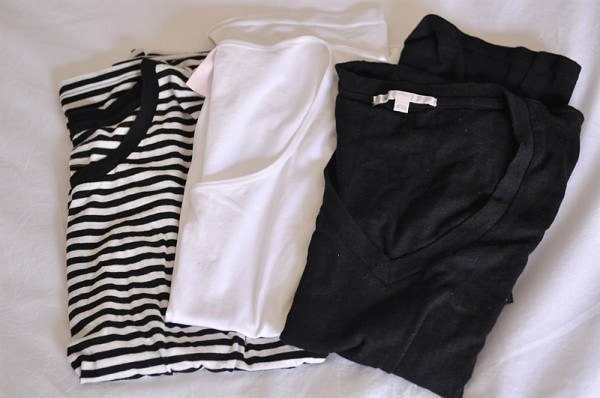 And 3 long sleeve tops -gray is a pullover sweater (Gap) and then another stripe (Forever 21) and solid (The Loft).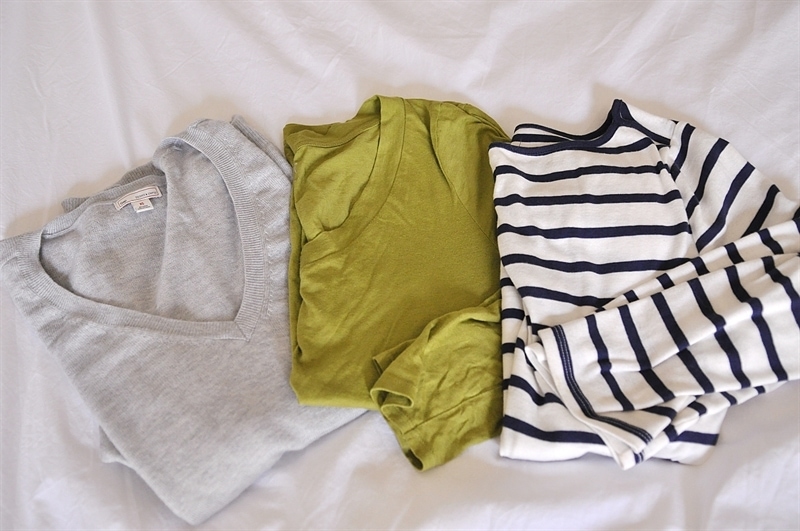 I also took 3 long sleeve shirts – chambray (Target), white (Gap)  and polka dot (Forever 21).  By rolling up the shirts they traveled pretty well and I never ironed anything.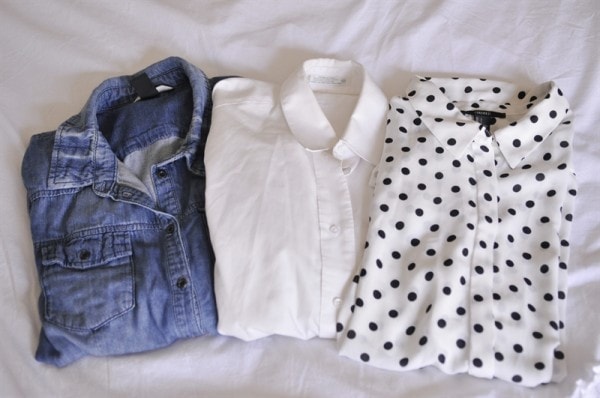 For bottoms I took 4 pairs of pants (I wore one on the plane).  The pants were all skinnies and ankle length.  The lighter denim I wore rolled up for a more cropped look.  All pants except the black are from Gap.  The black are from Old Navy.  Because we weren't going to be doing anything on our trip that required dress pants I didn't take any but you could always take a pair of black dress pants instead of the black denim if you needed it.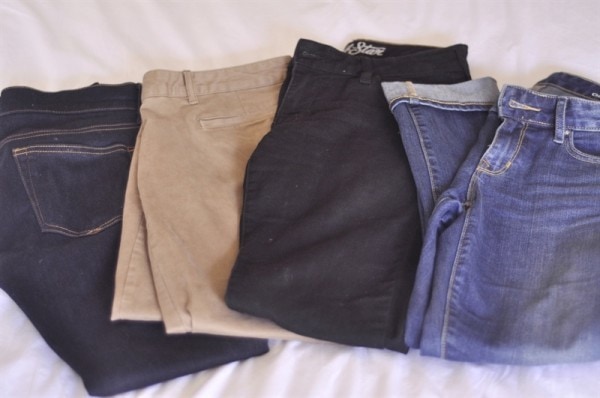 I also took one knit skirt.  I could have been more practical and take a solid black skirt but I decided this stripe skirt(The Loft) was more fun.  I even wore it with my polka dot shirt to tea!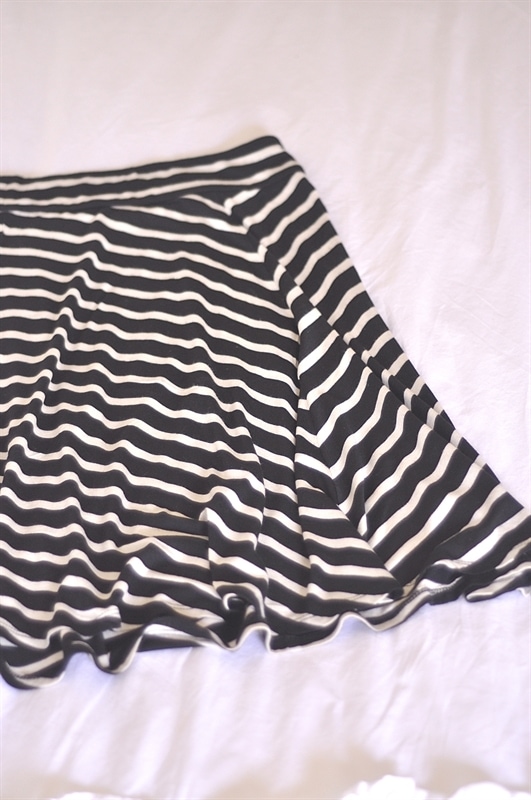 I also took an army green jacket (Cabi)  I only wore it a couple of times but I think if the weather had been better I would have worn it more.  Instead I pretty much wore my trench coat everyday!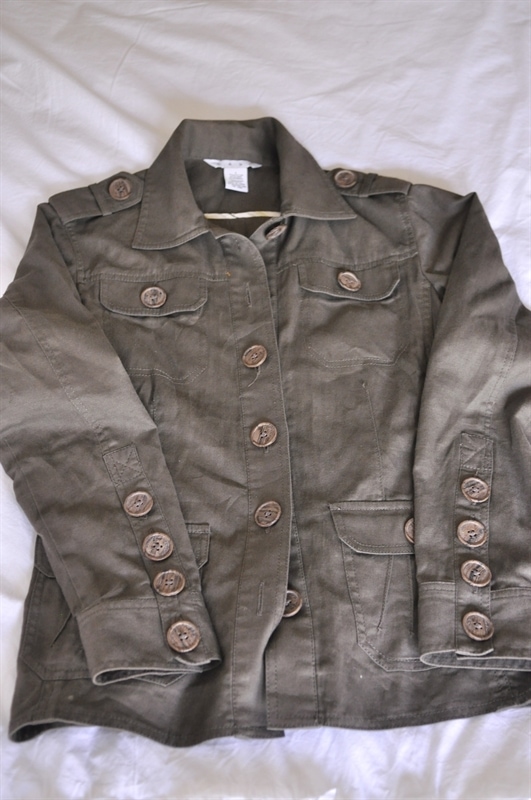 Like I mentioned in a previous post, I pretty much lived in my trench coat.  Having a hood was essential as it allowed me to keep dry during the occasional sprinkles of rain and not have to use an umbrella.  I also took a red rain coat that I bought at Eddie Bauer which was a lot lighter weight.  I think I could have gotten along with it.  The trench coat is from Macy's.  If traveling to Europe in the Spring be sure you have a trench coat you really like – you will be wearing it a lot.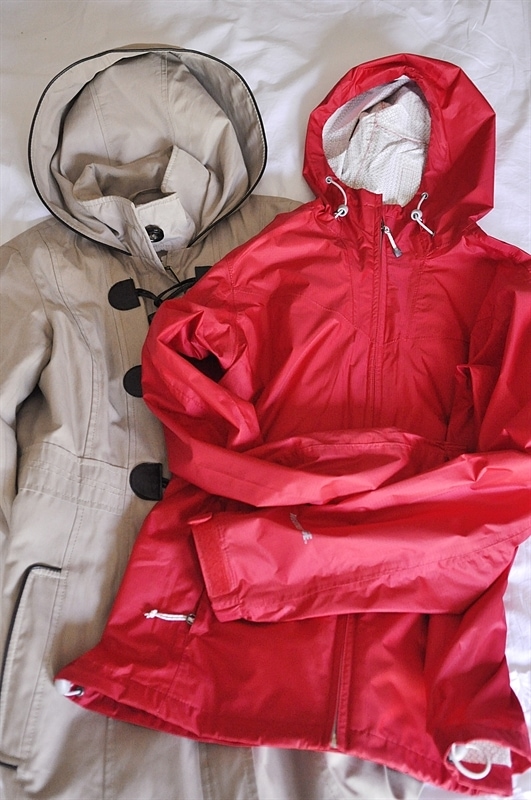 Of course, I also packed pajamas and underwear.  I also took a few pairs of socks.  I am not a sock wearer.  The only time I wear socks is with tennis shoes but I did take along a few pairs of "peds" . The little slip on socks that are out of panty hose type material.  Not sure what else to call them.  I did wear them a few times but they kept slipping off my foot (I have little feet) so I took them off!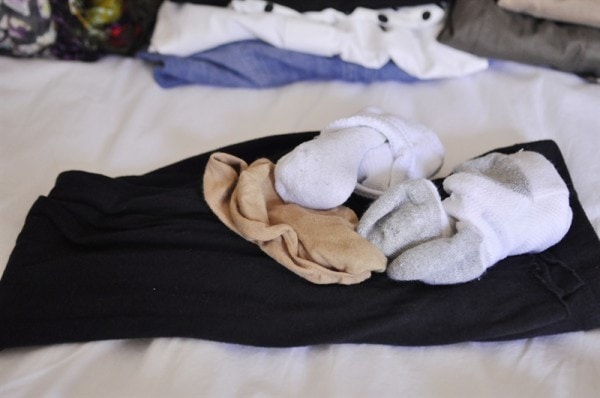 The other thing I highly recommend taking if you are taking a dress or skirt is a pair of black leggings.  I would put these on under my skirt in the morning when it was chilly and then when it warmed up I could just slip them off!
The other essential fashion accessory for Europe is a selection of scarves.  Everyone wears a scarf, especially in Paris.  The men, the women and the children.  Scarves will keep you warm on a chilly day too!  They also help stretch your wardrobe and take up very little room in your suitcase.  You can basically wear the same thing almost everyday and just change out your scarf and it will look like a different outfit!  Especially when you are wearing a trench coat over the outfit!!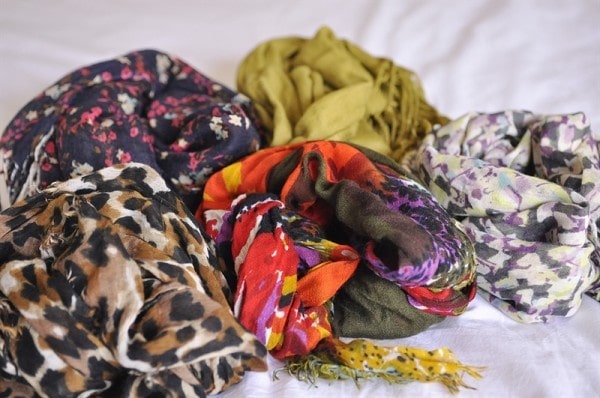 Here is what the pile of clothes (minus the pj's, underwear) looked like.   I carried the tan trench coat on the plane with me and the red one folds up really small (just forgot to add it to the pile for the photo).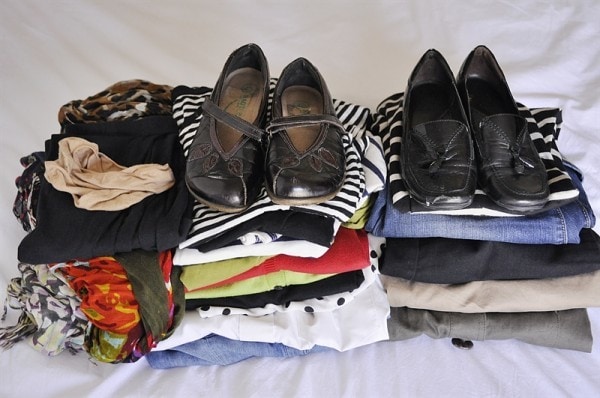 Not too bad for an overpacker!
Here is what I wore on the plane.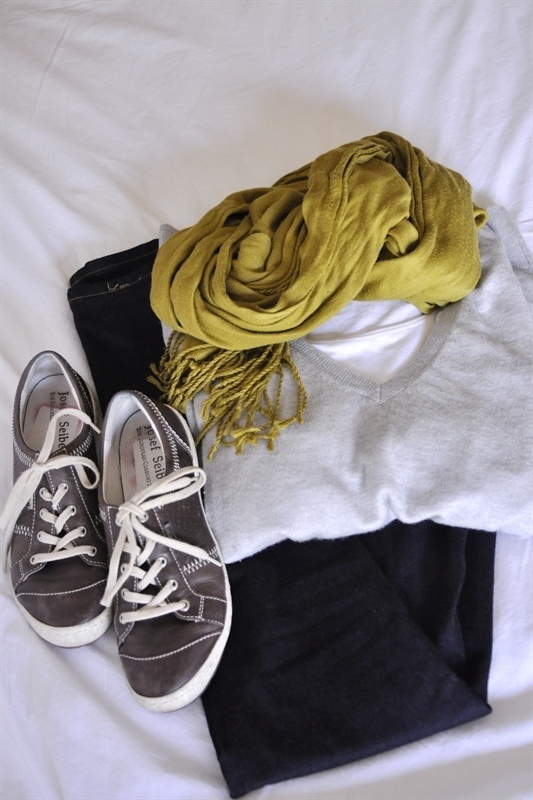 I always wear a scarf when I travel.  I tend to get cold on the plane and I can wrap it around me as a blanket!
So now for what I probably could have lived without: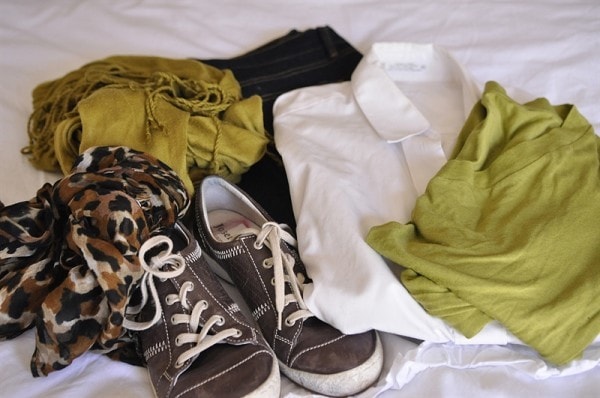 I really would have been fine with 3 pairs of pants.  Didn't really need two pair of denim.  I also didn't really need the third pair of shoes.  I will share with you more details on the shoes tomorrow but I basically ended up wearing one of the pairs 80% of the time because they were so comfortable.  Also, since I packed a white t-shirt I could have done without the white long sleeve shirt and the green long sleeve was similar to my green cardigan so didn't really need it either.  I purchased a few new scarves on the trip in Paris so didn't really need all I took and I borrowed one from my daughter too when I needed a change!  One of the benefits of traveling with other women!
I'll be back tomorrow with more info on my favorite traveling shoes!!
On of my favorite places to shop onlne!
Get $25 OFF your first order! Shop www.eShakti.com