These Easy Orange Rolls are amazing and so easy to make thanks to frozen rolls.  Be sure and watch the video down below!
Orange rolls are a favorite at our house and we have lots of different variations. One Hour Orange Rolls are another quick and easy version. This Sweet Petal Orange Roll are fun to make and eat. And if you are baking for a reduced size crowd check out the Orange Roll for two recipe.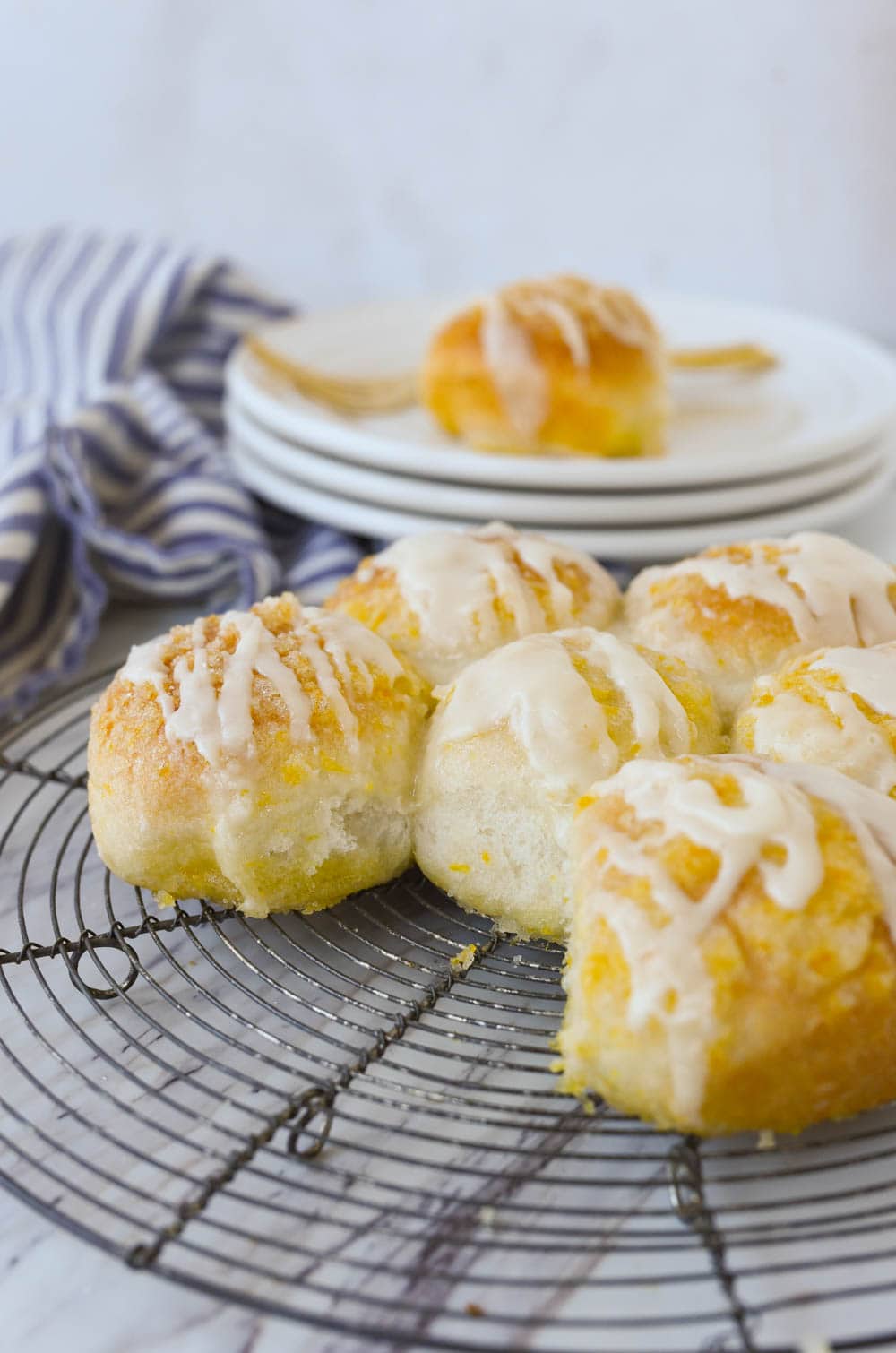 Mother's Orange Rolls
My mother makes amazing orange rolls.  They are required at every Easter and Christmas dinner at our house.  Her recipe is a lovely yeast roll. The downside to that is they take a bit of time to prepare, allowing for all that rising time etc. And then there is that yeast.  I know there are some of you who are scared of it.  You really must read my post all about how to work with yeast to help you overcome that fear!!
Well, I've got a great alternative for you yeast fearing, not enough time in my day people! My friend Jane shared this recipe with me at a lovely lunch she hosted.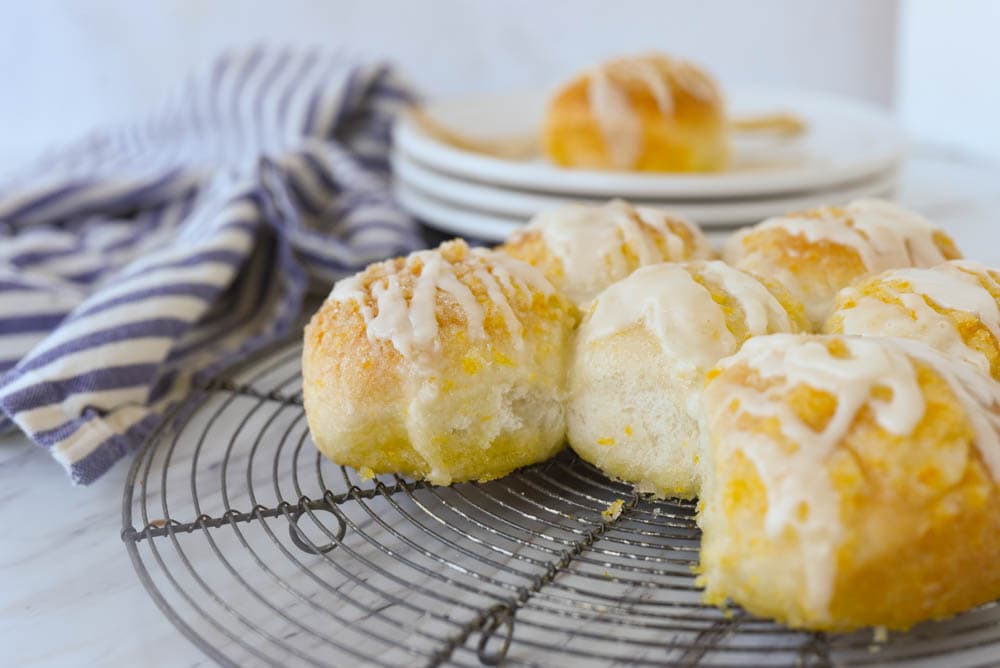 Quick Orange Rolls
The great thing about this recipe is that it uses frozen roll dough (we use Rhodes here in the Northwest). No kneading, no messing around with yeast! The other thing I love about it is you can make however many rolls you need. If you need a dozen, just pull a dozen frozen rolls out of the bag or if you only need four like our reduced size family does that's all you need to make!
How to Make Easy Orange Rolls
Method 1: Spray a plate or baking sheet with cooking spray. Place your desired number of frozen rolls on the plate so they aren't touching. Cover with plastic wrap and place in the refrigerator the night before to thaw.
Method 2: Pull out your rolls in the morning or at least 4 hours before you want to bake them. Place them on a plate or baking sheet sprayed with cooking spray and let them sit at room temperature (covered with plastic wrap) and thaw for about 2-3 hours depending on how warm a day it is.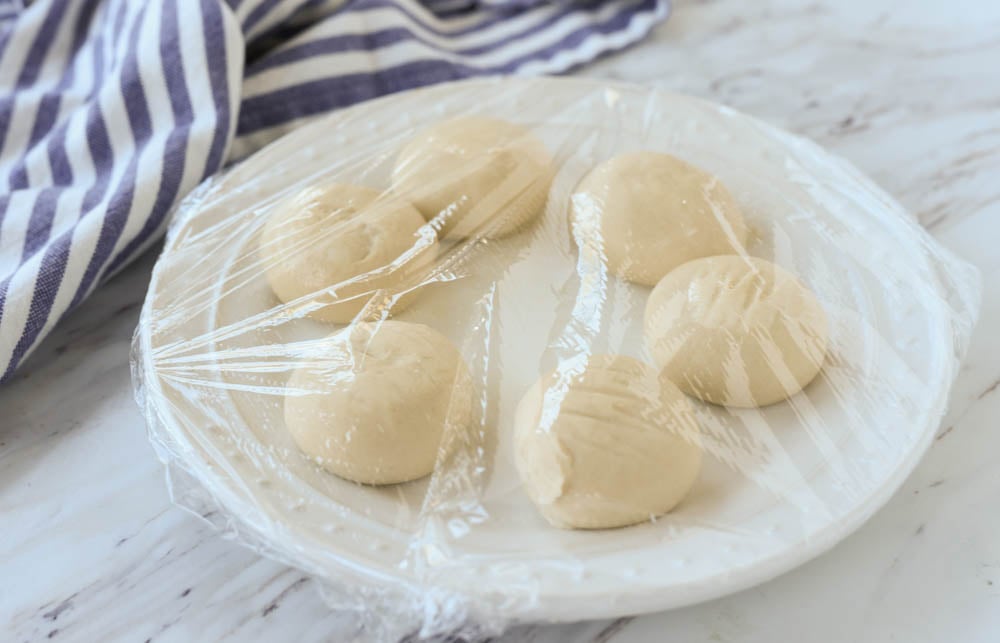 Note: You want the dough to just thaw, not start to rise, before you assemble them.  If you find your rolls are thawed but you aren't ready to assemble and bake them yet, cover them and place them back in the refrigerator and pull them out 1 1/2 hours before you want to serve them. Mine were thawed by noon but I didn't want to bake them until six so I put the thawed dough back in the refrigerator and then pulled them back out to prepare about 1 1/2 hours before dinner.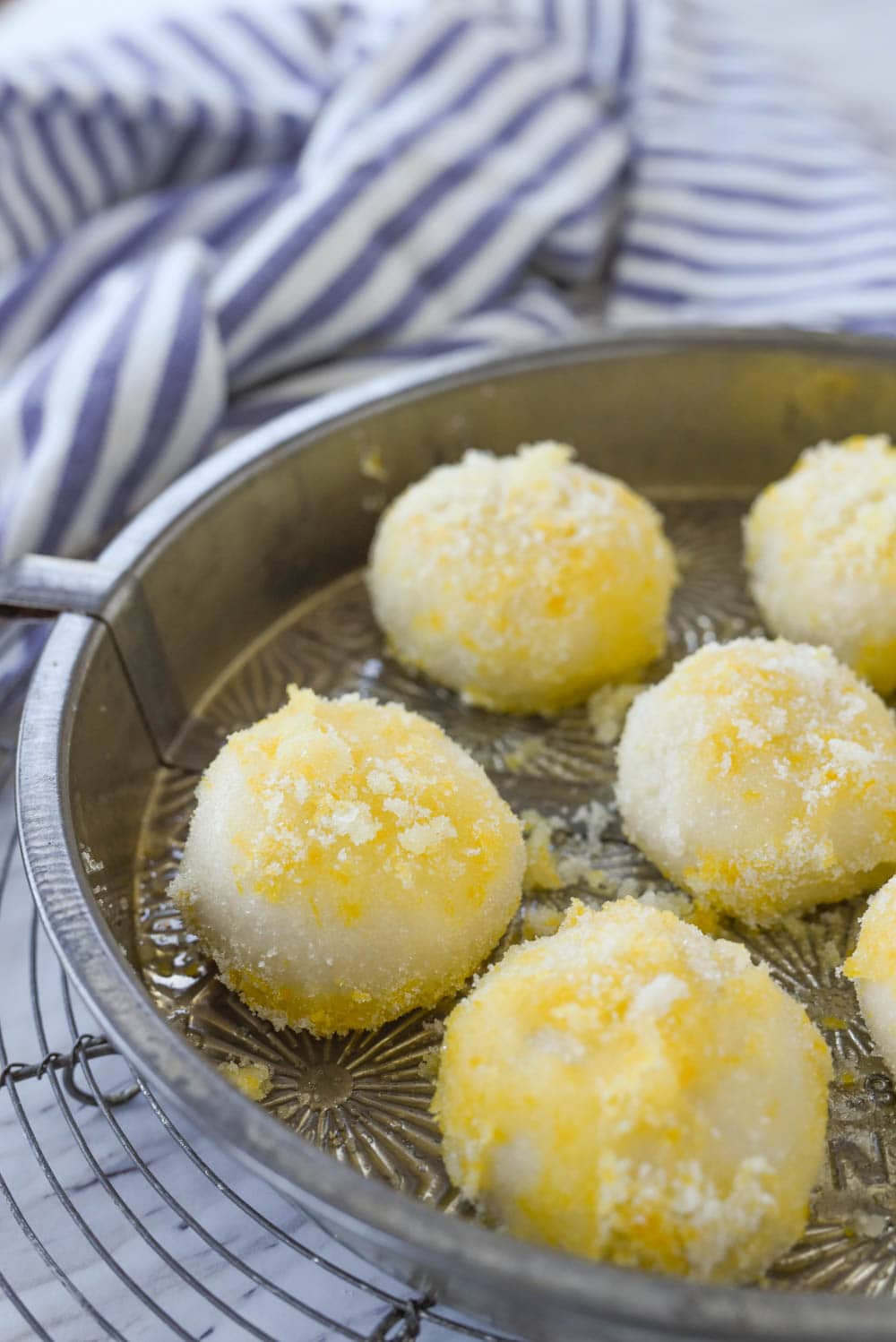 Sugar Coating
Place melted butter in a bowl and sugar and orange zest mixture in a bowl.
Grease a 9 x 13 baking pan if you are doing 12 rolls, for six rolls I used a 8 inch pie tin or 8 x 8 baking dish.
Dip thawed roll into butter and then into sugar mixture.  I coat both sides. Place in greased pan.
Cover with plastic wrap and allow to rise for an hour or double in size.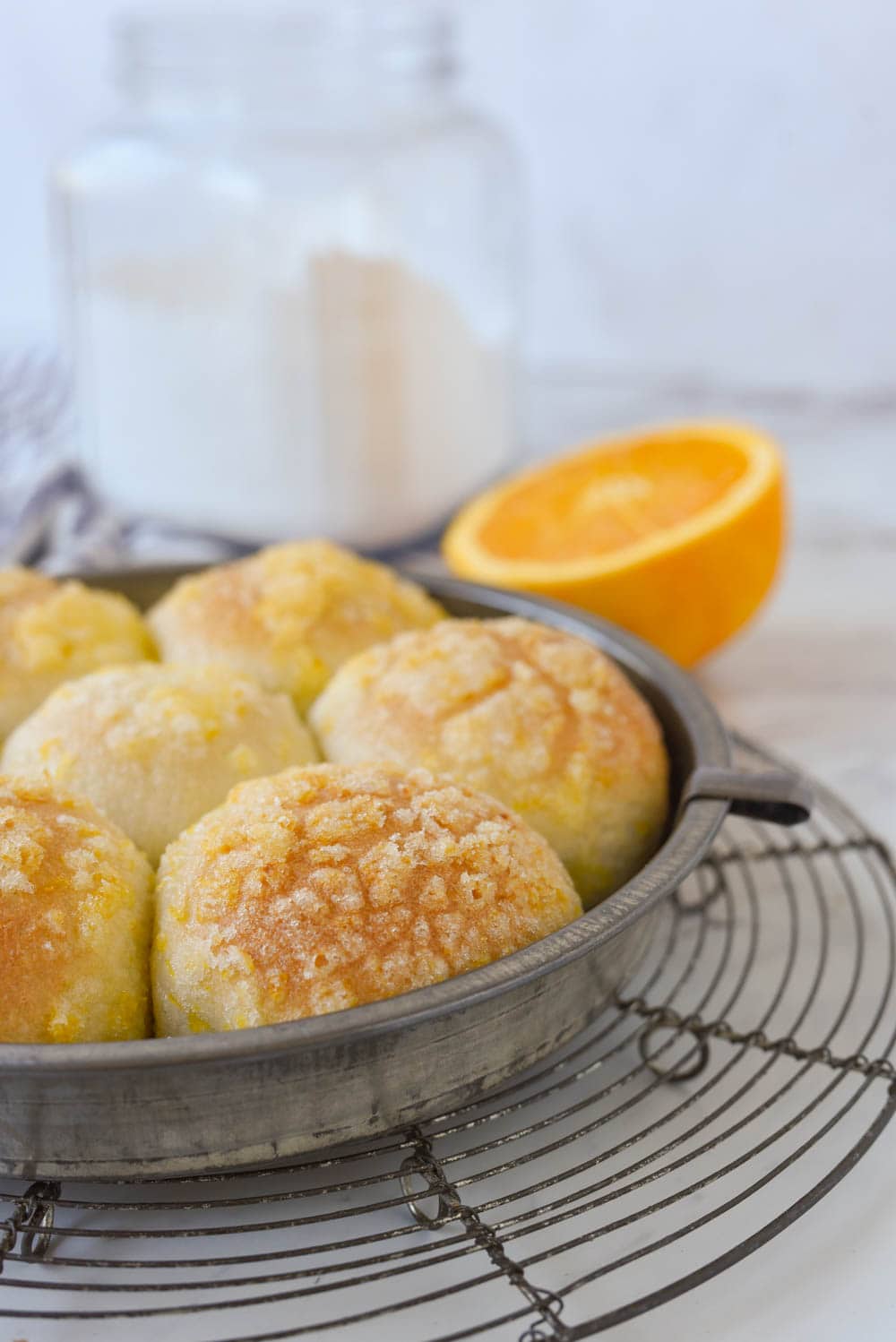 Bake
Bake at 350 degrees F. for 20-25 minutes or until golden brown.
Remove from oven and cool for 5 minutes. Mix up glaze while cooling.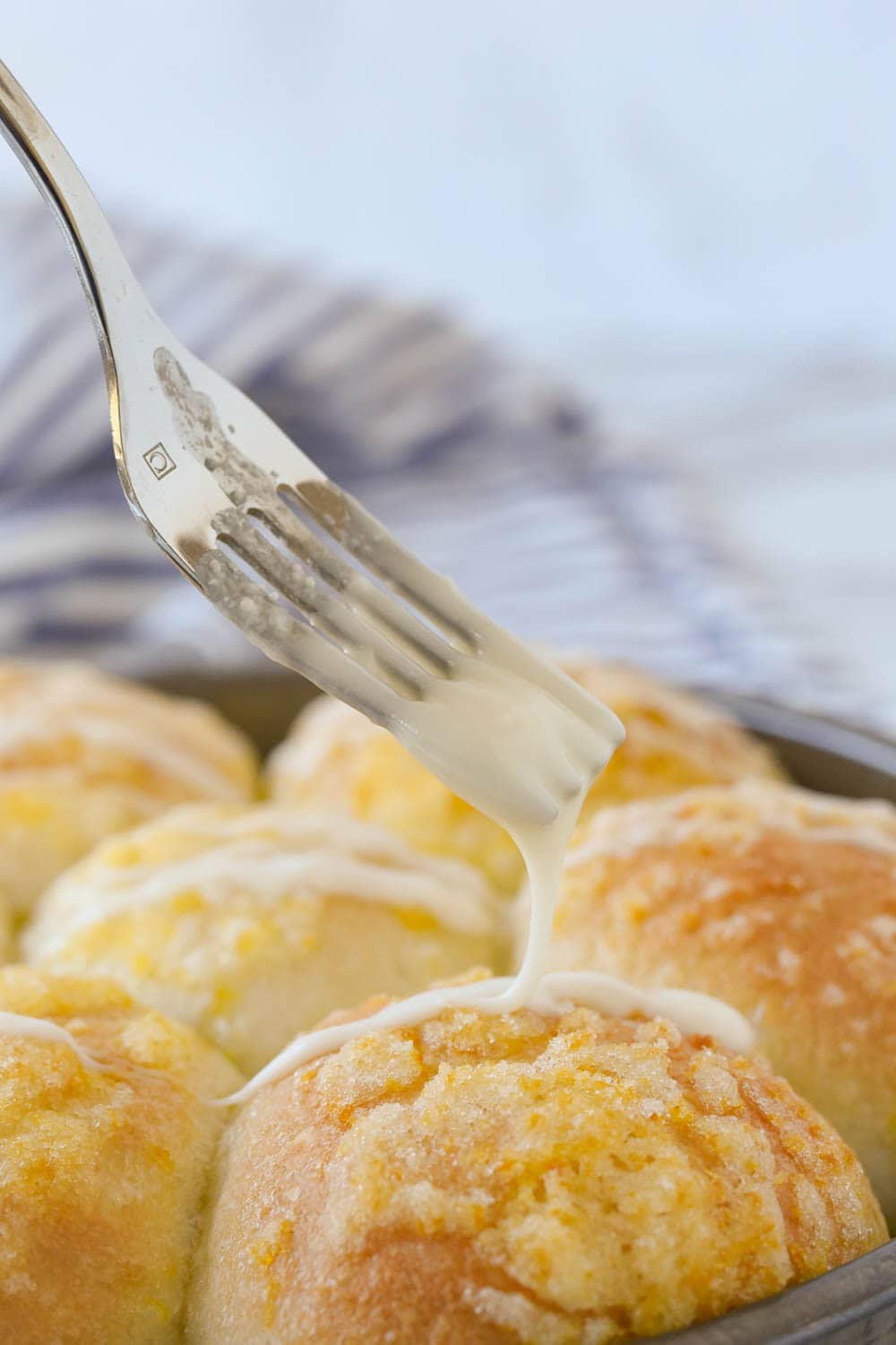 Orange Roll Glaze
Combine powdered sugar, melted butter and orange juice to make a nice drizzling consistency. Then enjoy.
I think these are best served warm. They literally melt in your mouth!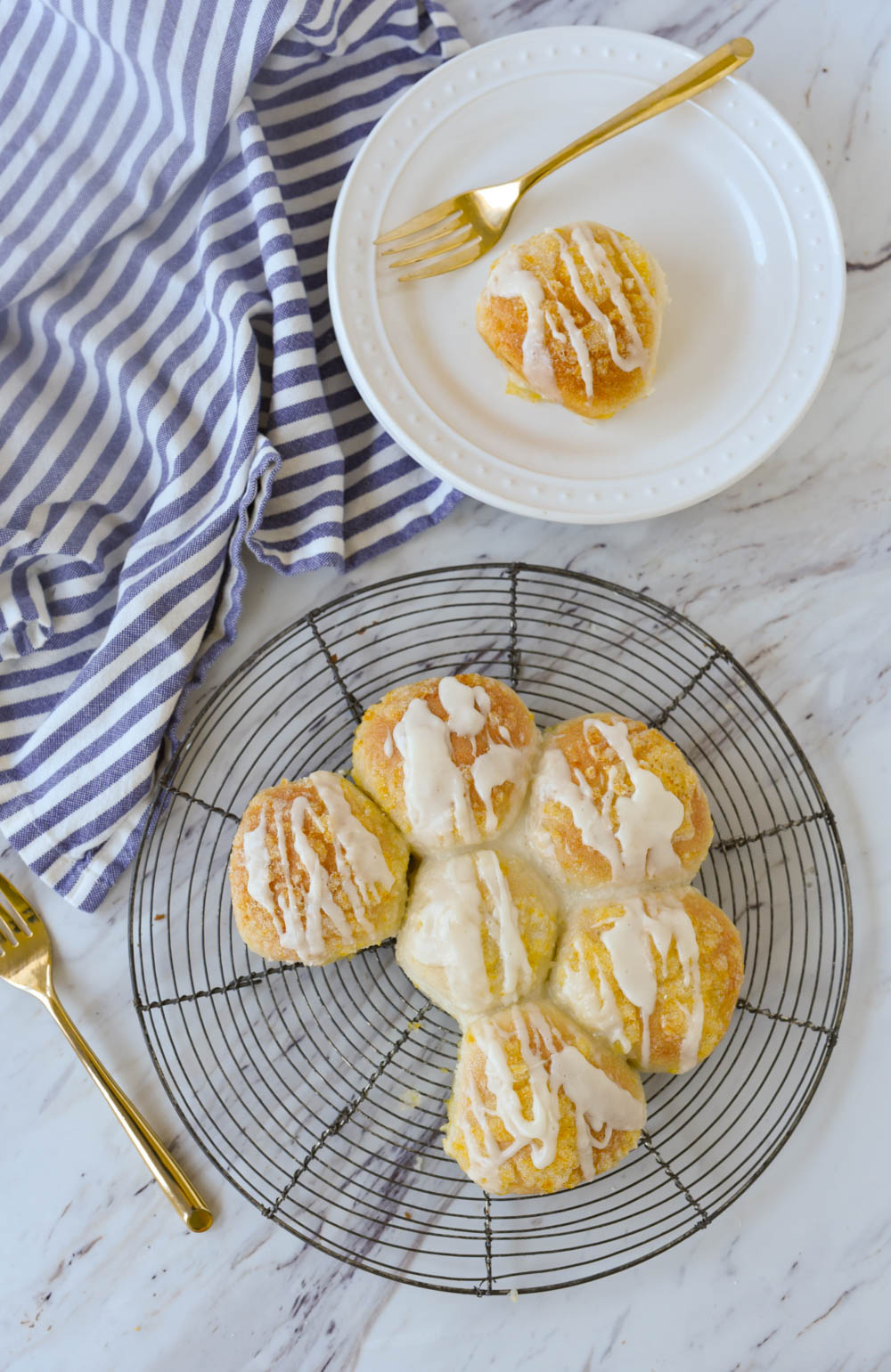 Check out some of my favorite dinner rolls:
For all of my other favorite kitchen products and tools visit my Amazon Store.
Did you know I wrote a cookbook? Check out the Holiday Slow Cooker Cookbook for 100 delicious recipes.
Easy Orange Roll Recipe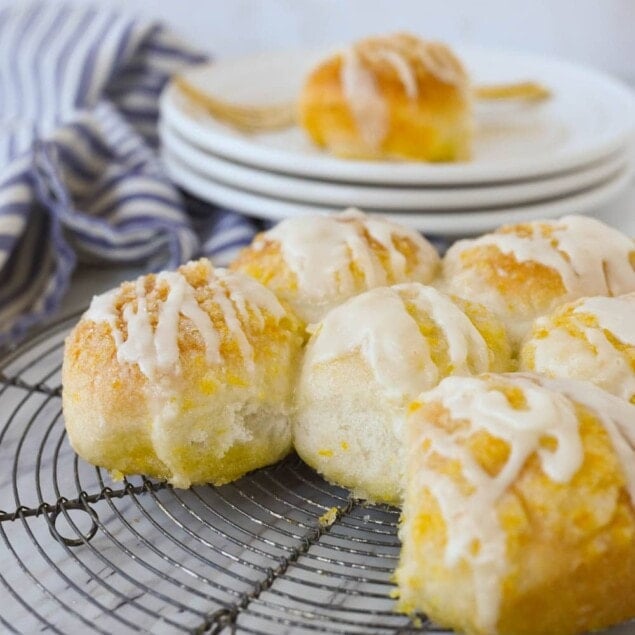 Easy Orange Rolls
These Easy Orange Rolls are amazing and so easy to make thanks to frozen rolls.  Be sure and watch the video down below!
thaw and rising time:
4
hours
Ingredients
Rolls:
12 frozen dinner rolls thawed
orange zest of one orange
1/2 cup sugar
1/2 cup melted butter
Citrus Glaze:
1 cup powdered sugar
1 Tbsp melted butter
2 Tbsp orange juice
Instructions
Thaw dough in the refrigerator over night or 2-3 hours prior to use

Cover with plastic wrap while thawing

Grate orange rind and mix with sugar

Roll thawed roll in 1/2 C melted butter and then in sugar and rind mixture

Place on greased cookie sheet or 9 x 13 pan

Cover with plastic wrap and allow rolls to double in size – approximately 1 hour

Remove plastic wrap and bake at 350 degrees for 20-25 minutes

Mix together powdered sugar, 1 Tbsp melted butter and orange juice and stir until smooth

Let cool 5 minutes and frost with citrus glaze while warm.
Nutrition Facts:
Calories: 266kcal (13%) Carbohydrates: 38g (13%) Protein: 4g (8%) Fat: 11g (17%) Saturated Fat: 6g (38%) Cholesterol: 23mg (8%) Sodium: 302mg (13%) Potassium: 55mg (2%) Fiber: 2g (8%) Sugar: 19g (21%) Vitamin A: 272IU (5%) Vitamin C: 1mg (1%) Calcium: 78mg (8%) Iron: 2mg (11%)
* Disclaimer: All nutrition information are estimates only. Read full disclosure here.
Originally posted July 22, 2011