Chocolate Pot de Creme looks fancy, tastes delicious and is so easy to make!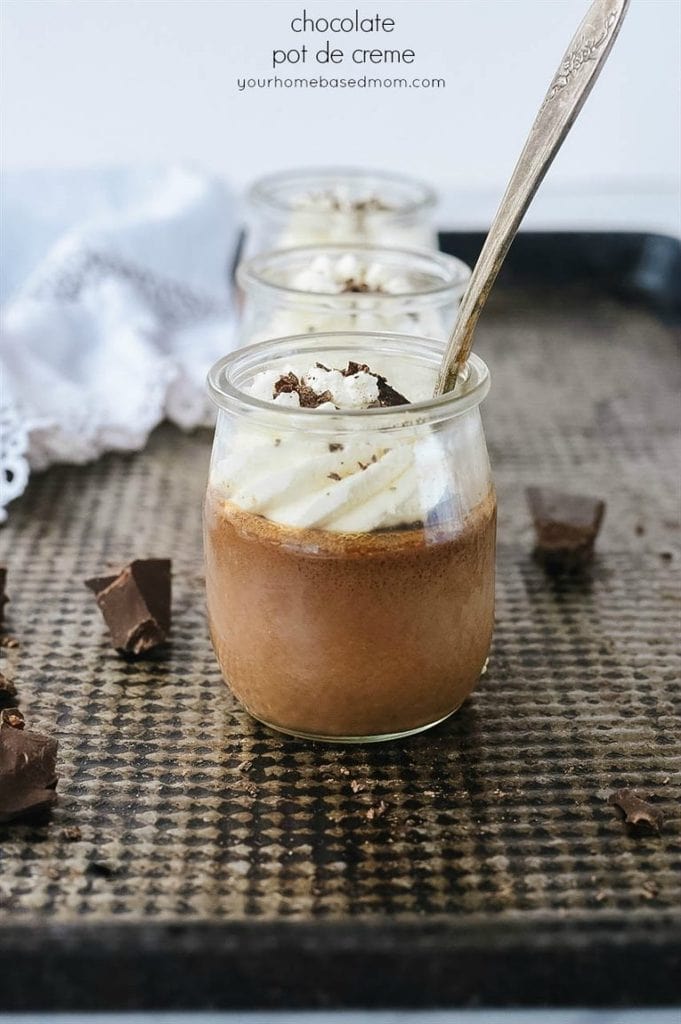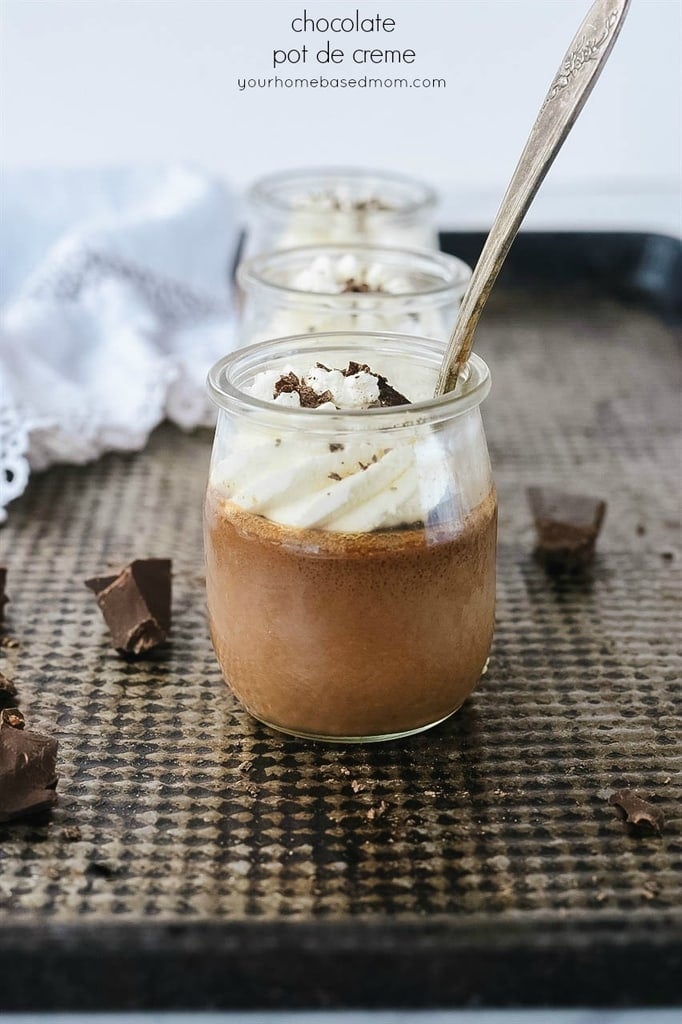 I enjoyed my first pot de creme during a trip to France several years ago. Whenever I make it at home it takes me back to the wonderful trip. They love their pot de creme in France and you can even buy it in the refrigerated section of the grocery store there. I carried home these cute French yogurt containers in my suitcase and they were the perfect thing to serve my pot de creme in but you can use any small dish or ramekin. I love making it for dinner guests because it always gets lots of oohs and ahhs and how cute is that when I bring it out and then once they take a bite I hear, yum, delicious, so good!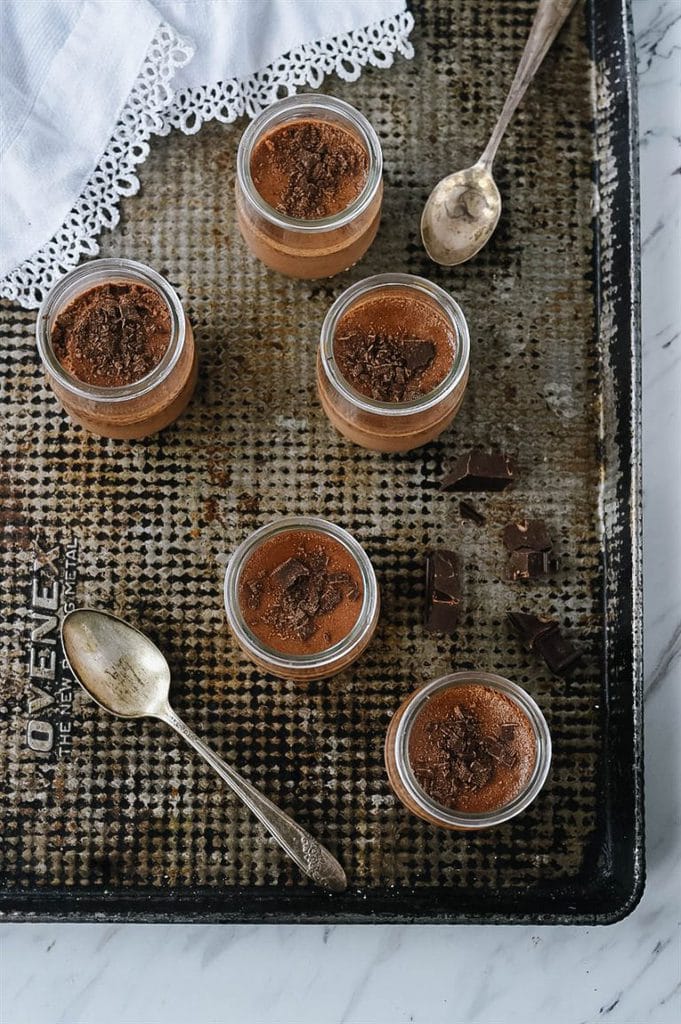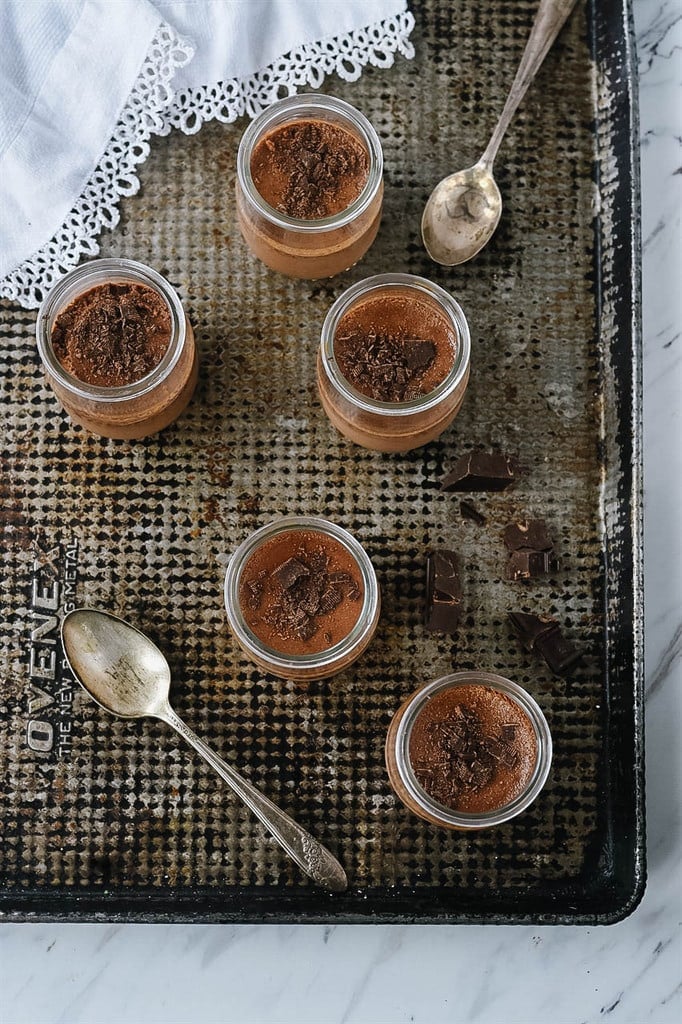 What is Pot de Creme?
Pot de Creme is a French custard like dessert that the French have been enjoying since the 17th century. It literally means pot of custard because it is served in a little glass or porcelain pot.
It is pronounced po de crem, not pot of cream! Don't pronounce the T at the end of pot. And you must roll that r in creme, just like the French.
Chocolate Pot de Creme is a cross between a mousse and a thick chocolate pudding. It is not as thick or firm as custard or flan but firmer than traditional pudding. And it is nice and smooth and chocolatey!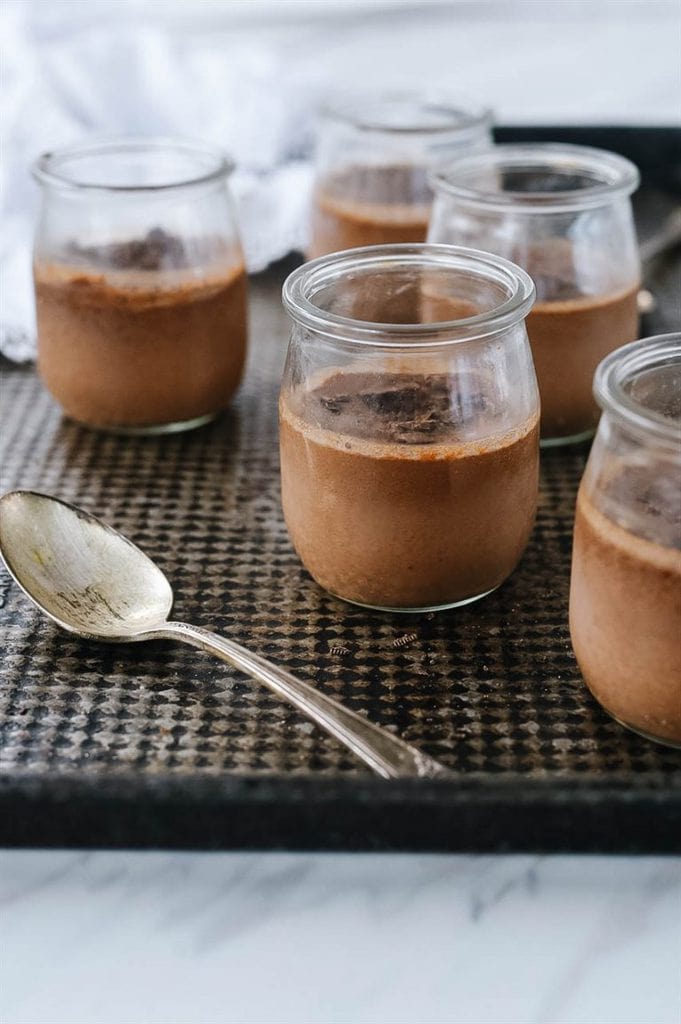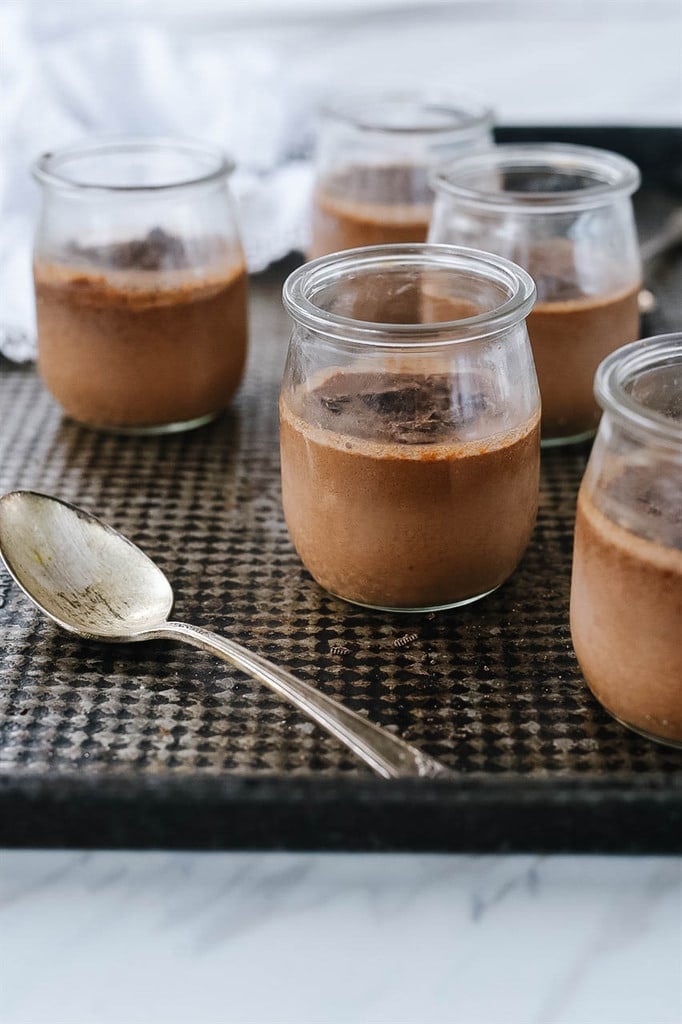 I live serving individual size desserts, it makes it more fun to eat and it feels a little more special. Pot de creme is the perfect dessert to make when you want to impress your guests or make something fun for the family. It is also the perfect Valentine dessert. The best part though is how easy it is to make and you can make it ahead of time and just keep it in the refrigerator until you are ready to serve it. Perfect for a dinner party! A sprinkle of shaved chocolate on top is one way to finish it off.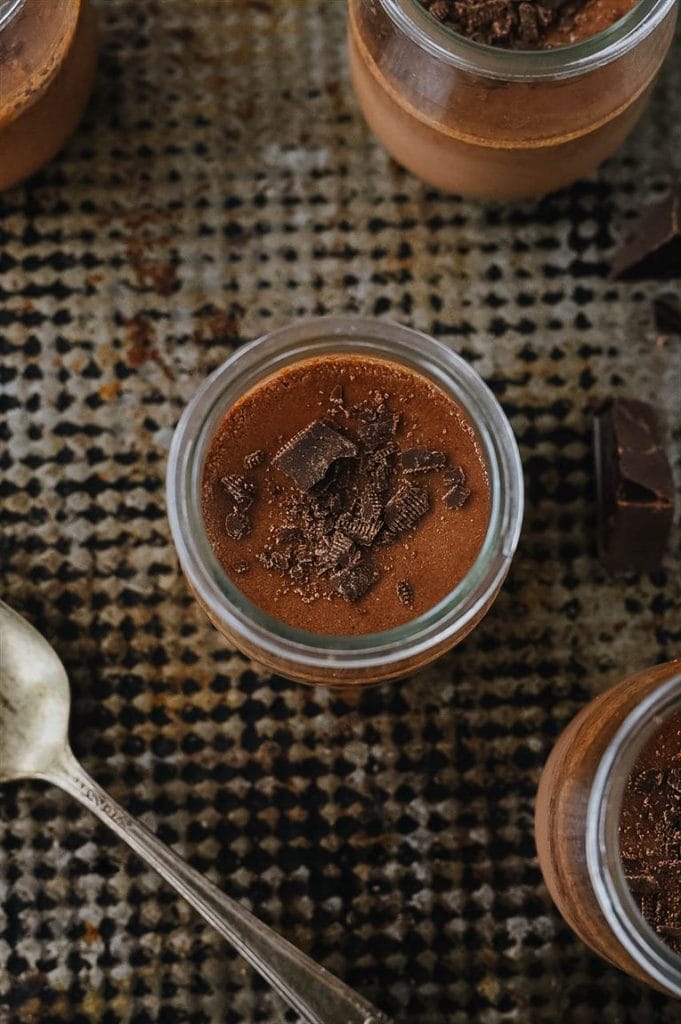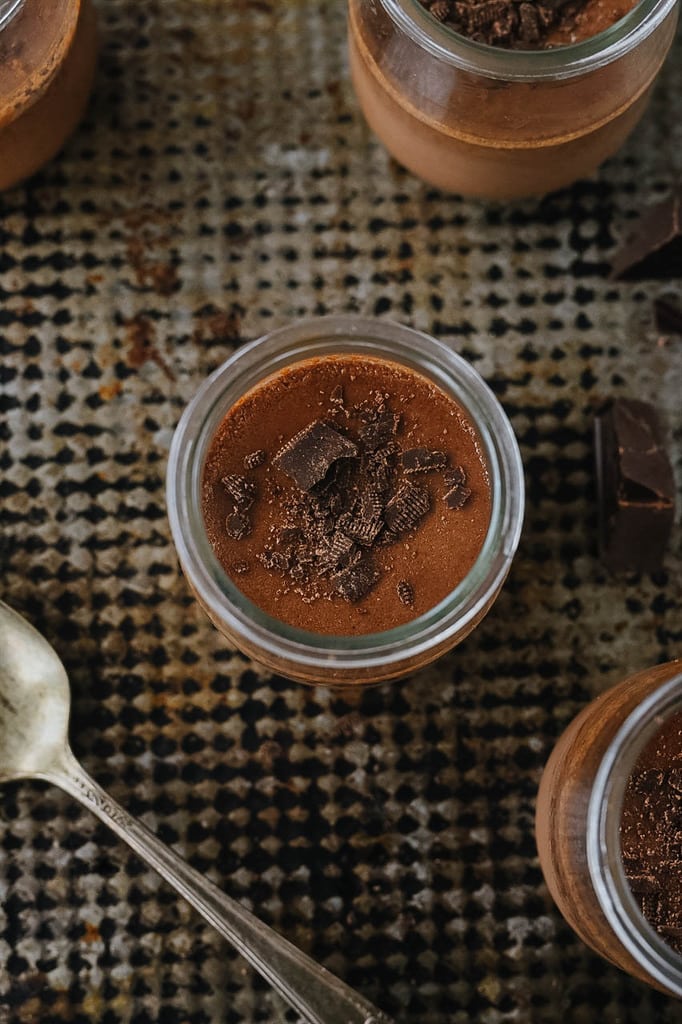 How to Make Pot de Creme
Pot de Creme is a combination of unsweetened bittersweet chocolate and semi sweet. If you want a darker chocolate just use all bittersweet chocolate.
The melted chocolate is combined with egg yolks, whipping cream, half and half and sugar, poured into small cups or ramekins, covered with foil and placed in a baking dish filled with hot water. You want the water level to come about half way up on the jars. This helps keep the temperature more even as it bakes.
I often get asked what half and half is, I guess they don't have it in many parts of the world. It is basically half whole milk and half whipping cream so you can substitute that in the recipe for the half and half.
Bake until the chocolate cream until it is set but is still a little wiggly in the middle. Time will vary a bit depending on the size of your container. Anywhere from 30-40 minutes probably.
Chill for at least 3 hours before serving. Can be made up to two days ahead of time.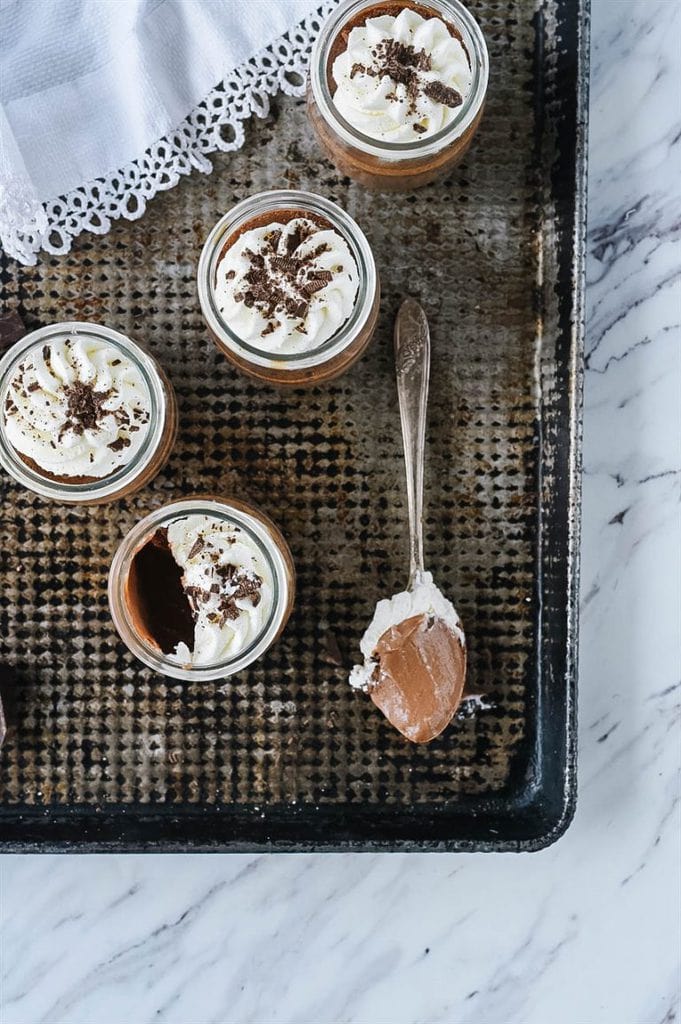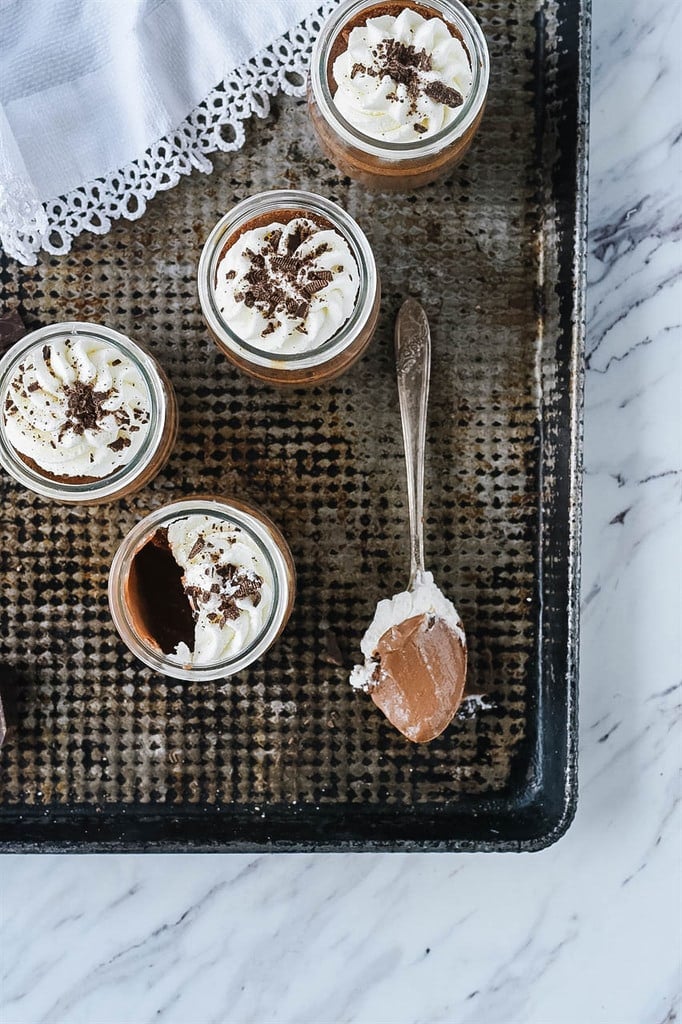 If you want to dress it up a little more, add some sweetened whipped cream and then sprinkle some shaved chocolate on top of that. Then just grab a spoon and dig in and watch it disappear.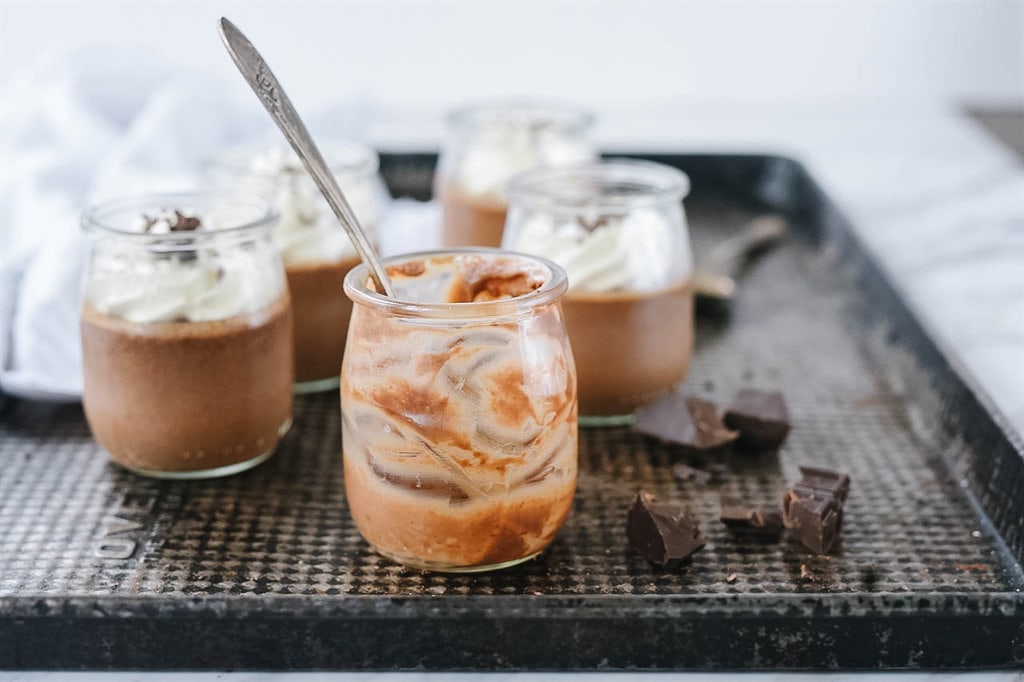 Some other favorite chocolate desserts:
Pot de Creme Recipe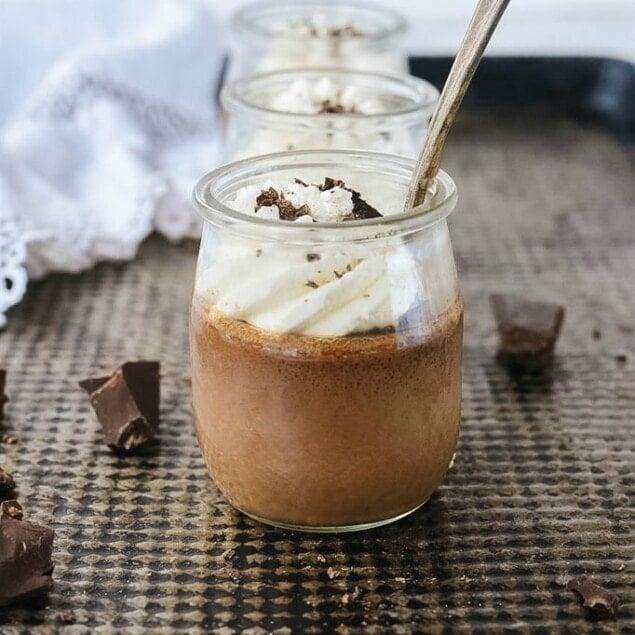 Chocolate Pot de Creme
Chocolate Pot de Creme looks fancy, tastes delicious and is so easy to make!
Ingredients
1 1/4 cups heavy whipping cream
1 1/4 cups half and half
1 cup semi sweet or bittersweet chocolate chips
6 egg yolks
1/3 cup sugar
1 tsp vanilla
pinch salt
Instructions
Preheat oven to 300 degrees F.

Bring milks to a simmer in a sauce pan over medium heat. Remove from heat and add chocolate. Allow to sit for a minute to allow chocolate to melt. Stir until smooth.

Mix together egg yolks and sugar. Whisk into chocolate mixture.

Strain the mixture to remove any pieces of egg that may still be there.

Pour mixture evenly into cups (1/2 – 3/4 cup size) Cover with foil. Place cups into a baking pan that is filled with enough hot water to come half up on the cups of chocolate.

Bake until custard is set but still have a little movement when gently shaken. About 30-40 minutes depending on container size.

Refrigerate at least 3 hours. Can be made the day ahead. Cover and keep chilled until ready to serve.
Nutrition Facts:
Calories: 513kcal (26%) Carbohydrates: 31g (10%) Protein: 7g (14%) Fat: 40g (62%) Saturated Fat: 23g (144%) Cholesterol: 283mg (94%) Sodium: 51mg (2%) Potassium: 292mg (8%) Fiber: 2g (8%) Sugar: 22g (24%) Vitamin A: 1180IU (24%) Vitamin C: 0.7mg (1%) Calcium: 127mg (13%) Iron: 2.4mg (13%)
* Disclaimer: All nutrition information are estimates only. Read full disclosure here.