Olive Bread is the perfect thing to serve with a big green salad or a delicious pasta meal, or just about anything!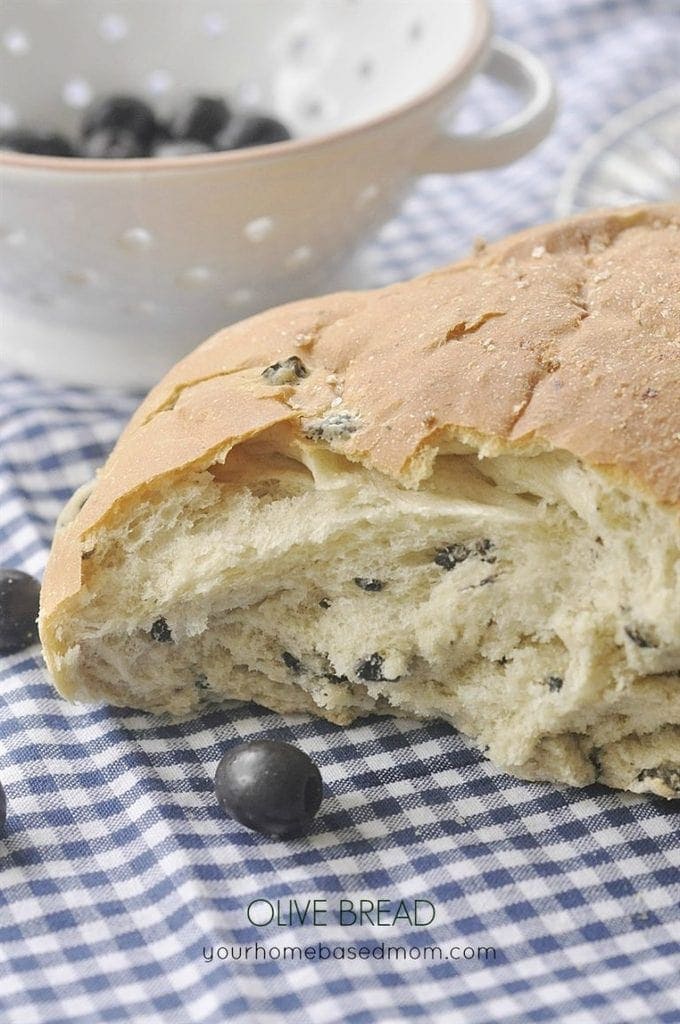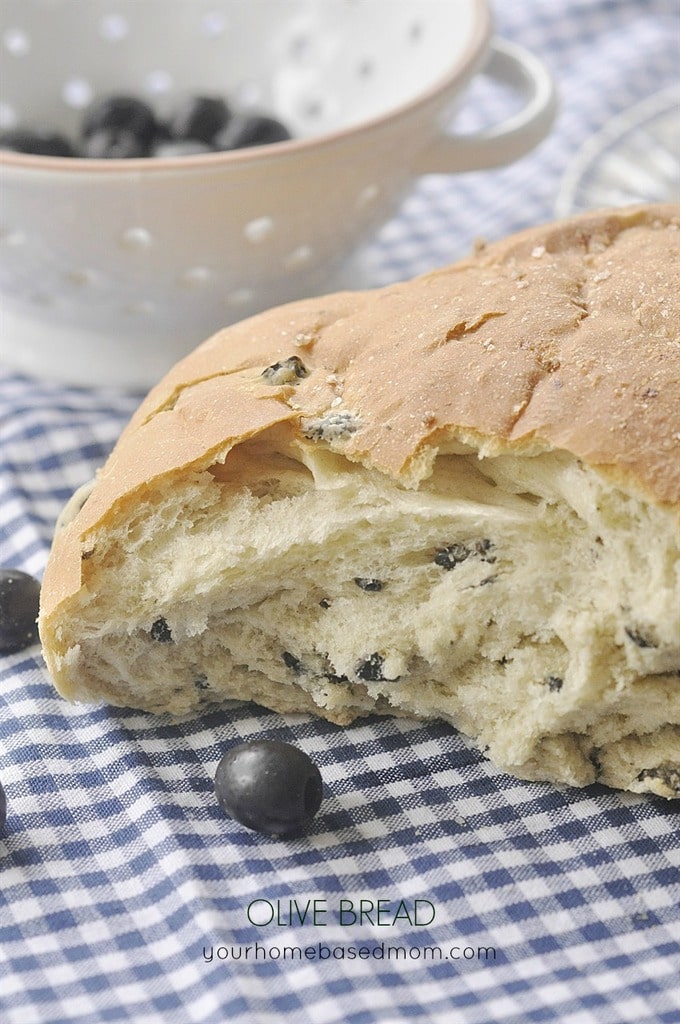 This post is sponsored by California Olive Committee but all opinions are my own.
Olive Bread is so easy to make and the addition of California Ripe Olives dresses up the bread and the flavor.
(scroll down for the recipe)
A few weeks ago I was able to travel down to the beautiful Napa Valley to attend an event hosted by California Ripe Olive Committee.
It was a beautiful and delicious trip and the scenery was amazing.  The event took place at the Culinary Institute of America (CIA) which is in a beautiful old winery.  It's like stepping back in time!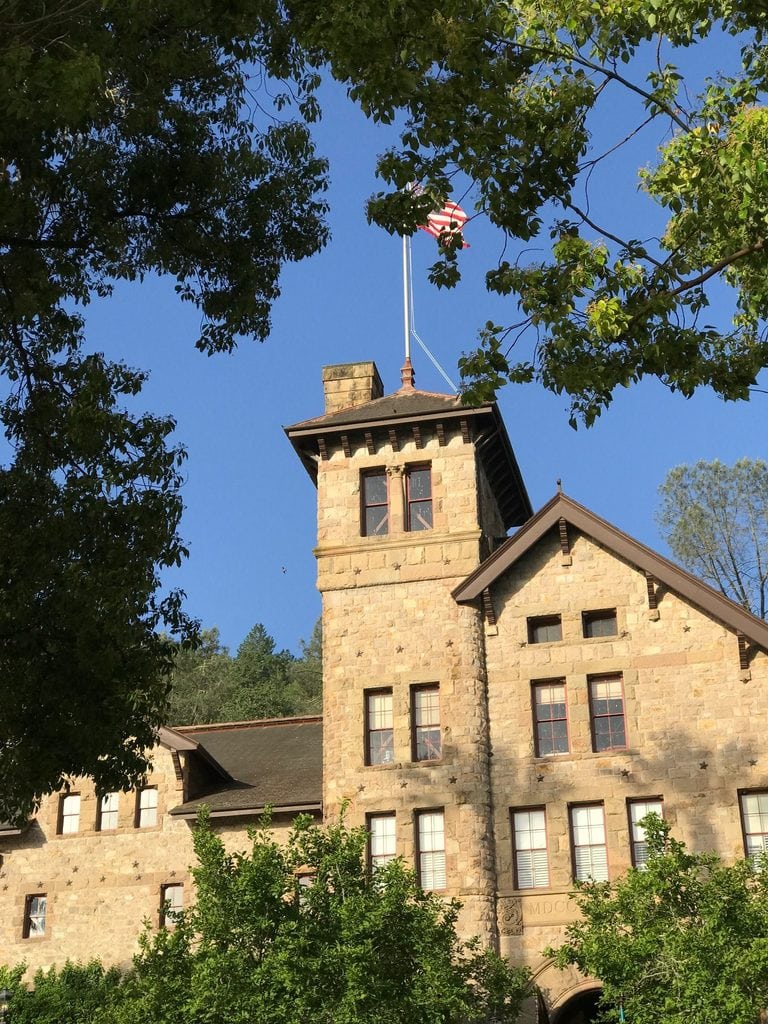 We enjoyed so much delicious food, all of which incorporated California Ripe Olives.  Everything from the salad to the dessert and it was all delicious. We learned how versatile California Ripe Olives can be! The weekend began with a beautiful dinner hosted by California Ripe Olives and Elise Bauer of Simply Recipes.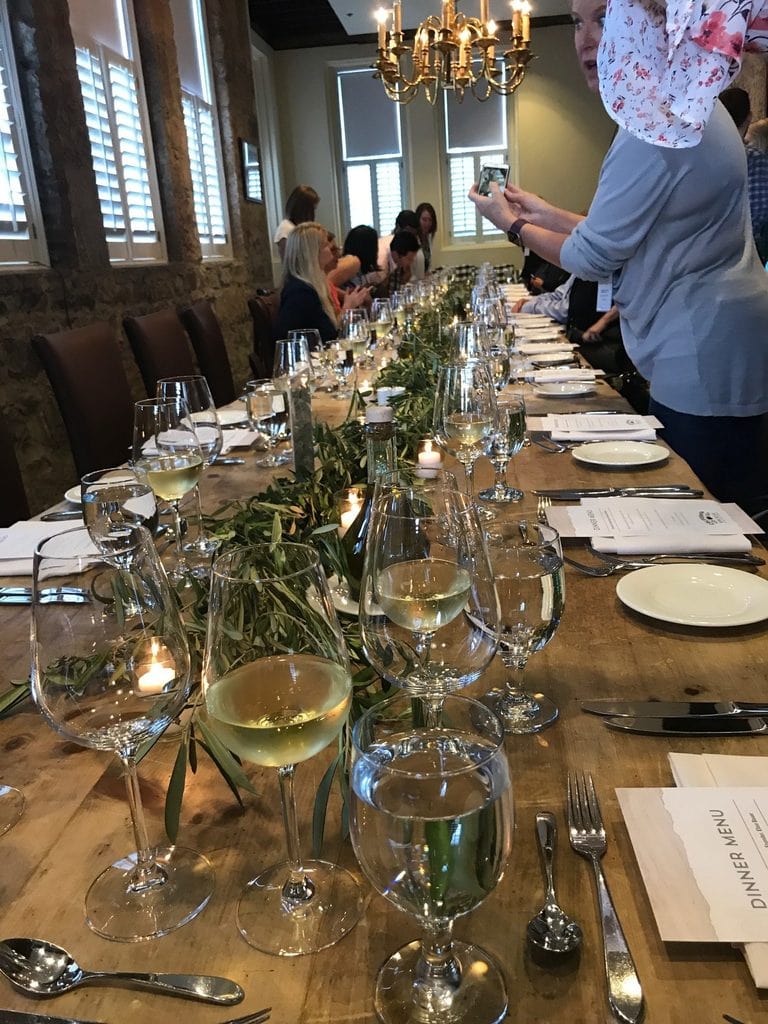 Elise developed the menu for us and every dish incorporated olives!  I think the dessert may have been my favorite. The fact that there was lemon curd involved didn't hurt!!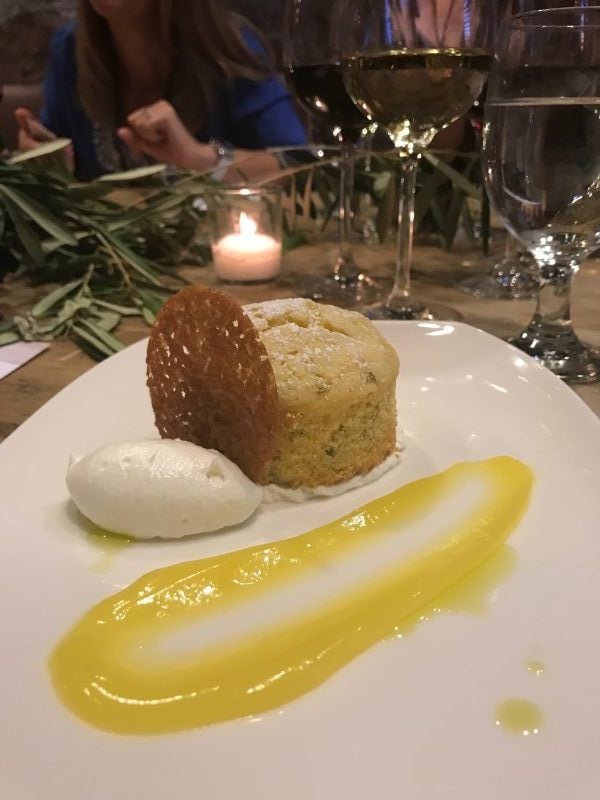 The following day we got to meet some of the olive growers.  I think this was my favorite part of the trip, we were able to hear their family's stories.  Most of the growers are fourth generation olive growers and you could really feel their love and passion for what they do and the family history that is such an important part of their business. We learned that California produces 95 percent of all table olives. Olive trees are the oldest cultivated trees and are over 8,000 years old.  We learned that it takes seven days to cure olives and we also got to do a little olive tasting.  In addition to the black and green olives, we tried some smoked olives and some sugared olives (my personal favorite!)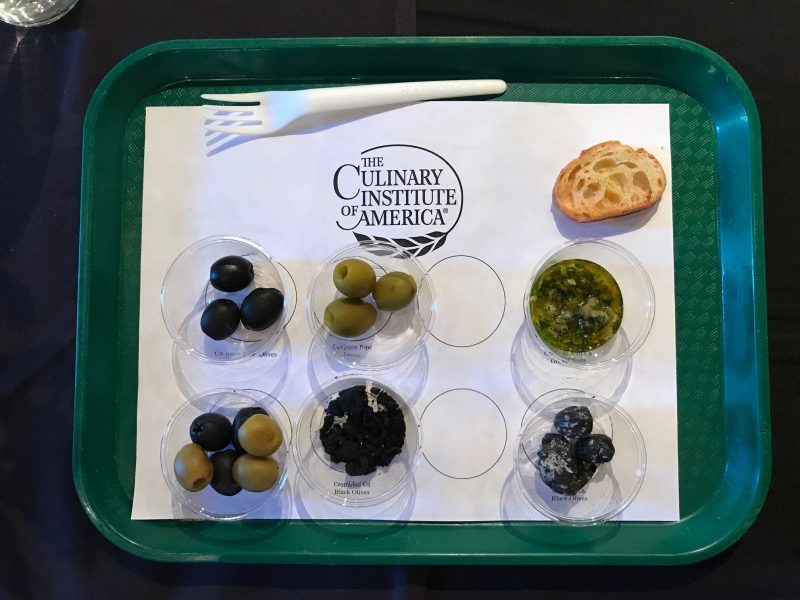 If you are like me, you grew up with a bowl full of black olives at every family holiday and most Sunday dinners.  You probably ate them off the ends of your fingers too, I did!  I am definitely pro olive!
Then we got to head to one of the kitchens at the CIA and along with one of their chefs and Elise of Simply Recipes we divided into teams to create our own olive based dish. I had the best team ever! I teamed up with Heather of Heather Likes Food, Kellie of The Suburban Soapbox and (taking our picture) Karista of Karista's Kitchen.  Two of our team members had been to culinary school so that gave us a bit of an advantage!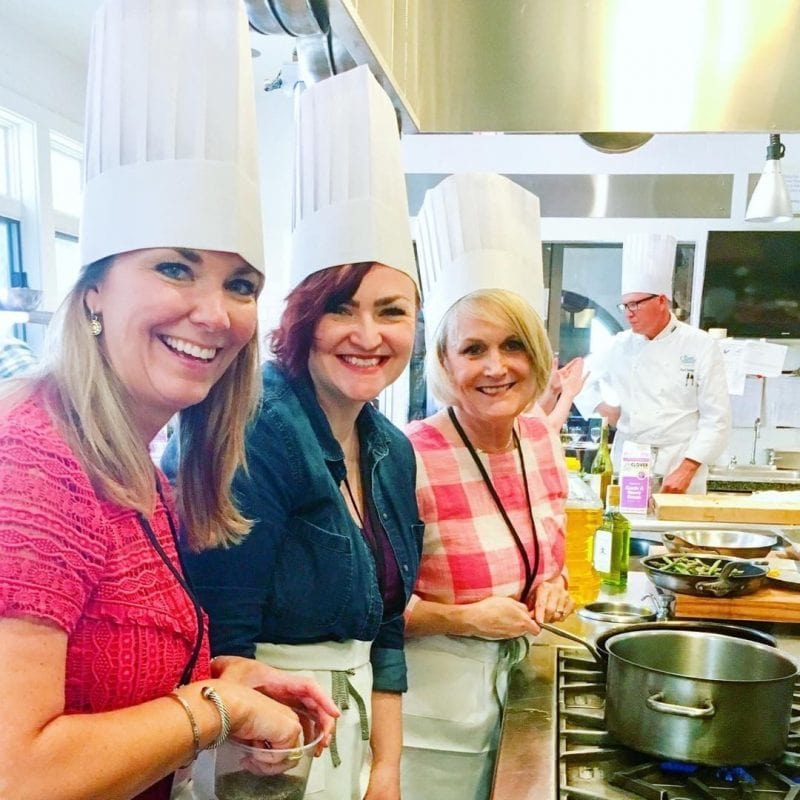 Our team came up with a delicious recipe for these pan fried pork medallions with a kumquat and green olive topping served over a goat cheese polenta, roasted asparagus and topped with pine nuts.  Oh yeah!  It was quite delicious!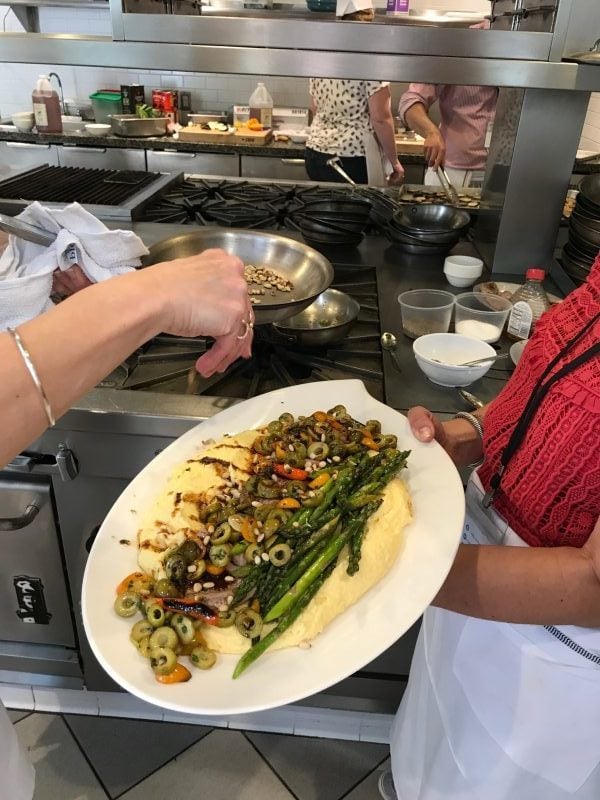 It was a fabulous trip and really got me excited and inspired about coming home and incorporating olives into more of my recipes.  Several years ago I enjoyed a delicious olive bread at a restaurant and thought about it often.  I decided it was time I make it at home instead of just thinking and dreaming about that bread.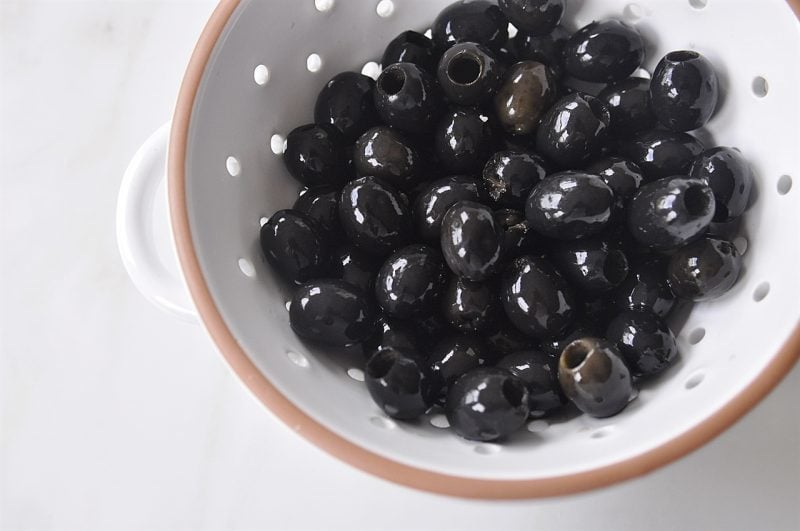 The addition of black olives to this artisan style bread gave it not only some great flavor but texture to the bread.  And it's just a fun surprise! I used the California ripe black olives but it would be pretty with a green olive too.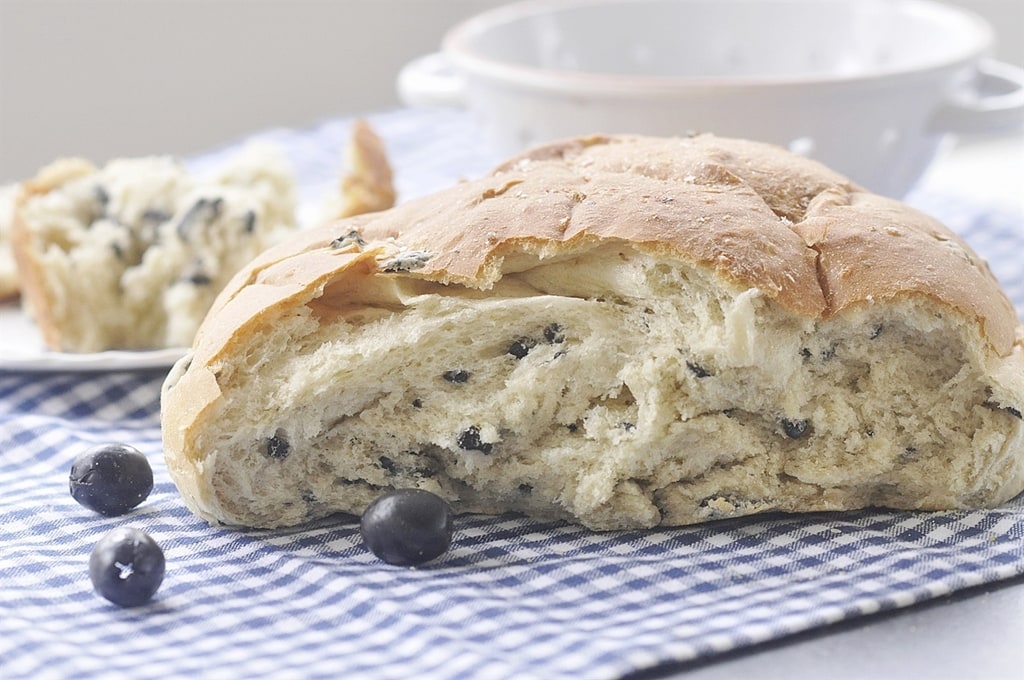 The olive bread has a great tender texture and the crust gives it just the right amount of chew.  The bread has so much flavor it doesn't even need butter.  I added a little dish of olive oil for dipping but really didn't even need it.  I prefer to just tear at my bread rather than slice it!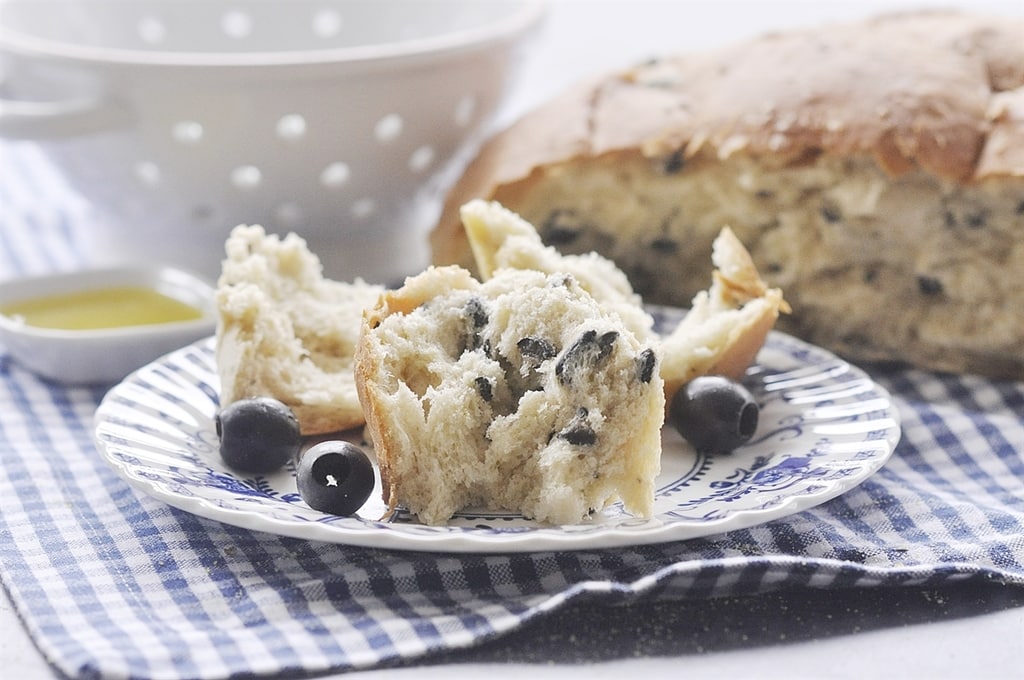 A sprinkle of some coarse salt on top of the olive bread loaf was the crowning touch!
Be sure to follow California Ripe Olives on Facebook.
Olive Bread Recipe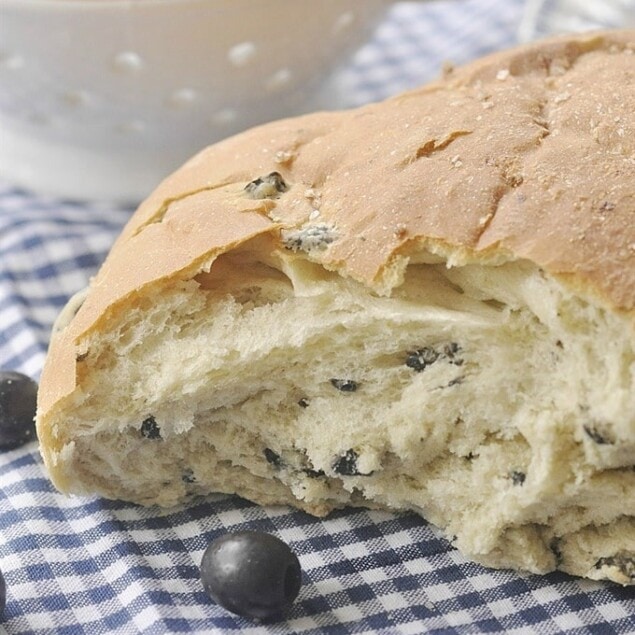 Olive Bread Recipe and California Ripe Olives
Olive bread is the perfect thing to serve with a big green salad, a delicious plate of pasta or just about anything and everything!
Ingredients
2 tsp active dry yeast
1/4 cup warm water 110 degrees F.
1 Tbsp white sugar
3 cups all-purpose flour
1 1/2 tsp garlic powder
1 tsp salt
1 cup black olives
3 Tbsp olive oil
1 cup warm water
cornmeal for sprinkling
coarse salt for sprinkling
Instructions
Put yeast and sugar into 1/4 cup warm water. Allow to sit for 5- 10 minutes until it becomes foamy.

Mix together flour, salt, garlic powder, olive oil and 1 cup water and yeast mixture.

Add in olives and knead for 5-10 minutes or until smooth and elastic.

Cover and allow to rise until double about 45 -60 minutes.

Punch down and form dough into a round loaf and place onto a lightly greased cookie sheet that has been sprinkled with cornmeal. Allow to rise until double, about 30 minutes.

Sprinkle top of loaf with coarse salt if desired.

Preheat oven to 400 degrees and place a shallow pan of water on the bottom rack of the oven.

Bake bread at 400 degrees F for 15 minutes and then reduce heat to 350 degrees F and back for another 30 minutes or until done.
Tips & Notes:
Recipe makes 1 loaf.
Nutrition Facts:
Calories: 259kcal (13%) Carbohydrates: 40g (13%) Protein: 6g (12%) Fat: 9g (14%) Saturated Fat: 1g (6%) Sodium: 558mg (24%) Potassium: 93mg (3%) Fiber: 3g (13%) Sugar: 2g (2%) Vitamin A: 66IU (1%) Calcium: 16mg (2%) Iron: 2mg (11%)
* Disclaimer: All nutrition information are estimates only. Read full disclosure here.