Enjoy a list of my favorite British TV shows.  I have been a lover of the British murder mystery and family drama for decades and have definitely watched my fair share!
Click on the link below for your available streaming services to see which of my favorite British TV Shows are available to watch: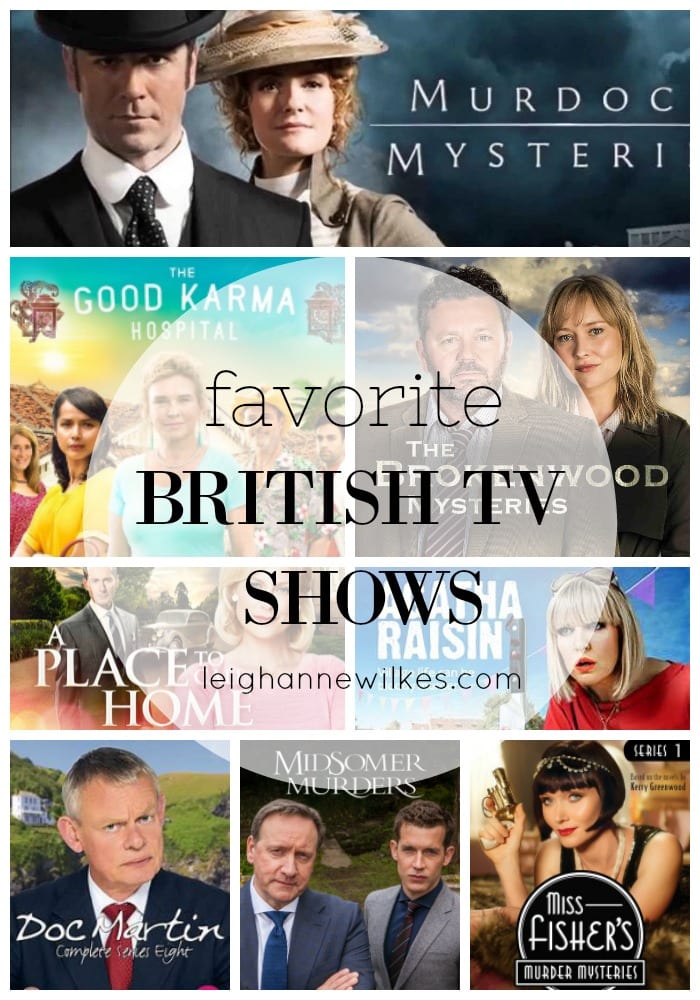 If you are a fan of the British mini series, Larkrise to Candleford you will more fully appreciate my use of the phrase, "my one weakness." You see, my one weakness is British TV. I adore British television and that is pretty much exclusively what I watch.
I have been a fan of British TV since I was young and began watching Upstairs, Downstairs when it first aired in 1971. It was our Sunday night viewing pleasure.
I am often asked by friends and readers what my favorite shows are so I have put together a list. I have organized the list by viewing platforms, Acorn TV, Brit Box, Amazon Prime and Netflix. You can subscribe to Acorn TV and BritBox through Amazon Prime. All of them have a monthly subscription fee.
Fvorite British TV Shows on Amazon Prime
Midsummer Murders One of my favorites. You will be glad there are 21 seasons! The best of the English village murder mystery.
Downton Abbey is a favorite and has been one since the very first season. If you are one of the few that haven't watched this series yet promise me you won't judge the series by the first episode. Be sure and watch at least two episodes before you make a judgement call. The only thing I don't like about British TV is how short the seasons are!
The Durrell's in Corfu is based on a real life family. The widowed mother and her four children move to a Greek Island in the 1930's. The series is based on their real life adventures and simply delightful. I want to move to a Greek Island!
Home Fires is the story of a group of amazing women left behind living in a rural village during WWII while the men are off to war.
Mr. Selfridge Based on the real life story of an American retail magnate who opens a department store in London and teaches the English how to shop!
Larkrise to Candleford is a delightful series set in the English countryside at the end of the 19th century. It is the story of the small hamlet of Lark Rise and the wealthier neighboring market town of Candleford. After watching this show you will appreciate my comment of "my one weakness." There are four seasons. You'll also recognize someone from this series who is now in Downton Abbey!
Foyle's War is set during World War II and is the story of Detective Foyle as he attempts to catch criminals who are taking advantage of the confusion the war has created. Seven Seasons.
Miss Marple is the fictional character found in 12 of Agatha Christie's detective novels. Miss Marple is an elderly spinster and amateur detective who lives in the English village of St. Mary Mead and seems to have people dying all around her. Six Seasons.
More British TV on Amazon Prime
Pie in the Sky is a light hearted police drama about a detective that is also a chef and owns a restaurant called "Pie in the Sky." Loved the main character Henry Crabbe and the combination of police work and food!! Five seasons.
Rosemary and Thyme is the story of two women gardening detectives. It seems that on every gardening job they take on someone ends up dead in the garden! The series is set in beautiful English and European gardens which made me love it even more. They are middle age women who are both forced to reassess their life and they end up forming a partnership and friendship. Three seasons.
Land Girls set during WWII this is about the Women's Land Army. Women who wanted to serve their country during the war and went out into the country and worked on farms. Three seasons.
Call the Midwife is the story of newly qualified midwives living with the nuns of Nonnatus House, a nursing convent, coping with the medical problems in a deprived area of East London in the 1950s. Nine Seasons.
Poldark Ross Poldark returns home to England after the American Revolutionary War and rebuilds his life with a new business venture, making new enemies and finding a new love where he least expects it. Five seasons
Victoria The story of one of the world's greatest monarchs – Queen Victoria of England. Three seasons.
Detectorists The lives, loves and and detecting ambitions of two members of the town's metal detecting club. The show may sound a little quirky and it is but it really grew on me and I watched all four seasons.
Endeavour
Favorite British TV Shows on Acorn TV
Acorn is available through Amazon Prime.
Doc Martin is a comedy/drama set in a small English seaside village. A successful surgeon, Dr. Martin, develops a fear of blood and is forced to leave his London practice. He settles in a seaside village as a GP where his gruff, ill-mannered, and lack of social skills takes some getting use to by the villagers. Nine seasons.
My Life is Murder Only two seasons so far but a good show. The story of an Australian female retired cop turned private detective.
Murdoch Murders I almost stopped watching after the first episode but so glad I didn't. Have really fallen in love with the handsome and charming Detective Murdoch. Set in Toronto in the late 1890's where new techniques of fingerprinting and psychological profiling are first used. Thirteen seasons.
A Place to Call Home Set in Australia this one is addicting. A family drama full of secrets, intrigue, passion and mystery! Six seasons.
Agatha Raisin. A newer English mystery/detective show. Agatha is a delight and a retired London PR executive turned personal detective in the Cotswolds. Three Seasons
More British TV on Acorn
The Brokenwood Mysteries Brokenwood is a small town with lots of secrets and Detective Shepherd works to uncover them and solves murder mysteries. Six Seasons
Miss Fisher's Murder Mystery I loved this show and I especially loved Miss Fisher's wardrobe. Set in Australia, Miss Fisher is a modern woman living in the 1920's solving murders. Three Seasons
Queens of Mystery A contemporary murder mystery series of a single female detective and her three crime writing aunts as they solve murder mysteries. One Season so far.
Good Karma Hospital British doctors working in a hospital in India and all it's eccentric patients and inhabitants. Three Seasons.
800 Words The newly widowed George Turner moves his two teenage children to a small New Zealand town where he spent his childhood summers. As you can imagine, his children aren't thrilled. Each episode ends with one of his columns he writes, each are 800 words long. Three Seasons.
George Gently. An older English mystery series features Detective Gently makes him almost as feared among his colleagues as the criminals. Eight Seasons.
Miss Fisher's Modern Mystery A spin off from Miss Fisher's Murder Mystery, her long lost niece follows in her footsteps solving mysteries in the 1960's in Australia. Three Seasons
Janet King A Female prosecutor returning from maternity leave and thrust into a controversial case. Three Seasons.
Favorite British TV Shows on Netflix
The Crown – Historical drama on the reign of Queen Elizabeth – very well done!
Broadchurch – A little darker mystery show set in current day in the small seaside town of Broadchurch.
Call the Midwife – see above
Land Girls – see above
Favorite British TV Shows on Brit Box
Brit Box is available through Amazon Prime
Father Brown After years of hearing his parishioners confessions Father Brown has an uncanny insight into the criminal mind that helps him solve murders and mysteries. Seven Seasons
Shakespeare and Hathaway A comedy drama featuring two odd ball detectives living and working in Shakespeare's hometown. Two SEasons
Shetland Based on a best selling Shetland novels. The show takes place on a close knit island of Shetland. Five Seasons.
Rosemary and Thyme (see above)
Vera Based on the best selling novels by Ann Cleeves. Vera is a disheveled, female Columbo! Ten Seasons.
Midsommer Murders (see above)
Inspector Morse. This is an oldie but a goodie. The cultured Inspector Morse is a bit gruff but you learn to love him. Eight Seasons
Lewis Lewis was the long time partner of Morse and five years after the death of Inspector Morse, Lewis is still solving murders in Oxford. Be sure and watch this one after Inspector Morse. Eight Seasons
Miss Marple The sweet elderly Miss Marple is the neighbor everyone wants, especially if you have a murder in your neighborhood! Six Seasons
CranfordSet in the 1840's, follows the lives of the people of Cranford, a small English town on the edge of change. The railroad and a good looking doctor arrive…. Two Seasons.
Larkrise to Candleford (see above)
I'd love to hear what some of your favorite British TV shows are! Leave me a comment and let me know.
Doctor Blake Mysteries
For all of my other favorite kitchen products and tools visit my Amazon Store.
Did you know I wrote a cookbook? Check out the Holiday Slow Cooker Cookbook for 100 delicious recipes.