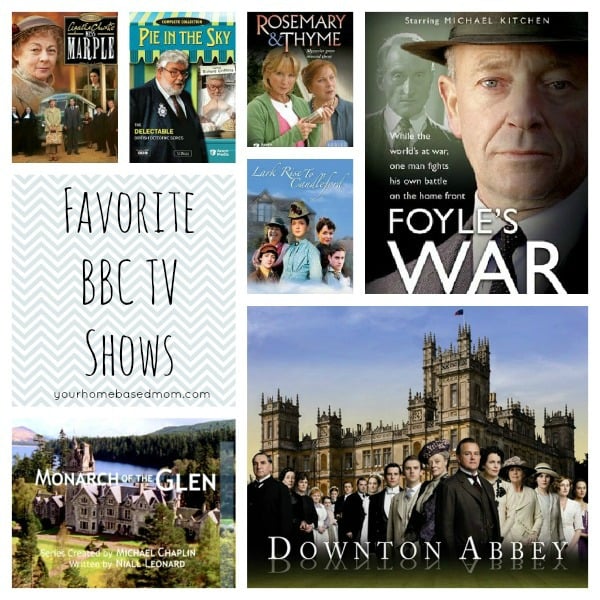 One of the requests I received on my blog survey was to share with you some of my favorite things.  It has given me some pause to really consider what some of my favorite things are.
We are not big "toy" people at our house.  We don't have the latest and greatest electronic gadgets.  In fact I joke that if someone were to break into our house they would be sorely disappointed.  We don't even have a flat screen TV.  So you aren't going to see any favorite electronic gadget posts here at Your Homebased Mom.   But I have started making a list.
One of the reasons we don't have a fancy TV at our house is that we aren't big TV watchers (o.k., so my  husband does watch a bit of sports but he is a total non-toy boy!  As long as he has a TV that works, he is happy.) I don't watch any network TV (O.K. except for that cute Neil Caffrey on White Color)  but I do admit to having a weakness, "my one weakness", and that is BBC/British TV.  I adore British television and today I want to share with you my list of favorite British/ BBC shows.
I have been a fan of British TV since I was young and began watching Upstairs, Downstairs when it first aired in 1971.  It was our Sunday night viewing pleasure.
Most of the  shows I have watched on Netflix or gotten on DVD from my local library.
Of course, like the rest of the world, I am a total Downton Abbey fan and have been since the very first season.  If you haven't given into the craze yet you must give it a try but promise me you won't judge the series by the first episode.  Be sure and at least watch two episodes before you make a judgement call.  The only thing I don't like about British TV is how short the seasons are!  Can't believe we have to wait until next January for more Downton Abbey.  Especially after what the season finale did to us!!!
Here is a list of my some of my other favorites BBC TV shows and mini-series:
Larkrise to Candleford is a delightful series set in the English countryside at the end of the 19th century.  It is the story of  the small hamlet of Lark Rise and the wealthier neighboring market town of Candleford.  After watching this show you will appreciate my comment of "my one weakness."   There are four seasons.  You'll also recognize someone from this series who is now in Downton Abbey!
Foyle's War is set during World War II and is the story of Detective Foyle as he attempts to catch criminals who are taking advantage of the confusion the war has created.  Seven Seasons.
Miss Marple is the fictional character found in 12 of Agatha Christie's detective novels. Miss Marple is an elderly spinster and amateur detective who lives in the English village of St. Mary Mead and seems to have people dying all around her. Six Seasons.
Monarch of the Glen is a modern day Downton Abbey.  The story of a Scottish family who are struggling to hold onto the family estate.   Julian Fellowes, the creator of Downton Abbey is in this show and was actually writing the screenplay for Downton at the same time.  Seven Seasons.
Pie in the Sky  is a light hearted police drama about a detective that is also a chef and owns a restaurant called "Pie in the Sky."  Loved the main character Henry Crabbe and the combination of police work and food!!  Five seasons.
Rosemary and Thyme  is the story of two women gardening detectives. It seems that on every gardening job they take on someone ends up dead in the garden!  The series is set in beautiful English and European gardens which made me love it even more.  They are middle age women who are both forced to reassess their life and they end up forming a partnership and friendship.  Three seasons.
Land Girls set during WWII this is about the Women's Land Army. Women who wanted to serve their country during the war and went out into the country and worked on farms. Three seasons. ( I have only watched the first season)
Call the Midwives was a new season last year.  The story of newly qualified midwives living with the nuns of Nonnatus House, a nursing convent, coping with the medical problems in a deprived area of East London in the 1950s. One Season
Doc Martin  is acomedy/drama set in a small English seaside village.  A successful surgeon, Dr. Martin, develops a fear of blood and is forced to leave his London practice.  He settles in a seaside village as a GP where his  gruff, ill-mannered, and lack of social skills takes some getting use to by the villagers.  Five seasons with a sixth in the making.
BBC Mini-Series
The Grand  is an eight part mini-series The Grand, an hotel is closed for renovations following World War I, the hotel and its staff face financial ruin, foreclosure, suicide, and infidelity before even reopening its doors to guests in the first episode of the series. When it finally welcomes visitors, guests abound, but so does trouble. This story has everything a miniseries requires: suspense, social climbers, financial double-dealing, humor, murder, and semiretired prostitutes.
Other favorite mini-series:North and South, Wives and Daughters, of course Pride & Prejudice, Persuasion, Sense and Sensibility, Northanger Abbey, Mansfield Park, Jane Eyre, Wuthering Heights
Would love to hear what your favorite ones are!  Please leave me a comment and let me know.
Get my Weekly Menu Plan for FREE!
Receive my FREE "What's for Dinner?" Meal Planning Course, a copy of my FREE ebook that includes my most popular recipes and my FREE weekly Meal Plan.