Today I am excited to welcome Lindsey from Cafe Johnsonia.  I've been totally drooling over this amazing recipe she is sharing today.  Not only is she a good cook she has beautiful photography!  Enjoy her yummy recipe and beautiful pictures.  In addition to all the Bake ideas here on the blog my friends Mique will be sharing Craft ideas and Cindy will be sharing Sew ideas and Mallory and Savannah at Classy Clutter will be sharing decorate ideas!    Exciting right!?  Be sure to check out all the ideas they are sharing each day as part of Bake Craft Sew Decorate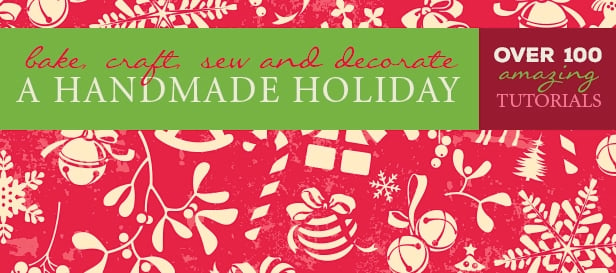 This buttery toffee has a hint of sweet maple flavor and is chockfull of pecans. It makes a bunch of toffee – enough to share and keep some for yourself!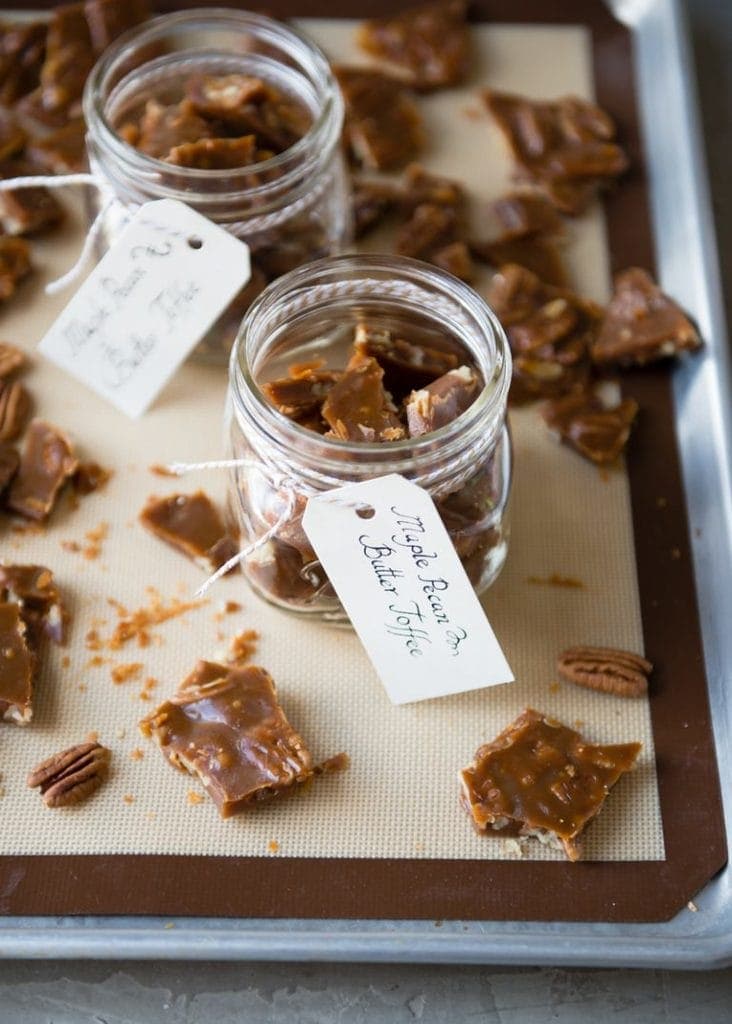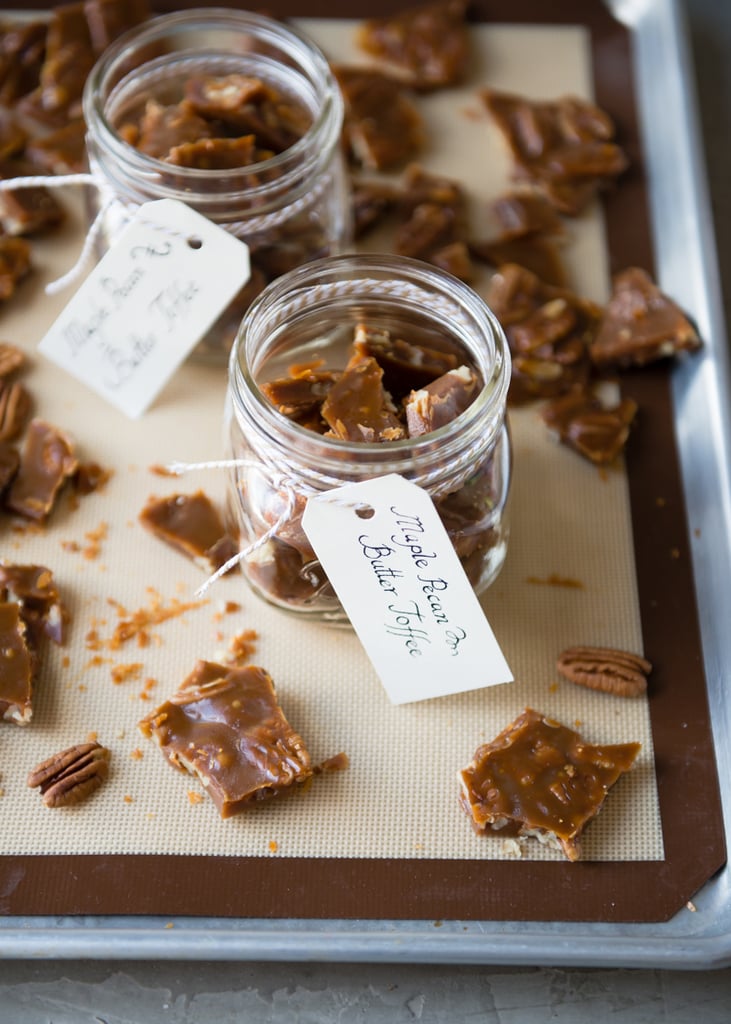 Hello everyone! I'm happy to be a part of Bake Craft Sew again this year. My name is Lindsey Johnson and I blog over at Cafe Johnsonia. Besides blogging, I work full-time for Simple Green Smoothies as their in-house photographer and recipe developer. When I'm not taking pictures of or sipping on green smoothies, I'm dreaming up tasty treats and healthy meals (not necessarily in that order!) for the people I love. A big thanks to Leigh Anne for letting me pop over to share this recipe for Maple Pecan Butter Toffee with you!
Every year during the holidays, I would watch my mother and grandmother make homemade candy. Eventually when I was old enough, I got to help. When I grew up and left home, I started making candy on my own, and now I make it with my kids. Over the years I've tried new recipes and even come up with a few of my own. A few years ago I started making a toffee recipe from one of my very favorite cookbooks, Small Plates and Sweet Treats by Aran Goyoaga. The recipe is simple, straightforward and tastes incredible. Aran's original recipe calls for toasted hazelnuts. I changed it up a tiny bit to fit an idea I've had on my mind for the last little while – Maple Pecan Butter Toffee. I'm sort of addicted to the flavor of real maple. I'm adding it to almost everything these days!
I quadrupled Aran's recipe and added in pure, grade B maple syrup, vanilla extract, and plenty of pecans. It's just the right amount of sweet, salty, and nutty that I start to crave during the holidays.
The only special equipment you need for this recipe is a candy thermometer and a heavy-duty pan. You don't have to make the toffee with a candy thermometer, but it's a lot easier to get it right when you don't have to guess if the toffee has cooked enough, or too much. The maple syrup makes this a little darker than normal, too, so you can't go by color alone like other toffee recipes. It's important for it to come to temperature so it has that characteristic "snap" once it cools. The heavy-duty pan is important because you don't want the toffee to cook unevenly. The bottom can cook quite a bit faster than the rest, or there may be hot spots. One burnt spot can ruin the whole batch. If you don't have a heavy-duty pan, you can set a saucepan in a skillet for an extra layer.
I like to pour the cooked toffee out onto a baking sheet lined with silicone baking mat or parchment paper. It makes for much easier removal than oiling the pan, but you can that instead. The toffee will need to cool sufficiently before being broken into pieces. You can also spread chocolate onto one or both sides, too, but we decided we like this variation sans chocolate.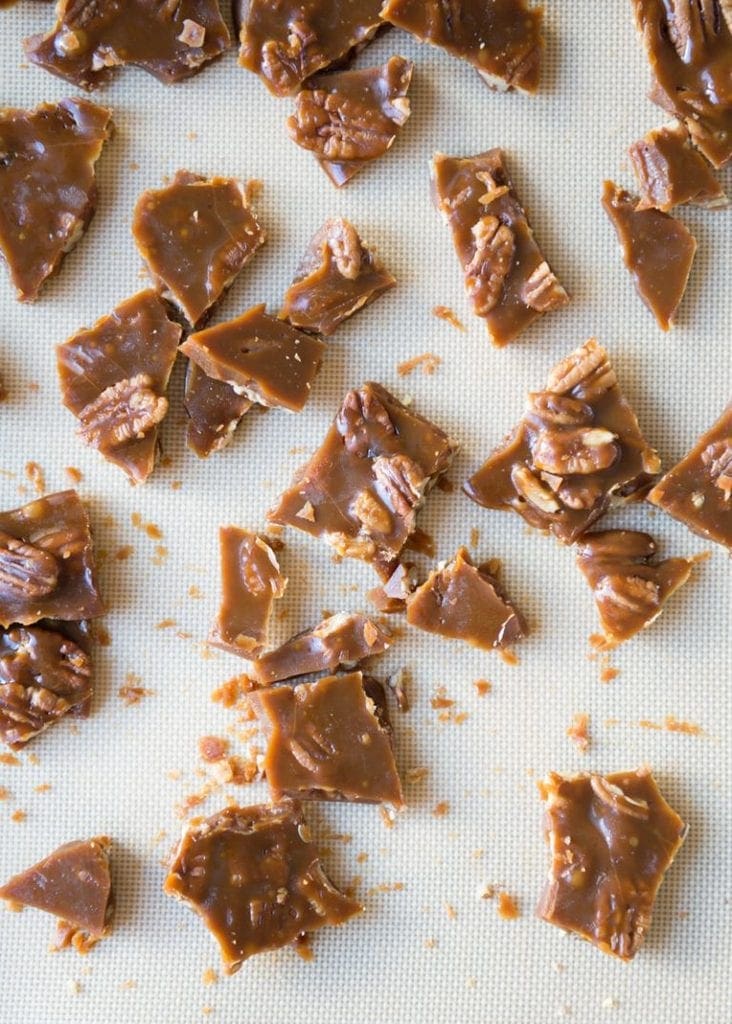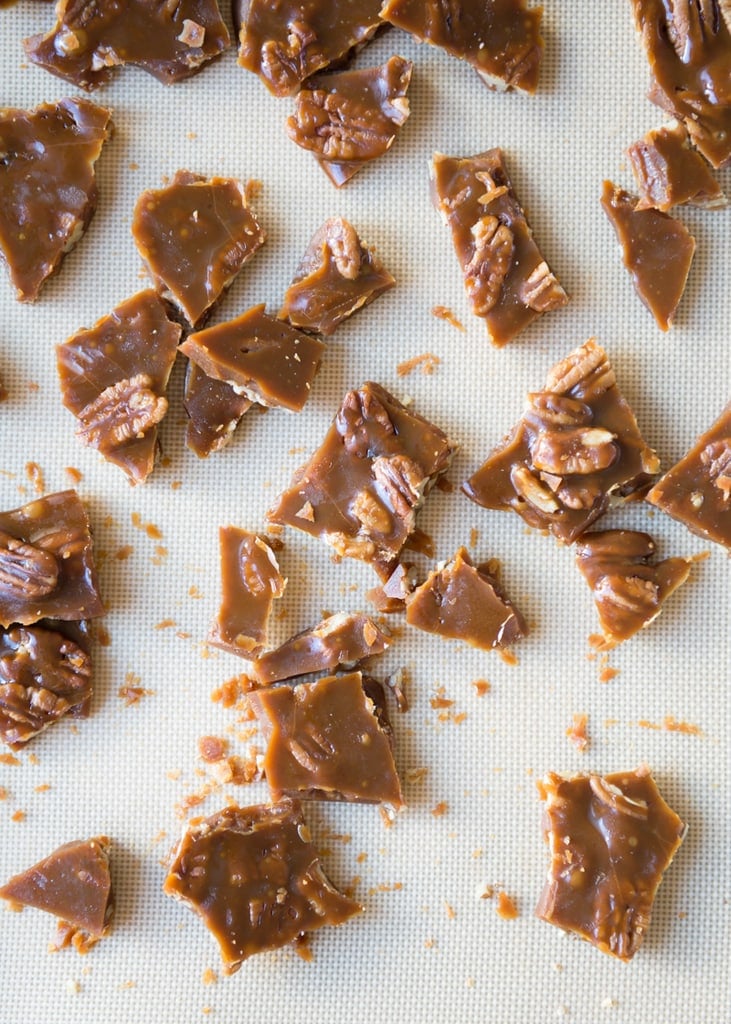 We like to package up the homemade toffee to give away. With the onslaught of sugar during the holidays, I still find people love a piece of really good homemade candy. And this is definitely one I'll be making over and over again all season long!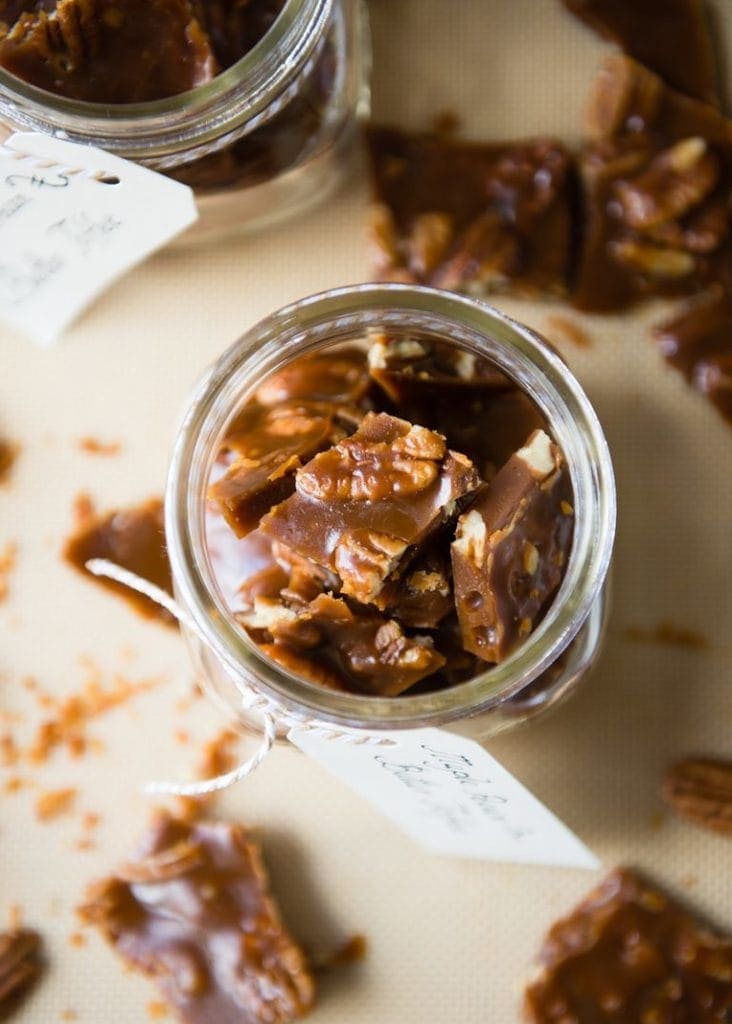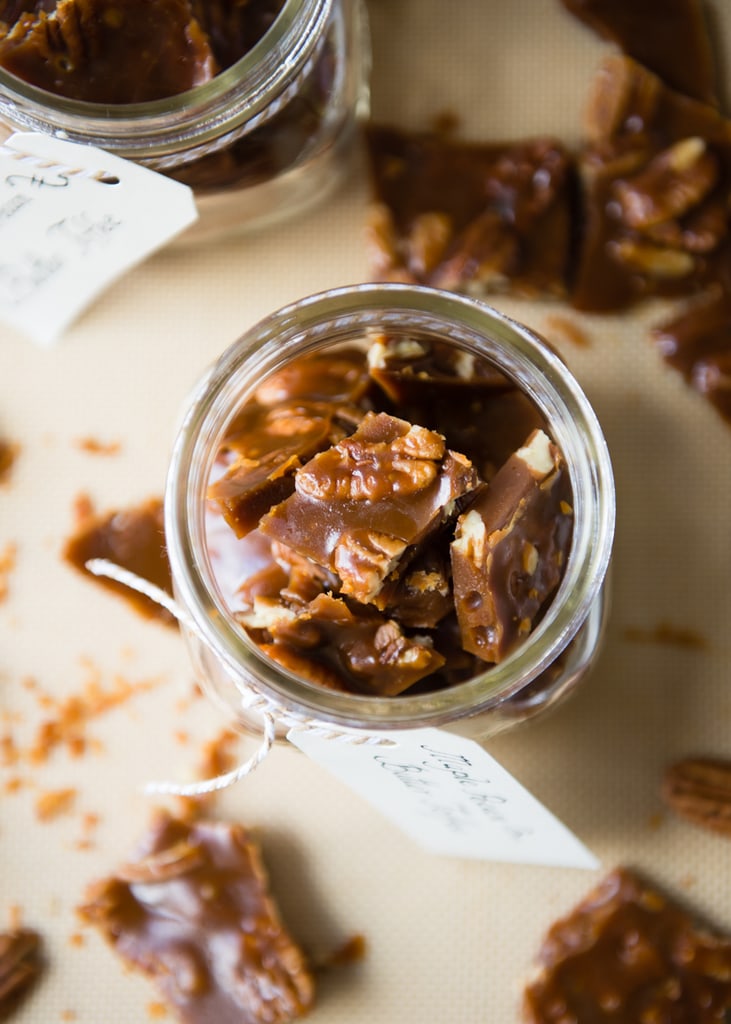 Here are some other holiday favorites from our family:
Cranberry Caramel Sundae with Ginger Cardamom Ice Cream
Gingerbread Spiced Eggless Eggnog
Peppermint Bark Brownies
I love making new friends – if you want to connect on social media, you can find me on Pinterest,
Facebook,
Twitter,
Instagram, and Google+.
Enjoy! And thanks again to Leigh Anne for having me over on YHBM!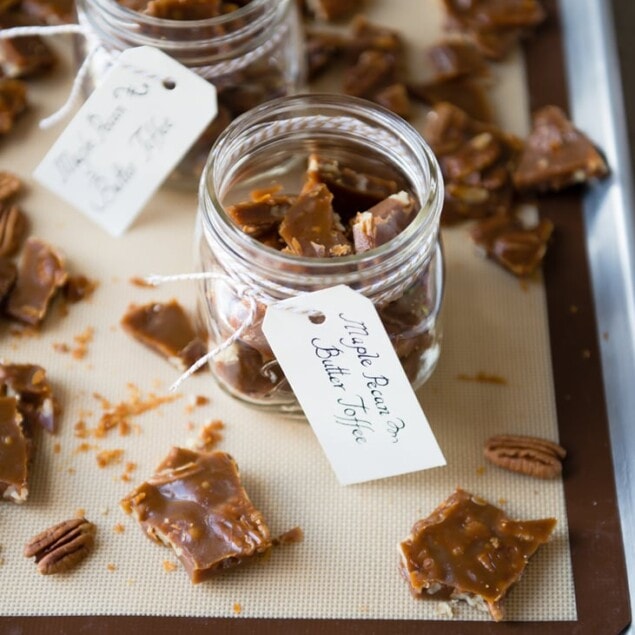 Buttery Maple Pecan Toffee
Total :
2
hours
30
minutes
Ingredients
1 cup 2 sticks butter
1 cup granulated sugar
1/3 cup grade B maple syrup
1/2 cup water
1 teaspoon pure vanilla extract
1/2 teaspoon sea salt*
1 1/3 cups pecan halves
Instructions
Line a baking sheet with parchment paper or a silicon baking mat. Set aside.

In a heavy-duty 4-quart saucepan, melt butter.

Add the sugar, maple syrup, water, vanilla, and sea salt.

While stirring constantly, bring the mixture just to a boil. Lower heat to medium.

Brush down sides of pan with a brush dipped in hot water to prevent the sugar from crystallizing on the pan sides.

Stop stirring and clip a candy thermometer to the pan.

Cook for about 20 minutes, keeping a close eye on the temperature. If the toffee starts to darken in certain places and not others, gently swirl the pan. This will prevent hot spots and burning.

Once the toffee has reached the hard crack stage (at sea level, 300°F), remove pan from heat.

Quickly stir in the pecans and pour out onto the prepared baking sheet. Do not scrape the pan. Gently press the top of the toffee with a silicone spatula to spread it into a thin, even layer.

Let cool completely for 2-3 hours, or preferably overnight before breaking into pieces.

Once cooled, break into pieces and transfer to an airtight container or package up to give as gifts.
Tips & Notes:
-If using salted butter, reduce the amount of salt to 1/4 teaspoon.
-Chopped pecans can be used in place of halves.