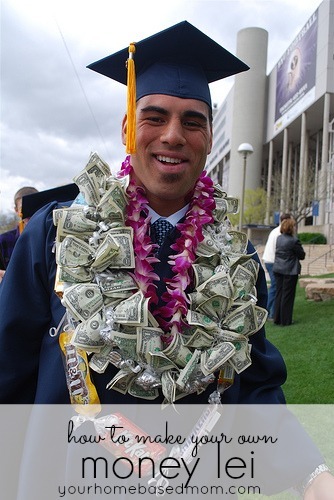 Graduation season is here.  I've been getting lots of emails lately for ideas on graduation gifts and parties.  I've done my share of both.  I don't have anyone graduating from anything at my house this year but I thought I'd revisit some of the graduation themed ideas I have shared in the past.
The first part of the week we will talk graduation gift ideas and then the second half of the week it will be graduation party ideas.
I know a popular graduation gift to give is cash.  Everyone loves cash.  Everyone can use a little cash so that is always a good choice. It's fun to be able to present that cash in a creative way.  When we attended my son's college graduation a few years ago I loved the idea of this money lei as a graduation gift.  The graduate kindly posed for a few pictures for me with his money lei.
He was actually wearing three leis! A traditional flower lei but then he also had a candy lei and a money lei.
The candy lei was made out of plastic wrap and candy bars and tied in between each candy bar with curling ribbon – so cute.
But the lei I liked the most was the money lei – what graduate wouldn't love a money lei!!
Dollar bills were gathered up with a piece of ribbon and tied in the middle and then attached to another piece of ribbon.  Curling ribbon works great.
There were also little bags of Hershey Hugs and Kisses tied in between the dollar bills. So fun!!

What a fun way to give a graduate a gift of cash.  Who wouldn't love a cash lei!?

Stay Updated!
Need more recipes and creative ideas? Sign up and get a FREE copy of my ebook! Do you think your friends would love this too? Please share my blog with them. Thanks!