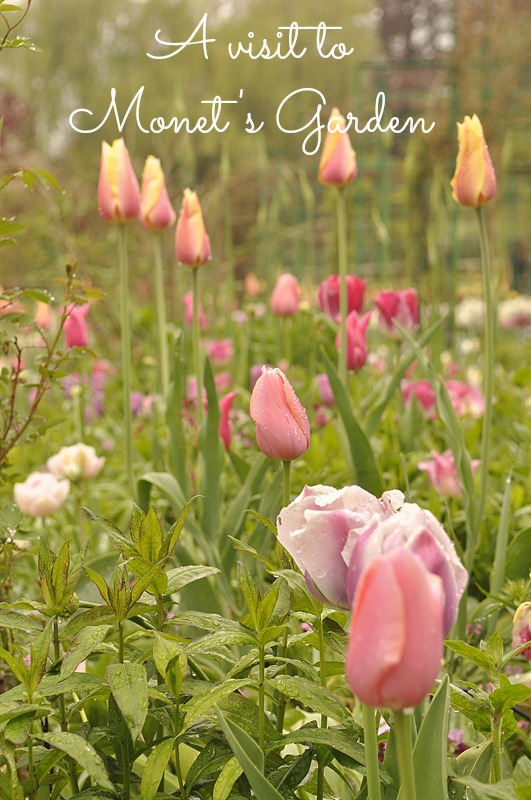 Our third day in Paris was a dream come true for me. I was able to check two things off my bucket list. One off my places to visit list and one off my foods to eat list.
I have had "Visit Monet's Garden" on my bucket list for many years. I have read about the garden, studied photos of the garden for years and tried to recreate Monet's amazing garden in my own garden. Our garden was even featured in the Oregonian as a Monet Inspired Garden one year. I have been a Monet fan since I was in high school and went to the Art Institute of Chicago to see my first Monet exhibit. Those water lillies!!! When we were planning this trip to Paris, there was no question that we were taking a trip to Giverney where Monet's Garden and home is located. I think Jim and the girls enjoyed it as much as I did.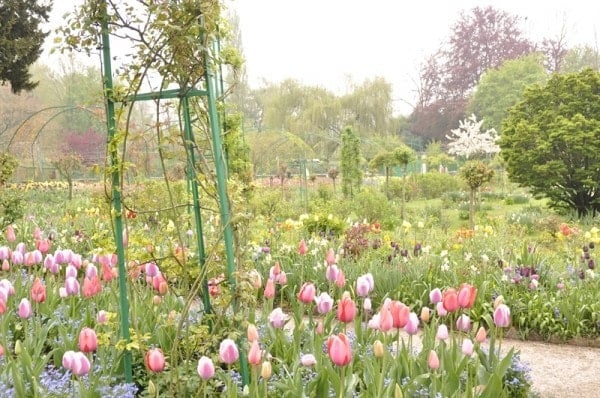 We spent hours wandering through the garden, sitting in the garden, taking photos of the garden and touring the home. Hope you are ready for just a few photos of the amazing garden!!!
The growing season was about 3 weeks behind ours here in Portland so the tulips were in all their glory. They were amazing!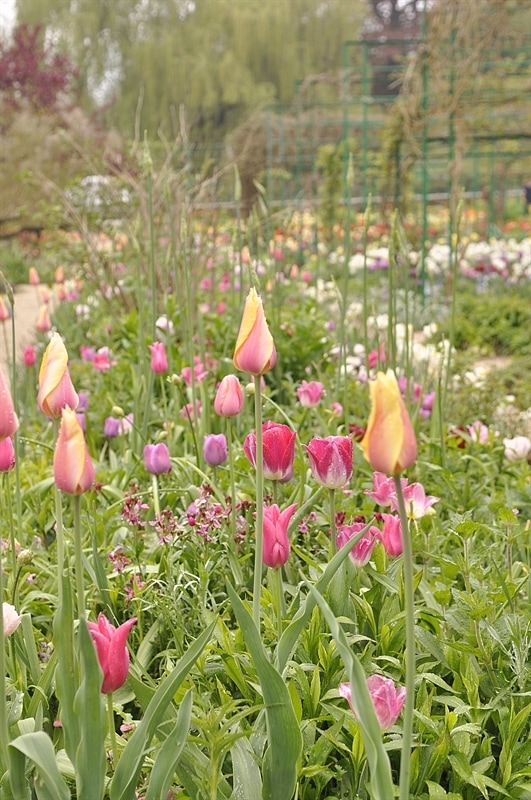 I loved seeing so many flowers and plants in Monet's Garden that I have at home in my own garden.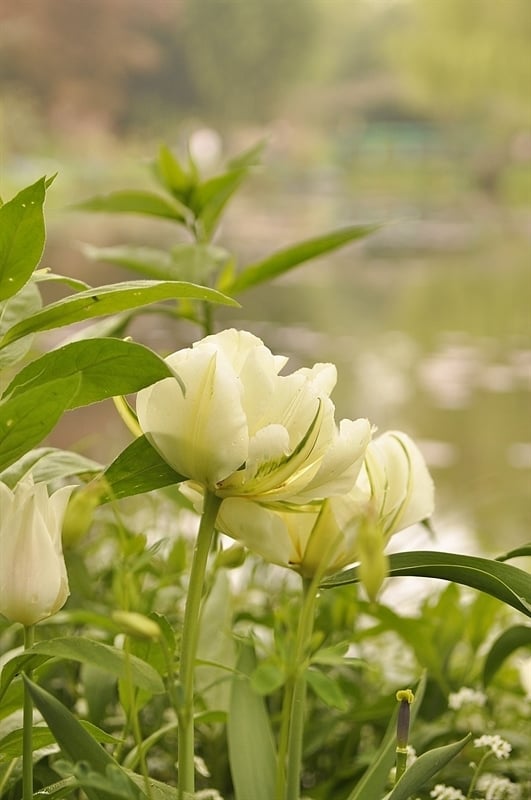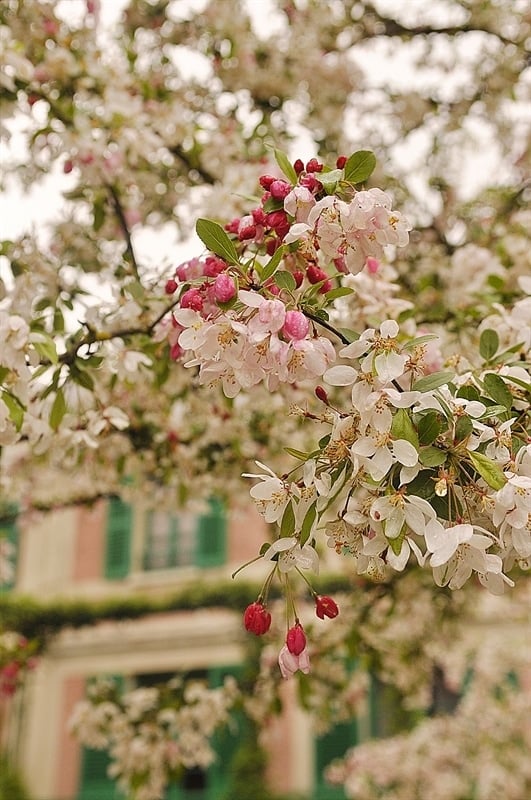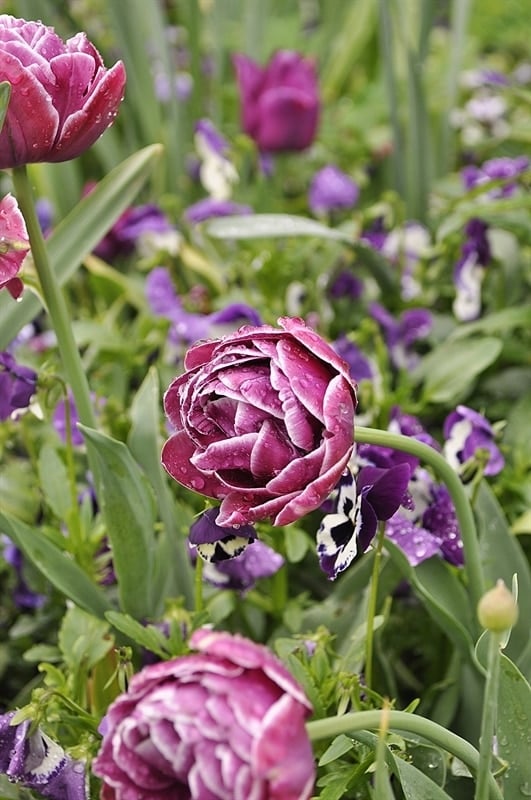 Did I mention that the tulips were out of this world!!

The Japanese Garden and Water Lilly Pond was so beautiful and peaceful. Here is that famous bridge you see in his paintings. I stood on it!!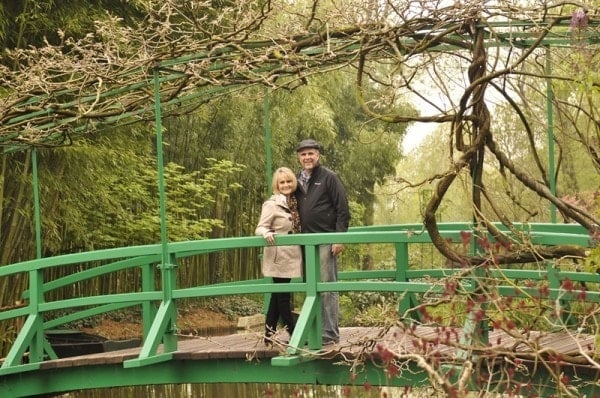 Just wish the wisteria had been blooming – guess I'll have to go back.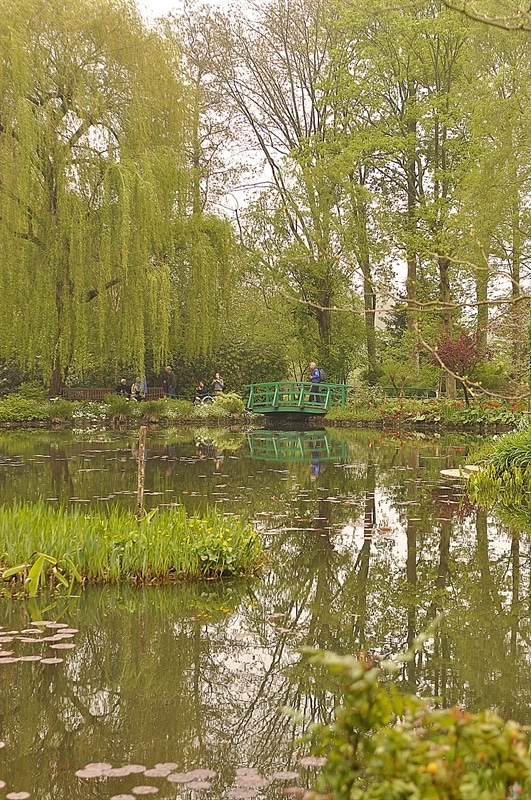 One of my other favorite parts of the garden has always been the rose trellis that lines the path leading up to the house. We were too early for the roses and nasturtiums that line the path- again, I'll have to go back.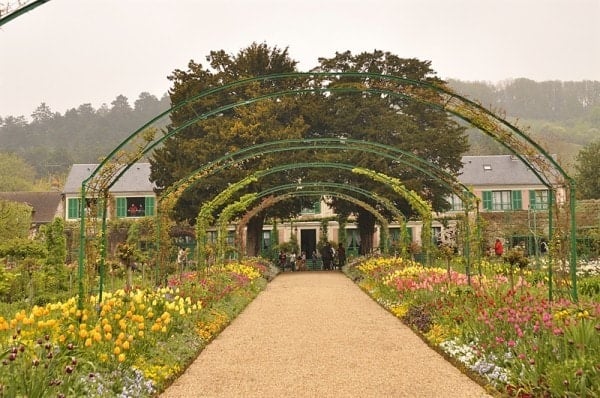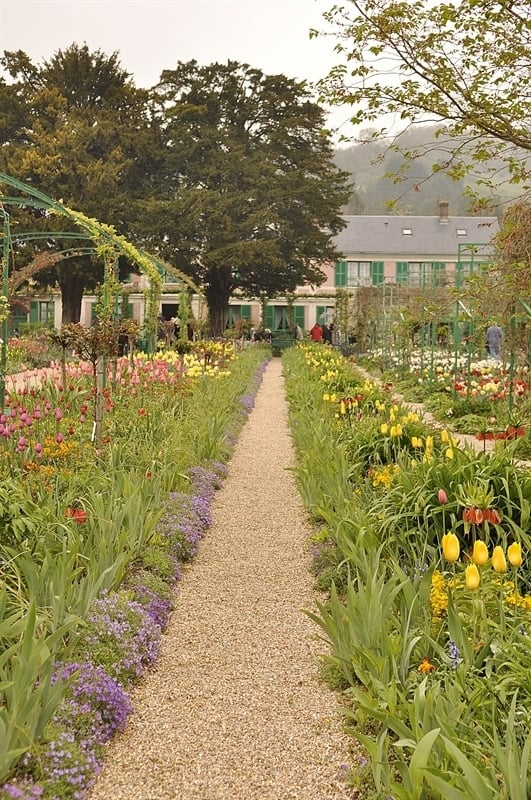 We were also able to tour his pretty and colorful house. Who else but Monet could get away with painting his house pink and green!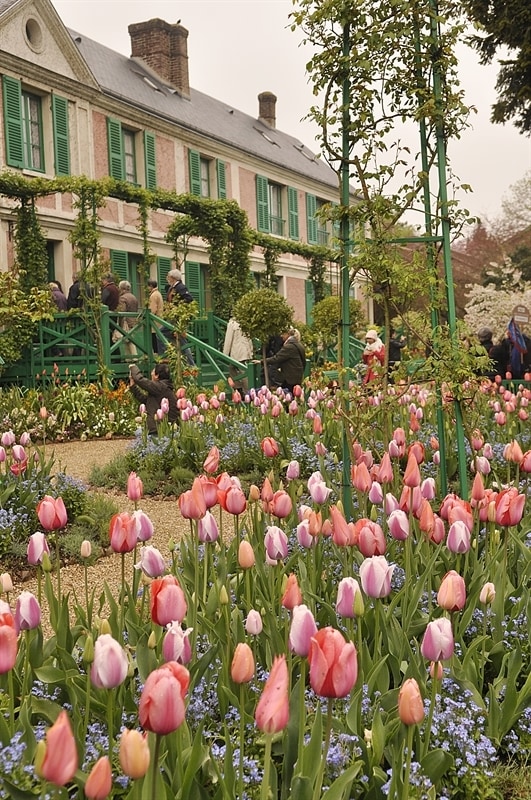 You weren't allowed to take photos in the house but I couldn't resist taking this photo looking out the window.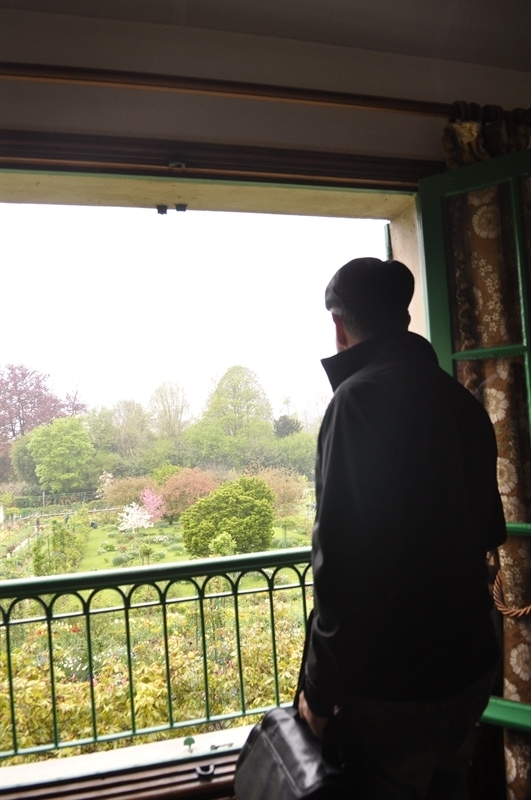 And I took this shot of the amazing kitchen from outside the door so I didn't get in trouble.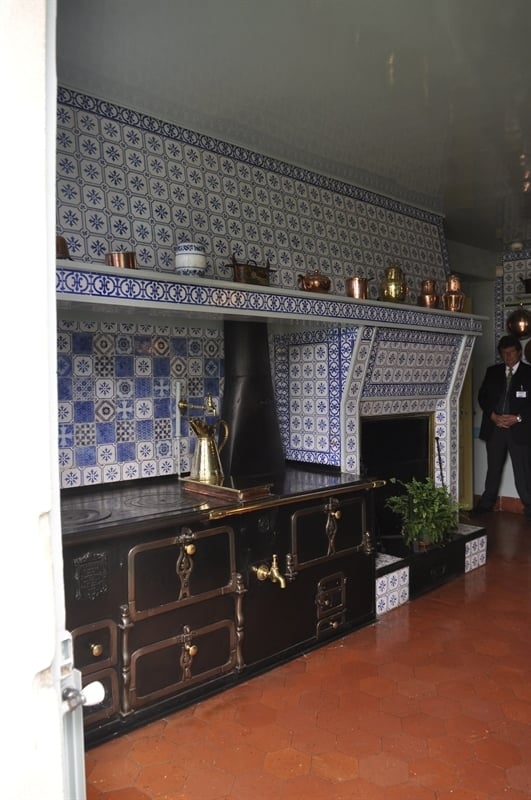 Yes, I was pretty much in heaven!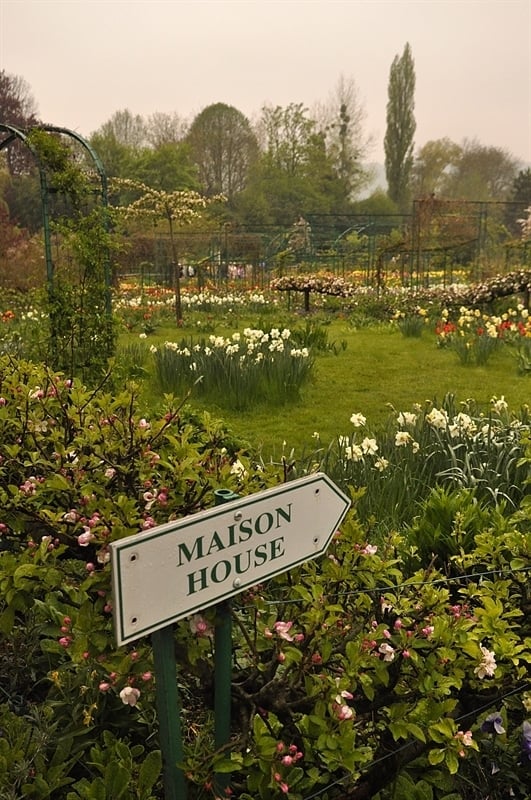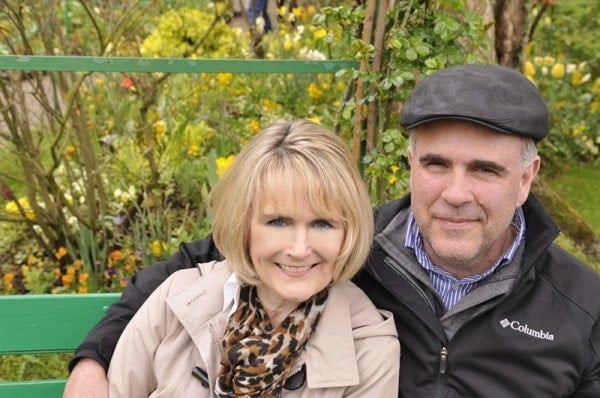 I hated to leave and I can't wait to go back!!
We head back to Paris on the train. Our next stop was a couple of the most famous bakeries in Paris for macarons. One of the things on my food bucket list was to eat a Laudree macaron in Paris. I had eaten one before when our neighbor carefully hand carried a box home from Paris and shared with us but I wanted to eat one in Paris!!
I had done some reading and discovered that Pierre Hermes Bakery was in close contention for the best macaron in Paris with Laduree so I had to check it out myself. Our first stop was Paul Hermes where we picked up some macarons and a few other delicious looking pastries.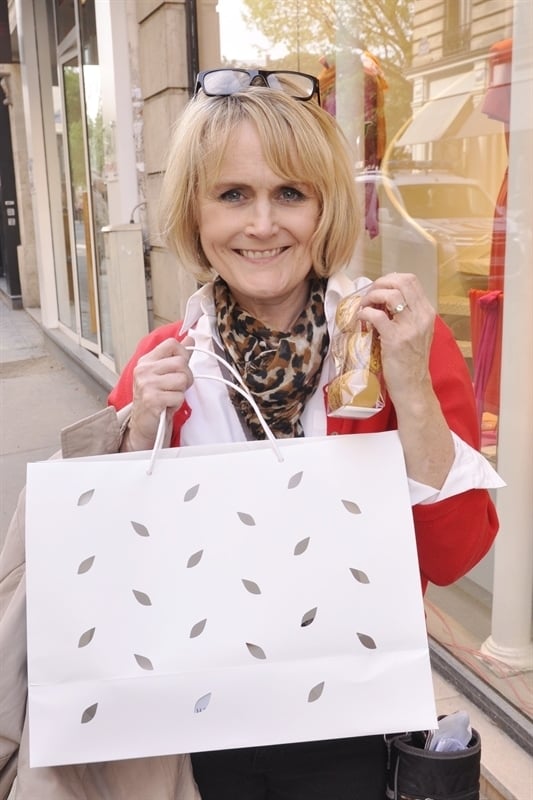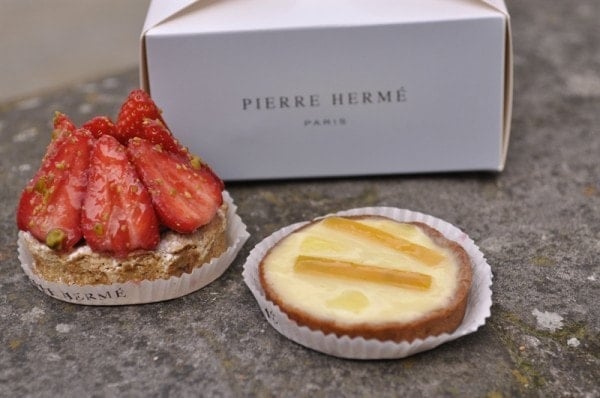 And then our next stop just down the street a bit was Laduree. Macaron heaven!!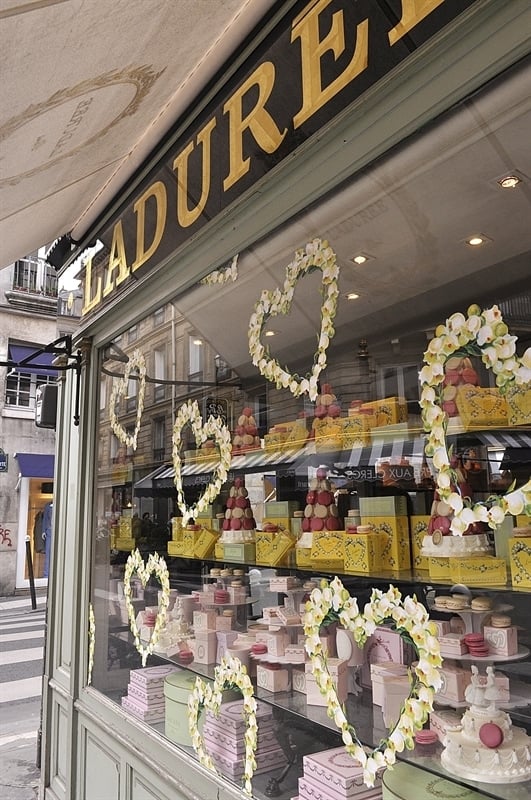 We then took all our goodies and headed down to the banks of the Seine River to sit and enjoy the scenery and our treats! Of course there had to be a bit of a photo shoot first!! What kind of food blogger would I be!! My favorite were the salted caramel from Laduree- so good!!! The macarons from both bakeries were delicious but I liked the flavor selection at Laduree better so I it gets my vote.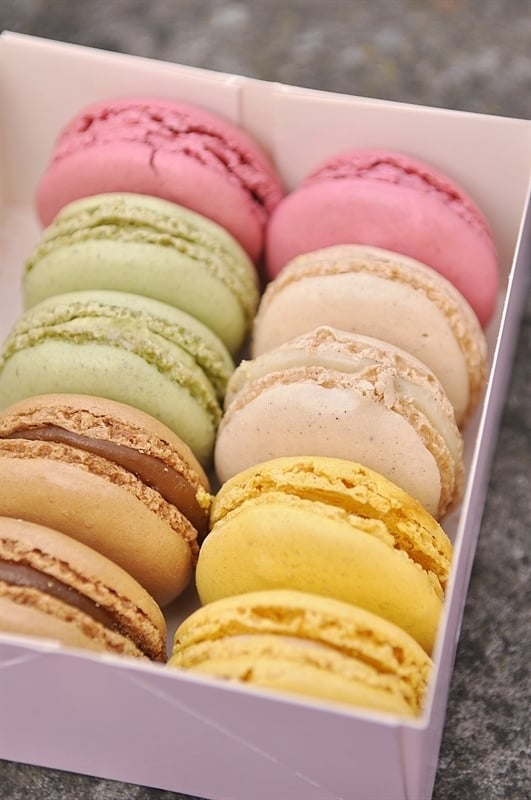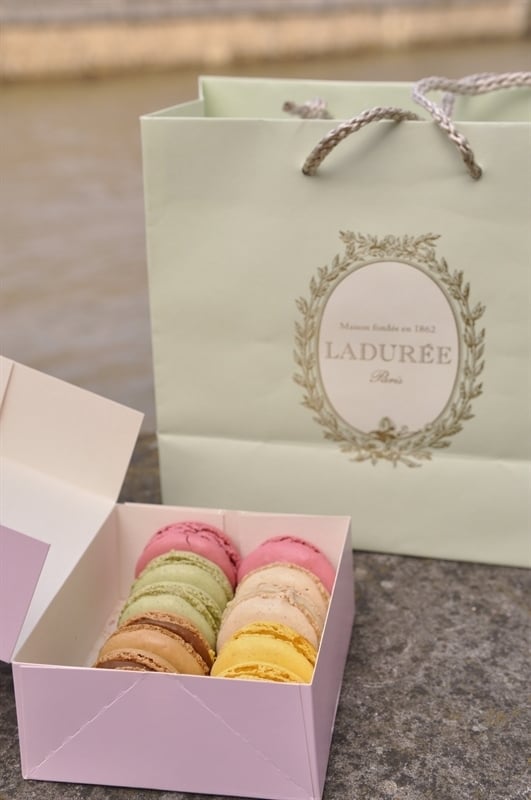 Finally I let Jim eat his pastry.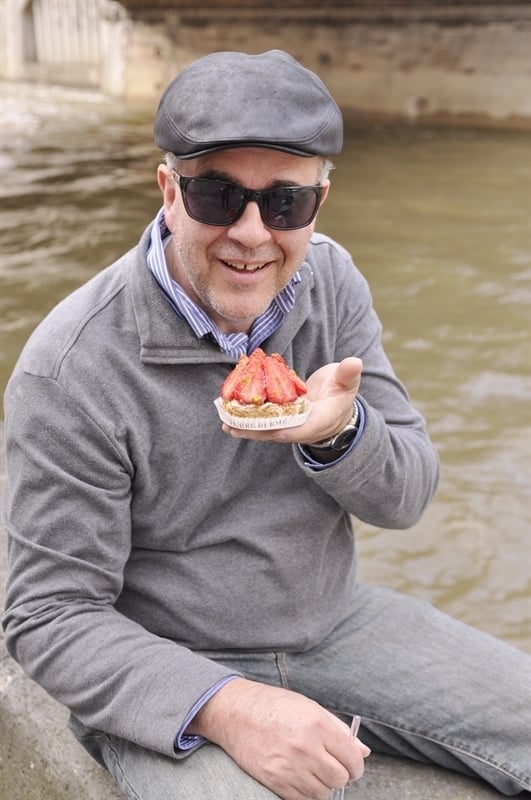 Then we got a little silly with the camera!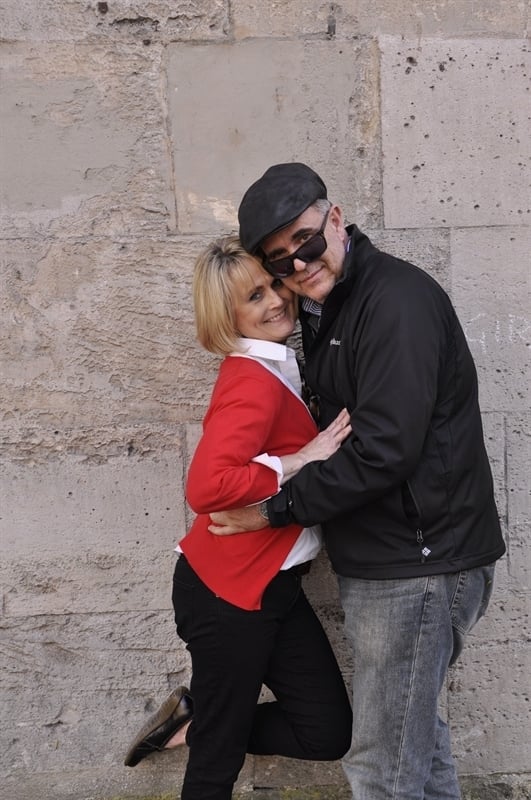 Of course, there had to be a jumping photo.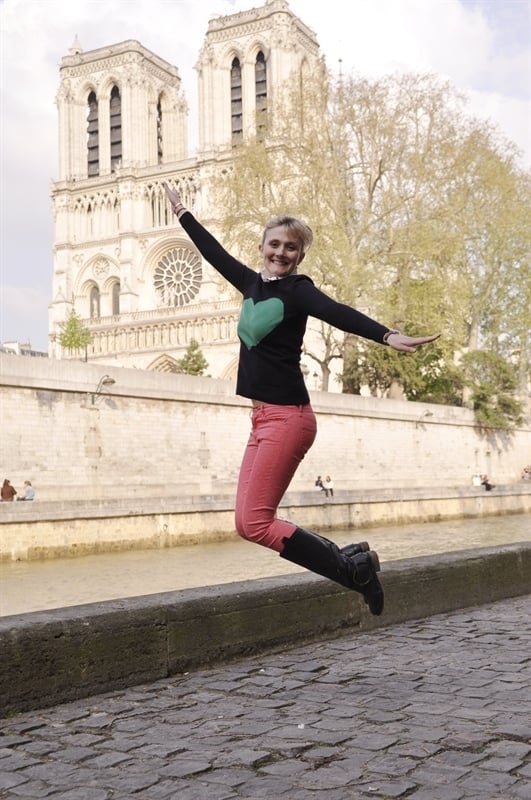 The girls did their best hunchback impressions. We provided quite the entertainment for several groups of people.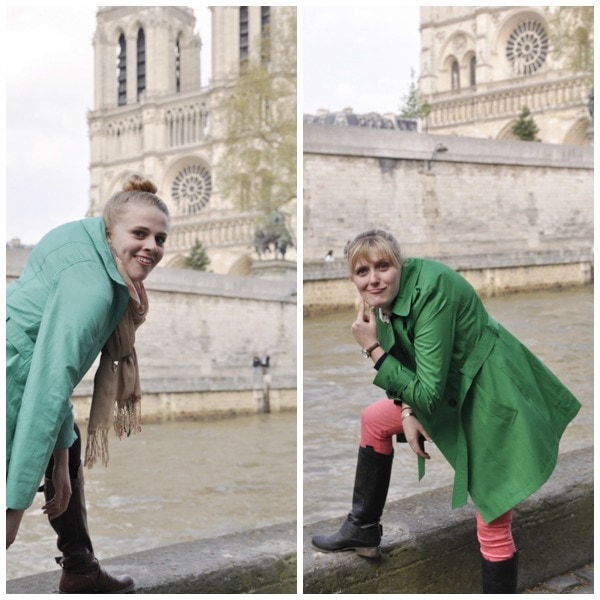 Did I mention how truly magical Paris is?? We found this artist painting on the bridge. I would have loved to have brought his painting home with me!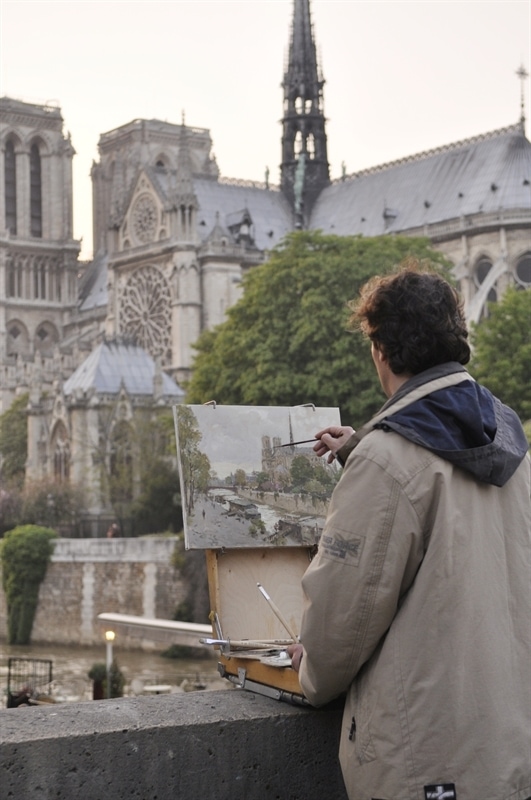 And if that wasn't magical enough that evening we took a boat ride down the Seine River. There is nothing like seeing the Eiffel Tower all lite up! The best part is that every hour, on the hour it twinkles! The lights twinkle and race up and down. Truly magical!!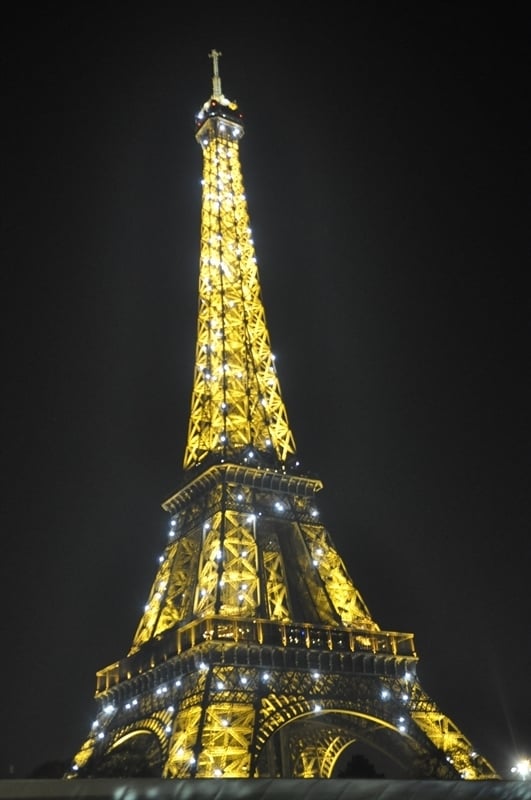 Our time ended in Paris too soon and we were headed back to London. Have some more fun adventures in outside of London to share coming up!
For a detailed itinerary of where we went and stayed you can email me at yourhomebasedmom@gmail.com