So excited to welcome Breezy Bakes to the Bake Craft Sew series today!  She has a gluten free cookie recipe for you and a darling printable!  I can't wait to try this cookie for my gluten free  husband and daughter! Be sure to visit her blog to enter the Blendetec Giveaway and then check out what Mique and Cindy are sharing as part of the Craft and Sew!
Well hidey ho neighbor! It's a pleasure to get to know you. I can't tell you how excited I am to be a part of this Bake Craft Sew Holiday Event and to participate in this Blendtec Giveaway.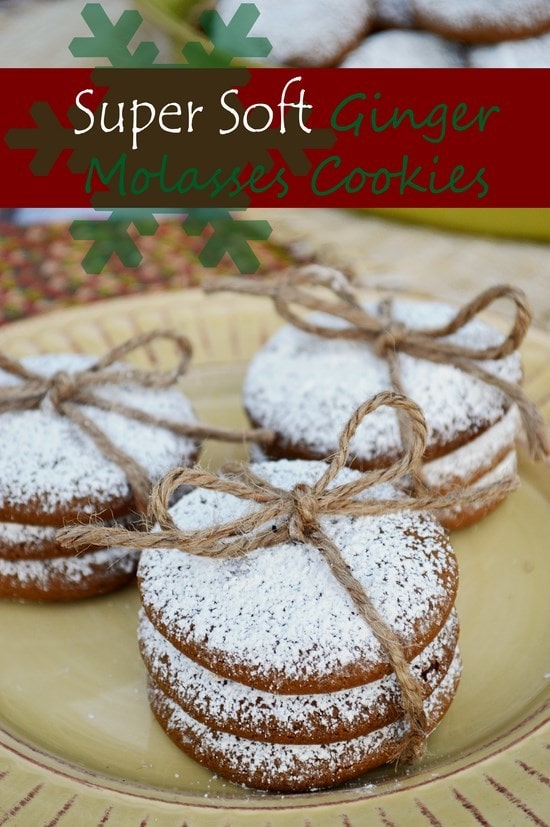 Let me just tell you a little bit about myself. I'll make it short. I don't craft…ever. I don't sew…ever. I really wish I did. But, I do BAKE! Really, if I'm being honest, I kinda bake like a crazy obsessive perfectionist person. I think my family has learned that at times it is just best to step away and leave me be.

I started my blog over at Breezy Bakes a little shy of a year ago with a goal to create a safe, fun, creative and delicious website for gluten free readers. My oldest daughter has celiac and it is my mission to allow her to enjoy all the goodness in food that I have experienced my entire life. If you find a minute, come check me out…well, my blog, not me…although I would be flattered.
Now onto this Holiday hunt of goodies to impress your friends and family. Raise your hand if you bake Christmas goodies for your friends, family, neighbors, or coworkers each year. Okay, put your hand down. Now that we have that established, we can move on.
Consensus: We ALL bake during the holidays.

It's inevitable. Unless your Scrooge, the Grinch, or some other notorious anti-merry villain…you are going to bake. So why not put your best foot forward and impress those friends with a batch of Super Soft Ginger Molasses Cookies all tied up with a cute little Cookie Delivery Tag printable?
Yes, you guys. I went the extra mile here. Remember how I said I don't craft? Well I sat my little bootie down at the computer, cracked my knuckles, opened up photoshop, and created these:

Bravo! Bravo! Just print these off (pdf or word doc (editable last name) or word doc (no last name)) on some cardstock, punch a hole in them, and tie them to your plate of cookies with some festive ribbon or string. Simple as that.
Now I know the printables are cute and all, but let's get onto the real star of the show. These cookies! It's hard to decide what one goodie to make during the holidays. My criteria for the perfect goodies goes as follows:
no brainer, they're yummy
last for a few days or freeze well so I can make them ahead of time
are unique so that my neighbors don't end up with yet another batch of fudge or magic cookie bars
are easily packaged
are simple to make
My usual go to Christmas goodies are cupcakes. I love creating fancy cupcakes to give to neighbors, but the crazier my life gets, the less time I have to make them. They definitely don't fit with criteria 4 or 5. This year I plan on simple goodness.
One of my all time favorite fall flavors is ginger molasses. I wait for this flavor all year long. With all my fall baking using pumpkin, I completely overlooked this flavor profile. What was I thinking?!

These Super Soft Ginger Molasses Cookies are super soft (hence the title) and full of spice. The combination of brown sugar and molasses give them a rich deep flavor, and they intensify in flavor each day, lasting for about 5 days in an airtight container.
They also freeze well, so you can make them way before the Christmas chaos begins. If you can avoid extra chaos, avoid the chaos! Really, there is no downside to these babies.
Wait, I guess one downside is that there may not be any cookies left for Santa by the time you get your hands on them. That's okay though, he doesn't need them anyway.
Remember to head over to Breezy Bakes to enter for your chance to win a Blendtec blender and follow me on Facebook, Instagram, and Twitter. Good luck!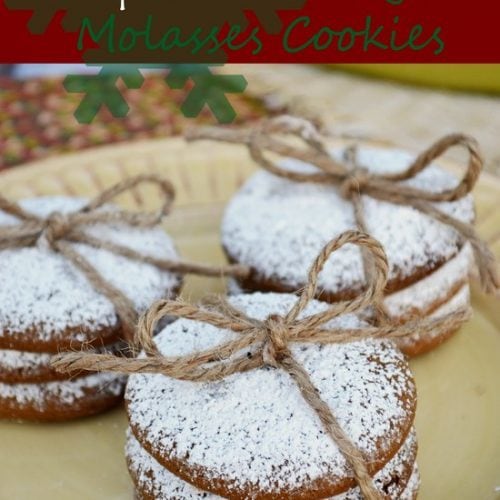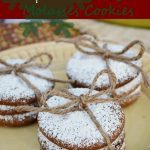 Print
Gluten Free Ginger Molasses Cookies
Ingredients
1/4

cup

pure molasses

3/4

cup

brown sugar

1/4

cup

granulated sugar

2

eggs

3/4

cup

butter

room temperarure

1

teaspoon

vanilla

1

teaspoon

ground ginger

1

teaspoon

cinnamon

1/4

teaspoon

ground nutmeg

1

teaspoon

salt

1 1/4

teaspoon

baking soda

1

teaspoon

xanthan gum

3/4

cup

brown rice flour

3/4

cup

gluten free oat flour

3/4

cup

white rice flour

3/4

cup

plus 2 tablespoons tapioca starch

About 1/4 cup powdered sugar for sprinkling
Instructions
Preheat oven to 350 degrees and line baking sheets with parchment paper or silpat. Set aside.

In a large mixing bowl or stand mixer, beat together molasses, brown sugar, granulated sugar, eggs, and butter until pale and smooth. Add vanilla and mix until incorporated. Add ginger, cinnamon, nutmeg, salt, baking soda, and xanthan gum. Mix until combined. Add brown rice flour, oat flour, white rice flour, and tapioca starch. Mix until incorporated. Mix an additional 2 minutes or until dough begins to pull away from sides of the bowl.

Cover dough and chill in fridge for at least 30 minutes or until dough is firm enough to be handled.

Roll dough into walnut sized balls and place on cookie sheets 2 inches apart. Flatten dough with hand to 1/4? thickness. Bake at 350 degrees for 8-9 minutes or until cookies are browning along edges. Allow to cool for 5 minutes before transferring to wire racks to continue cooling. Continue baking one pan at a time until all dough in gone.

Once cookies are completely cooled, sprinkle tops with powdered sugar. Store in airtight containers for up to 5 days or freeze for up to 3 months.