With a hint of heat this chili con queso is cheesy and creamy and you won't be able to stop eating it. It's ready in under 30 minutes so it's perfect for a party.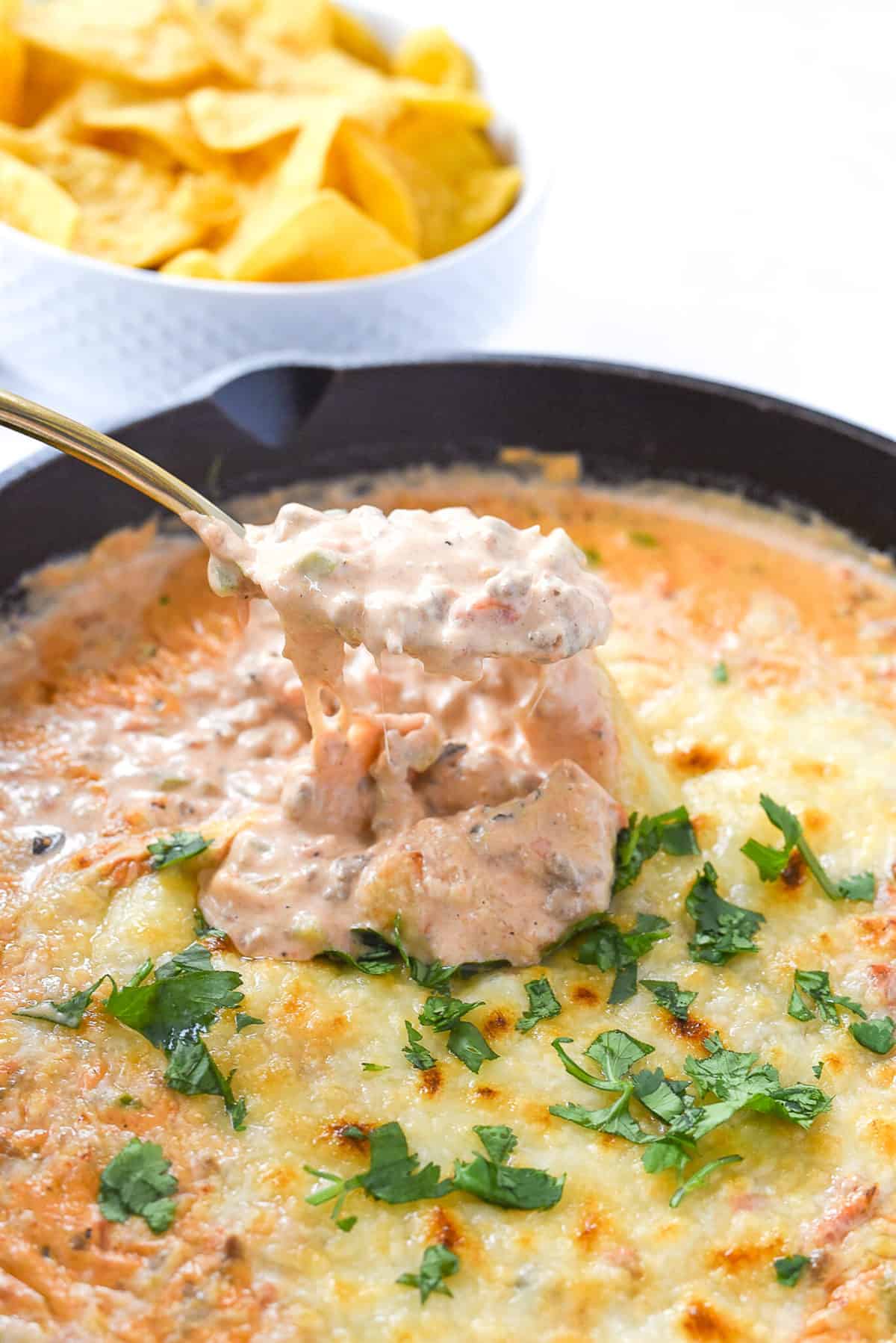 Chili Con Queso or "that cheesy dip" is one of the most requested football watching foods at my house. Everyone loves it and I love how easy it is to make. With the all the ingredients on hand I can have it ready in under 30 minutes. Because it has meat and cheese in it, it is like a meal. Add some veggies for dipping and you have a complete meal if you want!
It's perfect for a ball game watching party or as an appetizer for any party. Made in my cast iron pan it can go from stove top, to oven to table top.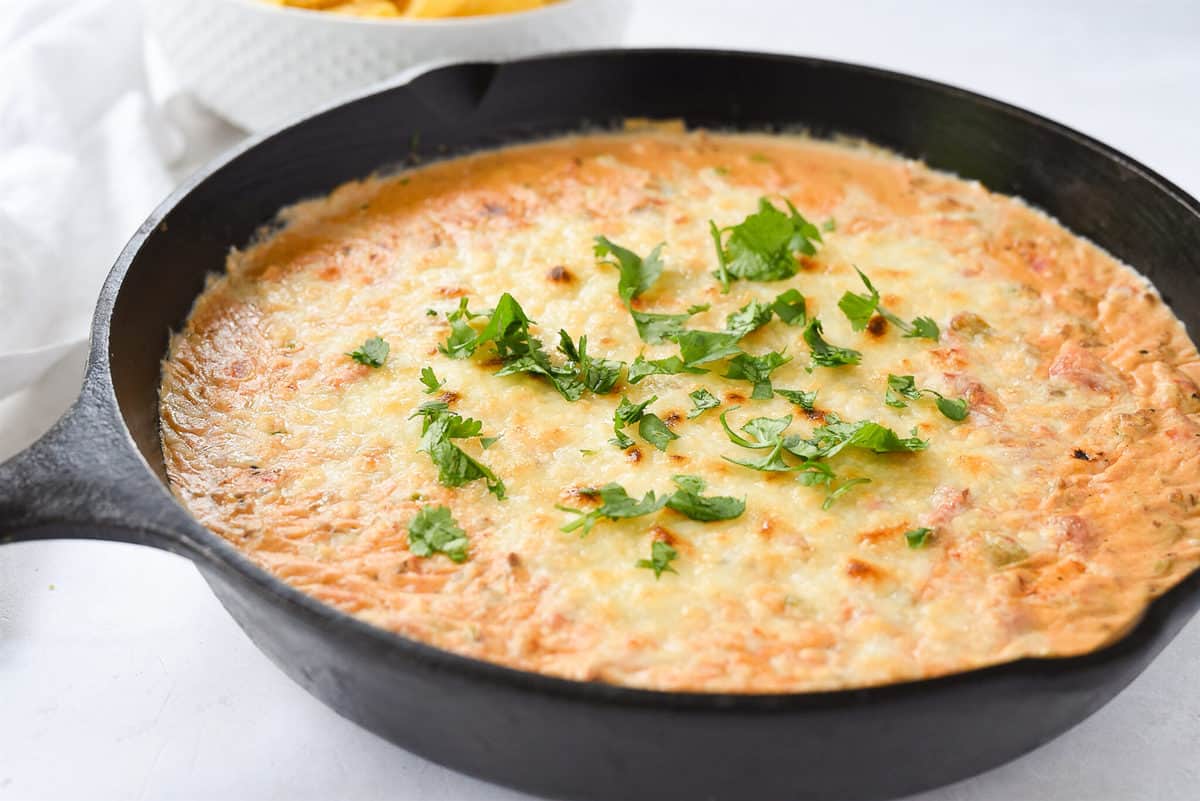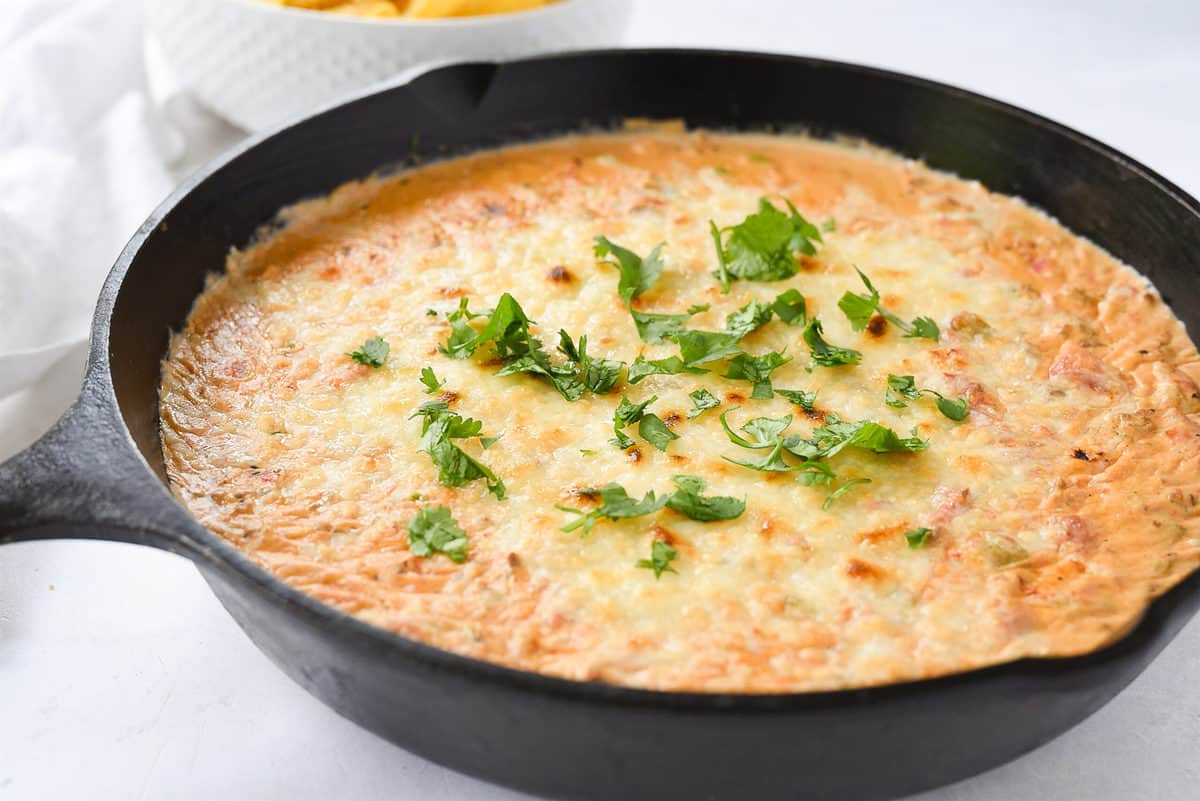 What is Chili Con Queso?
It is a popular Tex-Mex dish and you will find it on every Mexican restaurant menu in Texas! It has a smooth and creamy cheese sauce combined with tomatoes and chilies. I like to add meat to mine but you can also serve it without meat if you prefer.
Ingredients You'll Need
Meat. I like to use hamburger but you can use sausage or chorizo too which will add some additional heat. Be sure and drain the chorizo before adding it in.
Garlic. I like to add in some minced onion in with the hamburger as it's cooking for more flavor.
Cheese. It uses a combination of Velveeta cheese, cream cheese and some shredded Monterey Jack cheese. I have provided some alternatives to Velveeta cheese in the FAQ below, if you aren't a fan.
Tomatoes. I like to use canned fire roasted tomatoes but if you can't find them you can use a can of Rotel tomatoes which are spicer so you may want to use less jalapeno.
Chilies. The recipe calls for a can of green chilies and some fresh jalapeno. If you like your queso with more heat go ahead and use a hotter chili. It's totally customizable to your desired heat level.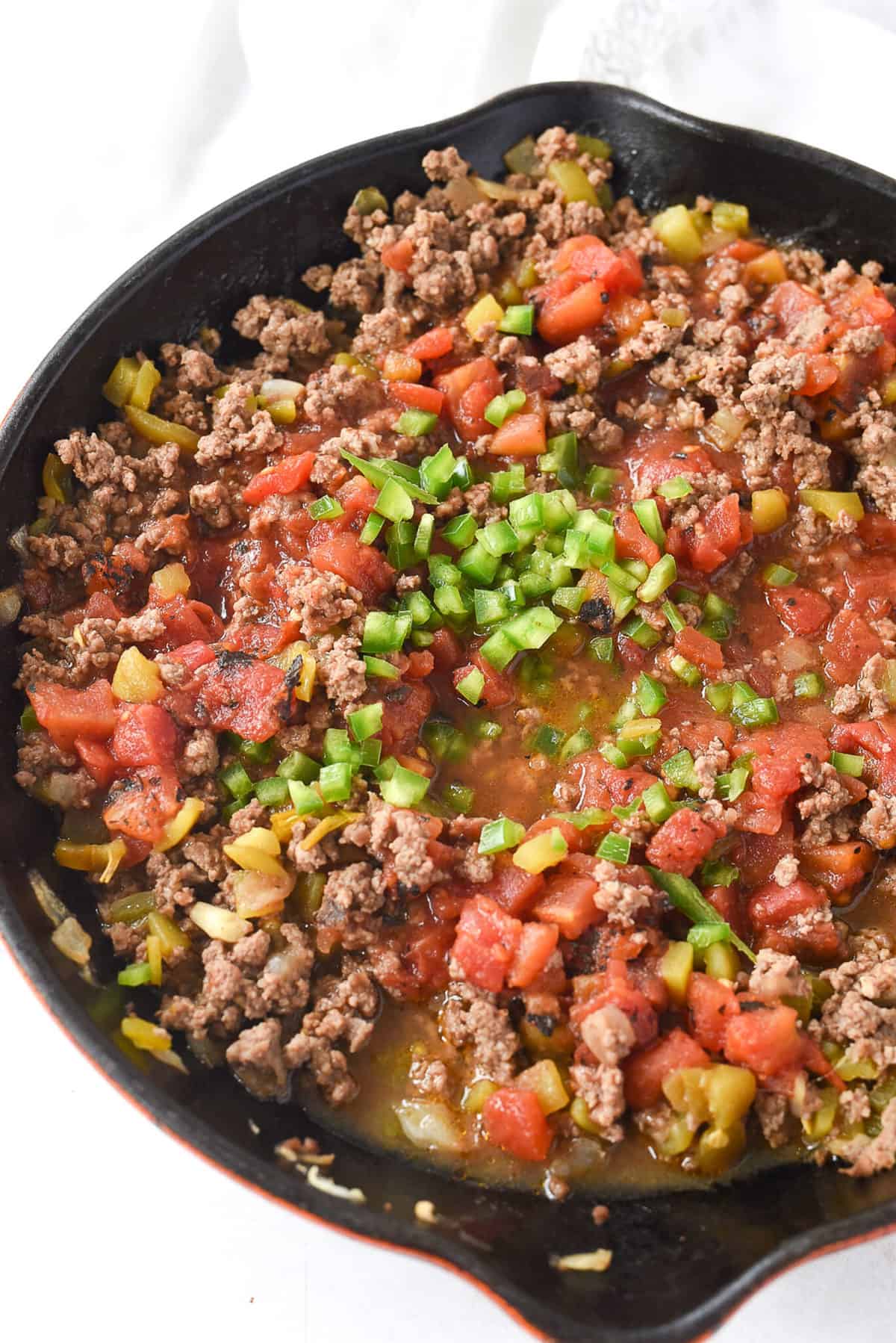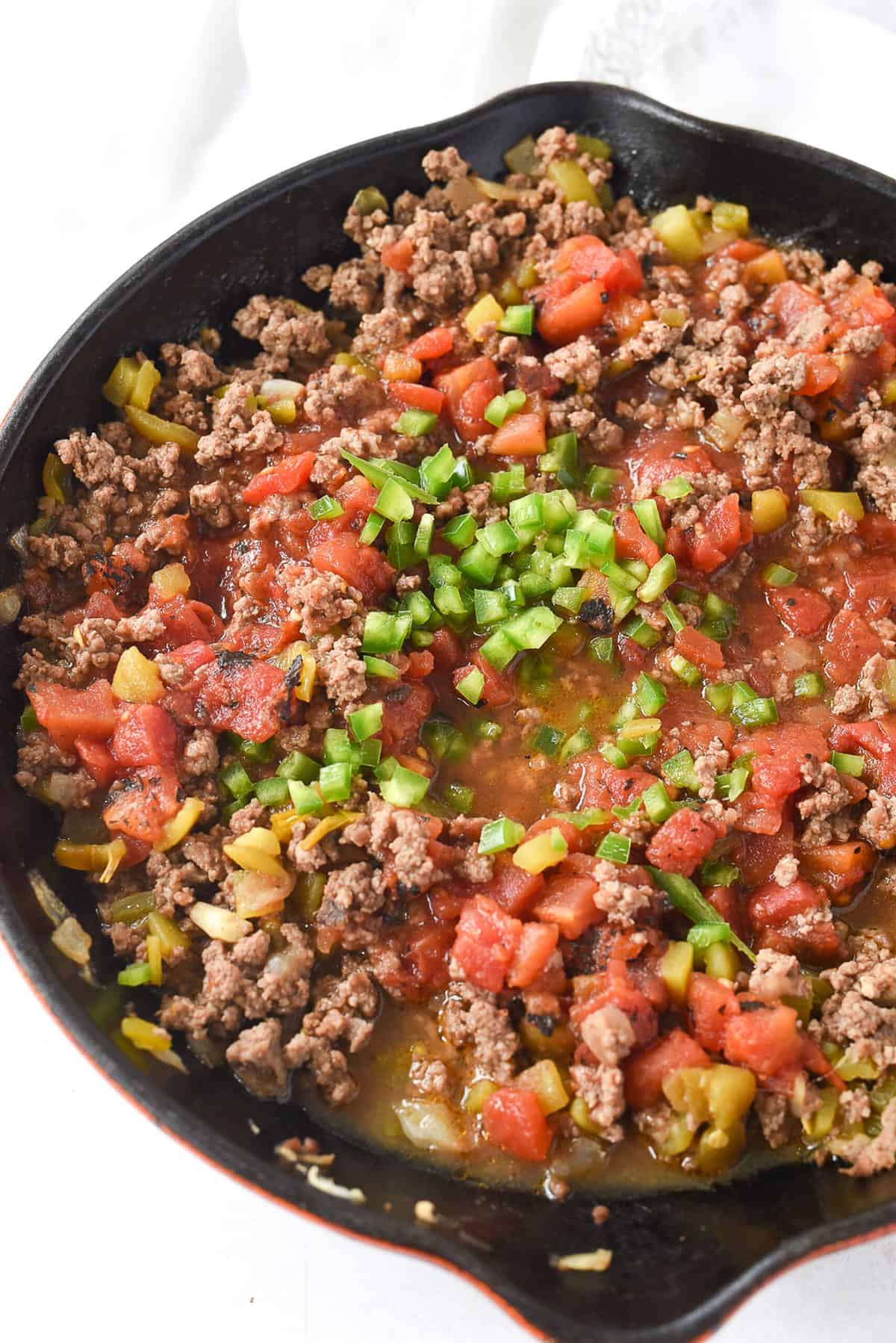 How to Make Chili Con Queso
Brown hamburger with garlic in cast iron pan or oven proof pan.
Add in canned green chilies, tomatoes and jalapeno. Stir to combine.
Add in chunks of Velveeta cheese and cream cheese and stir until cheese melts and mixture is hot and heated through.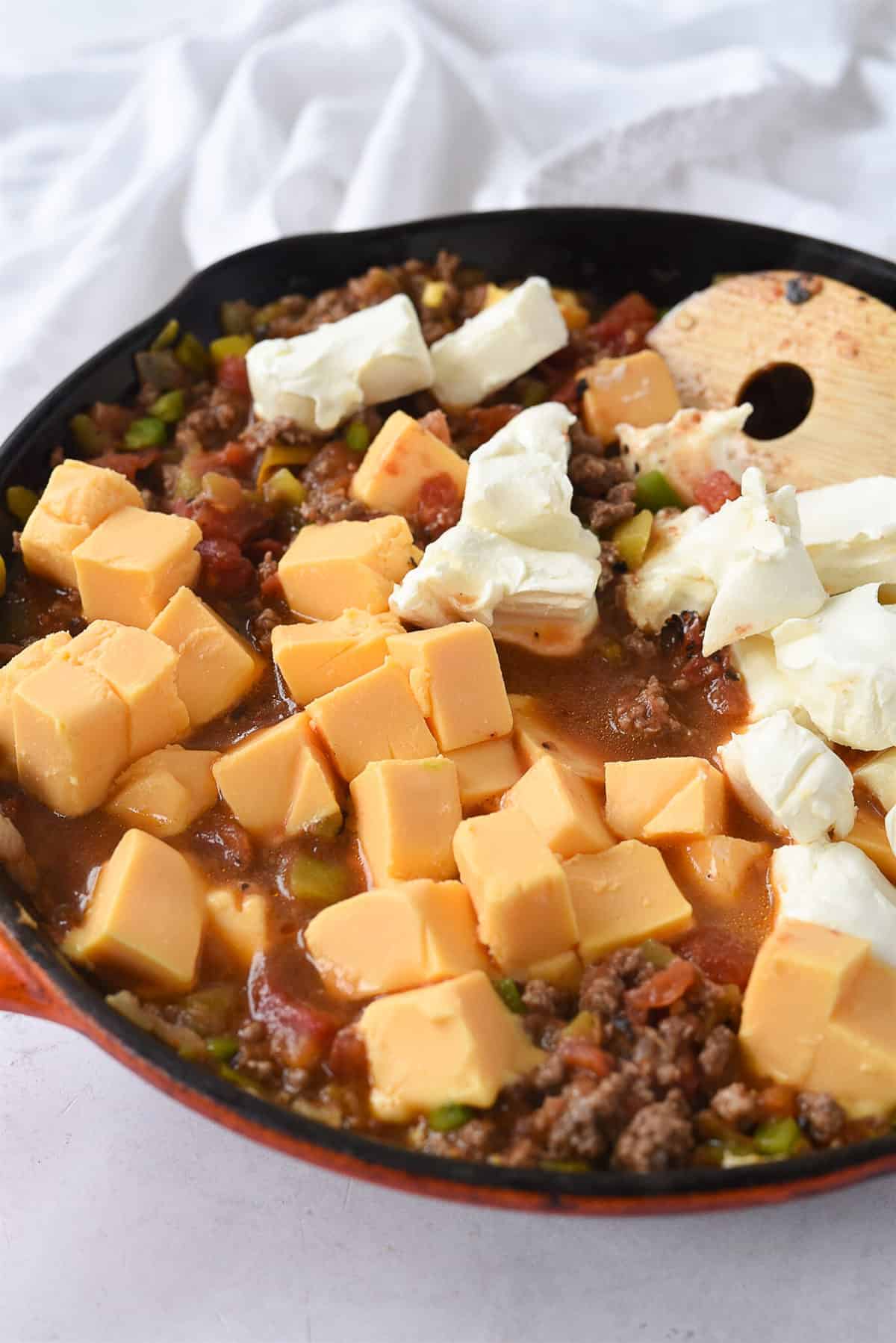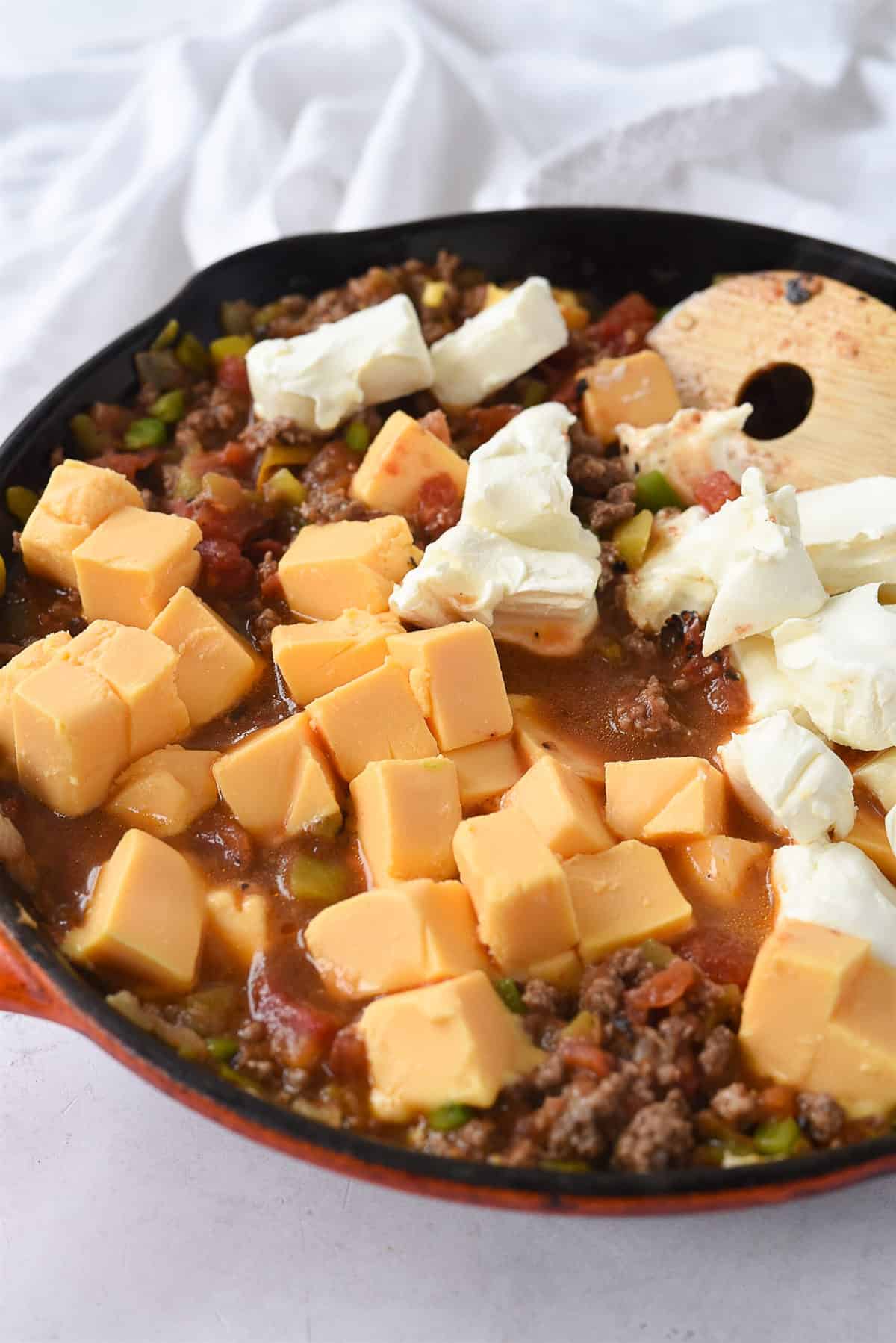 Sprinkle grated Monterey Jack cheese on top.
Place under broiler to allow cheese melt and become bubbly. Watch it close so it doesn't burn.
Serve hot.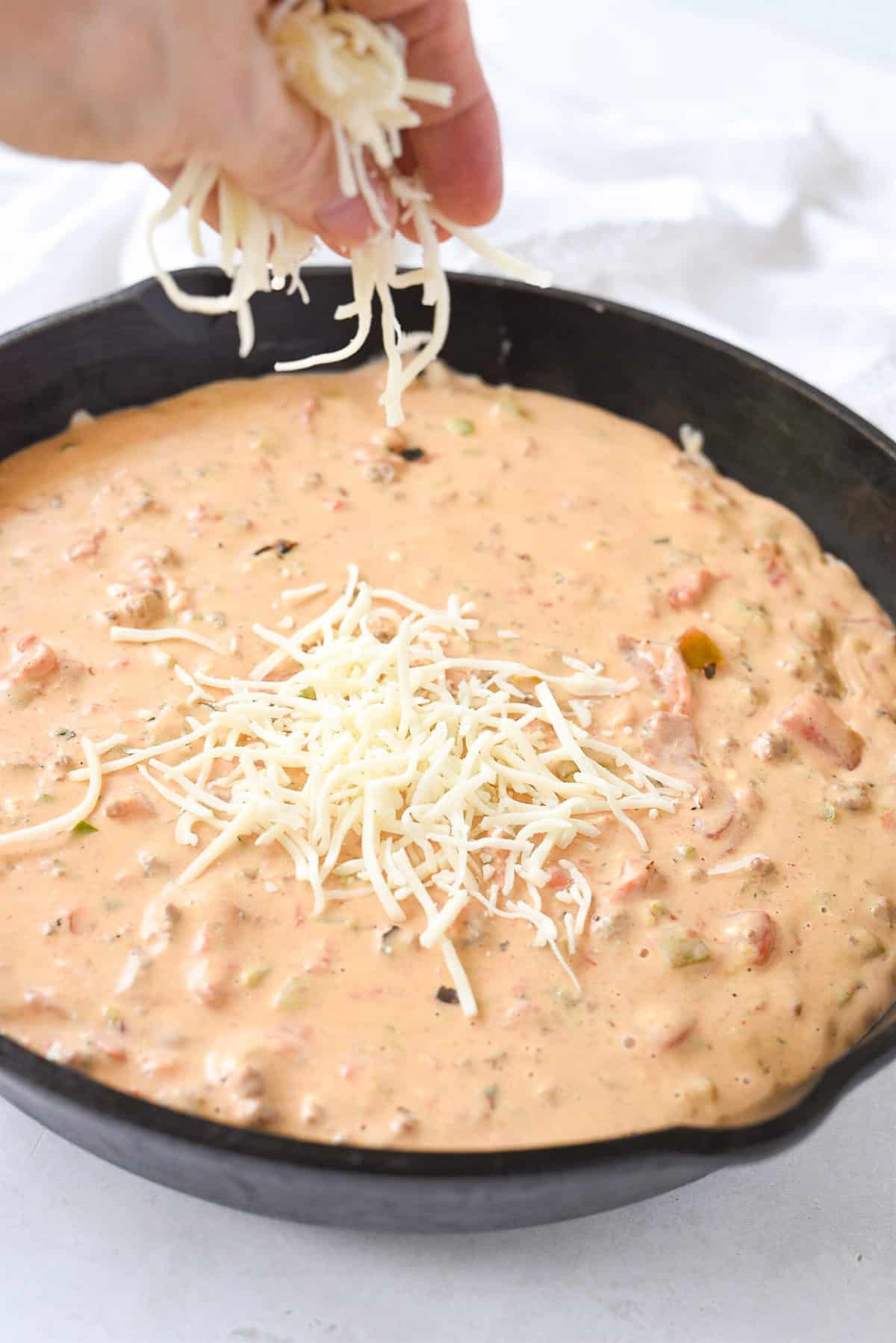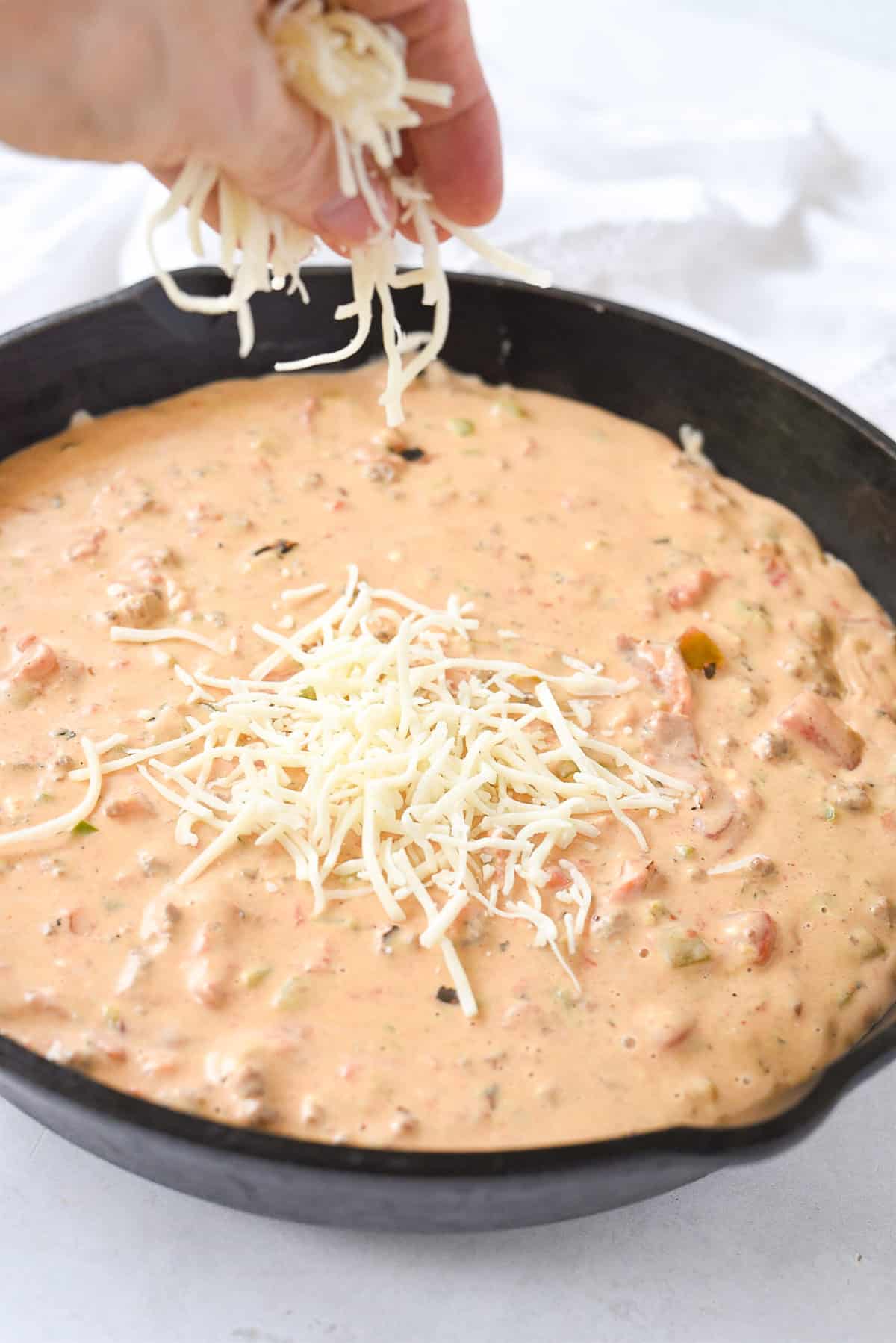 What to Serve with Queso
For topping use:
more cheese
guacamole
salsa
pico de gallo
cilantro
For dipping use:
Tortilla Chips
Pretzels
Bread
Vegetables such as carrots, celery or broccoli.
Pickles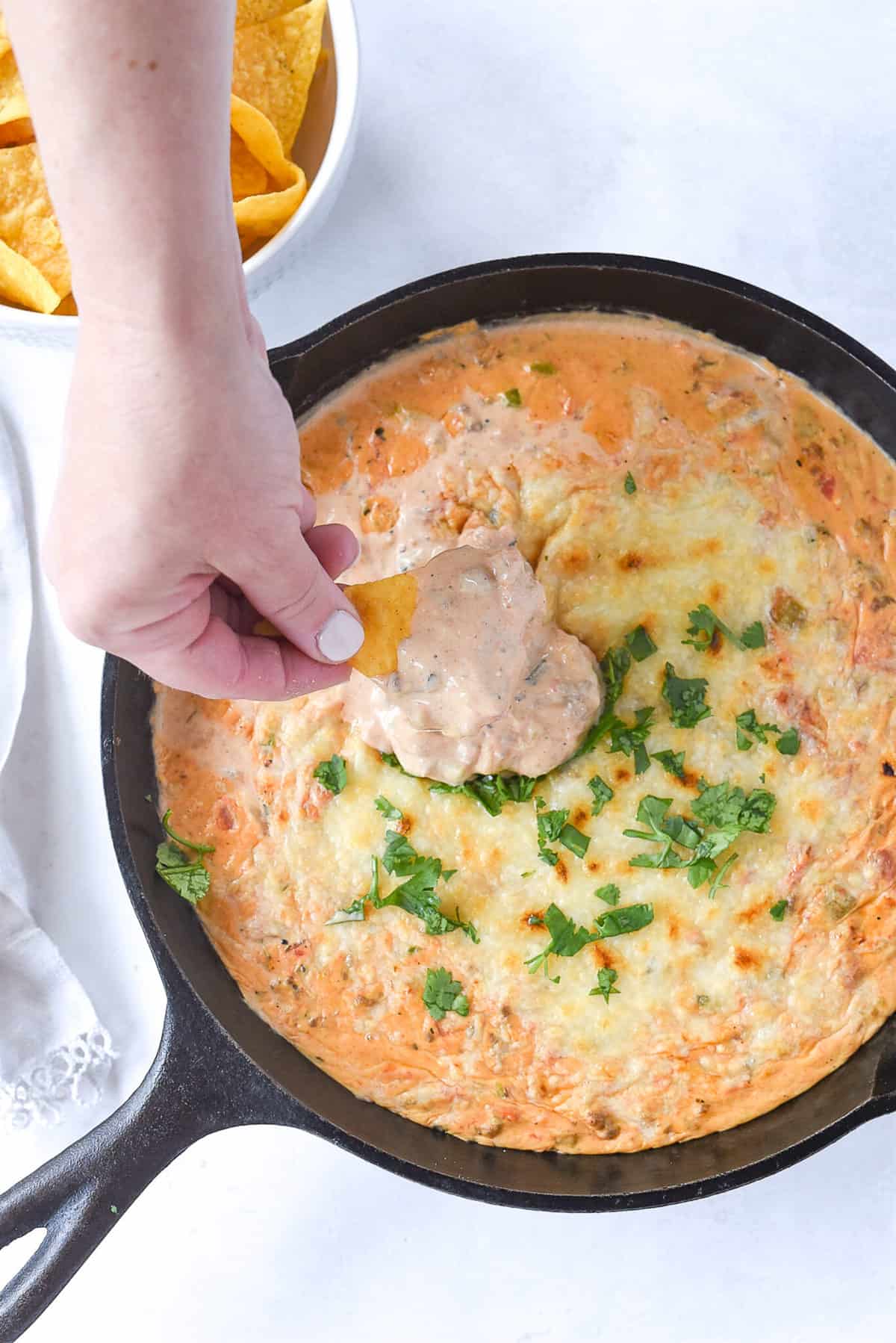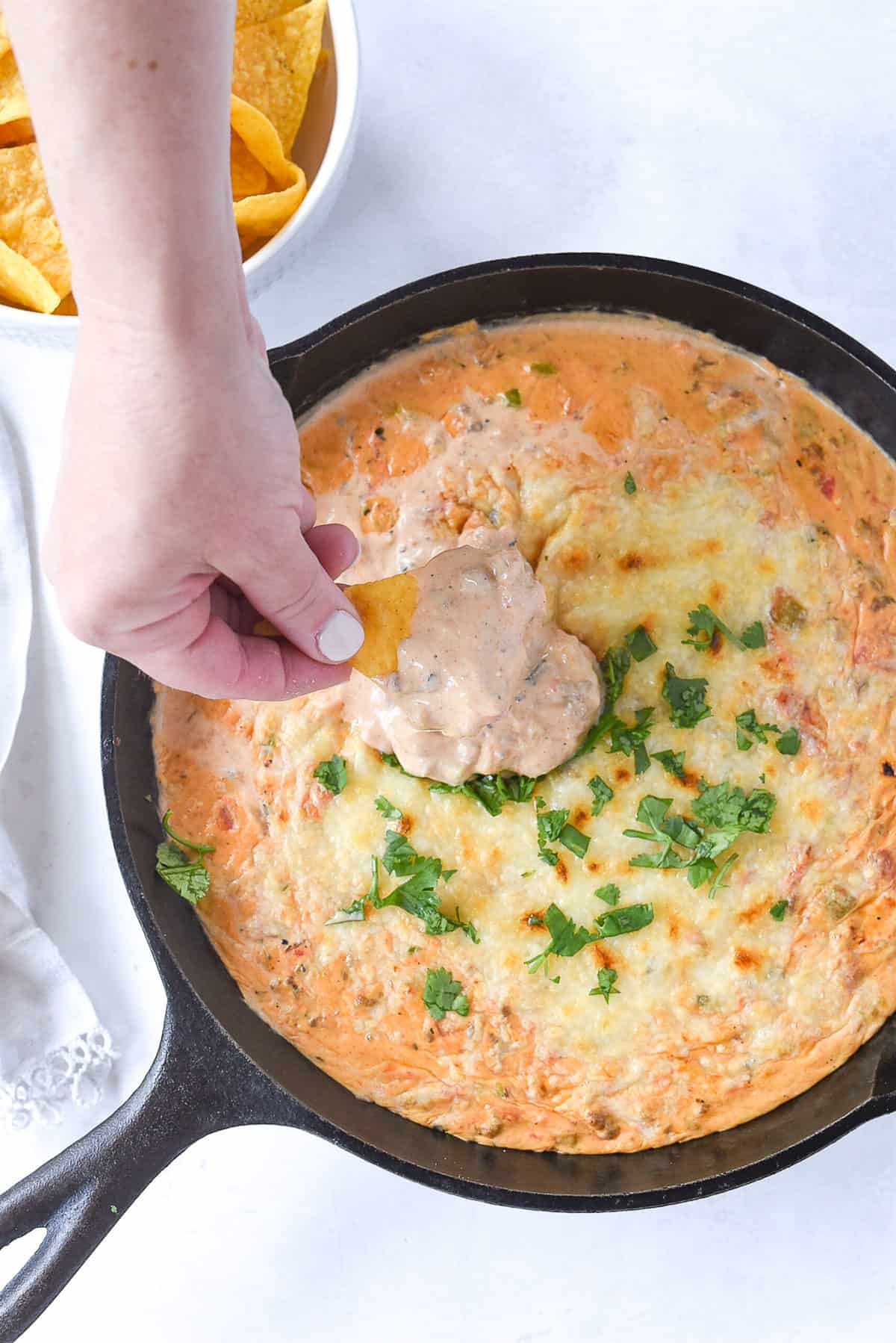 Frequently Asked Questions
Can I use something other than Velveeta?
You can use other cheeses but nothing is going to give you as smooth of a queso as the Velveeta does. Cheeses that work as a substitute are sharp cheddar cheese, pepper jack cheese, American cheese, Swiss cheese. Texture and taste will vary though. Use about 1 1/2 – 2 cups of grated Cheddar or other cheese to replace Velveeta
How to reheat queso?
Microwave: To reheat, place it in the microwave (only if you didn't use a metal pan) and reheat 30 seconds at a time, stirring after each 30 second increment until heated through. If you reheat it too quickly in the microwave it can get grainy and separate.
Stove top: Transfer the questo into a sauce pan and warm over low heat, stirring often.
Oven: If you used a metal or cast iron pan you can cover and want to leave it in the pan, cover it with foil and reheat in the oven at about 300 degrees F. Stir every five minutes until heated through.
Note: The more you reheat it the more the texture and consistency will tend to change and become grainier.
Does Chili Con Queso have meat?
I have had it both ways with or without meat so it's up to you. If you want it to be more of a meal I recommend adding meat to it. But if you need it to be vegetarian you can definitely leave out the meat. There is plenty of flavor in it.
Other favorite dips for game day watching:
Be sure and follow me over on You Tube for weekly cooking demos.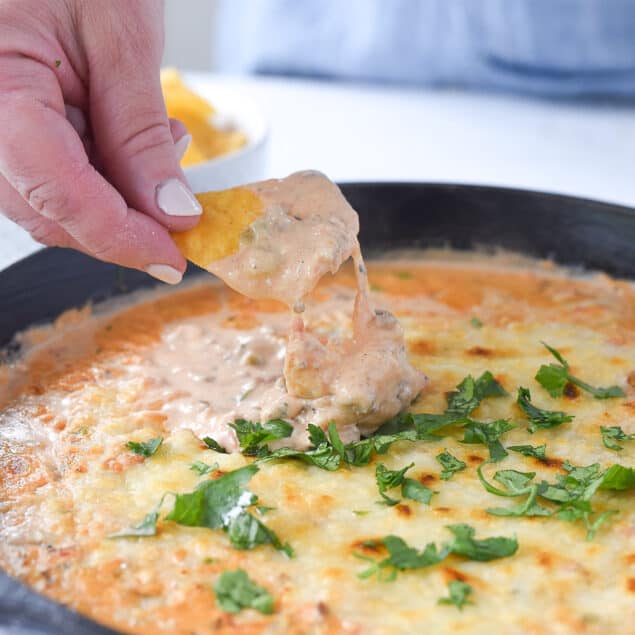 Chili Con Queso
With a hint of heat this chili con queso is cheesy and creamy and you won't be able to stop eating it. It's ready in under 30 minutes so it's perfect for a party.
Ingredients
1/2 lb. hamburger can also use sausage or chorizo
1/2 lb. Velveeta Cheese
8 oz. cream cheese
10 oz. fire roasted tomatoes
4 oz. green chilies
1 jalapeno pepper chopped (to taste)
2-3 fresh garlic cloves minced
1/2 cup Monterey Jack cheese for topping
1/2 cup cilantro chopped
Instructions
In a cast iron pan or oven save dish, brown hamburger in a pan with garlic.

Add in chilies, tomatoes and jalapeno. Stir to combine.

Add in cubes of Velveeta and cream cheese. Stir until cheese melts.

Garnish top with shredded Monterey Jack Cheese

Place under broiler for a few minutes until the top begins to lightly brown and cheese is bubbly.

Garnish with chopped cilantro and serve warm.
Tips & Notes:
If you can't find fire roasted tomatoes you can use Rotel tomatoes but they will be spicer, depending on your preferred heat level you may want to leave out the jalapeno if using Rotel. You can substitute the Velveeta for American cheese, sharp cheddar, Pepper Jack (for more heat) or Swiss Cheese but the texture and flavor will vary. Use 1 1/2 -2 cups of grated cheese to replace Velveeta. Garnish the top with chopped cilantro or green onion if you prefer.
Nutrition Facts:
Calories: 274kcal (14%) Carbohydrates: 8g (3%) Protein: 14g (28%) Fat: 21g (32%) Saturated Fat: 11g (69%) Polyunsaturated Fat: 1g Monounsaturated Fat: 6g Trans Fat: 1g Cholesterol: 70mg (23%) Sodium: 701mg (30%) Potassium: 248mg (7%) Fiber: 1g (4%) Sugar: 5g (6%) Vitamin A: 1001IU (20%) Vitamin C: 6mg (7%) Calcium: 265mg (27%) Iron: 1mg (6%)
* Disclaimer: All nutrition information are estimates only. Read full disclosure here.