Today I am sharing the post you hope you never  need.  If you follow me on Instagram you know that my father, Alan Barrie Best,  passed away a few weeks ago. He was 87 years old and had lived a good life but no matter how old someone is, it is always difficult to say goodbye. Today I'd like to share the things we did to celebrate my dad and how to plan a funeral or memorial service.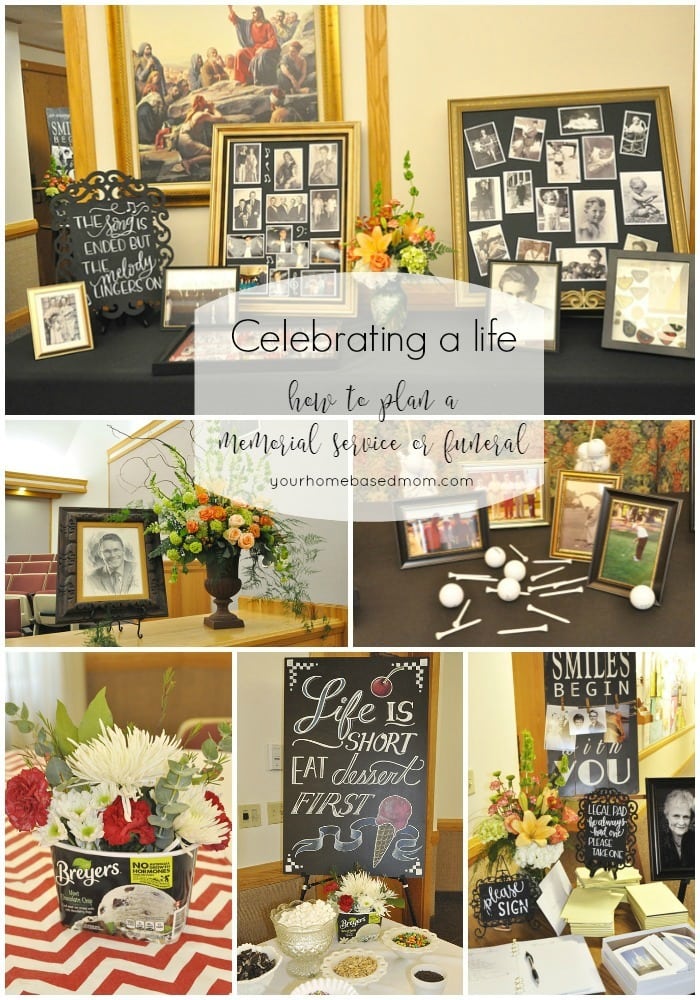 How to Plan a Funeral
My father's memorial service was held four days after he passed away.  We didn't have a lot of time to pull things together but with the help of family and friends we were able to do it.
As we planned my father's memorial service we wanted it to reflect the amazing life he had lived and the things he loved most in life – his faith, his family, golf, music and ice cream.  I think my father was pleased with what we did.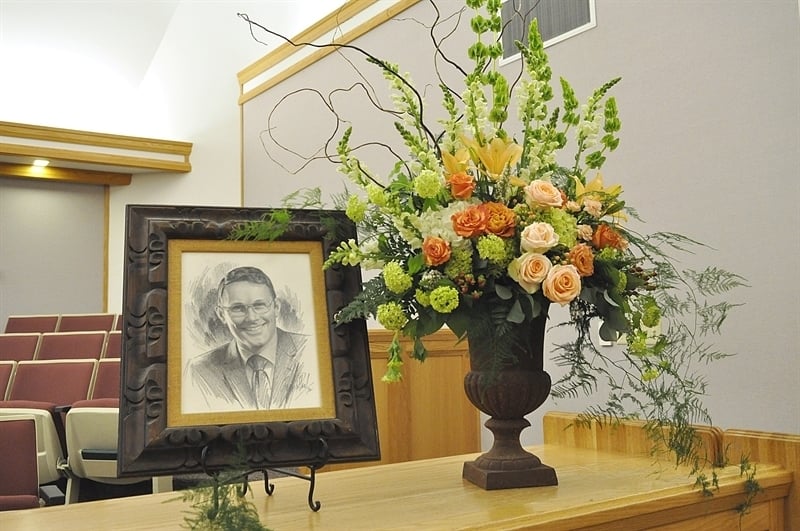 Funeral Service
My father immigrated to the United States from Canada in his twenties to pursue a career in music.  Barrie had an amazing voice.  One of his great loves in life was Barbershop music. Because music was such an important part of my dad's life we included lots of music in his service.
Funeral Music
The grandchildren sang the opening and closing song.  The opening was the hymn "Because I Have Heen Given Much" and the closing was the children's song, "Families Can Be Together Forever."  We also included my dad's favorite hymn which was "Be Still My Soul."  My two nieces did a beautiful job singing it.  Barbershop music was a huge part of my dad's life.  He sang in an award winning quartet and he was the Executive Director of the Barbershop Society for many years.
We were lucky enough to have a recording of his quartet sing the song "When I Leave The World Behind."  This was the perfect song for the memorial service.   My mother also had an old reel to reel recording of my father singing to her at their wedding ceremony.  What a treasure!!  I was able to find someone to convert it to a mp3 file and we also played it during the service.    The song was "Because God Made Thee Mine."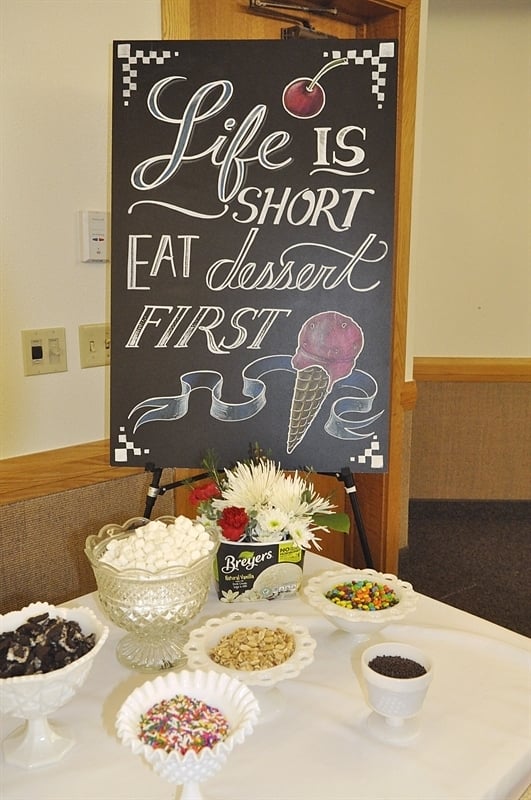 After Service Gathering
Instead of a family dinner after the service as is typical in most Mormon funerals we decided to hold an ice cream social.  My father loved ice cream and enjoyed a large bowl before bed for most of his life.  In fact, growing up we had a freezer just for ice cream in the garage.  My dad always said, "There's always room for ice cream, it melts and fills in the cracks."  So it was only appropriate that we all enjoyed a hot fudge sundae in honor of my dad.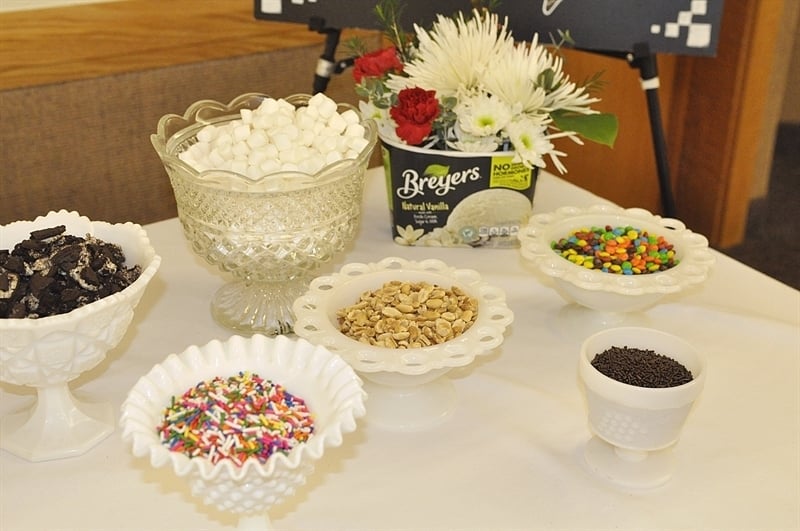 We set up tables and chairs in one of the rooms in the church where everyone who attended the service could gather.  We had ice cream, hot fudge sauce and all the toppings. So many of my sweet friends volunteered to help me, from making the hot fudge, serving, making signs, etc.  I have been blessed with good friends.
I carried out the ice cream theme by filling empty ice cream containers with flowers for the tables.  The night before the funeral I hosted a family dinner at our home and we enjoyed ice cream pie for dessert so I had enough empty containers.  I don't think I will ever eat ice cream again without thinking of my dad.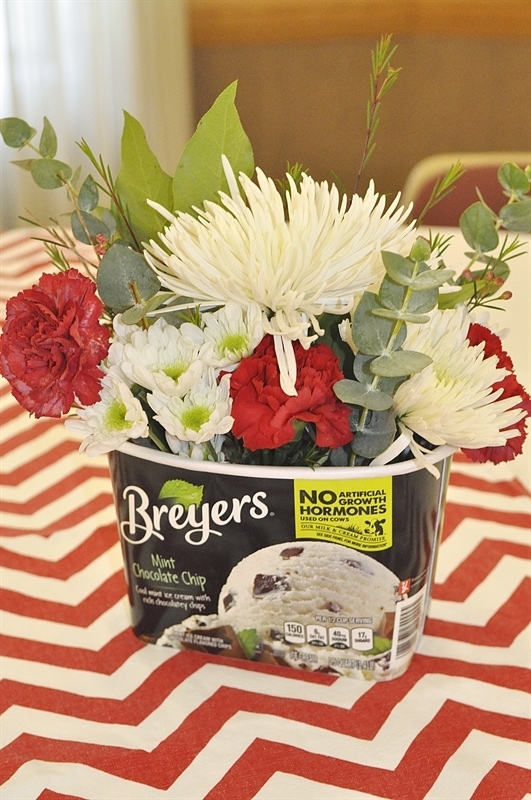 My dear friend Bill made this great chalkboard sign for me.  It is exactly how my dad felt about life!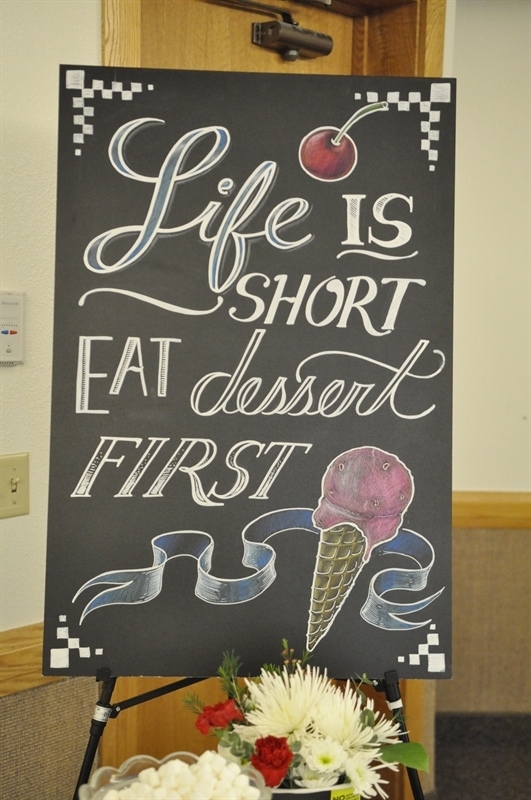 Some sweet friends of my sister in law made brownies.  The addition of the little golf flag was perfect.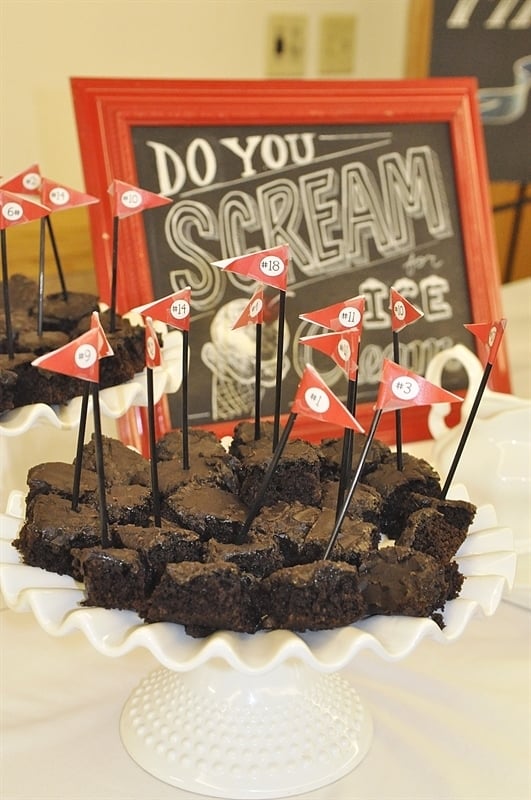 The ice cream social after was a wonderful opportunity to visit with friends who were there and enjoy being together sharing memories of my dad.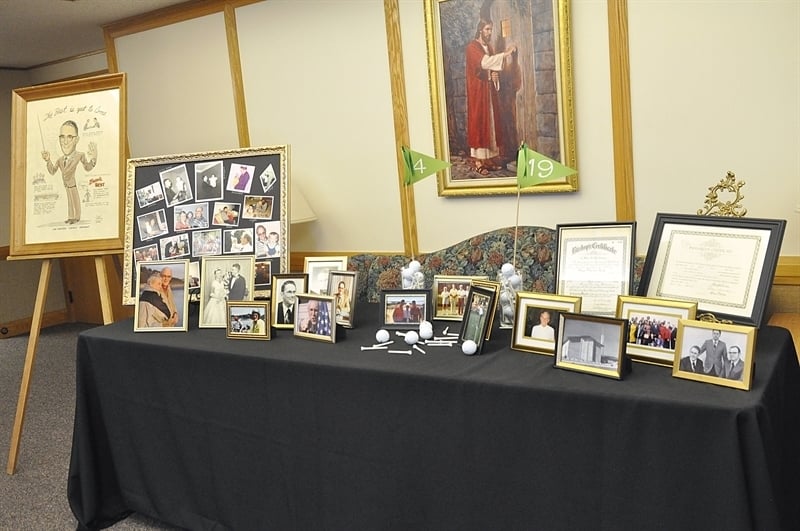 How to Plan a Funeral Photo Displays
I spent several days going through old photos of my father from his childhood through current photos.  I wanted to put together a display that reflected all of the things that were important to my father.  The first section was photos of his childhood and youth.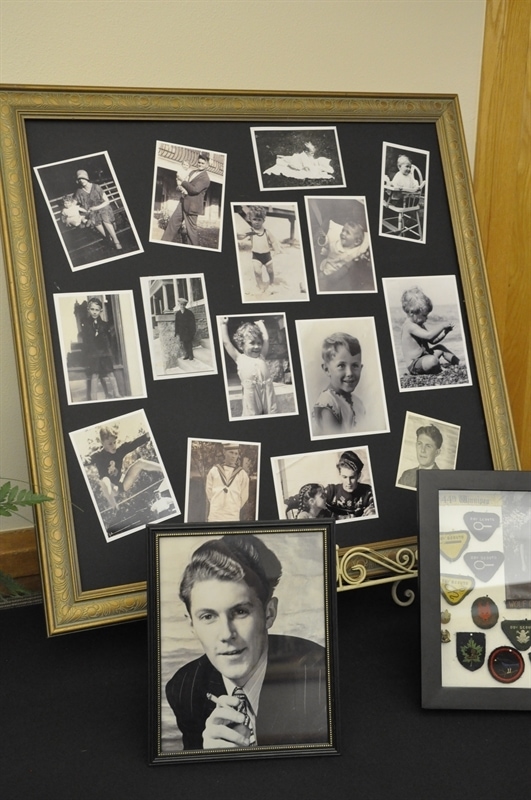 This is one of my favorite photos of my father – look at that hair!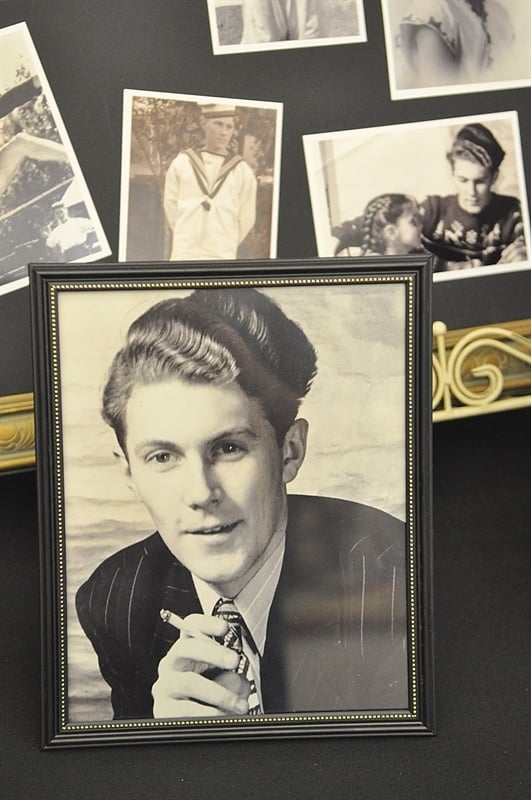 Music was a huge part of my father's life since he was a young boy so we devoted a whole section to it.  I found a great quote which I thought was perfect for display that my sister hand lettered.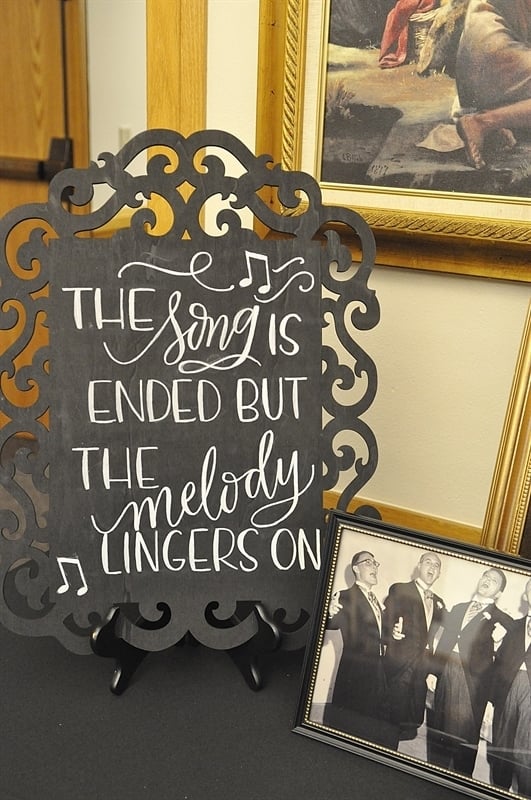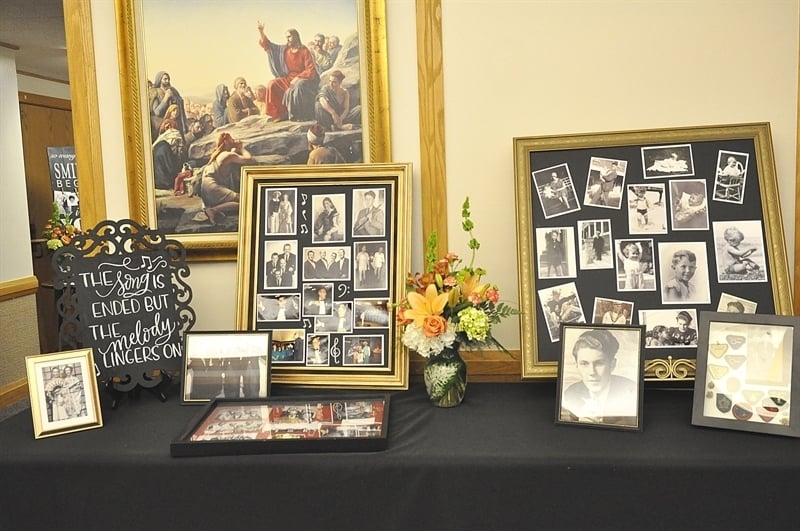 My father's faith and church service was a huge part of his life so we showed photos from the time he served as a Mormon Bishop, Stake Patriarch, temple worker and full time missionary.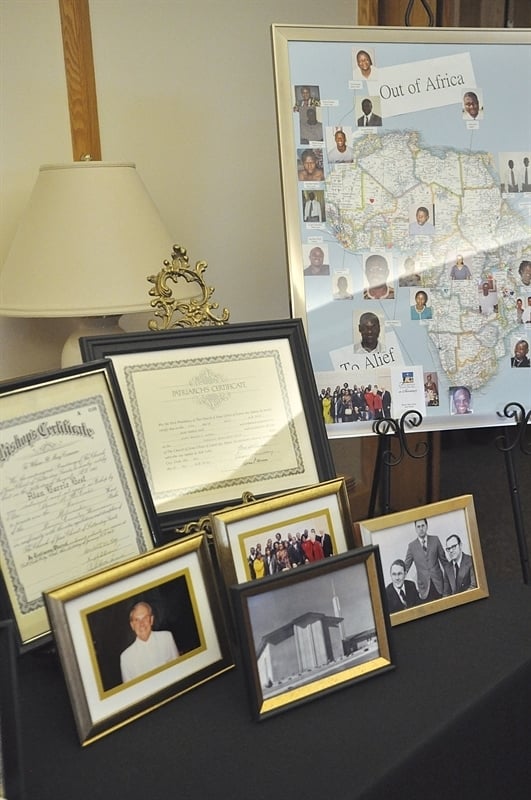 Next was golf, the game my father loved more than any other sport.  As my husband was saying good bye to my father right before he passed, Jim asked him, "Barrie, do you think there will be golf in heaven?"  With his still present sense of humor, my father answered, "One eternal round."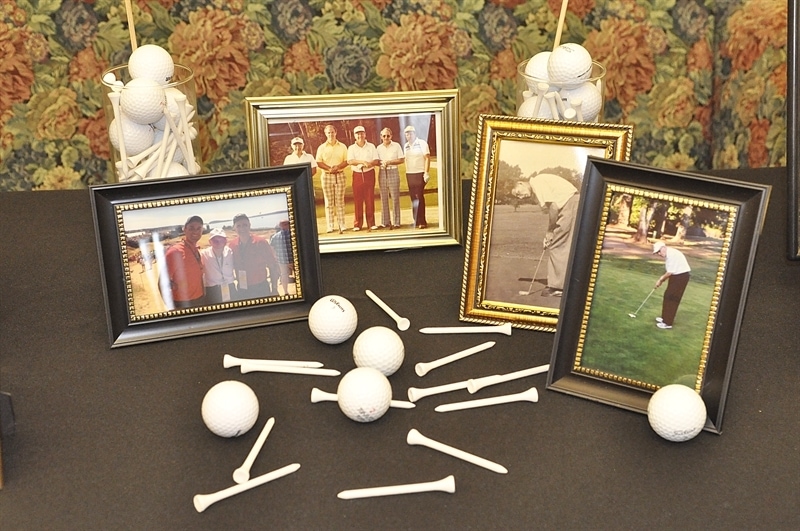 And finally, his family.  I found photos of my father which each of his children as a baby and then each of his grandchildren and great grandchildren.  Of course there was a photo of his precious and much loved bride, my mom.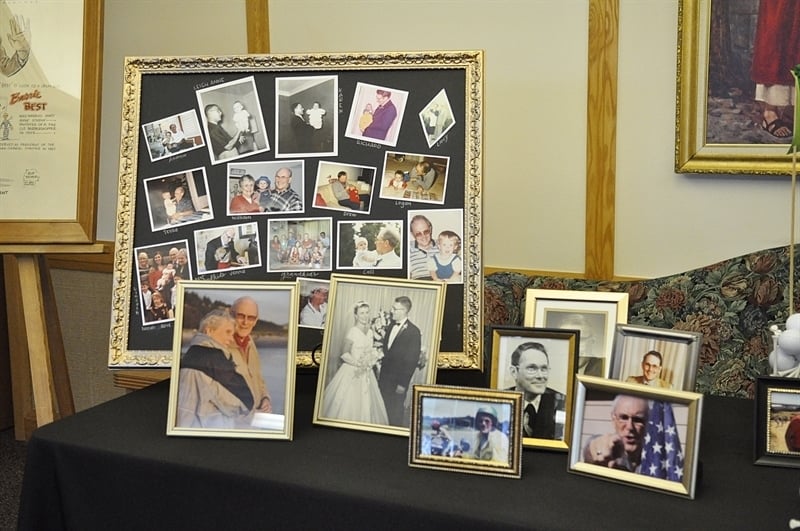 How to Plan A Funeral Sign in Table
As people entered the chapel we had a book for them to sign their name with a photo of the Portland Oregon LDS Temple on the front, one of my father's favorite places to be. He served as a temple worker in the Portland Temple for 25 years and only stopped working weekly in the temple a few weeks before his death.  We also had a pile of small legal pads for people to take.
My father loved legal pads and always had a dozen or so laying around.  My father was a meticulous note taker and documented his life in great detail on a daily basis. We asked everyone to take a legal pad to remember my father by.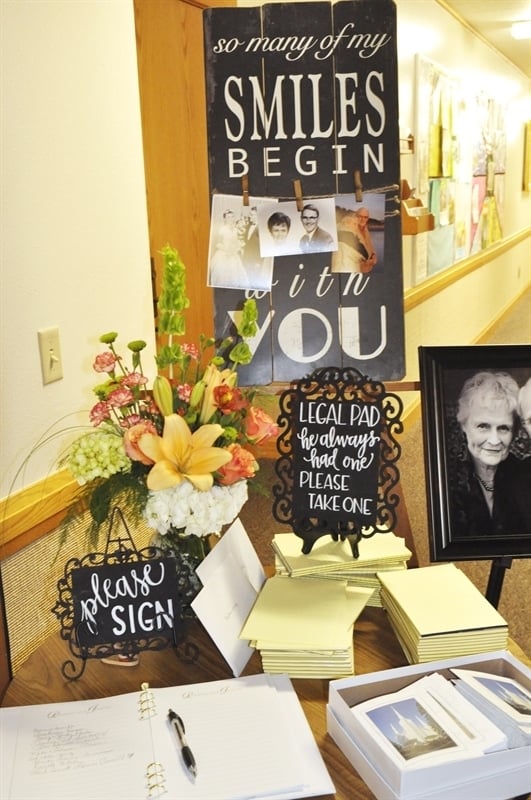 How to Plan A Funeral Details
For all the large photo displays I used frames I already had and spray painted them gold.  I then painted some pressed board we had in the garage with chalkboard paint and had my husband cut it to fit the frame.  I bought all the smaller frames at the Dollar Store along with the legal pads.  The decorative chalkboards are from Michaels,  I painted them with chalkboard paint and my sister hand lettered them.
I was able to channel my energy and grief into putting together the photo display for the service and planning an ice cream social for everyone after the service.  I hope my father was happy with our efforts,  I think he was.
After the service and ice cream social we gathered at my brothers house where we enjoyed the food that people had been so graciously and generously dropping off at our houses the last few weeks. A few nights after my father passed away a dear friend and her husband showed up at my door with an entire roasted turkey and huge loaf (we are talking HUGE) of homemade bread.  It was the perfect thing.  With family in from out of town and no time to cook or grocery shop it was a real blessing.
Lantern Memorial
The night before the memorial service we all gathered at my house for a family dinner.  We finished up last minute details on the displays and things and all the grandchildren sat in the dining room with grandmother reminiscing about all their favorite memories of grandpa.  My son, Clark, shared many of those memories at the memorial service.  After dinner we went out into our cul de sac and launched the lanterns in memory of grandpa.
All of his grandchildren were there except for two spouses  and there was one of his five great grandchildren there too!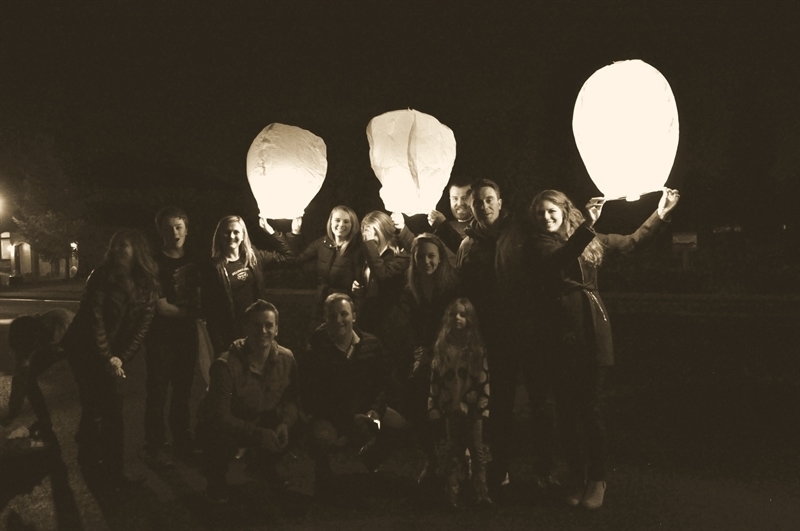 Family Photo
Because our family is scattered and not together very often, my mother wanted to have a family photo taken. I love this photo of grandma with her grandchildren minus two.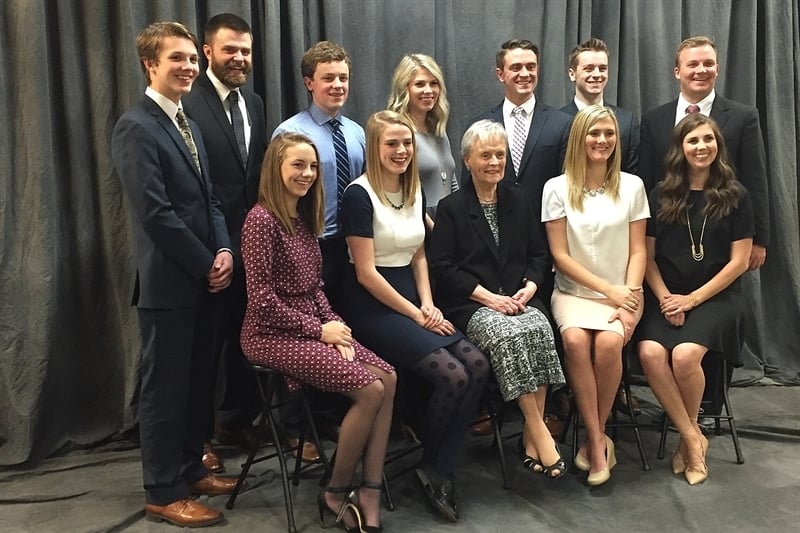 Grandma wasn't quite sure what to do when the photographer told everyone to make a silly face.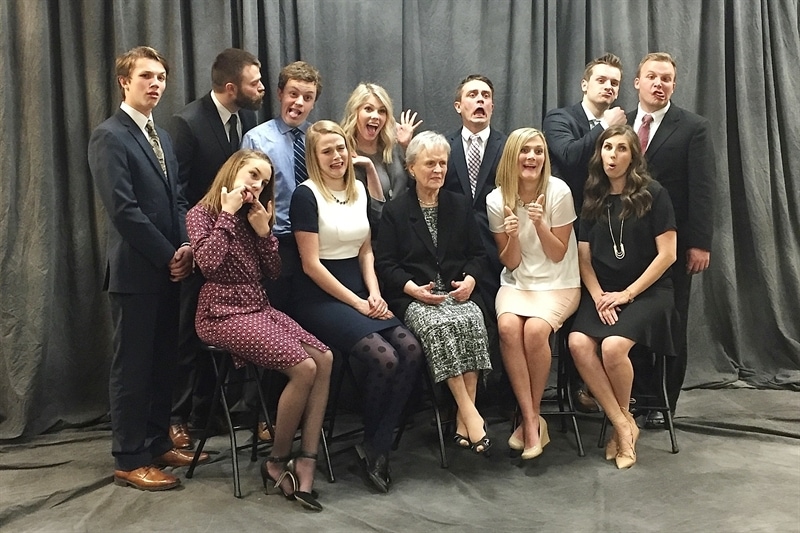 I love this photo of grandma with all her grandsons with their best Barbershop Quartet pose!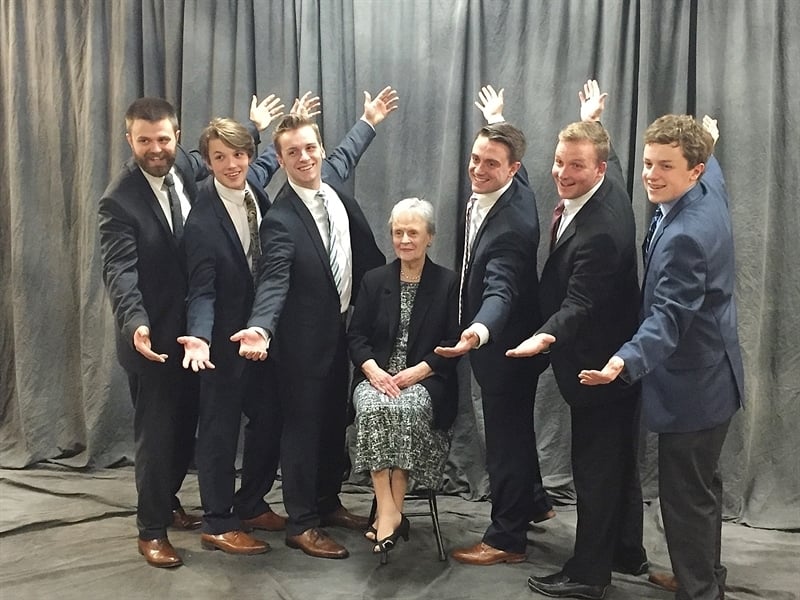 When I spoke at the funeral I expressed my gratitude that I had the "Barrie Best" father my whole life!