So this is my third Barefoot Blogger recipe.  I'm not setting any world records for cooking my way through Ina Garten's cookbooks but I'm having fun.
So far, 2 of the 3 recipes we have made are ones I never probably would have made otherwise.  That is one of the reasons why I joined the Barefoot Bloggers group – it is pushing me outside my comfort zone.  Forcing me to try new things.
I have found that it is a technique that works well for me -I commit myself to a group rather than try to do it on my own.  I do really well with that accountability thing.
It worked the same way with my book group.  I hesitated joining a book group for years but now that I have I love how it gets me to read books I never would have read otherwise.
Have you ever done that – joined a group or organization that pushed you out of your comfort zone, that got you to do things (good things) you wouldn't normally have done on your own?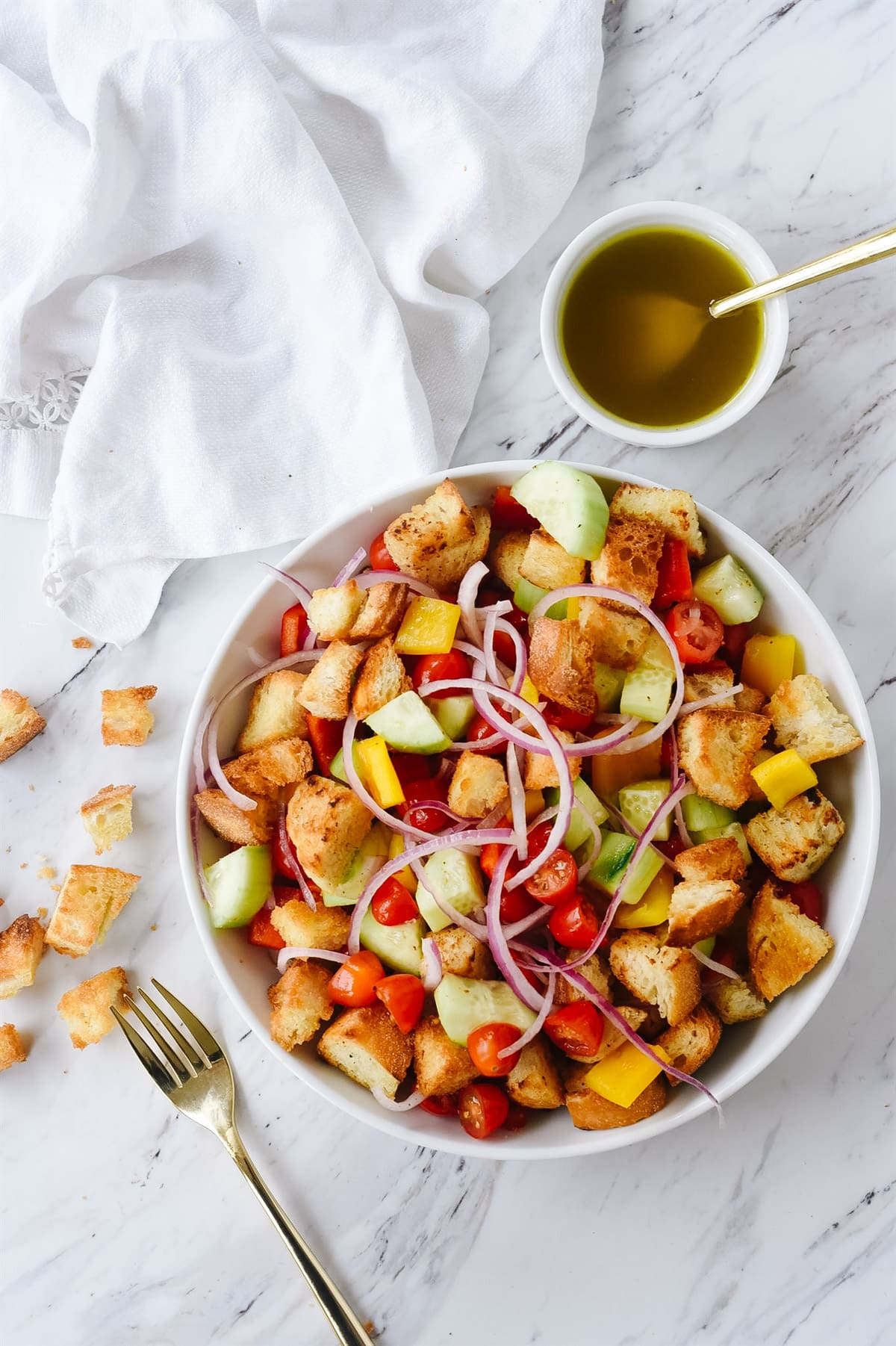 So onto the recipe – Panzanella Salad is a traditional bread salad from Tuscany, usually made with day old bread with a combination of tomatoes, basil, olive oil and vinegar.  It was chosen by Melissa of Melissa's Kitchen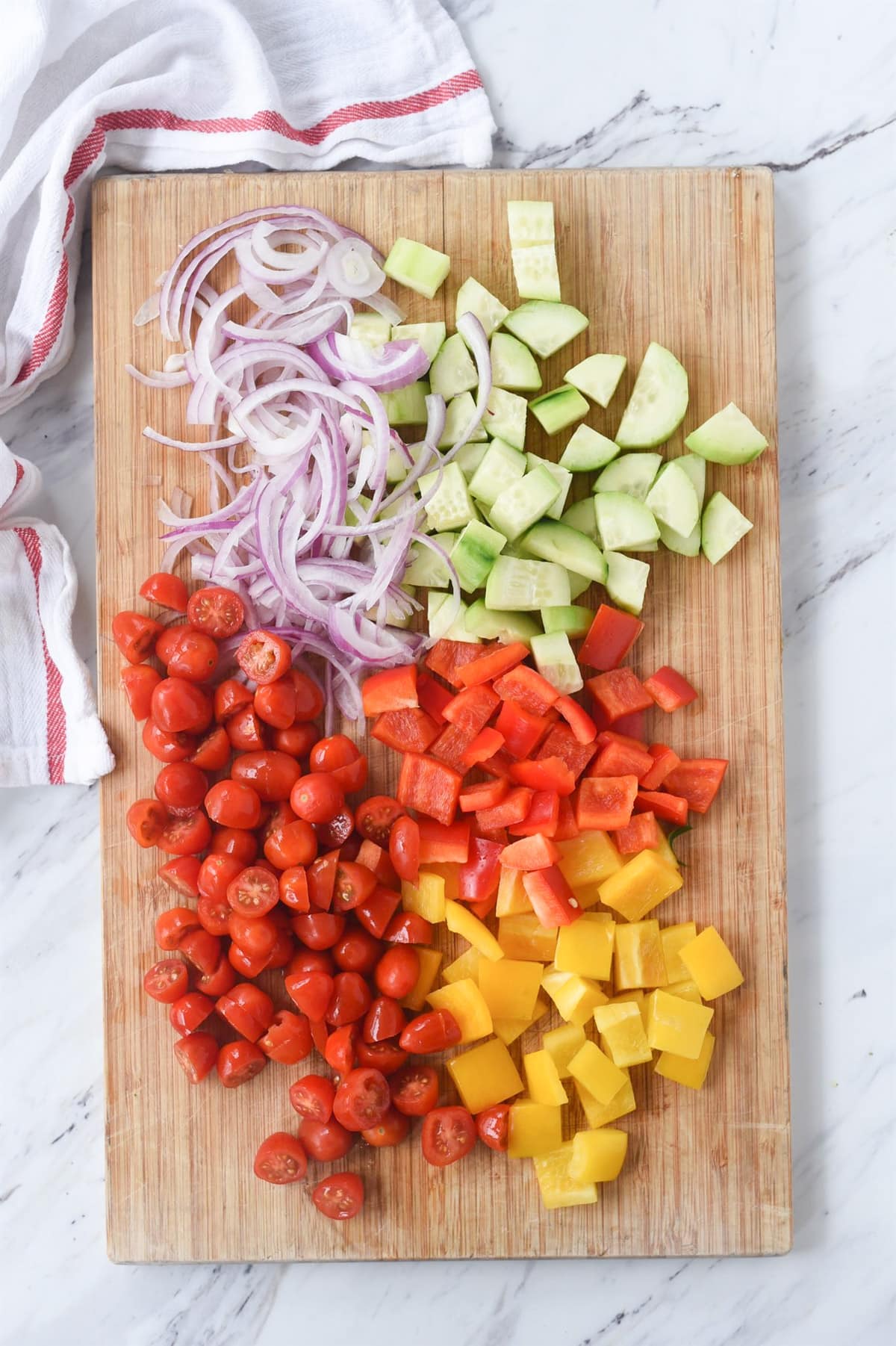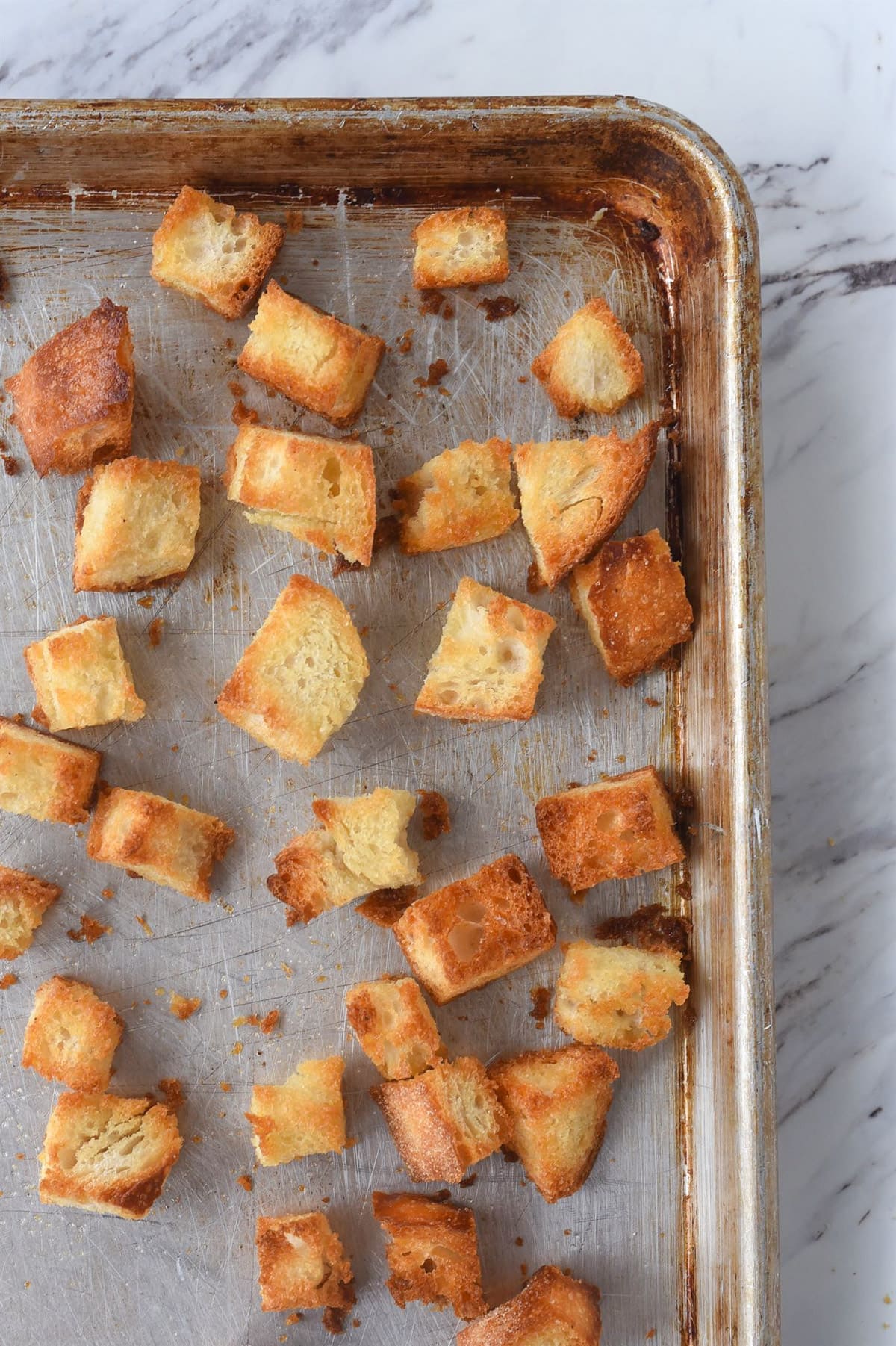 The recipe called for yellow and red peppers, I had red peppers on hand so only used those.  I used cucumbers and basil out of our garden.
The vinaigrette uses Champagne vingar – I used white wine vinegar.
We were invited to a Barbecue this past weekend so if was the perfect opportunity to give it a try.  The bowl was almost empty when we left so I guess that is a good sign!
Print
Barefoot Bloggers – Panzanella Salad
Ingredients
3

Tbsp.

good olive oil

1

small french bread

cut into 1 inch cubes (6 cups)

1

tsp.

kosher salt

2

large

ripe tomatoes, cut into 1 inch cubes

1

cucumber

unpeeled, seeded and sliced 1/2 inch thick

1

red bell pepper

seeded and cut into 1 inch cubes

1

yellow bell pepper

seeded and cut into 1 inch cubes

1/2

red onion

cut in 1/2 and thinly sliced

20

large basil leaves

coarsley chopped

3

Tbsp.

capers

drained
For the vinaigrette:
1

tsp.

finely minced garlic

1/2

tsp.

Dijon mustard

3

Tbsp.

Champagne vinegar

1/2

cup

good olive oil

1/2

tsp.

kosher salt

1/4

tsp.

freshly ground black pepper
Instructions
Heat the oil in a large saute pan

Add the bread and salt; cook over low to medium heat, tossing frequently for 10 minutes or until nicely browned

Add more oil as needed

For the vinaigrette, whisk all the ingredients together

In a large bowl, mix the tomatoes, cucumber, red pepper, yellow pepper, red onion, basil, and capers

Add the bread cubes and toss with the vinaigrette

Season liberally with salt and pepper

Serve, or allow the salad to sit for about half an hour for the flavors to blend
Get my Weekly Menu Plan for FREE!
Receive my FREE "What's for Dinner?" Meal Planning Course, a copy of my FREE ebook that includes my most popular recipes and my FREE weekly Meal Plan.